Water chestnuts…
Water chestnuts are the crunchy little morsel that are quite often found in Chinese dishes as well as other Asian cuisines.. They normally grow in the muddy banks of lakes & rivers but can also be grown quite successfully in back yard situations..
This week I had to sort out somewhere to relocate the bucket of rescued chestnuts from the pond.. I gave 4 of the small potted ones away last Sunday & decided to make up another bucket for the 3 remaining seedlings in the 100mm pots.. I created 2 small reservoirs that could slip inside the 2 terracotta planters that have been sitting idle for a while..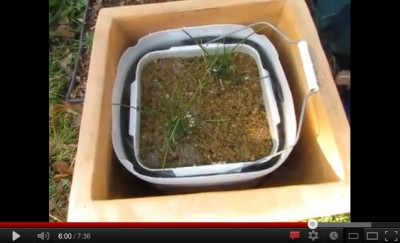 << The details on how this was done can be found in our Planting out water chestnut clip..
We still have just over ½kg of chestnuts in the fridge & trying to stretch out using them for as long as we can…
Powdery Mildew..
Unfortunately we always get some sort of powdery mildew outbreak on our peas & cucurbits (squash, zucchini, pumpkins, cucumbers etc).. Powdery mildew is actually a few different types of fungi that fall under the powdery mildew banner & flourish in a few different climatic conditions as a result.. Some like warm dry conditions while other varieties like darker moist conditions.. The good news is that they all appear to respond to the same treatments & prevention regimens..
There are a few ways to try & reduce the risk of infection.. One way is to not overcrowd the plants (I always fail there).. When crops are planted too close together you end up with poor air circulation.. Poor air circulation allows the spores to accumulate on the leaves & lets the mildew set up "shop" on your plants.. Removing foliage from crowded sections of a planting can help here.. Another method many people use is a preventative spray.. My favorite garden all-rounder Neem makes an excellent preventative spray due to its anti-fungal properties but I have not found it that effective once an outbreak occurs.. Others recommend milk as a good preventative but I have only used it to try & stop a further spreading of the infection but it didn't knock the existing mildew on the head.. It is the fats in the milk that help stop the spores from infecting the leaves as I understand it..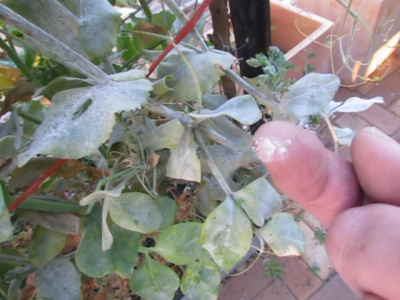 This year's outbreak on the honey pod peas was really bad as you can see.. Last year I used a "fish friendly" product mentioned on an Aquaponic forum called Eco Rose.. It is a potassium bicarbonate powder that is mixed with water & sprayed onto infected plants… This stuff cost a pretty penny but works a treat at knocking off outbreaks straight away & keeping it away with follow up applications.. I used it on this outbreak & it did a good job of killing what was there as well as keeping further outbreaks in check..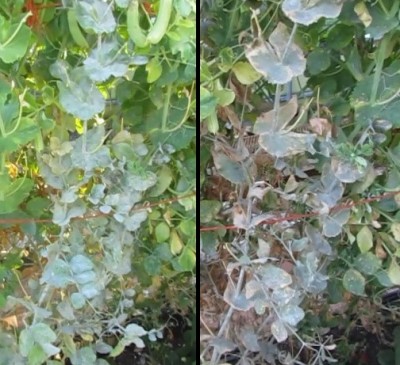 I know this photo isn't the best but you can see that the leaves, while not looking 100% healthy, do look a lot cleaner & greener than the before shot on the left… I have found that the leaves do tend to die back a bit where the worst of the mildew was but the upside is that it stopped it from spreading further in the crop..
I decided to try a different treatment on the sugar snap peas.. This is one that I have missed for some reason while looking for help with powdery mildew over the past few years.. The best thing about this treatment is that most homes will have the active ingredient in the kitchen, Bicarb or baking soda (not baking POWDER) mixed with water.. The mix I used was 1 tsp of Bicarb per litre of water.. There were other recipes I saw that included oil but as I only had 2 infections to treat I didn't get to try any.. I am sure that I will get a chance to do a trial with all 3 together with the upcoming cucumber, pumpkin, watermelon & zucchini crops.. While I don't think it did quite as good a job as the Eco Rose it wasn't far off.. I do think that it worked better than any of the other homemade preparations I have tried.. It is well worth using again due to the low cost involved & think it will be my powdery mildew weapon of choice once the Eco Rose runs out.. Might just have to re spray a bit more often than with the Eco Rose..
I was planning on having better photos as well as a clip but I either deleted them accidentally or the computer has eaten them…. Sorry about that…
Seeds & Seedlings…
The only seedling to be planted out into the patch this week was a Jarrahdale pumpkin who's seed I got from Grace via Share the seed group.. It went into the new IBC bed right down the back of the patch.. In the same bed I also planted out 1 lot of seedless watermelon seeds…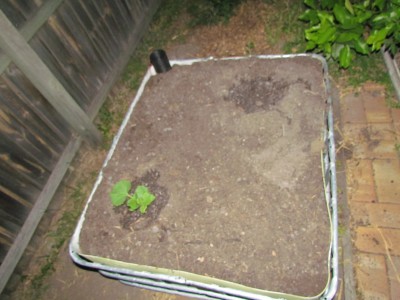 We have never been successful with watermelon so thought I would give these a shot.. Heirloom seed would be better but these were all I could find in my seed boxes..
Also planted out this week were 3 pieces of turmeric & 2 pieces of ginger I bought at the Ipswich Good Food Co-op.. These were both planted just in case the plants that died back over winter don't re shoot..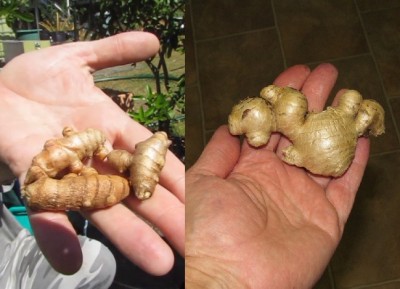 I am glad I did as when I planted out the ginger I found 90% of last year's rhizomes had rotted away..
During the week a few different seeds I received through the Share the seed group were sown into punnets..
A YouTuber from SA sent me some seeds from different chilli varieties that he had problems with last year & he wanted to see if I could do better in a climate with longer growing season.. I sowed out 2 x yellow 7 chillies, 10 x Bih Jolokia chillies, 8 x hot cherry chillies & I shall be sending him back some seeds as well as fruit if they do any good.. I also planted out 6 x purple tomatillo seeds he sent me.. Most of these plants will end up in the insect proof house to try & limit any infestation of fruit fly..
The other seeds sourced from the Share the Seed group that got sown out were 6 x tomatillo from Lincoln & 4 x Warrigal Greens from Joy.. Have never grown either of these & look forward to a great harvest.. The Warrigal greens will go into their own little barrel as I have seen at the community garden how far they can spread.. Am looking forward to using the tomatillos in some Mexican dishes..
The other seeds that got sown out was 6 x Jalapeno chilli (saved seed), 8 x Opal basil (saved seed) & 4 x Double Yield cucumbers (Diggers Seeds)…

Harvests from the patch…
Thought I would share a picture of today's harvest & the chopped salad we made from some of it..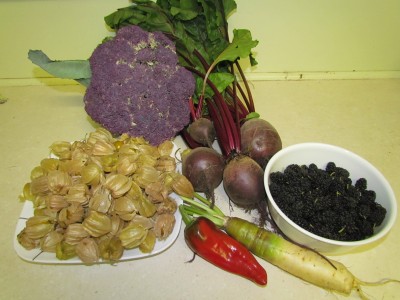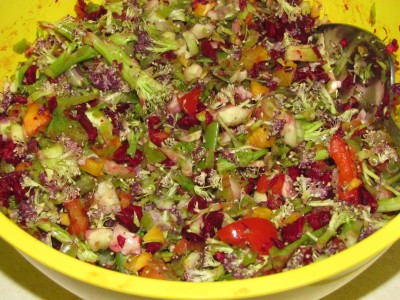 That was the last of our white carrots & purple cauliflower for this season I think.. I might get away with another sowing of the mixed colour carrots but the cauliflowers are done now until at least March next year I think..
That's about it for this week…
I will finish off this week's blog with some text prepared by a Ghost Writer I sourced from right here on SS…
"the end"
Have a great one all
: )»