Molasses spray...
I did mention that I was going to post about using molasses sprays as an insect control this week but am postponing it for now.. I am expanding my trial on a few more pests, as it worked so well on the cabbage butterfly caterpillar & bud worm.. For anyone that can't wait, we used 1tbsp of molasses in 1L of water & sprayed that directly onto the leaves of the plants & reapplied every 2 days for a week..
Blueberries..
I mentioned a few blogs ago about going to see Annette McFarlane give a talk at the Inala library where she gave us all some advice on blueberry growing.. The main point made about growing blueberries is that they like very acidic soils compared to most fruit & vegetables.. This can be confusing for some so here is a quick basic rundown on soil pH.. Acid/Alkaline soils are measured on the pH scale where a pH of 0 is the most acidic, a pH of 14 the most alkaline & a pH of 7 is considered "Neutral".. Most garden soils fall between the range of 4-9 & can fluctuate up or down depending on what additives, like compost or fertilisers, have been added..
Blueberries like a pH between 4.8 - 6 (depending on the variety) where most fruit & veggies do best with a pH between 5.8 & 7.. Most gardeners will find that they need to add something a bit extra to help drop the soil pH.. Annette mentioned the use of peat moss to help lower the pH but as it is a finite resource & needs to be brought into Australia it isn't really a good choice.. Used coffee grounds was another suggestion but apparently the acid content isn't large enough to lower the pH of most soils into the range required for blueberries.. But it is a great additive to other berries like strawberries, raspberries that like a pH range of 5.6 - 6.5.. What was suggested for the blueberries was elemental sulphur also known as flowers of sulphur.. This can be purchased from most well stocked nurseries or hardware stores..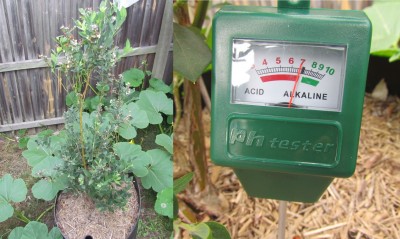 Even though our "Highbush" blueberry the plant is looking healthy & provided us dozens of berries I think it could be doing better.. On the 14th of October a pH reading was taken using a pH meter of which returned a reading of 6.8..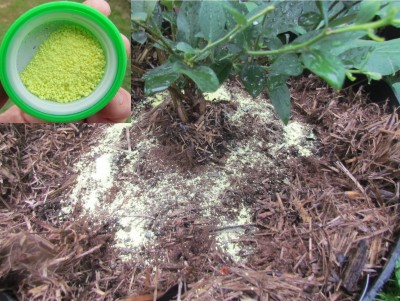 40g (a 5g spoon was supplied with the packet) of elemental sulphur was added & the waiting game began..
It takes a while for the sulphur to break down to become readily available for the plant & it can take a few weeks for the pH to drop.. As a warning, I have been told that if you attempt to speed up the process by adding too much sulphur, you can end up making the soil too acidic.. Best to take it slowly & monitor the pH weekly..
This morning (6 weeks after application) I went out & did another reading & was happy with what I saw..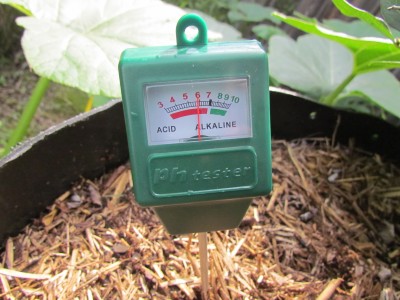 While the pH has only dropped 1 point, it is a start.. I feel I am on the way to correcting the levels.. The plant is looking happier with loads of berries & we have our 4th or 5th flush of flowers (an starting to lose track) forming on the new growth..

I shall add another 20g later today & measure it again in a month's time to see how it is going..
Planting out in the patch & other jobbies...
Not a great deal has been planted out over the past few weeks as I have been waiting for some of the seedlings to become a bit more established...
I did plant out some of the chillies I am growing for a You Tube friend as well as our jalapeno plants.. They were all put into the insect proof hoop house in an attempt to keep them from being hit by the fruit fly.. I will squeeze some of the remaining plants into different parts of the garden or give away to friends.. I will hopefully get a chance to plant out some more seeds & seedlings tomorrow as there will be a few gaps appearing in the beds in the near future I think..
It is also time to give the patch a good dose of liquid fertiliser.. I like to apply it every second week & am alternating between Seasol & Powerfeed at the moment.. Once that supply runs out I think I will move onto compost & worm cast teas..
Harvests from the patch..

We got our first decent harvest of beans this week.. Very happy with this as we always lose a few plants to stem rot near the soil level.. All the plants have so far survived & are thriving..
The assorted greens have been giving a constant supply for lunch & dinners, as well as the yellow current & mini Roma tomatoes..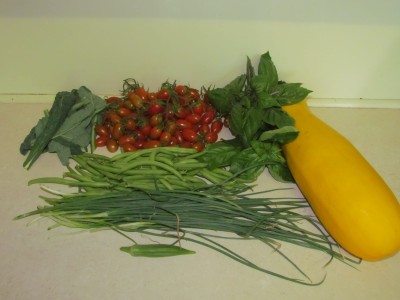 Have pulled off a few more large zucchini this week along with a few okra.. The okra have been saved up so we can add them to a veggie stir fry..
One of our favourite meals this week has been a very basic stir fry that uses mainly veggies from the patch & topped with some fried haloumi cheese..
Veggie & cheese stir fry..
I fried this in 2 lots so as not to stew the veggies...
Serves 4..
1 Tbsp of butter
1 tsp of oil (to help stop the butter from burning)
4 cloves of garlic
½ large capsicum cut into 2cm squares
400g of LARGE zucchini, sliced into 1cm thick rounds then quartered
1 bunch of asparagus, chopped into 3cm long lengths
1 cup of chopped beans
6 okra, sliced into 1 cm rounds
250g of mushrooms, sliced
Large handful of greens, torn into largish pieces (I used Tuscan kale, mangle leaves, silverbeet & mixed basil)
Spring onion or chive greens, chopped into 5cm lengths
15 cherry/mini tomatoes, sliced in ½
1 250g packet of haloumi cheese, sliced into 4 portions + oil for frying
Pre heat wok/fry pan on high then add oil, butter, garlic & then fry off for 2 min.
Add capsicum, zucchini, asparagus, beans, mushrooms & fry for 3-4 mins moving the veggies around regularly.
Pre heat a second pan for cheese.
Add oil to the second pan then the cheese slices.
Add the okra to the veggies & fry for another 2 min.
Keep an eye on the cheese & flip if as needed, while adding greens, tomatoes & chive/onion greens to the veggie pan.
Fry for another 2 min then serve veggies onto plate & top with a slice of pan fried cheese.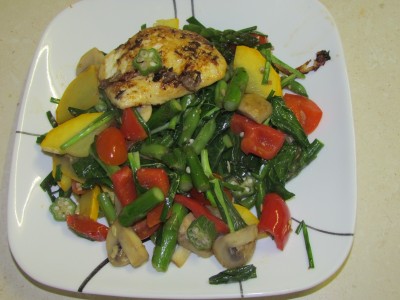 This dish was so nice we have had it twice this week..
Taking it easy for Xmas..
Last year we decided to start a new tradition for a friend who's family are all in the USA by having Christmas day lunch & dinner here... This year the parents will be taking it easy & the kids will be picking fresh salads from the patch to make up into what ever dishes they desire.. I shall man the BBQ & I have a feeling we can expect an AWESOME potato bake from out visiting friends..
We have been involving our girls in a few new salad creations of late so they can hopefully guide the rest of the kids into creating a feast we will all remember.. The best thing about eating from the patch will be the lack of stress & last minute shopping that usually tests the patience of all of us at this time of year..

That's about it for this week..
Shall finish testing the molasses sprays on some other insects & will let you know how it goes in the next blog..
Have a great one all..
: )»