Long term goals for food production in 2013..
Our long term goal has been to become as self sufficient as possible with the space that we have here.. So far the focus has been on the back yard & I think the time has come that we start to develop a plan for turning our front yard into a more productive space..I would love to be harvesting from there by this time next year.. The very front of the yard has a retaining wall that is unfortunately made from treated hardwood, so I'm not too keen on growing food directly in soil next to it.. We have some tin left over from making the beds out the back and I'm thinking about making up some more wicking beds along the retaining wall.. The only cost involved will be for soil & sand as the rest of the materials have already been stockpiled, which will help us out financially..
I would love to try out growing in a Hugakulture bed & am thinking about how we could incorporate one into the front yard.. Hugakulture beds are constructed with a row of stacked timber of different sizes that are then covered with a soil & compost blend.. The resulting mound is then covered with thick layers of mulch & planted out.. The idea behind it is that the timber will slowly rot down in the base of the bed releasing nutrients & while it is decomposing it will act like a sponge, soaking up water & storing it for the plants to use.. There are a number of sites that can explain it better than I with http://www.richsoil.com/hugelkultur/ being one of the better ones..
I would like to build the bed as a hybrid between the Hugakulture & a keyhole garden style beds.. I saw this version of a keyhole bed, "African style raised bed", & can see how the 2 different types can be brought together.. A stockpile of fallen branches & a few small logs has been started in anticipation of starting the bed.. Now we just need to find an old unwanted rainwater tank or something similar to act as a surround..
I would also like to add another 1000L fish tank & 3 more grow beds to the aquaponic system but this may be a bit of a tricky one with the limited space we have... Some of the IBC wicking beds that were placed next to the set up during the year may have to be relocated but that will only take a weekend to do..
I think with the new gardens out the front & the addition of more fish/grow beds we will be moving much closer to our goal of having the majority (60%+) of our own veggies grown on site..
Yet another pest..
Went down the back to water the patch on Monday & found this little feller..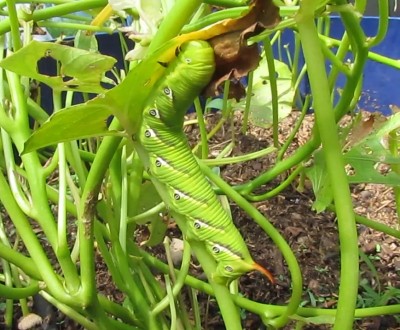 This is a caterpillar from a hawk moth that, along with its 2 mates, stripped all the leaves from our sweet potato plant in around a day & a ½.. The moths can be rather impressive & I decided to leave them be as the sweet potato should bounce back rather well.. The caterpillars are also known as Hornworm after the impressive "horn" they have on their tail..

Unfortunately for these guys, we have a few kingfishers around that picked off 2 of them a few hours after filming the clip..
Goings on in the patch...
Decided to tidy up a few bits around the patch in anticipation of planting out some new seeds that arrived this week.. I tried out a new seed supplier called "The Seed Collection" after seeing a post on the Share the Seed wall on Facebook.. The prices were fair & they had a few seed types that I've been chasing for a while, like white beetroot.. These will hopefully be planted out sometime this weekend along with some short "Kuroda" carrots that I want to try out in the aquaponic grow beds.. A few of the other seeds we got will be sown into seedling trays & coco peat pellets for planting out in the patch once they have put on a bit of size..
A decision was made to remove the bull's horn capsicum from the aquaponic system to allow more sunlight into the small barrel bed at the rear.. Hopefully it will help some of the water chestnuts bounce back.. I plan on removing all the strawberries from the aquaponics to make room for more leafy greens..
The fruit fly baiting stations will also be put up this weekend.. I have made up 5 boards that will have the eco-naturalure applied & wired/tied up around the patch... Hopefully we will see a result from them fairly quickly as I have a few tomatoes that could really do with planting out in the patch, as well as a few capsicums & chillies that are not in the hoop house.
A walk around clip was shot & uploaded on Monday that gives you a bit of an idea on how the patch is travelling at the moment..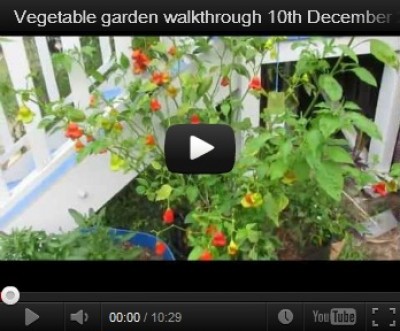 & might I also suggest a short clip on our bumper potato bag harvest..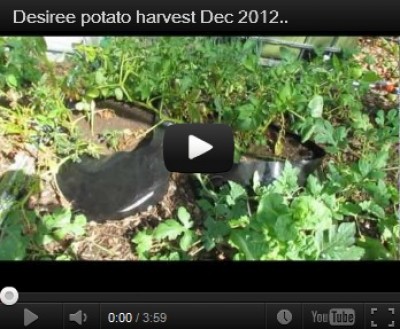 I will say nothing more on this subject ;)»
Harvests from the patch...

Have had some great harvests from the patch this week..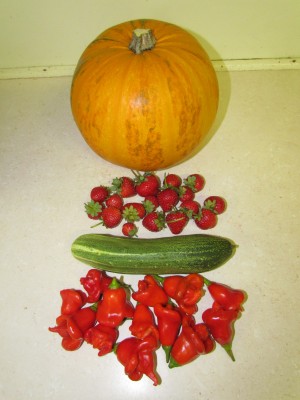 The first Kakai pumpkin was picked this week.. It hasn't been opened yet, but I'll show some pic's next week of the seeds & flesh... Will be saving some of the seeds from this one for next year's crop me thinks.. The bell chillies are also ripening up nicely & have harvested about 1/3 of the bush so far.. There is a long list of people who want to have a go growing these, so I have already put some seeds to one side..
We have continued to use up a lot of the greens in veggie stir fries & were very happy to be able to include some of the brown seeded snake beans..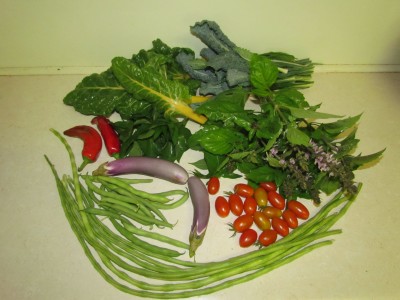 The size of these beans were a bit of a surprise.. We are used to growing the shorter black seeded variety that only grow to about 300mm/1foot in length.. A few of these beans grew to over 600mm/2foot in length.. We have also been adding the eggplants to the stir fries as we have been picking them along with sweet potato leaves.. The sweet potatoes don't appear to be too badly affected by losing a few leaves here the there, so will be using them a lot more often as greens from now on..
Also harvested another 2 spaghetti squash & cooked up our first one last night..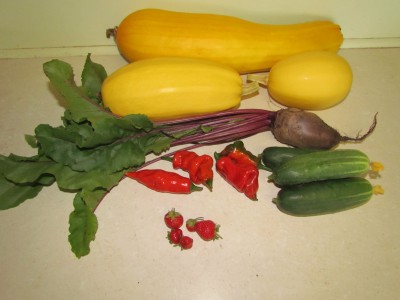 The squash was cut in ½ length ways then roasted in the oven for ½ an hour.. The seeds were then removed & the flesh scraped out into fine angel hair pasta like threads (no pic's sorry).. I must say that we were all very surprised by the flavour.. Bianca & I were expecting a bland zucchini like flavour but our taste buds were greeted with a sweet, almost buttery flavoured sensation.. I will definitely be growing these squash again & am glad to see the vines slowly rebounding after receiving a good feed of seasol & molasses from last weekend..
That's about it for this week.. Temperatures are set to reach 36°C here tomorrow & 38°C by Monday so think I should pop out & fill up the beds & barrels..
Have a great one all & will catch you next weekend...
: )»