Time to relax..
Well this week has been a fairly laid back one as you could imagine.. Bianca has taken a long deserved break after this year's upheaval in the work place.. So we have been extremely busy trying not to do much at all to tell you the truth ;)» I have spent some time cleaning up the many folders full of garden pictures on the computer & came across a picture taken on the day I started to make the first timber garden bed at the start of 2009.. Thought it might be of interest to some to see the difference..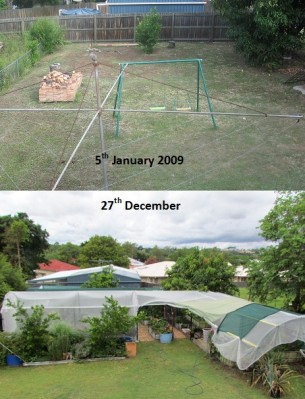 Time certainly does fly.. It is strange to think we have only been seriously gardening here for the past 4 years.. Before this we were gardening in large pots..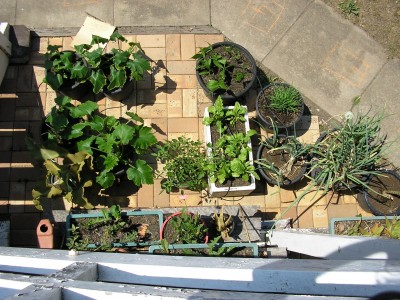 We found growing in pots very easy but as many know, you just don't get the production you can from a garden bed..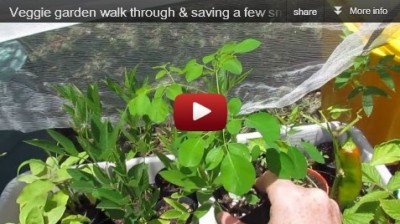 I did managed to do a quick walk around the patch with the camera before our guests arrived on Christmas day so feel free to have a wander through yourself to see how things a growing..
Jobbies around the patch..
Mulching the beds..
About the biggest job completed this week has been the mowing of the lawn & tidying of the yarden.. Whilst cleaning up the yard a bit I decided to make up another batch of timber mulch..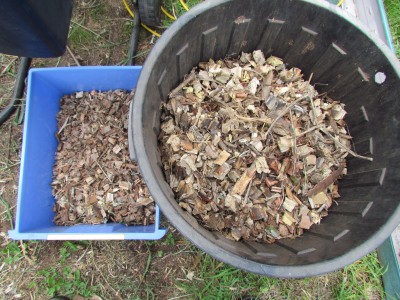 I have been collecting fallen branches from ours & the neighbour's yard for a while now & managed to get about 60L worth to top up the beds behind the chook pen.. I do have some other timber & leaf litter mulch laying around but would like to just use timber on these beds, so I can see if there is much of a difference between the 2 types..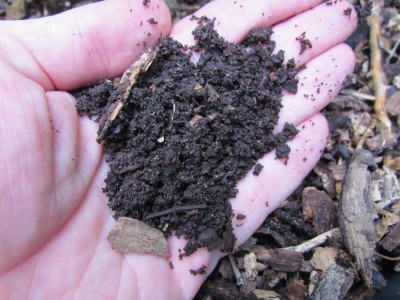 I have been impressed with the way the existing mulch is breaking down into humus thanks to the worms, fungus & other organisms in the beds..
Nematodes & molasses..
Have also had some nasty little beasties reappear in the patch..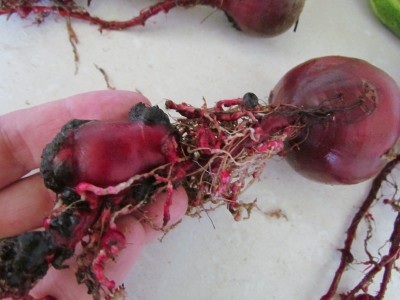 The barrel the beetroots are growing in now did have a tomato infected with root knot nematodes in it previously.. I don't think I quite knocked them all on the head before planting out the beetroot seed.. The barrel will be cleared then doused with a mix made from 500ml of molasses & 2L of water.. As mentioned in another blog post Colin Campbell recommended using this amount over 1½M² so I will be treating an IBC bed as well as the barrel.. I have been worried about attracting ants by using molasses but I really think enough is enough when it comes to these little pests..
Feeding the patch..
It is also time to feed up the beds again so I shall be also adding about 100ml of molasses with 40ml of Seasol in a 9L watering can.. This is about double the dose of molasses I used last time & have no concerns of any adverse affects on the beds.. I will apply this at a rate of about 9L per 1.5-2M² of garden bed.. So far I have seen a vast improvement in a few plants that have received a few treatments of this mix & hope to see better growth in the week to come..
I have been asked recently why we need to add anything to the soil in our beds & thought I would share the response here too.. Most of our garden beds are filled with "organic" soils we have bought in from some local suppliers.. These are not the greatest of soils, so we have slowly been applying the above additives as well as manures & worm castings in the hope that one day soon we won't need to add so much.. We have found that it takes about 2-3 seasons (12-18months) of adding organic matter & the like before the beds start to grow plants we are happy with.. Others may not need to add in as much as we do to get great harvests if you are already starting out with great soil.. Also the wicking beds & barrels are like massive garden pots that are not directly connected to the ground.. (bad soil with lots of rubble of household waste from the 50's, 60's & 70's) So like any garden pot, you need to feed it..
Planting out..
The girls & I planted out a range of seed during the week..
5 x Passionfruit Giant Granadilla.. We had tried these before but had no luck.. This time we are trying 2 different methods.. 2 seeds are being soaked in small container of water & another 3 seed have been scarified (scratching some of the hard outer coating on the seed to allow water in) using some sandpaper & planted into a punnet..
4 x Angled Luffa that will hopefully make a suitable substitute for zucchini.. These will take up far less room as the climb vigorously..
6 x golden purslane which is a larger cultivated form of a plant most treat as a weed..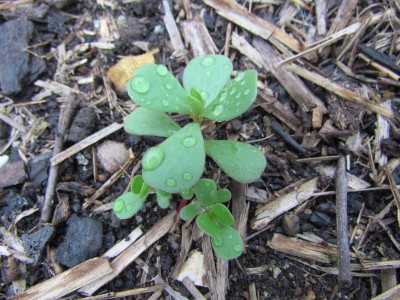 Left is the "weed" form that I am leaving in amongst the mixed carrots so we can compare the 2 plants once we can harvest them both..
4 x Gympie Gold cucumber.. These are a variety that I have been told is hard to get so am interested in saving & sharing as many seeds as I can.. It is said to be extremely mildew resistant so that interests me greatly..
12 x burgundy okra
4 x kang kong (water spinach) planted into coco peat pellets & put into the aquaponics system until I see some shoots appear..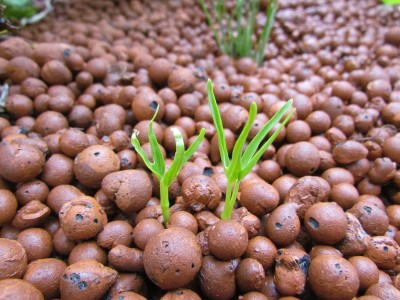 We have a few previously sown seeds already shoot in the aquaponics but am interested in trying the 4 planted today in some well hydrated pots filled with soil..
Egyptian spinach seeds were sprinkled in the sump tank grow bed (AP).. It is said to be a tasty salad green when young..
A few rows of white beetroot were sown in 3 different beds..
6+ Ethiopian Brown Berber chillie & 6 + aji amarillo chillie seeds were sprinkled into 100mm pots.. These all come from some older seeds so I will be happy if I get a plant from each, then we can save the seeds & pass them on to others to try..
Harvests from the patch..
Well, we haven't really had the opportunity to harvest much from the patch this week.. Besides some beetroot & cucumbers, most of the salads we have been living off were left by visitors on Christmas day..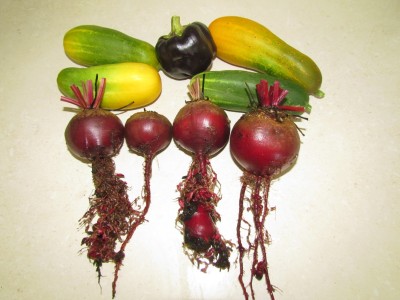 We did get to make up a very tasty beetroot, celery & carrot salad with these gnarly looking beets.. The cucumbers & our first 2 **does HAPPY DANCE** fruit fly free chocolate capsicums went into a cucumber salad.. Finished the last of these for breakfast yesterday morning..
I have been collecting the chillies from all the plants to go into a batch of chilli paste..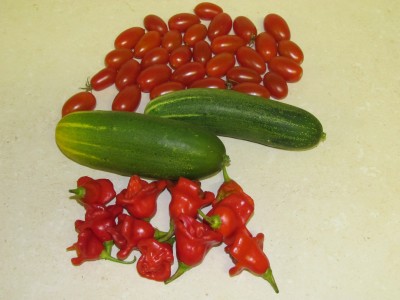 I was hoping to be posting how I made it this week but shall definitely have it made by next week.. The Mini Roma tomatoes are still pumping out the fruit on a regular basis.. As fiddly as they are, I am really enjoying these little guys sliced, topped with some Colby cheese & grilled on sourdough bread..
That's about it for this week I think...
For not doing much I certainly have rambled on a tad, sorry about that :D»
Before I start up again I would also like to wish you & your loved ones a very peaceful & prosperous new year..
Have a great one..
Rob..