Plantings & happenings in the patch…
The seedlings mentioned in last week's blog found a home in a few beds this week..
The patty pan squash were planted into the luffa bed near the house..

Hopefully these guys will produce some squash right through Winter.. I saw a post on a gardening group page about growing bush types of zucchini & squash vertical tied to a stake, so think I might try that with this plant..
The cucumber in the bed next to it is doing really well even though it has been attacked by caterpillars..I have my hopes up that we will get some tasty cucumbers from it over the next few months as long as the caterpillars don't take over first..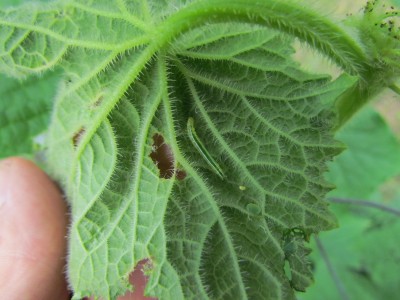 I shall be investing in some Dipel insecticide this week to try & control them here as well as in the aquaponics..
Dipel is basically a naturally occurring bacteria, Bacillus thuringiensis, in a concentrated form.. It is sprayed onto the leaves of plants, which the caterpillars then consumes, causing them to die from an infection in the digestive tract (not sure of the gruesome details but it works well).. In this form it is safe for the fish, as well as us humans.. It is also an allowable input on organically certified farms.. There have been some concerns raised on its use in creating genetically modified crops, like corn.. It is thought that grain containing genes from Bacillus thuringiensis can have the potential to turn digestive systems into pesticide factories but that is a whole other story for elsewhere methinks..

The broccoli, cauliflower, kohlrabi & kale were planted out today using the brassica planting technique mentioned in the last blog post..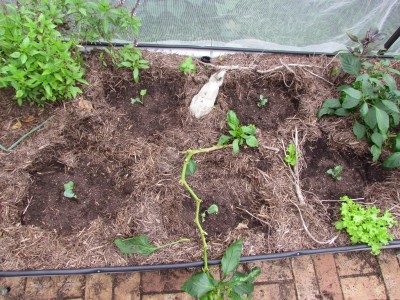 All the broccoli went into the top bed & the other plants have been planted into other beds in the patch.. I have worked out how I can incorporate another 2 beds into the insect house & am most chuffed that I have also been able to fit a proper door into the design as well.. This should keep the cabbage butterfly out during Winter & fruit fly in Summer.. Grasshoppers are still getting in & I have caught a few crawling under the side of the netting.. They are not too much of a worry in there & I should be able to control them with a few applications of neem..
This week saw a few of the beds treated with molasses to try & knock out the remaining nematodes.. I pulled all the carrots we had planted & found 95% of the roots were totally deformed & unusable due to infestation.. As mentioned above, a few brassicas went into the infected beds which should help control them a bit as most brassicas will help repel them to some extent.. Some, like mustards, are more effective & can be sown as a green manure crop then dug through the soil.. As they break down they release gasses that will poison the little blighters.. l will also do another application of molasses in about 3 weeks & then try a green manure crop of mustards & marigolds in an attempt to finely rid the beds of the little beasties before next Summers crops..
A new hybrid in the patch…
Wandering the patch on Friday I came across a bit of a surprise.. Under the Thai basil growing in the spice bed there were a load of small basil seedlings popping up in the pavers, with one of them having a purple variegation in the leaves..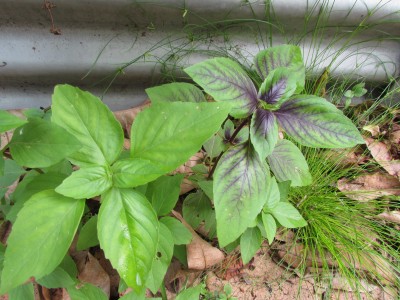 What has happened is a bee has hopped from the flowering opal (purple) basil in the aquaponics system to the Thai basil in the neighbouring bed creating this little wonder.. It can be a bit of a challenge to keep different types of basil seed "true to type" for seed saving purposes as bees are only too happy to jump from one bush in the garden to another… We are not too concerned about this but others that may want to save the seed might like to know.. The flavour is distinctly Thai (aniseed like) but with a pungent opal twist, if that makes sense.. I will be trying to transplant this little feller from the pavers into a bed where it can mature & hopefully survive Winter..
Some harvests from the patch..
We are still getting over run with chillies with some of the bih jolokia (ghost chillies) chillies ready to be harvested.. These guys are right up there with some of the hottest chillies in the world.. You can find clips of fool hardy souls on the internet eating these guys whole, straight from the bush so I thought I would join them…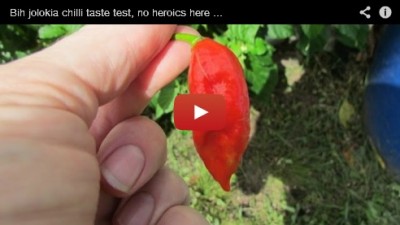 As you can see I chickened out big time :D» These guys are far too hot to make a chilli or curry paste out of for us, so I am thinking of just adding 1 to a batch & using roast capsicum to bulk it out.. Might try a green style curry as well just using some of the awesome Thai basil we have growing at the moment.. I might also try making up some chilli & garlic oil using coconut oils just for stir fries.. Can always gift it if it is too hot ; )»
But before I get to cook with some, I owe most of the first harvest of fruit from this plant to the chap who sent me the seeds originally.. He was having problems getting fruit to form on them in Adelaide & thought I might have better luck growing them up here in our longer growing season.. Bianca also has a friend at work who has problems finding, what he calls, "hot" chillies here.. So we will be sending him a few as well & I think he will be mighty happy with what he gets..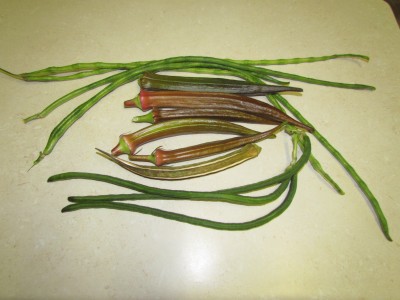 We have been picking snake beans from the plants behind water chestnuts in Bed #2 & expect to start harvesting from the plants in the strawberry bed this week :)» I have found the okra to have pods that mature very quickly with some appearing to double in size almost overnight.. The pod at the bottom is one of the last that we will be letting go to full maturity, as I think I have more than enough seeds for next year's crop, as well as to share..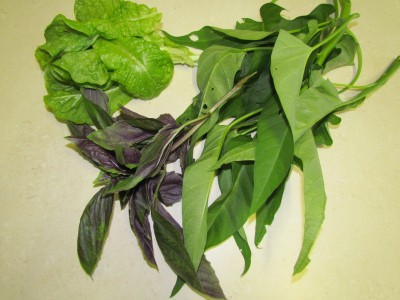 The leaves from the aquaponics have been a bit of a dinner saver for a few times this week.. This selection of basil, lettuce & kang kong were used in "marked down" Turkish bread hamburgers last night.. I have actually pulled a few kang kong plants from the system as they have been growing so fast & taking over a few beds..
One plant I am really hanging out to harvest fruit from is the Tahitian lime tree..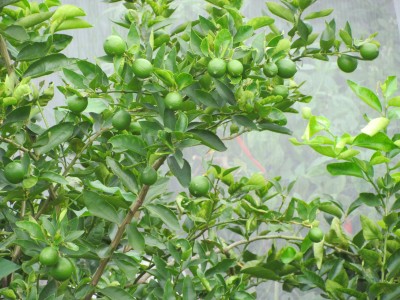 This will be the first year that we will get a crop from the tree.. The girls have been making a lot of lemon & lime drinks of late so the fruit from the tree will save us a small fortune hopefully..
Well, that's about it for this week..
Shall be back again next week with a bit of a look at the insect house expansion..
Have a great one…
: )»