A pondering on Self Sufficiency..
Last week I was asked what was I trying to achieve with our garden & to tell you the truth I was not sure what to say other than to produce as much food as we could from our yard.. I have said before that we are trying to be self sufficient, however I don't think that is an honest response… Part of being self sufficient means providing a continuing supply of food through the whole year, which is something I have not been able to achieve.. There has never really been a long range plan implemented for the patch, instead we have only been focusing on the current growing season..
It appears that the subject has been on others people's minds of late as well.. Last week Mankini started a great thread called "Triple SSS - the Semi Self Sufficient thread" which for me has come just at the right time to help me reflect on where we are going with the veggie patch, as well as the other food production projects we have on the go.. Add to this a post made in the SSS thread by Bev W, where she asked "And what is your main goal for this year? Is there something that you want to setup, learn, do...to help you with your SSS dream?".. In order to get a continuous food supply for ourselves & the animals we care for, I realised that there is a fair bit of planning to do to make a decent system… There are some on that thread who are or are very close to living the lifestyle we yearn for & I think must be congratulated.. As there is no time like the present, I have already made a start on it over the weekend by implementing one of the most overlooked planning methods.. I grabbed a "refreshing" drink & sat on my bum in the patch waiting for it to talk to me.. Well, um, maybe not talk to me but I did sit for quite some time trying to see how I could arrange all the bits we have into an almost self sustainable system where we rely on as few inputs from outside as possible.. No doubt you will see some of these steps & projects as they are completed..
In the patch..
Today I wanted to connect the last 2 grow beds to the Aquaponic set up but the hydroponic store had not received their stock of the Aqua Clay balls so I couldn't.. The grow beds are all plumbed in & just waiting for the rest of the balls before they can be planted out.. It has been about a year since we first started working on the large IBC Aquaponic set up..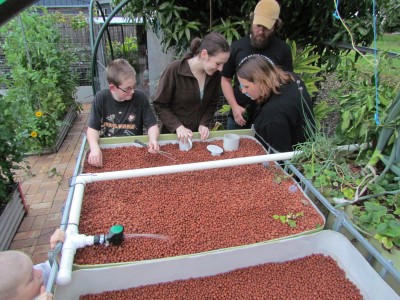 One bed has been connected to the out flow from the fish tank with the return going into the sump tank... The bell siphon appears to be working fine so one bed is ready to plant out tomorrow... The other bed will have to wait until next week.. I also hope to be able to show you some of the workings of the system next week as well as the video editing software is playing up at the moment..
Aquaponics is very similar to Hydroponic gardening except instead of adding liquid nutrients to the water, you have the fish provide the nutrients for you… The fish release ammonia as a waste product which nitrifying bacteria, that live on the rocks/pebbles in the grow beds, convert to Nitrites & then into Nitrates leaving nutrient rich water for the plants to feed from. It is a great plant food that produces some very healthy, fast growing plants.. The filtered water is then return to the fish tank to start the process all over again..
The fish of choice for us are Jade perch, also known Barcoo Grunters a native fish from the Barcoo river system in Queensland.. They are a very hardy fish (great for us first timers) & are said to have one of the highest amounts of healthy Omega 3 oils of all fish so are quite a healthy protein source.. The most expensive part of running an Aquaponic set up is the feed for the fish.. One idea we have had from the start is to grow or raise as much food for these guys as we can.. This is fairly easy as they are omnivores and are quite happy munching on some lettuce or home grown duck weed.. We also intend to supplement their feed with worms & some black solider fly larvae for added protein.. Hopefully we will get away with virtually no running costs other than the feed & a very small power bill for running the water & air pumps.. (Still working on a costing for these)
Happy harvesting...
I have posted an up to date clip on our You Tube channel showing what's growing, ripening up & being harvested at the moment…
http://www.youtube.com/watch?v=pzR64VKJbA0
It got a tad long so the abridged version is below : )» Will try to keep any future clips short & sweet ; )»
This is the first year we have had success with the white cauliflowers & again I think it was down to the way I firmed the plants in when we planted them.. The one in the shot bellow is the first cauliflower harvested this year..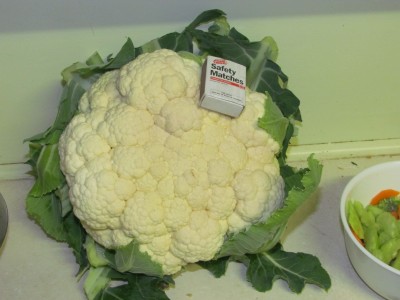 Some of it went into a Thai red curry along with the rest of the veggies, lemongrass & Kaffir lime leaf pictured below,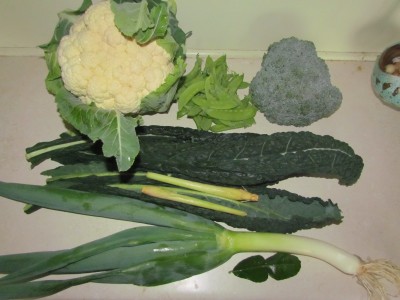 The Thai beef curry was based on a purchased curry paste with some added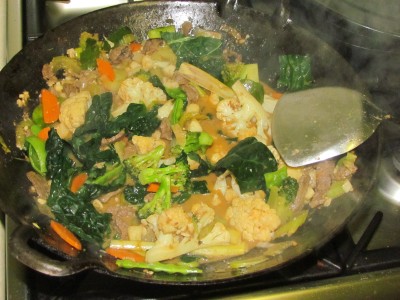 That's about it for now.. Have a great one all..
: )»