Compost for the patch..
Finally decided to start using the 2 lots of compost that have been cooking down to help fill some new beds going into the front yard.. The first batch I looked at adding had been made up of lawn clippings from the pile behind the pigeon peas bushes in the front yard.. This pile was started around the trunk of a tree by the previous owners.. We added to it over the years & then on top of the stump when we cut the tree down about 4 years ago.. For a few years it was nothing but a pile of dried out leaves & clippings before some timber mulch containing a few worms & the contents of a flooded out black solider fly barrel. This was added at the start of the year.. When I went to check it out a few weeks ago I got a very pleasant surprise..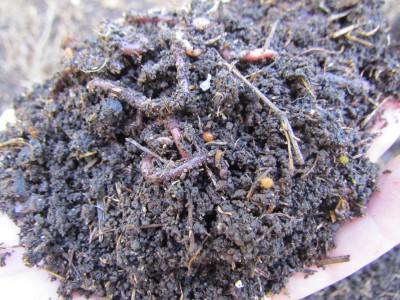 Must say that I have never seen this many compost worms with their cocoons, "wild" in the garden & have been blown away by how well they have turned this heap of dry grass & leaves into excellent compost in just over 7 or so months.. While looking through the compost I found a fair bit of plastic & broken glass in the deeper layers so decided that a fine mesh screen needed to help clean them out..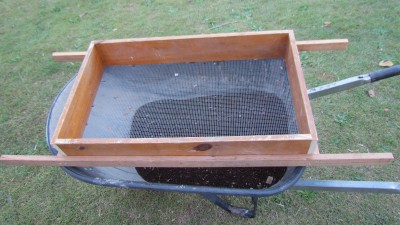 So on Friday, Koo helped me build a fine mesh garden screen/sieve so we could try to get as much debris out as we could & I was most pleased with the result..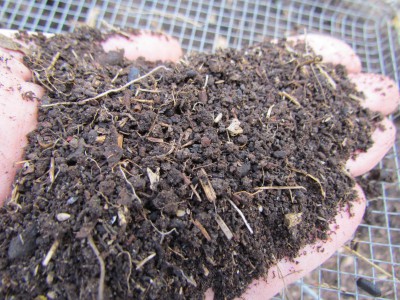 The compost came out looking really nice but the process was also very time consuming due to the number of worms we found.. Didn't want to squish the little fellers while rubbing the compost through the mesh so we handpicked out as many as we could & added them to the compost in the barrow.. The compost was then blended with the soil & screened horse manure.. I figured that having it in the lower layers of the bed would stifle any weed seeds that might try to germinate from the mix..
The second lot of compost was actually supposed to be used as a wood based mulch for the top of the garden beds but just broke down too well..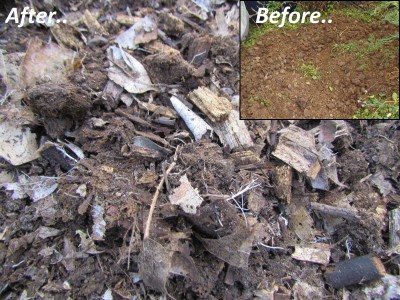 It was made by layering a few bags of horse manure between some Chinese elm & mango tree prunings that had been run through the mulcher back in January this year..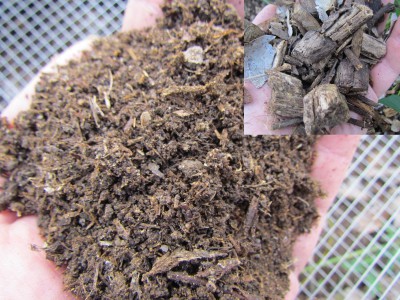 As this compost should be relatively weed seed free it was mixed with the soils that went into the top layers of the new beds, with a small bags worth being saved to be used in seed raising mix.. The larger bits of wood are going straight onto the lime tree bed as mulch so will still serve its intended purpose.. Don't think there will be enough to do the whole bed but might cover ½ of it by the time it's all screened..
Am more than pleased with these 2 compost heaps seeing as they are the best we have made yet.. Just goes to show what can happen when you leave nature alone to do her own thing.. I have no doubt that they would have broken down a bit faster if I'd spent a bit of time turning & giving them a light watering, something I will probably do when the next batches go down..
New beds & seedlings...
This week has been a flat out one in the patch as I am trying to get all the beds in place before spring arrives.. Managed to get 4 new IBC wicking beds set up in front patch alongside the 2 existing asparagus beds..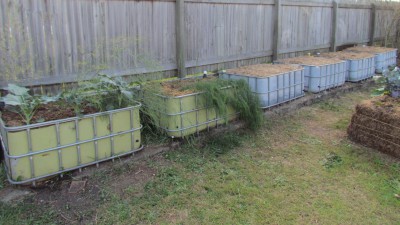 Most of the soil that has been used in these beds came from an old IBC wicking bed that is being gifted to my parents.. Another one is being removed to make way for the aquaponic expansion & some leftovers from the second asparagus bed that went out the front.. Ended up stretching the soil we had with a screened horse manure, scrapings from the chook yard & compost from the 2 piles.. There has been enough of this rich blend to fill the 4 new beds along the retaining wall which I think the plants will love.. Have worked out how the beds will be planted as well.. The first 2 beds (next to the asparagus) will have Aztec corn in them, the next 2 will have yacon with turmeric & ginger going in the last 2 beds that are yet to be built.. Hope to get the corn planted out in the next week or so..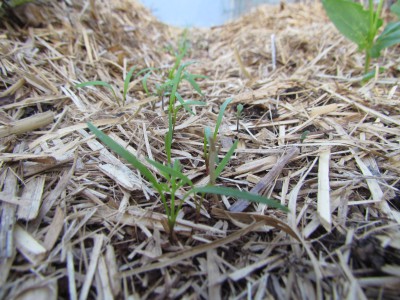 Both lots of carrots that were planted a few weeks ago have germinated at last... The short Kuroda were first with the mixed heritage coming up a few days later.. Was a tad worried that the mixed heritage seeds may have been duds as they had an expiry date May 2011, but lucky for us that doesn't appear to be the case..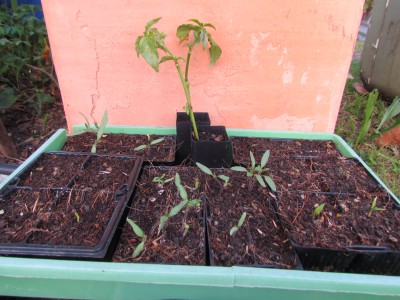 The tomatoes, eggplant & capsicum planted a few weeks ago have all popped with the eggplant being the most recent to germinate.. I sort of expected it to take longer as it was a commercial seed & have found that seeds we save will germinate faster with more vigour than their commercial counterparts.. Might even test that theory with an experiment one day.. The 2 large seedlings at the back were a gift from an online friend.. It is known as mushroom plant (Rungia klossii) & is native to New Guinea.. It is said to taste like mushrooms & can't wait to try it as soon as it is large enough to harvest.. One will go into the aquaponics with the other going into a soil bed.. Thanks for dropping it around Tracey :)»
Looks like I have no need to plant any snake beans this season has we have more than enough volunteers from last season's crop coming through all by themselves..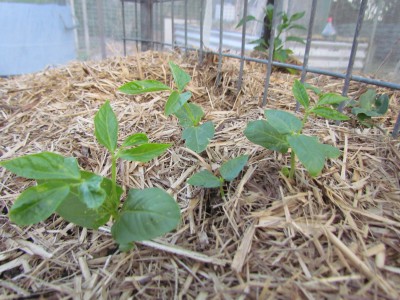 Might take a bit to try & train them up the mesh but I think they will do fine in the end..
Had a bit of an accident with the seeds that were planted out last weekend.. I think a possum or dove must of tipped the tray from its precarious position on Friday night.. I was hoping to sow some more seed to replace them along with some others today.. But time just got away from me while I was finishing off the gardens out the front, so shall include what goes out in next week's update..

Planting guides...
As we are coming into Spring here in the southern hemisphere, I thought I would post some links to some free online planting guides that I have found useful when trying to plan out what crops need to go in & when..
One of the most versatile would have to be Gardenate.com.. This website allows you to select your country from a list that includes Australia, New Zealand, the UK, North America & South Africa.. Once your country of origin is selected you can then select your climate within the country.. You are then given fairly detailed information on what to plant & when from a fairly decent list.. They also have some handy growing information for a lot of the common edible plant varieties grown..
Another great planting guide for Australia is the ABC's "Organic Gardener" planting guide.. You can also download this list as a PDF & keep on hand to refer back to..
Would just like to mention that these are only guides.. I have noticed that we can plant some seeds earlier here than my parents that only live a 10-15 min drive away.. This is due to the position of our block so like most things to do with gardening, there is a small amount of trial & error involved..

Aquaculture teaser...
I think I may have mentioned here before about the plans to raise more of our own protein by way of installing a fish farm before on the blog.. Well, I am more than happy to say that by chance I was able to secure 2 IBCs that will suit the task very well..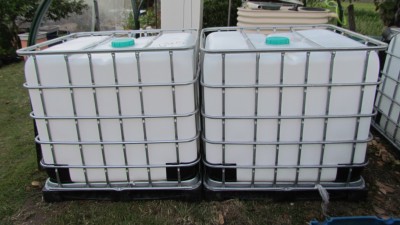 These 2 tanks are opaque IBCs that had aloe juice in them & were shipped to Australia from Mexico.. As a fairly benign food stuff, they will be easy to clean out & being opaque they will be better at stopping light from penetrating through into the water, which tends to encourage algae growth on the inside walls.. I also have an order in for some plumbing parts with a local aquaculture/aquaponic company & hope to be able to make a start at setting the system up in the next few weeks : )»

Well, that's your blooming lot for the this week.. As a fan of Peter Cundall, you don't know how hard it has been not to use that in previous blogs ; )»
Hope you have enjoyed this snap shot of what has happened here during the week & hope you've all had a good chance at sorting out your patches for the upcoming Spring & Summer crops..
All the best,
Rob : )»