Pests in the patch…
As this Summer has been constantly wet, we have seen an increase of grasshoppers in the patch.. These cheeky little blighters have also found their way into the "insect proof house".. Normally I don't worry about them too much, as they are never in great numbers but this year they have taken their toll on the chard & mangle plants.. I would normally spray with neem as a preventative but due to the wet weather, I've only been able to apply it 3 times this whole season.. I'm sure what I did spray was washed off fairly quickly as well.. On the up side though, the fish & chooks have been getting a fair few every day..
Another pest that is causing a few issues is the green stink bug (Plautia affinis)..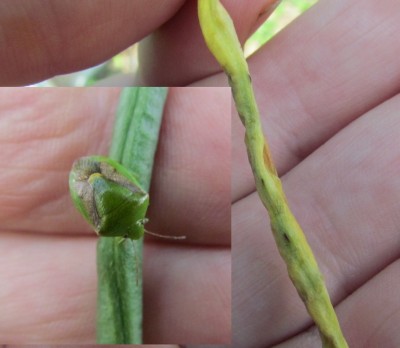 So far I have only found them on the snake beans & according to QLD Dept of Primary Industries web site they mainly feed on the pods of legumes.. I have read that they will also feed on tomatoes & fruiting trees.. It looks like pyrethrum based sprays are effective against them but as it also kills the beneficial insects in the patch, I would rather not use it.. So far I have just been picking them off & squishing them.. The plants will get a spray with neem tonight if it cools down enough (supposed to hit 35°C today), and hopefully that will take care of them..
Aphids have decided to relaunch an attack on the okra & the snake beans this week with the help of the ants that "farm" them for their sweet excretions.. Normally we only get small outbreaks but they have acquired a taste for the okra leaves/flower buds & can be found on nearly all the plants.. I have seen an increase in the beneficial lady bugs that love to feast on them but nowhere near enough to keep them totally under control.. A few weekends ago I sprayed the only infested plant with our neem/potassium soap mix & it did the job of knocking them off rather quickly.. But I must of missed a few methinks.. Thought I would also try out the pure liquid soap (Sunlight Soap is the brand recommended to my parents by commercial growers) method again just to see how they stack up against each other.. So yesterday the okra & snake beans got a good dosing of the 1:100 liquid soap & water spray..

I was most impressed with the result I saw in under 24 hours.. well over 95% of the aphids were dead, shrivelled & stuck to the leaf.. The ants had also abandoned the leaf which was a good sign.. While I like that neem offers protection for longer period of time by leaving residual traces on the plant, the soap mix certainly stopped these guys in their track… I actually think it worked better this time than in previous attempts so am wondering if I messed up the ratios previously..
While on okra I thought I would show you the stunningly beautiful flower they have..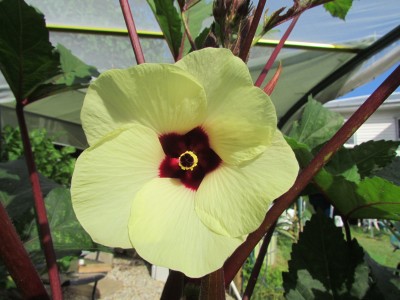 I think they are most impressive but sadly they only stay open for a few hours..
Feeding the addiction…
Last weekend I went to the Ipswich Plant Expo (by myself) to see what seeds & plants were in need of a new home.. I managed to find 1 or 2, much to the "where are you planning on putting that" from Bianca.. I came across the Forget Me Not Heritage Seeds stall & couldn't help myself :D»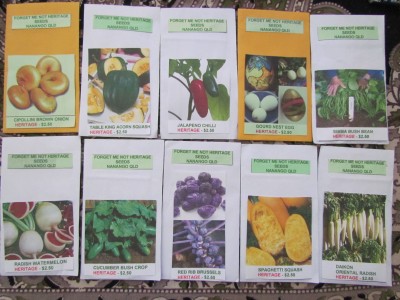 I picked up these seeds & also a dwarf red pawpaw/papaya from the Forbidden Fruits stall..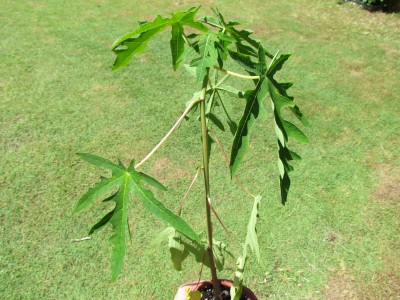 I have been told that in the right conditions this could start fruiting within 6-8 month & as it is a bisexual we won't need to source a male plant.. It will be planted out during the week into a large 100L wicking pot next to the back stairs.. Should be OK there, as it should only grow to about 2meters in height.. I will also try to propagate this plant via seeds & cuttings when it is mature enough..
More greens for the girls…
Decided to sow out the green feeder again this week.. I like to give the seeds a bit of a leg up to sprout.. It's a fairly straight forward process.. Last Thursday (7th of March) I covered 2 cups of wheat seed/berries with filtered water & let them soak for 12 hours on the bench.. They were then emptied & rinsed with fresh water then left to drain..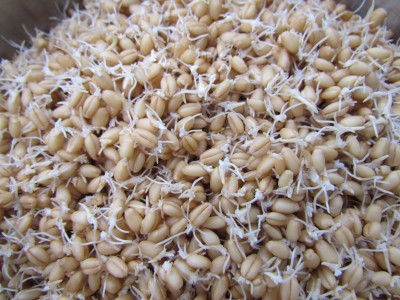 I rinsed them every 12 hours or so for 2 days until they had some decent shoots on them…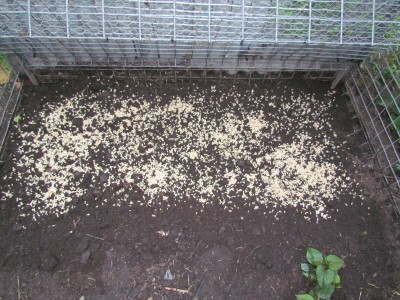 It was then just a matter of scattering them on the soil in the cage & covering with a fine covering of soil..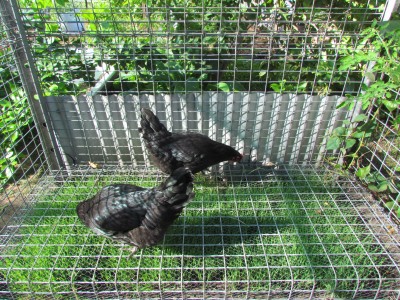 That was last Sunday & this is what they look like today…
I was taking photos of it every day & of course Greedy couldn't resist photo bombing the shot on Thursday :D»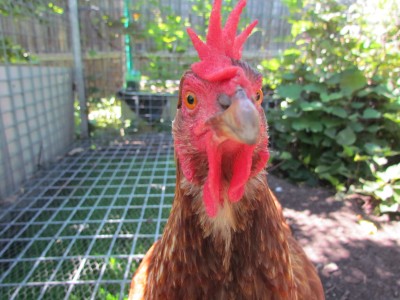 Planting out in the patch…
Managed to get a fair amount of seeds sown into the patch this week.. From the seed haul last weekend I've sown out cipollini onions in a barrel, spaghetti squash and bush crop cucumbers into different wicking IBCs & some watermelon radishes into the top bed in the hoop house..Some jalapeno chillies & red ribbed Brussels sprouts were sown into some punnets then left in a germination try.. During the week I also sowed some bell/Bishops crown chilli seeds into a pot hoping to get a head start on next season's crop..
And finally I planted 2 lots each of mini violet ruby eggplant (small pea sized fruit, great for curries) & aji amarillo chilli (a Peruvian medium heat chilli) seedlings into a few different spots around the patch..
This week's pickings…
We have been having a fairly constant supply of okra coming from the patch over the past week.. I think it is just as great raw as it is cooked in stir fries, curries or stews.. Our girls were not too happy about it being added to salads due to the small amount of slimy liquid that is released once it is cut.. But I have found that they didn't even notice when it was added to a quinoa salad :)» I think it has a bean like flavour when eaten raw.. Bianca is nodding her agreement..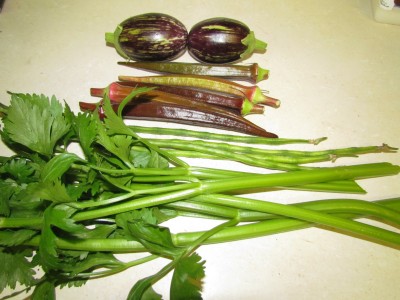 We have started to pick the celery as needed at the moment.. I love it sliced thinly then added to either a bean or quinoa salad.. This lot went into a hoi sin stir fry along with the eggplant, snake beans, okra & left over roast pork..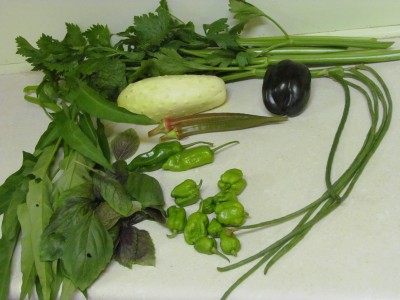 Picked the last chocolate capsicums still a little bit unripe so I could add a sharper flavour to a bean salad.. The first of our Gympie gold cucumbers was also diced & added.. The cucumber had a great crisp flavour so I'm hoping for many more to come :)» The small wrinkly chillies at the front of the shot are 7 pot/pod chillies, so named as 1 chilli has enough heat to make up 7 batches of chilli… I am also growing these for our friend in SA.. Not sure I will be game enough to be using any…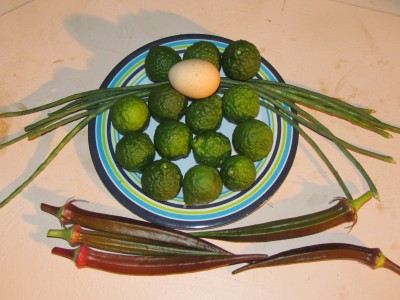 The kaffir lime has also given us some more friut over the past few weeks… Most of this will again be zested & frozen for use in drinks & meals in the months to come.. The cackleberry was used for Koo's dinner while the okra & beans are being stored in the fridge waiting for Tuesday nights Buttered chicken :)»
That's it for this week.. Hope you have all had a chance to get some soil under your nails & had a productive weekend in the patch..
Have a great one…
Rob..