Some helpful sites...
Have been holed up all week in the house due to injuries suffered while moving the wicking beds last week (put my back out & did a job on the sciatic nerve).. I have spent a fair amount of time online looking into future projects I would like to do in the patch.. This got me thinking about the online resources I like to use when I'm planning projects as well as planting guides that come in handy.. Some of these I found through different threads here on Simple Savings & I hope they may come in handy for fellow gardeners out there..
One of my "go to" sites for home remedies to treat disease & infestations is Annette MacFarlane's site.. Annette is a wealth of knowledge & from time to time through the council, puts on free workshops here in South East Queensland covering a whole range of gardening topics.. I went to a talk she did on veggie & fruit growing in suburbia at a local library, which was very informative.. Even came home with some seedlings & ideas for new plants to try in our climate.. Annette also appears on local 612 ABC Brisbane radio from 6am on Saturdays & answers gardening questions.. She has written for a few gardening publications & has a column in the Sunday Mail as well.. I also find her gardening books quite useful, with my favourite being "Organic Vegetable Gardening'..
The ABC's "Gardening Australia" programme also has a very useful website to visit.. The site has a selection of old shows available for viewing online, as well as fact sheets & guides that I have found useful..
Gardenate is a great planting guide site that I use a bit.. It allows you to select your own region from a list that covers growing zones in Australia & New Zealand, as well as other countries.. I use it as a rough guide because I have found that I can get away growing certain things in different times than they state.. But then again, I also like to push it to see what I can get away with ;)» They also have individual growing guides for plants that includes planting & cultural information..
I also stumbled across this great Organic Gardener magazine planting guide from Scarecrow's garden Facebook page that I follow.. I was actually turned onto wicking bed gardening through Scarecrow's garden blog after someone posted a link to it here on Simple savings.. A huge THANK'S to whomever that was..
Facebook has been a great source of information... Great gardening ideas, projects & information can be found on the various pages people set up of their own patches (like mini blogs) as well as gardening & aquaponic groups that are sharing information & help for free..

One commercial site that I like to use is Green Harvest.. It, like a few other seed supplier sites, have growing information they share for free.. I find this page with its "List of All Plant Growing Information" (½ way down) a very useful one, as it covers plants that many other sites don't.. In a few cases this page was the only place I have been able to find accurate growing information for a few of the more unusual plants we have tried to grow..
As for Aquaponics, I have found the Backyard Aquaponic forum to be the best one for Australian aquaponic gardeners.. There are a lot of threads covering loads of different aquaponic topics, as well as people's individual system threads.. Members threads show how others have made up their own systems & you can pick their "grey bits" for hints & tips.. I have found that all are more than willing to offer some advice & if they can't, they can help point you in the right direction..
Planting out some seedlings...
The only bit of gardening I have really managed this week, when Bianca wasn't looking, was to plant out 8 asparagus seedlings that had been growing in pots out the back..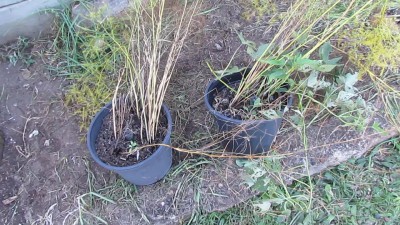 There was 4 in one pot & 5 in the other, which also had a tag along Purple sweet potato hitching a ride :)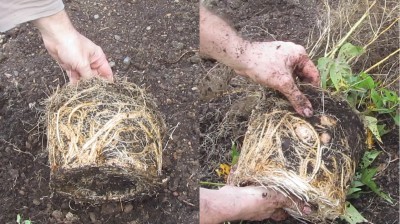 Once the pot was emptied it became quite apparent that these guys were truly pot bound.. (In the pot on the right you can also see the Okinawan sweet potato tubers that formed in the pot.. I gave those tubers away to some visitors today so they can have a chance at growing a few..)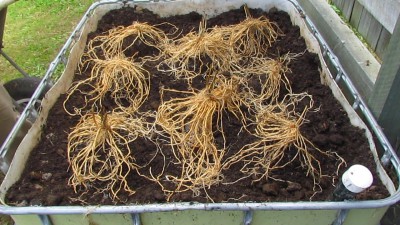 I think they are very happy as they are now able to stretch their roots.. I ended up planting out the 9 plants but kept 2 of the smaller plants together, just to save space.. While I don't think we will be enjoying any spears this Spring, I did get a bit of a surprise when I watered the gardens yesterday & found plants in both beds starting to throw out shoots..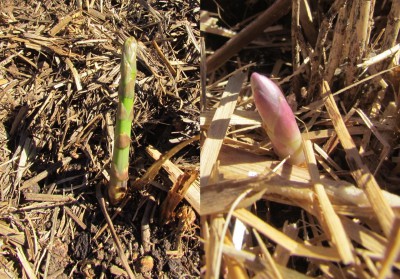 Am most pleased with this as you can imagine & think the plants will love it here in their new beds..
Wild worms in the patch...
I thought this might interest some out there that may be after some free composting worms.. We had some cardboard set down on the ground where I was planning to place a hay bale garden bed, but due to a change in plans the bed was never set up.. I had a bit of a look under the pile & found quite a little tribe of worms inhabiting the cardboard..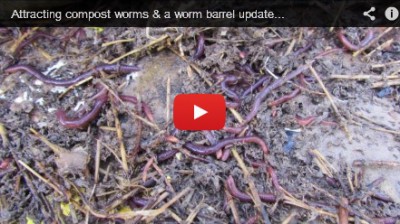 These fellers were added to one of our worm barrels but also think that they would have made a great little colony to start up another worm farm..
Cardboard is only one option as we have also found them hiding in leaf litter & in the base of compost piles.. Once collected & given some manure &/or scraps to feed on, their numbers will multiply in no time.. Just to give you some idea on how fast you can build up your worm population, compost worms can produce a cocoon (containing around 6 baby worms) every 7 or so days.. It takes 2 to 3 weeks for them to hatch & only 2-3 months to be able to reproduce themselves.. So as you can see in less than 6 months you could build up quite a heard of squirmers :)
A few small harvests...
Pickings this week have been a tad slim..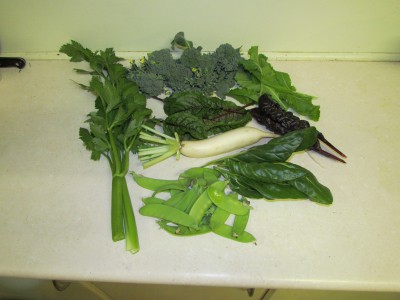 Managed to pick a few kale, red sorrel & rainbow silverbeet leaves.. Side shoots from the broccoli, celery & snow peas are still making a regular appearance on the dinner table.. We also started to harvest some of the daikon radish as well.. Have found they go great sliced thinly & added to salads..

Picked a rather large daikon to give to a You Tuber that stopped in for a visit today (You can blame him & his partner for the blog being late yet again ;)» )..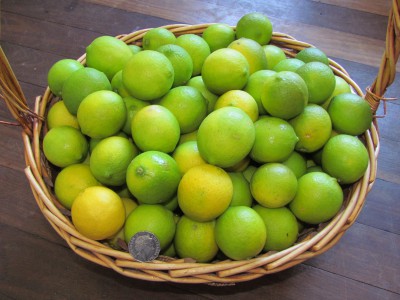 The girls also stripped the Tahitian lime tree bare today & sent most of the morning juicing the fruit..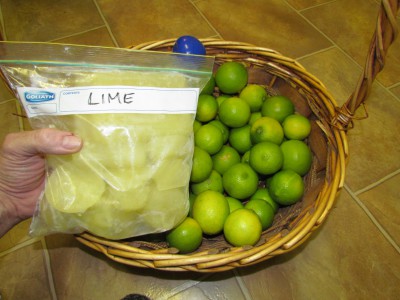 Some were also gifted to our visitors & I think Bianca will be taking some into the office to share around tomorrow as well.. We use most of the juice in both warm& cold teas.. Am also going to make some labna cheese this week form our yoghurt so we can use it & the lime juice in a cheesecake next weekend.. Might also visit the local Friday night markets to see if we can get some finger limes to add to the cheesecake as well :)»
Am a bit miffed I was put out of action by a shovel load of wet sand & hope to be back on deck by next weekend.. The boss has told me I must take it easy for a few more days, so don't think I will get much done out the back this week.. I will be taking it easy as I think the most valuable tool a gardener has is a strong back..
Hope you all have a great week..
Rob