Water chestnuts..
Was able to knock a few water chestnut projects on the head this week… The bathtub pond has been set up with a bucket of water chestnuts added & some White Cloud minnows released to take care of any mozzie larvae that may get laid… Only 2 corms went into the bucket & I know that if all goes well it should be chockers with corms by the end of Summer..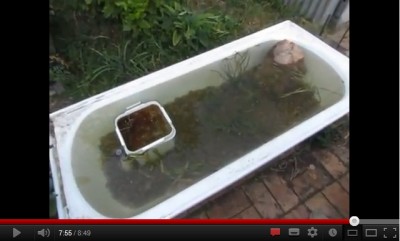 Click on the pic for a clip on how we made the pond & planted out the corms...
The other planting of water chestnuts that took place was in a new purpose built bed attached to the aquaponic set up… It was an easy build as we already had all of the plumbing, stand & the ½ barrel on hand… I bought some river rocks for the barrel but decided against using just them as they can be hard to move around when looking for the corms & I think they could damage them during the harvesting process.. I ended up purchasing some more expanded clay for the top ¾ of the bed to make it easier when harvest time comes around..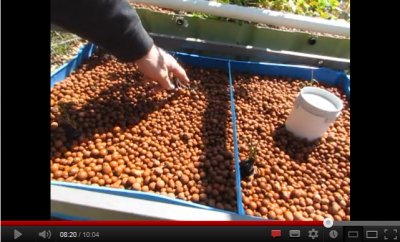 Click on the pic for a clip on how we made the Aquaponic Water chestnut bed...
Some water chestnuts have decided to sprout in the raspberry barrel that was filled with some of the soil from last year's water chestnut bathtub, so I thought I would just leave them there to see how they go… I don't think the berries will mind too much..
Clearing the beds…
Another job that I was putting off as long as I could was the harvesting & removal of the Roma tomato plants in the Top IBC beds..
The roots of these plants were infected with knot root nematodes, so I am glad they were pulled out early… Once they were pulled I treated the soil with some Neem oil before the next lot of plants went in..
The 2 bits of wire that were used as a trellis for the tomatoes was taken down & joined together to form 1 longer trellis that spans both of the IBC beds..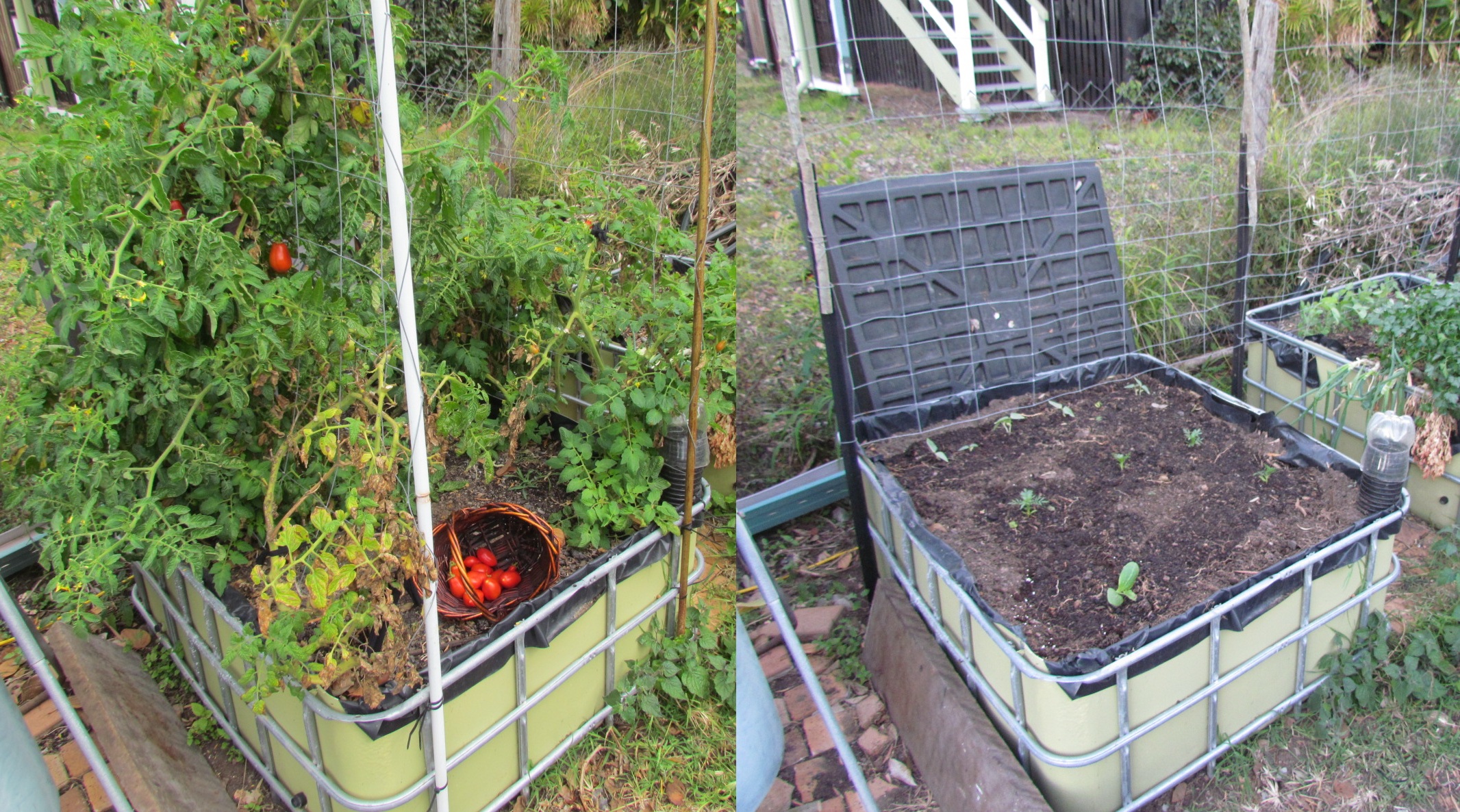 In the top bed we have a crop of Roi de Carouby snow peas that are being grown for seed saving purposes & the bed on the left have had some snake beans, a yellow zucchini & marigolds planted in it.. The marigolds should over time help control any nematodes that are left in the soil..
The snow pea beds have also been cleared ready to be fertilised & planted out in a few weeks… They had a bad infection of powdery mildew so would like to rest the beds before adding any other plants at this stage as I mentioned in last blog.. I will have some more information on powdery mildew & knot root nematodes in next week's blog..
Seeds & Seedlings..
I have some seedlings that should be ready to plant out soon.. We got these via the FaceBook "Share the Seed" group set up for Simple Savings members & Aussie You Tube gardeners..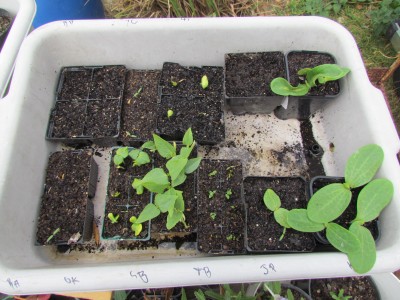 From other generous members of the group I have sown some jarrahdale pumpkin, okra, Thai basil, mixed capsicum, brown seeded snake beans & spaghetti squash, with most looking like they will be ready to go out by next weekend..
I am also growing some purchased kakai & baby bear pumpkins as well as a batch of bulls horn capsicum from seeds we saved ourselves..
Winter round up Clip..
For those interested, I made a winter round up clip to celebrate the start of spring today..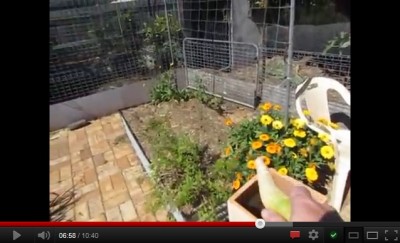 Community Gardens..
Last week I offered to help a chap at the local shops with an SD card selection for a video camera he was buying.. We got to talking about what we film & he told me of a small community garden he was a member of that had been running for the past few years.. I jumped at this chance to join a local group of like minded people who also enjoyed growing their own healthy food..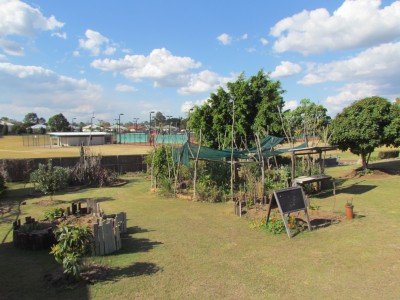 I arrived not really knowing what to expect but after being warmly greeted by a few members I was handed a pair of secateurs and put to work weeding a bed as well as picking some of the produce..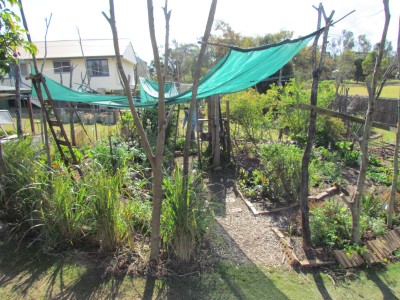 The area of the garden isn't large but it does have a number of beds layed out around a central mandala style garden, as well as a large 2 bay composting set up.. There were about 12 or so of us there on Sunday with some of the regular members absent that day.. I also got to meet the lady from Free cycle again that we harvested worms for, which was nice..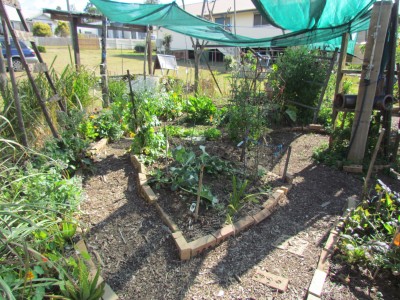 The range of vegetables & herbs grown were quite impressive & have got me thinking I could probably squeeze a bit more in our own garden.. The garden is big enough to provide all the members who were there on the day with a few meals worth of salad greens, some herbs, arrowroot & radishes.. I really like the idea of community gardens where for a little bit of time & back bending (as well as some adult conversation which was a real treat for me) I got to bring home some nutritious free food for us all to enjoy.. I really enjoyed my day there & can't wait to go back on Sunday to help out & pick the brains of some of the more experienced gardeners who coordinate the group..
Happy harvesting…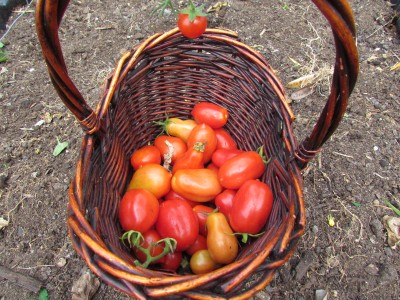 We got about 750g of tomatoes so that should keep us going for a week or so… There are also a few broad ripple yellow current tomato plants that have self sown around the yard that we are picking as well..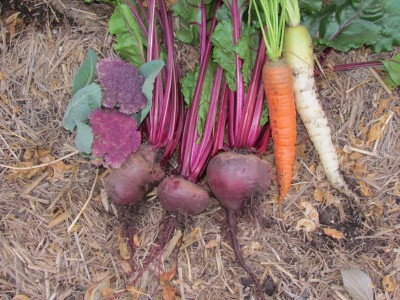 This was the last harvest for winter.. We still have carrots & beetroot but that might be the last of the caulies for the year.. We do have more in but I fear the coming hot weather may make them bolt early… We shall just have to wait & see I suppose..
That's about it for this week..
Feel free to ask any questions, or leave any suggestions below..
If I don't know the answers I am only too happy to try & find it..
Hope you all have a great one..
:)»