Saving & storing chilli seeds..
We have been lucky enough to get a bumper harvest of the bih jolokia chillies.. In fact, I think we have grown enough to provide us with enough tongue blistering hot curries for at least the next 5-10 years.. As I am not a glutton for punishment I have decided to collect some seeds from them to share with a few people & freeze the flesh for anyone that will take it :D» Saving any type of chilli or capsicum seeds is fairly straight forward.. All that is needed is a few sheets of paper towel & somewhere to keep them safe until they dry.. A few precautions need to be taken when dealing with these little fellers & other hot chillies, so some rubber gloves were used due to the amount of "heat" these guys have in their flesh/ juice.. These chillies are right up there in the top 7 hottest chillies according to the chart in this link http://www.peppersrus.com/pages.php?id=2538 & I got a slight burn on my wrist from the juice while I was working with these guys..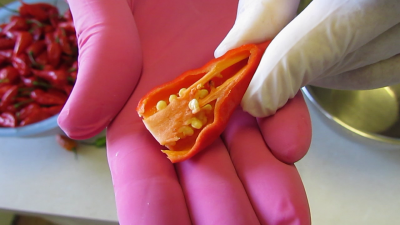 Collecting the seeds is as easy as scraping them from the pith while preparing the evening meal & 1 chilli should give you more than enough to grow the next crop.. I like to set them aside on some paper towel to dry for a week or so..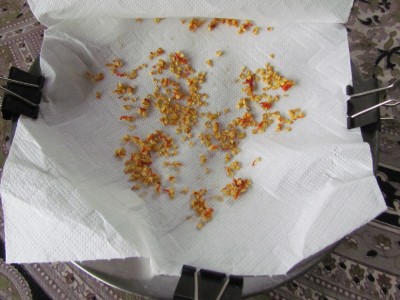 I find it best to use bulldog clips to hold the paper shut & secured to the plate so you don't have seeds flying everywhere if knocked.. I have also posted on some little paper towel envelopes that are easy to make up & handy for drying small amounts of seed in..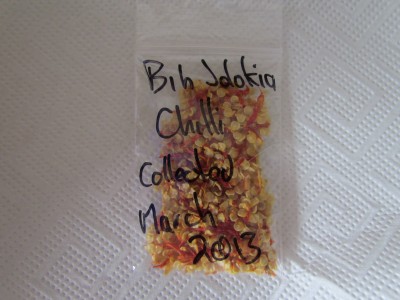 Once the seeds are dry they are ready to be packed up & stored in small envelopes, plastic bags or wrapped in foil then stored in a dry, cool dark place.. Moisture is the biggest enemy of seed savers so be sure to make certain that they are all dried properly before storing..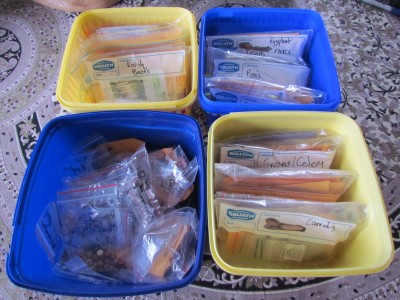 I use cracker containers & keep the seeds grouped in larger bags according to varieties.. These containers then live in a bookshelf that gets no direct sunlight & are in a cool spot in the lounge room..
Wandering the patch..
Still waiting for ½ of the garlic that was planted to make an appearance..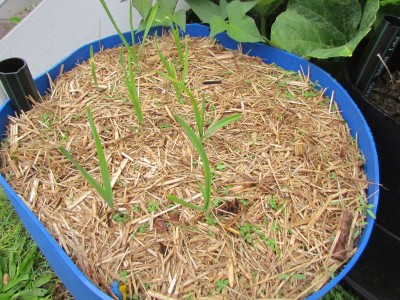 All but one of the garlic that got the fridge treatment have shot, so am most happy with that.. The next lot should be ready to go in this week..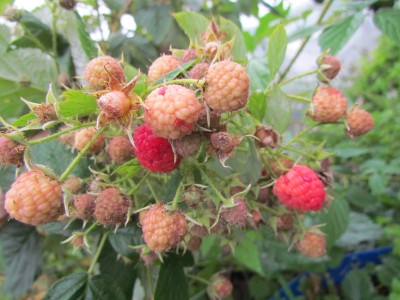 The raspberries are pumping out the fruit at the moment & make a great snack while wandering the garden.. I think we will need at least another 2 barrels or a small beds worth to get enough to preserve though..
Bianca is planning on a beef rending curry tomorrow and it looks like we will be picking the first of our wing beans as a side..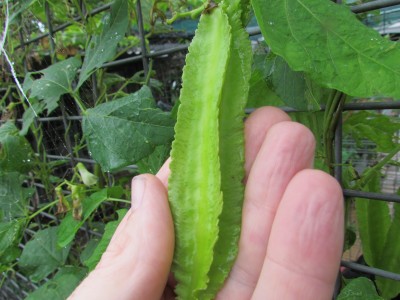 Have been looking forward to these guys for the past few months : )»
Am happy with the way the jade perch are going at the moment..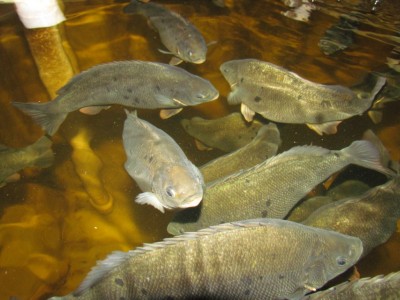 Bit hard to tell from the picture but I think we will be harvesting 3 or for in about a months time.. We are really looking forward to our first meal of home grown fish..

Bought 4 bales of lucerne hay to try my hand at straw bale gardening out in the front yard..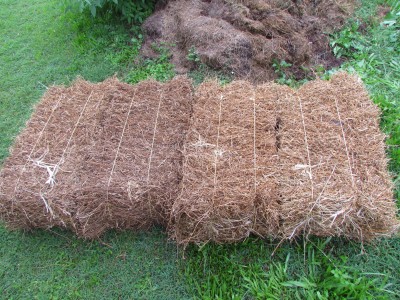 Will be setting them up & conditioning them this week so they can be planted out in a few weeks time..
Treat for dinner..
Was very lucky to get a gift of 4 large jade perch from a local grower & aquaculture specialist this week.. He brought them over live in a large esky so they could be despatched, scaled & cleaned fresh for dinner that night.. Was most impressed with the girls as they were present & interested in the whole process & they got to see first hand how the fish was prepared.. We cooked them up as he suggested with just some salt & pepper in a hot pan..

Not being a very big fish eater I was not sure what to expect but was pleasantly surprised.. They were slightly oily but I sort of expected that as they are said to be the fish with the highest omega 3 content.. Was very happy to get at preparing & tasting them now, as ours will be ready to start harvesting in a month or so I hope : )»
I know he won't see this here but I must say thanks again Paul, was a very generous gift we thought..
Happy Harvests..
Started the week with a harvest of the bih jolokia & yellow 7 pot chillies..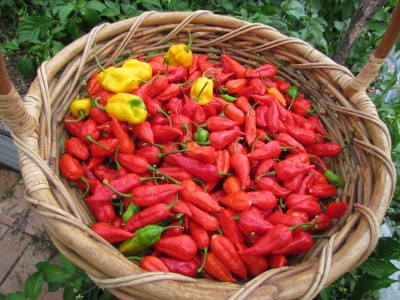 We got just over 900g of the bih jolokias & started to string some of them up for drying so we can collect the seed from them later..
Have started to pick a few fruit fly free **does happy dance** KY1 tomatoes as well..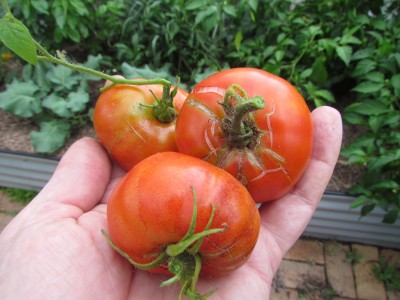 Has been a while since we have been able to do this :)» They are a great fleshy tomato so if we get enough I will be trying to dry some in the dehydrator..
Are still getting loads of snake beans & okra at the moment..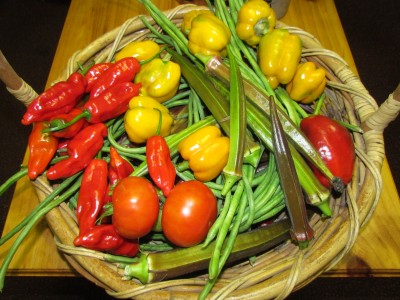 Also started to pick some more yellow capsicum & "market" chillies as well.. Greens are also being picked as needed with kang kong & lettuce still being the main ones..
Really hoping I will be able to show some progress in the hoop house extension next blog but we shall see..
Hope you all have a great weekend...
Rob..