Don't you just love this time of year with the temperature rising, birds singing, flowers starting to form & bloom, you can smell Spring in the air.. The girls disagree & think it's just the 10 bags of pony manure we bought yesterday morning but I still love it :D
Have got a real good wriggle on in the patch this week with the seeds selected for the coming crops, some potatoes planted & a little progress has been made with the rearrangement of the Aquaponic system..
Seeds for Spring & Summer..
This week Koo & I decided to go through the seed containers to get a bit of an idea of what we would like to sow out for our warm weather crops..
I think the seeds listed below will fairly much round out the plants for the season with the exception of a few late comers that will be added once we receive the seeds..
Beetroot - Tuchstone Gold, Bulls Blood, Detriot, White
Greens - Tatsoi, Purple Orach, perpetual Spinach, Amaranthus Leaf, Chinese Celery, Festival Lettuce, Celery BeeSeeds, Bright Lights Silverbeet, Coral Lettuce, Rocket, Egyptian Spinach, Parsley, Coriander
Watermelon - Stars & moon, Yellow Shipper, Mini Lee
Strawberry - White Soul (Wild Strawberry)
Corn - Aztec & glass bead
Squash - Spaghetti Squash
Cucumber - Bush Crop, Gympie Gold, West Indian Gherkin
Capsicum - Seven Colour Mix
Radish - Watermelon Radish
Herbs- Cumin, Tagetes Minuta (Black Mint)
Other - New Guinea Bean, Kampot Pepper, Burgundy Okra, Pineapple
On Friday Koo & I planted out the Aztec corn & bush cucumbers into a bed along the front fence.. She was also given her own bed in which she has planted out sunflowers, bush beans, rock melon, carrots & a sprinkling of marigold seeds.. I hope to have some time this afternoon to sow out some beetroot, capsicum, squash & melon seeds along with some yacon rhizome but shall have to see how we go for time..
Planting out the Spuds...
As mentioned above, a few potatoes have been planted out.. I decided on giving them one more go in wicking (self watering) barrels just to see if I can get a better result..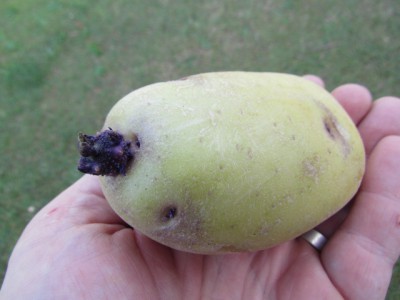 I ended up going with some spuds that started to sprout in the pantry as they looked nice & large with healthy sprouts.. I decided to follow the advice of a potato grower featured on Gardening Australia a while back (sorry I can find a link to the segment) & not cut these spuds into sections with an eye in each as is traditionally done.. He recommended to rub off all but the one strongest eye on the spud & leave the tuber whole.. Apparently this gives the potato more energy to grow into a happy healthy plant..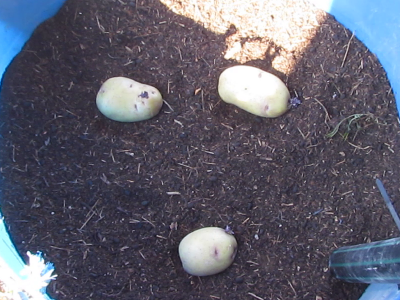 I planted out 3 in one barrel & 4 in the other.. On top of them I put a 100mm/4" layer of rich compost.. They were then covered with a layer of mulch, about 150m/6" of a soil mix (compost, horse manure, dynamic lifter & reclaimed garden mix) & topped off with another layer of mulch to try keep the moisture into the soil..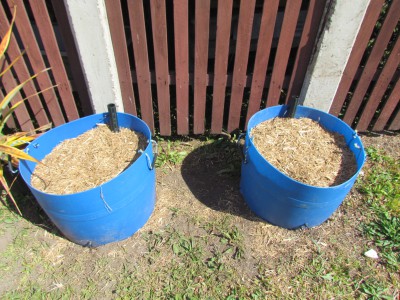 Once the plants start to shoot through the top of the mulch, another layer of soil blend & mulch will go on top.. Hope to get a ½ decent crop from this lot as potatoes are one crop I tend to grow very poorly :/
Aquaponic update...
Not much has been going on with the aquaponics at the moment but though I would include the latest update clip for those that are interested..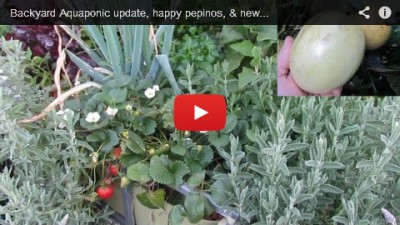 Still haven't moved the beds around to their new positions but a start has been made by the partial removal of the wicking bed that is holding up progress.. With school holidays coming up I think I might be able to have this jobbie knocked off fairly quickly.. We shall see I suppose..
Sorting out the worms...
With the Spring plantings coming up over the next few weeks I thought it was time to harvest some more worm castings.. Harvesting the castings is as easy as splitting the farms in ½ with one ½ left in the farm to "seed" the next lot of worms & the other to be stored in buckets with lids for use as it is needed.. To make the new bedding we picked up 10 bags of horse manure yesterday..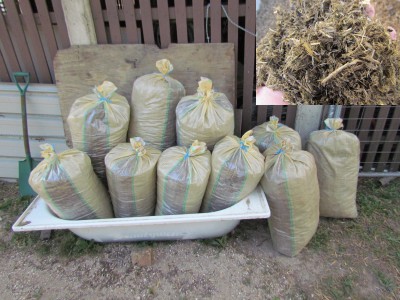 It is as easy as screening or mulching the manure to make it easier for the squirmers to feed on & move through..
Just quickly on mulching up the manure for use in the garden or in worm farms, I decided to get a little bit creative on how I processed the last lot of manure we got..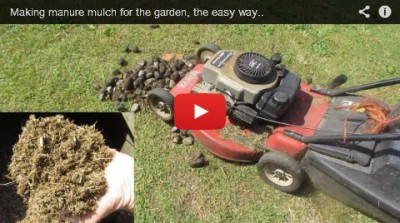 Definitely made the job a lot quicker & think the lawn mower method will be used a lot more often in the future..
Harvests from the patch...
Harvests from the patch this week have been mostly the normal leafy greens, broccoli, celery & the odd feral tomato. So thought I would show you some of the different harvests we have been doing over the past week..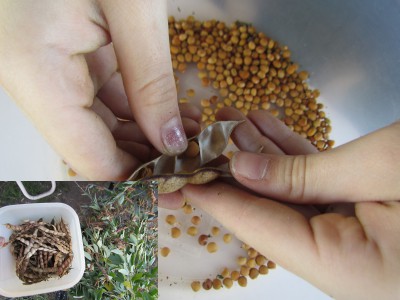 Koo & I made a start of the pigeon pea harvest.. This was grown mainly as a green manure crop but decided to give them a shot as a pulse.. The girls really like hummus so we started to collect the dried peas to have a shot at making our own.. The idea is to store them until we harvest the garlic in a few months time then we can make it by using ingredients we have grown ourselves...
The dwarf mulberry tree has been very generous so far supplying us (& the birds) with a few berries every day.. Is funny seeing Koo come upstairs all innocent like with stained lips :D» As soon as the tree finishes fruiting we will be plating it where the lemon tree is currently growing.. Unfortunately, the lemon is riddled with borers & is not very happy, so we shall be digging it up in the near future..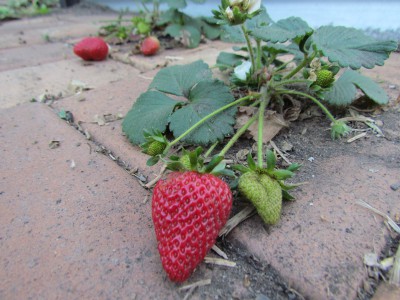 The strawberries have been providing us with ½ a dozen berries every day or so & are a welcomed little snack while wandering through the patch... There is still a race on to see who can pick the largest one before the other sees it :D» These paver strawberries were shared with our visitors children yesterday.. Am glad that we got some great looking berries off of them after losing the previous few to some escaped chooks :/»
We also decided to pull 3 Jade perch from the aquaponics last night to share with our guests for dinner..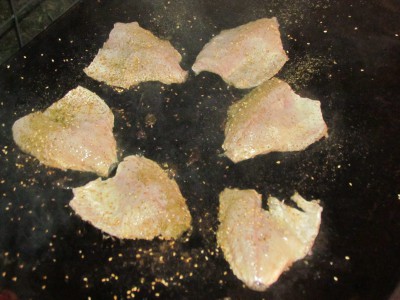 They were fried on the BBQ & were served up with a side salad made from home grown broccoli & kohlrabi.. It was a great meal shared with some great peoples :)»
Well that's it for this week's blog.. Off to sow out some seeds & plant some seedlings, so shall post this once I make it back up stairs..
(I love typing up the blog in the patch : )» )
Hope you all have a great week & have a chance to get some soil under your nails this weekend..
Cheers,
Rob..