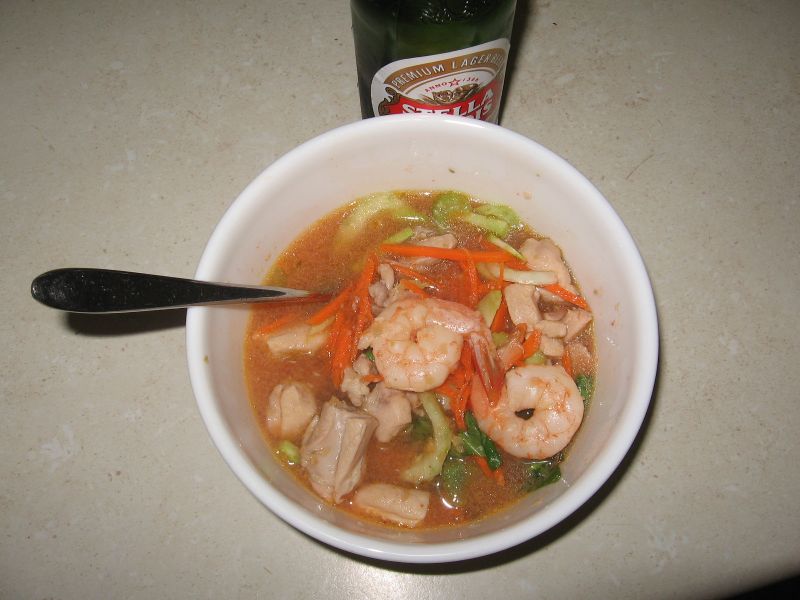 Chilli Paste
2cm piece of Galangal
Large Lemongrass "Bulb"
large clove of garlic
2 large Shallot "Whites"
Tbsp of sweet chilli sauce... If the kids weren't eating this I would of added a chilli or 2 large tsp of hot chilli paste..
Tbsp of Rice bran Oil....
Whizzed these together in a mini Food Processor to make paste...
Soup
1L of good Chook Stock
400g chook sliced thinly.... I use Thigh for The flavour...
l Kaffir Lime leaf
l Tbsp of Fish Sauce
1 Tbsp lime juice
6 pealed Banananananananan prawns (just for mum & dad :) )
Heat up oil saucepan & fry off chilli paste.
Add Stock, bring to the boil then add chicken & Lime leaf... I let it simmer for hour after it came to the boil again..
While simmering, I finely sliced some Celery, Broccoli stems & added them to 4 bowls along with some julienned carrot & some Chinese greens..
After an hour I added the Prawns, lime juice & Fish Sauce & simmered until the prawns were cooked.
The chook & prawns were dished out while I brought the liquid to the boil & then dished it up over the Veg & meat....
We added a tsp of chilli to each of our bowls just to spice it up a bit....
Best one yet Me thinks.....