Bathtub Worm Bed..
The Bathtub farm was started late last week & finished off over last weekend… It was made from bits we already had laying around the place.. The legs were made from 4 metal chair legs bolted together, the rails from an old bed (can't remember if it was scrounged or bought as scrap), the bath was last years water chestnut bed, the screen door has lived under the house for over 5 years (origin forgotten) and the drainage gravel was purchased for the job…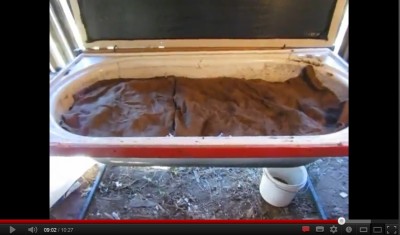 The worms harvested from the blue barrel went in on Monday afternoon. They were spread out nicely under shredded paper & worm slushy which was added later in the week & appear to be doing fine.. We also have an old clip on "How & what we feed the Worms.." if you are interested..
During the week I also harvested one of the 60L barrel farms for a Free Cycle member but didn't find many worms in there..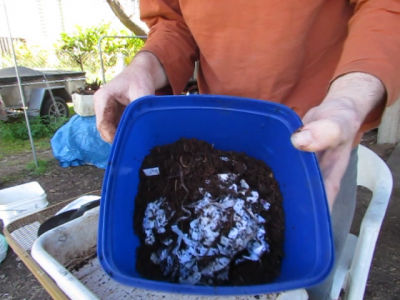 I am slightly disappointed in myself as the drum was left far too long before being harvested & I found a few dried out worms under the pavers where the drum sat… I did get a large amount of great looking castings but only a fraction of the worms harvested compared to the blue barrel in the above clip.. They were just fed mainly horse manure with some whole veggie scraps every now & then.. Some worms were also taken from the blue barrel farm down that back as well as the black farm to boost the numbers in the gifted tub..
Wormy bits..
Worms are hermaphrodites but mate with each other by joining at the Clitellum (band around the body)… Sperm is exchanged & after a while a cocoon forms in the Clitellum which is released after it matures..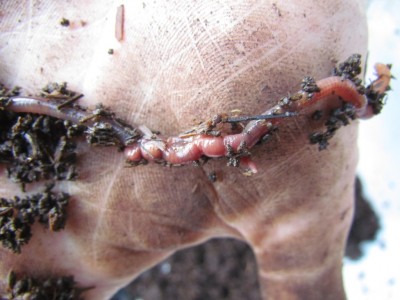 < Mating worms..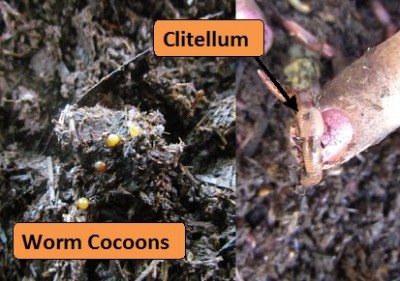 We haven't found many cocoons this time round as I think it is the wrong time of the year & a tad too cold for these cold blooded squirmers.. The cocoons can have up to 3 babies in each & are viable for long periods waiting for the right conditions before hatching..
From what we have seen compost worms can handle very damp conditions.. We have them living quite happily & thriving in our aquaponic grow beds where they munch on fallen vegetation, roots from plants that have been pulled, as well any solid fish waste that comes through with the water.. We have also harvested healthy worms from some very mucky clogged up farms in the past.. I would even go as far as saying that they were happier than pigs in muck
Worms can eat from ½ to nearly double their body weight in a day if the conditions are great for them.. Their healthy appetite allows them to convert nearly any kitchen or garden waste into nutrient rich & CHEAP fertiliser for your garden at a great rate.. They also recycle a valuable organic material that would normally go to waste in a rubbish dump..
I would greatly encourage anyone who has the space & a garden, or some plants to look into getting some of these little fellers.. We started off with just a top up pack of worms (500 or so) & now have at least a few thousand & those numbers will only climb when the weather heats up.. They can set you back a bit when you first start out, or you could ask family & friends that have a farm if they would be willing to part with some, so you can start up your own.. You could also ask on Free Cycle as there may be someone there who is willing to share some of their own..
Sowing seeds for a spring harvest..
This weekend I will be spending some time with my seed tins, sketch of the patch, some garden books & my favourite online planting guide, Gardenate.. I like this site as you can enter your climate & get a fairly good idea of what is ready to be planted out.. I don't stick to it wholeheartedly as we can plant some things 2 doors up cant, due to the layout of their block & tree coverage.. It really is a bit of a guessing game with plenty of experimentation.. I am also trying to take advantage of a few shady spots to squeeze in a few late cold weather crops like the snow peas before it warms up too much..
Some seeds have been sown over the past week or so for a spring harvest.. Late last week the top IBC wicking bed had a row of Roi De Carouby snow peas sown into it & I noticed yesterday that a few had started to break the surface.. On Monday some Nantes carrots were planted out into a barrel & I decided to cover them with coco peat to act as a mulch that will keep the seeds moist.. Time will tell if this will work though.. Both lots of beetroot, mini & early wonder, that were planted over the past few weeks have started to show their leaves..
**does happy dance**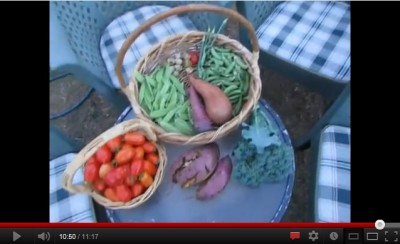 << Bit of an up to date walk through & harvest clip from Friday..
Happy Harvesting…
Had a great harvest of a few plants yesterday.. We got some assorted peas, some strange sweet potatoes, a nice looking dragon carrot, just under 1.9kg of Roma tomatoes, last full head of the second crop of broccoli & a few berries..
Would love to see some pic's of others harvests…
Just a plug for a few SS Garden orientated threads.. I know there are some excellent gardeners out there that I have learnt from while posting or lurking on these threads..
SS veggie gardens... Downhill side of winter..
How self sufficient are you? #2
Triple SSS - semi self sufficient
Kiwi gardeners - what vegies are you growing now?
That's about it as of now…
Must go harvest some more worms & castings..
Have a great week…
: )»