Potting up tomatoes...
I mentioned last week that we had potted up a dozen tomato seedlings & thought I would give you a quick rundown on why & how.. Tomatoes are members of the Solanaceae family along with capsicums, chillies, potatoes & like these plants will develop roots along the stem & branches if the conditions are right..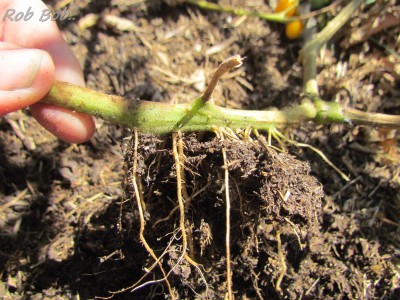 Some people take advantage of this to propagate new plants from a mother plant by taking cuttings or layering branches, while others use it to help the plants grow more roots allowing it to take up more water & nutrients.. The process involves transplanting the seedling into a pot & burying the plant deeper into the soil so more roots can form on the stalk of the seedling.. This will allow the plant to stay better hydrated & able to source more nutrients from the soil.. The best time to start this process I think is when the seedlings are about 50-100mm tall..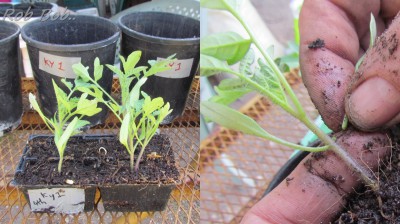 All you need to do is gently remove the seedling from the pot or punnet then gently pinch off the "seed" leaves..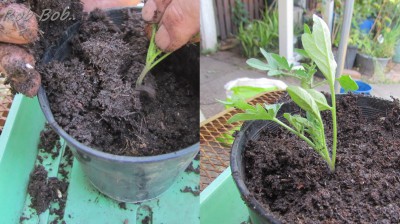 The seedling is then planted up to the first set of true leaves..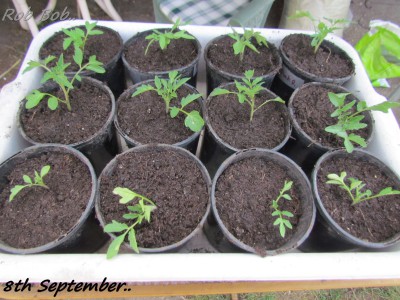 The plants were then popped into a tray & placed into the patch where they will be planted out, helping them to get acclimatised.. I think this gives the plant a better start later on when it is planted out..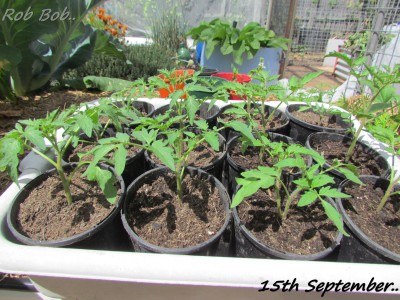 They look to be enjoying the extra leg room in the pots as well as their new sunny location..
Others will take this a step further by potting the plant up a few more times repeating the process by pinching off the bottom set of leave & allowing the plant to grow yet more roots.. As our beds are shallow I won't be doing this.. When it comes time to plant these guys out I will do another post to show you how I will take advantage of the plants ability to readily root from their stem...
More seeds for the patch...
Was very privileged to receive a load of heirloom tomato seeds from an online friend this week (Thanks Richard) & have already sown out 6 different varieties along with other seeds that have been shared with us through online gardening groups..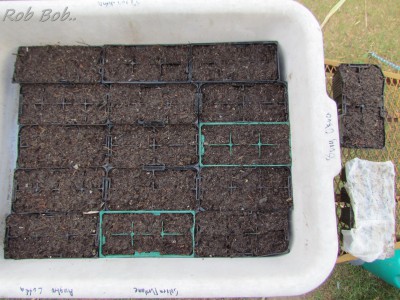 Was a bit of a mixed bag of seeds but think I have spots for all of them..
The tomato seeds included Yellow bell, Berkley Tie Dye, Black Cherry, Red Brandywine, Chocolate Cherokee, Japanese Black Truffle & Striped Turkish Monastery.. Will be interesting to see how some of these go as some of the seeds was a tad old..
The other seeds included,
Mexican sour gherkin
West Indian gherkin
Pineapple
Mixed capsicum
Kampot Pepper vine
Bright light silverbeet/chard
Rocket
Green & burgundy okra
White strawberries
Cumin
Parsley
& 2 others that I can't remember just now..
The rocket was the first to make an appearance & I was most pleased to find this morning that the strawberries have sprouted...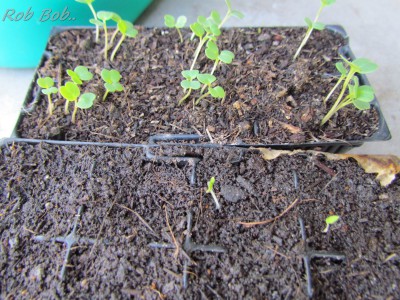 This is only the second time I have tried to grow strawberries from seed so am mighty chuffed with the results..
Dressing up the patch...
Have managed to work down the jobbie list to finishing off the veggie net cover for the hoop house.. The main reason I have the patch covered is to try & keep 2 main pests from the patch... The first if the white cabbage butterfly & the second is the Queensland fruit fly..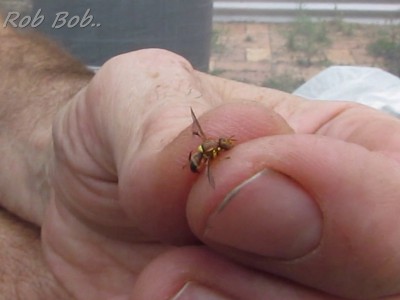 We have had real problems trying to grow capsicums, chillies & large tomatoes with these guys around... Have tried a few different styles of traps, baits & lures but none have worked that well.. I think that the main reason is that there are loads of mango trees in Ipswich & a lot of people let the fruit drop & rot.. This means that there are so many fruit fly around we are fighting a losing battle trying to trap & kill them all..
Last season we had a fairly good crop of capsicum & tomatoes by leaving the veggie net up over a few beds so decided to include a few more beds this season..



We now have 4 beds & 6 barrels under the protection of the netting & hope to be including an IBC wicking bed in there as well in the coming weeks..
Aquaponic Visitors..
Had a couple of visitors in the patch this week.. Normally I love showing folks around the yard to see how we do things & help give them ideas to use in their own yard.. This week we had a few uninvited guests that decided to pilfer the strawberries from the aquaponic beds : (» Action had to be taken & am happy to say it was swift & very final...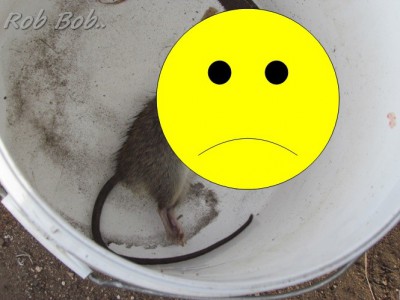 We got 3 of the blighters over 3 nights & think that is all of them.. We have had one in the patch previously munching on our capsicums so will be a bit more vigilant by setting out traps more regally from now on.. I think it's just one of the draw backs of living in suburbia.. I am very aware that we are better off than those that battle rabbits, wallabies, possums & in some cases feral pigs in their patches, just never expected to have to deal with rats in the aquaponics..
Harvest from out the back...
Decided to pull some of the garlic a bit early this season as some of the plants had started to shoot from the individual cloves..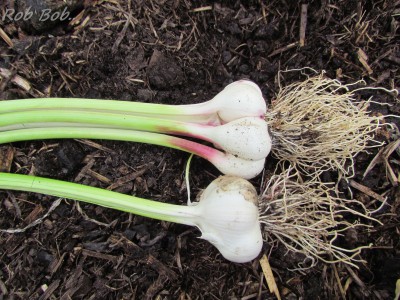 I am fairly confident that the reason some plants have bolted is that they come from spots in the patch that are more sheltered from the sun than others.. During August we had a bit of a warm week with the temperature some days as warm as mid Spring.. When the temperature dropped again I think the garlic thought it had been through Summer & it was now Autumn again so time to shoot.. Is a bit disappointing as we won't be able to store the cloves but as they are still edible they won't go to waste..
Have still been picking loads of greens for lunchtime & evening meals here..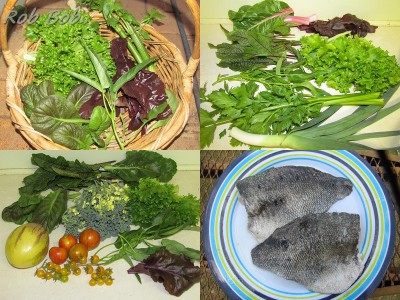 As a special treat Bianca & I pulled a perch from the system to have with a salad while the girls finished off some left over Worms in Mud (spaghetti bolognaise)..
Went fantastically pan fried with a sprinkling of Zaatar...
Also picked a fine specimen of a pepino from the aquaponics...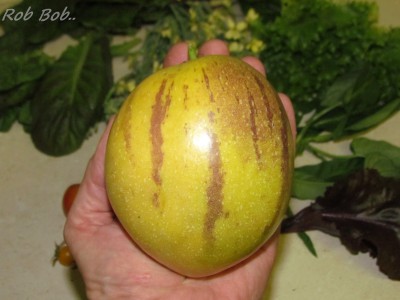 This beauty weighed in at 450g+ It was picked a tad early as we feared that our "visitors" might try to sample it before we had a chance to ;)»
Well that's a bit of a round up on what's been going on in the patch this week.. Hope you all got a chance to go play in the garden at some time this week : )»
Catch you all next week..
Rob..