Here are the treats we picked up for $15 at the Healthy Hamper Co-Op in Ipswich today...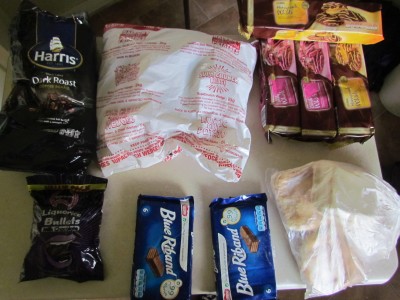 There are heaps of tinned staples, pasta, rice, spices, coffee & cosmetic goods there this week... We have a full pantry at the moment but drove mum there & couldn't help but pick up some treats...The bag to the bottom right has 6 steak pies with slight pastry defects in it... The red & white bag contains 2kg of seasoned potato "bits", 1kg of dark roast coffee beans, 4 x packs of gooey coles brand biscuits, 2x Banana Mango juices for the Spawn, 2x packets of Uk made Nestles choc bars, & some Licorice bullets for me...
Not to healthy a shop this week I know but it will keep us in treats & "fresh" coffee for over a month so that's good...
If your near Ipswich in QLD & interested, here is a thread with opening & Menbership info in it...
http://www.simplesavings.com.au/forum/thread/61335/?post=2147222#top
All fixed : )

Hope this works...

RB