Walk around the autumn veggie garden..
Haven't done a blog on how the patch is going as a whole for quite some time so thought I would give you a bit of a look on what's growing in our sub tropical veggie patch in Autumn.. We are very lucky in that we get a mild winter here & can grow some things that other folks don't have the luxury of during their Winters..
Shall start the walk around at the IBC wicking bed right down the back.. This bed is home to a long Asian purple eggplant, Mexican tarragon & 2 mouse melon/Mexican miniature watermelon (Melothria scabra) vines that were planted out mid Summer..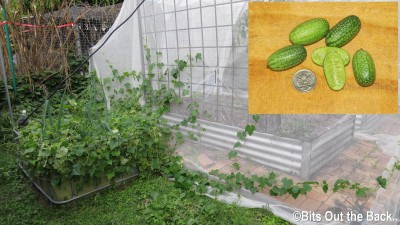 They are actually a gherkin cucumber & have a crisp sour bite to them.. I think they go great in salads but in saying that, only one lot has made it into a lunchtime salad.. The majority of the fruit get wolfed down while we are in the patch with the others being snacked on once inside the house ;)
I've found these fellers to be a bit slow out of the gate with the fruit only starting to form at the start of Autumn.. One thing that's impressed me with these vines is the absence of powdery mildew & cucumber moth caterpillars.. This is most definitely one plant I would recommend folks try if you like the sour gherkin style cucumbers.. The chap that gave me the seeds, Cheers Peter, was still picking fruit from his a few weeks ago down in South Australia so they are a very hardy plant..
Next to this bed we now have a small cabbage butterfly proof annex coming off of the main hoop house so we can protect a few extra brassicas from the cabbage butterfly caterpillars.. The bed was previously home to 2 spaghetti squash vines that were pulled a fair few weeks ago, a Black Russian tomato, 3 red sorrels & some Warrigal greens.. To get the bed ready for the cool weather crops compost & natural fertiliser was turned through the top mulch layer then the bed was left to rest for a few weeks.. One thing that took me by surprise while adding the compost was the number of earth worms & not compost worms that were found in the soil.. They came in with the original soil a number of years ago & appear to have done very well in these wicking beds..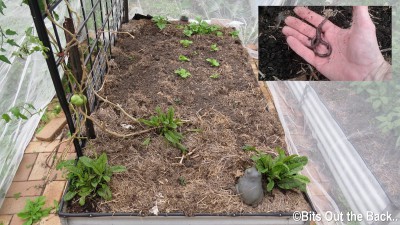 I think it was the right move to feed the bed up & let it rest a bit as the tomato has bounced back with a few fruit already ripening up on the vine.. The red sorrel that we thought had died over Summer has bounced back (bottom of picture).. Am most pleased we have included this perennial green into the patch & have a few perennials like the moringa tree that will be going in this weekend.. A second generation of Warrigal greens/New Zealand spinach has sprung up from fallen seed (top of picture) which was a welcome sight as well.. Had a shocking time trying to grow them from purchased seeds but have had seedlings pop up all by themselves everywhere we have grown them :) They make a great spinach substitute we've found & are now one of our staple greens..
Last weekend we popped in 6 Chinese cabbage/Wombok (top right of bed) as well as 4 cauliflowers where they could be squeezed in.. Nothing has been planted along the trellis for now as we might try & use it for a late crop of peas once some of the brassicas are finished..
The first bed in the hoop house is the tomato & amaranth bed..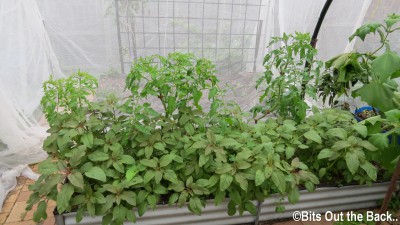 It may not look like it but we have harvested several meals worth of amaranth greens from this bed already.. This is one plant we are all loving at the moment with it tasting just as good raw as it does cooked.. I've been wrapping the last few yellow cherry tomatoes in the leaves along with a small basil leaf for a quick snack in the patch.. Goes down very well when chased up with a mouse melon ;) The best way we have found to cook it is sautéed in butter with a few cloves of crushed garlic as a side dish & find it taste sort of like a mild chard/silverbeet.. It is so easy to grow & the plan is to let a few go to seed so we can collect as many as possible for following crops & to share around..
The tomatoes are coming on OK with a few small fruit set on 3 of the vines.. Am not expecting a massive yield from them & think they got popped in a few weeks too late into Autumn so will plant them earlier next year.. Will still be happy with any winter tomatoes they want to provide us..
The next bed is a bit of a mixed bag at the moment.. In it there is turmeric, mustard greens, bush beans, ginger, green onions, perennial leeks, 2 different celery's & some sugarloaf cabbage..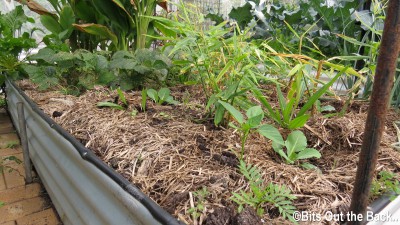 On the weekend it got a few marigold refugees that have popped up in the lawn.. Kira didn't want me to mow them so thought it best to give them a new home ;) Have also noticed a capsicum/chilli or 2 that have popped up, so it will be interesting to see what they turn out to be..
The bush beans are about done for now so while they are busy with their last few small flushes some "Giant of Naples" cauliflower seeds we were gifted will be sown in punnets as replacements for them..
The polyculture bed has performed very well indeed & we have been picking a fair amount of greens from there..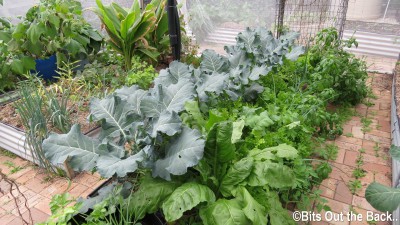 Can't wait to make a broccoli & macadamia salad with the first head we get to harvest, just doesn't taste the same when made with store bought I think :/ The perpetual spinach has been another stand out in this bed.. I was lucky enough to have received some more seed so a whole heap are being sprouted as fodder crops for the chooks.. This is one style of bed we will be doing more often as the amount of greens we've picked is quite amazing.. I think we could easily have one salad from this bed every second day no problems & have already made a start on a bed that we can harvest on the other days ;)
Am really happy with the way the top bed in the hoop house is filling out..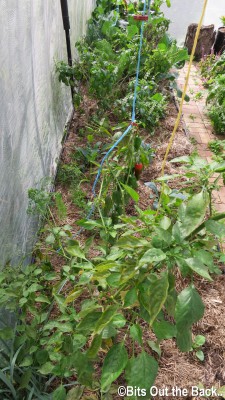 The sweet basil bushes in this bed are still hanging on strong & are being picked regularly for salads & sauces. We have also been eating the beetroot greens for a while now & noticed that a lot of the roots have started to form up nicely too..
The cauliflower & fennel that was planted a month or so ago in this bed is coming along nicely as are the newer arrivals like the Tuscan kale, celery & a few left over sugarloaf cabbages from a punnet planted out last weekend..
The matriarch of the bed, the 3-4 year old chilli bush (foreground), will be getting a bit of a prune again to see if she can see it through for another crop next season.. I would have done it sooner but there are still a few fruit hanging on & just starting to turn red now ;)
The honey pod pea & bush bean bed just outside the hoop house is looking very green..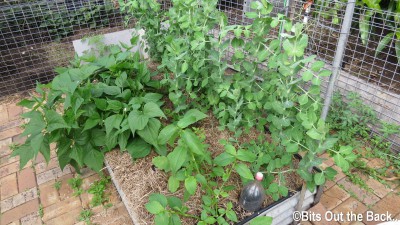 The beans are loaded with pods ready for harvest but the eggplants just don't look that happy in there.. Shall leave them go a few more weeks & see if they put on a growth spurt like their sister plant in the bed with the mouse melons.. If they don't they can make way for a few more beans or perpetual spinach I think ;)
The peas had a few flowers form on them over the last week or 2 but haven't seen a full flush yet.. They are one plant that Bianca insists we plant out every season ;) Might have to plant out a few more soon to see us through to the start of Summer methinks..
The other bed next to the hoop house has had a few different brassica seedlings started off in it as well..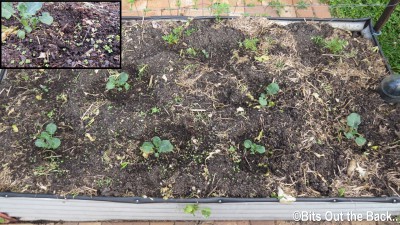 We planted out it out with some broccoli, a few cauliflowers & some more marigold refugees from the lawn (thanks Kira).. Decided to make this another polyculture bed as hundreds of fallen mustard greens seeds from the last crop have decided to sprout.. Various leaf lettuce varieties will be sprinkled around with a few Chinese red shallots being planted in the bed as well..
Compost Harvesting..
Over the weekend I started to harvest the compost from the IBC cage compost pile.. This pile was started last November using mulched up Chinese Elm weed trees, hay & horse manure..
Here's a bit of a look at how it was made & turned out..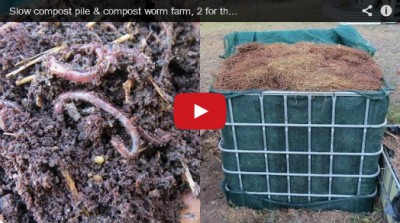 Must say that it is the best compost we've made & was most impressed with the way the worms came in to finish off the process..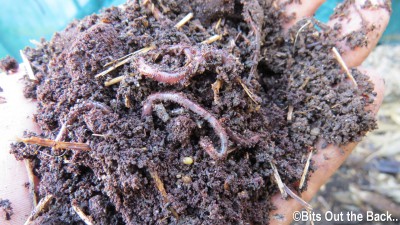 It's full of worms & their cocoons so will be treating it like brown gold.. Some of the worms have been collected already to start out a colony that will be added into the next lot of compost that gets made..
Have already started to plan the next batch & it will be built fairly much along the same lines except I will be using mango & pigeon peas as the greens..
Shopping in your neighbours veggie patch using "Ripe Near Me"..
Thought I'd mention a great site called "Ripe Near Me" that has been set up to allow folks to list the produce they have excess of rather than letting them compost or go to waste.. Produce can be listed with a price attached that is set by the grower or for free if so desired.. Would be a great way to get rid of an excess of lemons, limes or an over productive rosemary bush & maybe even earn a few dollars on the side, which a few of us would welcome after the recent budget announcement ;)
I think it's a great idea in that it is allowing people to have access to food grown in their local neighbourhood by folks just like themselves.. It's a great flashback to the days when neighbours traded with each other for produce & services.. I remember my grandparents doing this all the time with their eggs & home grown goodies.. It was a way for neighbours to connect, trade & build relationships that helped build community spirit.. I can really see this idea taking off & think it will be a way to be even more frugal while helping out others in your local community..
On Tuesday night our family had the privilege to attend a public function hosted by "Ripe Near Me" in South Brisbane.. One of the founders, Alistair Martin, jumped up & gave a great explanation of how they came up with the idea & ran through the ideas they have to expand the service.. One aspect that really interested me was the prospect of having seeds & plants listed on the website.. Would be a great way to meet other local gardeners, trade varieties & even pick up some great tips on what works/grows best in your area..
After Alistair had given us all a great run down of their future plans for the site the stage was taken by Costa Georgiadis from Gardening Australia.. Costa reminded us of the way we used to trade veggies over the back fence instead of nipping down to the supermarket if you were in need of a cucumber or a coupe of eggs.. He spoke of the great community spirit he had seen through the local community gardens/groups around Australia in his travels & how the movement to get back to eating locally is gaining ground.. It was a great talk & I would recommend that if you get a chance you should go hear him speak on the topic..
For folks in Adelaide you will have your chance to hear Costa & Sophie Thompson talk on the local food movement as well as finding all about Ripe Near Me on the 15th of June.. Details can be found on the "Edible-izing Adelaide page".. It will be a great day if the other night was anything to go by & even includes a veggie swap if you have some extra produce want to trade with others ;)
Was a most enjoyable evening & the girls loved that we got to have a bit of a chat to Costa just before we left (Even if it did take a while for their dad to introduce the family **blushes**).. This is one man that has an infectious passion for inspiring others to grow not only food but the communities around them.. I must say that I left wanting to get home to play with the compost & worms ;)

A couple of tasty harvests..
Decided to harvest the 2 sweet potato barrels a few weeks ago..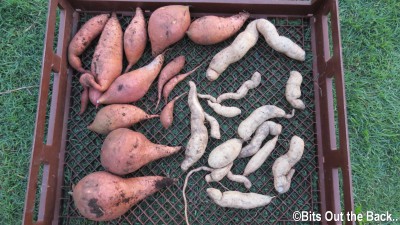 The purple fleshed, white skin variety didn't give us the best yield this time round even though we have pulled some rather impressive tubers from other plantings in the past.. I'm not 100% sure as to why they didn't do so well but will have loads of slips from "feral" plants to have a better crack at them come next Spring..
The orange taters were another kettle of fish altogether.. Was rather pleased with the 5kg/11lb we've harvested so far from the 3 slips we started out with.. I think there are a few more in the barrel but don't want to disturb the soil too much as there is a volunteer luffa growing in there as well..
A couple of jade perch were harvested yesterday from the fish farm to make way for some new fingerlings..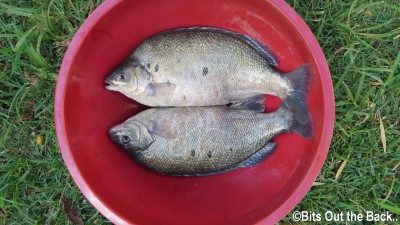 They were a great size with one being 725g/1.6lb & the smaller one 620g/1.36lb..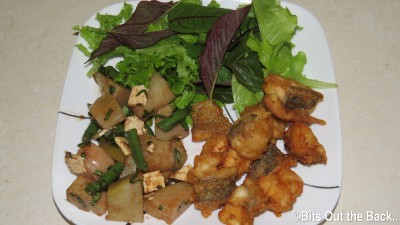 We turned them into some very tasty cumin & garlic beer battered fish nuggets.. They were served up alongside some home grown greens & a tasty beetroot salad.. The beetroot salad was put together with some roasted diced white beetroot, fresh bush beans, sweet basil, feta cheese & dressed with some balsamic vinegar.. Much to the girls surprise it was actually rather tasty & will make it back onto the menu ;) The greens was a mix of amaranth, rocket, mustard, lettuce, sorrel & sweet potato greens.. Hopefully we can add some fresh celery & peas into the mix in a few weeks ;)

Have a bit of a snap shot of the new residence in the fish farm to finish up with..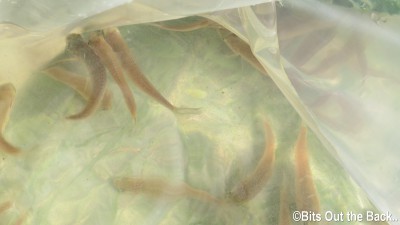 What we have here are some of the jade perch fingerlings that along with silver perch, will call the fish farm & 2 other aquaponic systems home over the coming year.. Shall do a proper update on these little fellers next blog once they have settled in methinks ;)
Hope you all made it through to the end of what has become a marathon post :D :/
Cheers all & shall catch you all next blog..
Rob :)»