Container gardening for small spaces or rental properties..
Just because you live in a unit or are renting a house & are not allowed to have a garden, it doesn't mean you can't grow some of your own food.. Container gardening is a great way to grow a few herbs & veggies that doesn't take up a lot of room or require you to dig up any lawn.. When it comes to containers to grow in, you are only limited by your imagination..
While Bianca and I were renting, we started out growing in garden pots, broccoli boxes, tree propagation bags then moved on to bathtubs, buckets, barrels &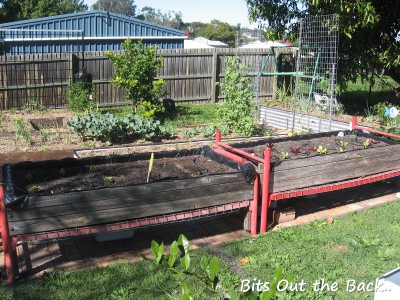 also got a tad creative with the larger "container" beds that we built ;-) We have grown everything from thyme to pawpaw (papaya) trees in containers & haven't found many plants that don't do well..
Keeping the size of the pots under 60L will come in handy if you need to move house, especially if you don't live on the ground floor of an apartment building ;-)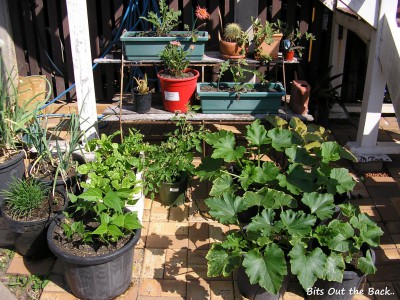 When we moved from our last rental we decided to gift the bathtub we had to the neighbour who turned it into a duck pond for his feathered friends.. We thought it was a lot easier to manhandle it next door than to relocate it to the new house.. ;-)
The first step towards a bountiful harvest from your containers really does start with the growing medium you will be using.. Not all potting mixes are created equal so it is a good idea to shop around to see what brands are available in your area.. I try to stick to reputable brands with blends that include compost & natural fertilisers like "blood & bone".. A quick search on gardening forums & groups should be able to help you in sorting out the reputable brands from the dodgy ones ;-)
When using potting mixes I still like to add a few extra goodies to make sure that they have good drainage, are packed full of nutrients & have a few extra micro organisms in the blend..
The last batch I made up consisted of 2 parts commercial potting mix, 1 part worm castings/compost & 1 part hydrated coconut coir..
The worm castings will add some organic matter containing beneficial microbes as well as nutrients to the mix, & if you're lucky, maybe a worm or 2.. The coconut coir will help keep the mix moist as it has great water holding capacity..
I have also added some course sand to other mixes in the past to aid in the drainage, but felt that it wasn't needed this time round as the potting mix looked to be nice & lose..
Another option is to investigate your local landscaping supply yard to see what sorts of garden soils they have available.. If you are looking at starting up a sizable potted garden this may be one option you might want to look at to save quite a lot of coin..
If you are lucky enough to have access to compost &/or worm castings you could always make some of your own with other goodies mixed in..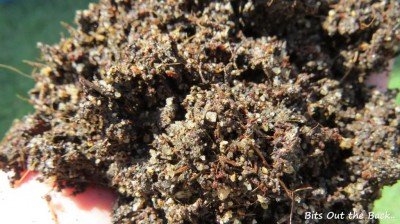 While the "recipe" I use changes depending on what we have on hand, I think this is a fairly good all round blend to grow most veggies in;
2 parts compost
2 part rehydrated coir
1 part worm castings
1 part course sand (can be bought in bags)
1 part aged mulched up horse manure
An important aspect in growing in containers is keeping them well hydrated without over doing it.. When we first started I really had no idea & drenched every pot twice a day which was far too much & looking back now, probably washed a lot of the nutrients out the drain holes.. Over the years we have used a few methods to keep the soil moist for the plants..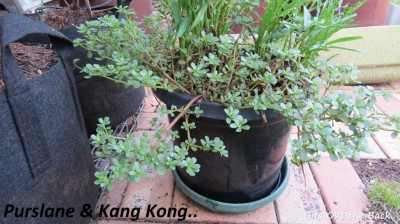 The easiest would have to be a simple tray under the pot which allows for a small amount of water to be wicked up into the soil as the plant requires it.. One down side to having water laying around in a situation like this is that mosquitoes might breed in the still water. To stop this, it is a good idea to let the trays dry out ever few days to kill the mozzie wrigglers.
Irrigating with drippers or spray heads is another option if there is no restrictions on the amount of water available to you.. In the past we have mainly used the Wetpot sub surface irrigation emitters, due to our climate & frequent droughts in SE Queensland..
Self watering wicking containers are also another great low maintenance way to grow food that keep the plants well hydrated..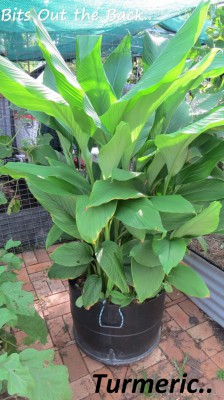 If you've read my previous blogs then it's no surprise that these would be mentioned ;-) Wicking containers/gardens are basically a self contained bed/container that has a reservoir at the base.. From this reservoir water is wicked up into the soil for the plants to use.. This way they not only provide the plant with constant moisture but lessens the amount lost due to evaporation..
Over the past few years we've made small wicking buckets , a wicking bath, wicking barrels & larger wicking IBC container gardens .. While the larger IBC beds would be a bit of an effort to relocate they are still technically a container so don't think a landlord could really complain ;-)
Another form of container gardening we have been playing around with over the past year or so is air pruning.. Air pruning is a great way of growing plants in containers without letting the roots of the plants become pot bound, allowing you to grow larger plants in smaller pots..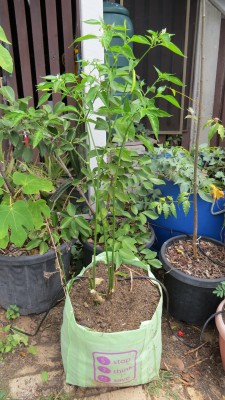 To start off with I transplanted a chilli plant into a reusable green shopping bag, that may be familiar to some ;-) The idea behind planting into a fabric bag & air pruning is that the roots from the chilli plant will grow to the outside of the bag, hit dry air, & die off.. Further back on the roots a number of new roots will sprout to replace the dead one, allowing the plant more access to nutrients and moisture..
Another DIY version of this is our hybrid air pruning/wicking barrel that we are growing our pawpaw (papaya) tree in.. The video below has a bit of an explanation on air pruning & how this hybrid barrel was made..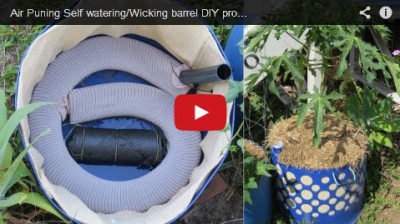 I am so happy with how the pawpaw has gone that I've decided to pot out some of our dwarf fruit trees into fabric Root Pouches**.. It will be very interesting to see how the air pruning effect will go with these trees & hope they will be as productive as the pawpaw looks to be..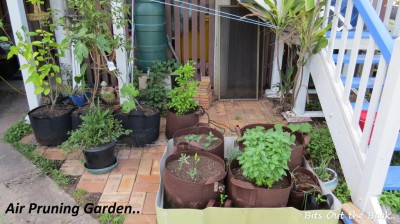 We are also using the cloth pouches in a self watering/wicking style garden bed.. I got the idea for this from watching Larry Hall's "Self Watering Kiddie Pool Grow System" on YouTube.. The idea behind this system is to have the base of the bags sitting in a few centimetres of water..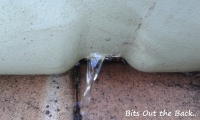 Water height is regulated by drilling drainage holes where you want the "high tide" point to be.. The water can then seep through the bag & wick through the soil, keeping the plant well hydrated.. To stop mosquitoes & evaporation being an issue, the base of the tray will be filled with small rocks to help insulate & stop the bugs from easily accessing the water.. I also plan to set up a float valve to help keep the base topped up..
Just a quick mention too on Hydroponic growing.. While it's been 16 years since our last attempt at hydroponic gardening, I do think that it is one option that would appeal to folks that can't garden in the soil.. It can be set up outside or under lights inside & plants can grow very quickly.. If it does interest you there are a few folks I follow on YouTube that are very knowledgeable in the ways of hydroponics.. Both Brock Hughes & MhpGardener have impressive systems that could easily be scaled down to a small balcony or indoor system..
Harvests & update from the patch..
Since the last update I have unfortunately had a hard drive crash in my computer so have lost a great deal of harvest & progress shots from the patch.. I did post a bit of a round up clip of our small backyard farm if anyone is interested, it sort of brings you up to speed with how the patch is going..
Harvest wise, we did get our best sweet corn harvest to date which made the girls very happy :)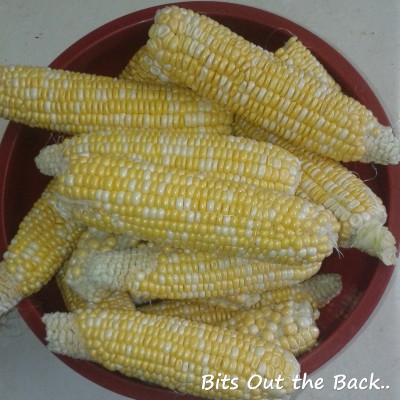 We have some seeds to plant out of another variety to see which we like the best.. Might even try to squeeze in a "Painted" corn crop at the end of the season.. ;-)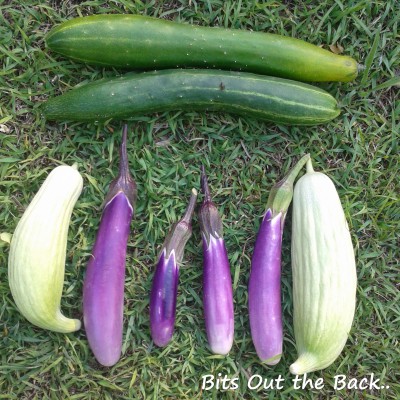 The cucumber vines we had on the go have slowed down & we did lose the Armenian cucumber to mildew & 28 spot lady beetles..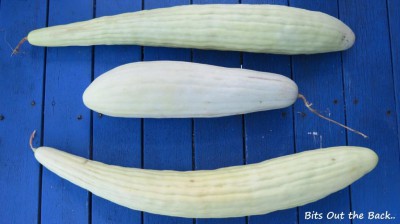 We do have 3 nice large fruit we will be saving seeds from.. The largest weighed in at 1.8kg/4lb & we will be saving the flesh to add to our morning juices.. If history is anything to go by, the plants grown from our saved seeds will hopefully have a lot more vigour ;-)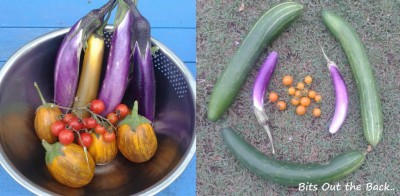 The one eggplant bush is supplying all our needs at the moment which is fantastic.. We have left a few of the fruit from both types of eggplants on the plants to mature so we can replenish our seed stocks with fresh seeds..
The lime tree is laden with fruit here at the moment, with a fair few fruit ready to pick now..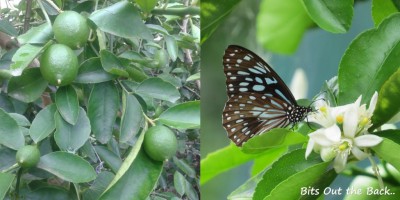 It is also now covered in flowers after the recent rain we have had here in SE Queensland.. Finally managed to get a shot of the blue tiger butterflies that like to frequent the citrus trees..

That's about it for this month.. Shall be back in a few weeks time with another blog.. Losing the computer & the break has made this blog a tad late :-/
Would like to wish everyone all the best for 2015 & hope you all get the chance at having a crack at growing some of your own food or trying to grow something new..
Cheers all & have fun in the patch,
Rob..
**Disclaimer - I have recently taken on the role of a retailer for Root Pouches in Australia. This blog post is in no way to be taken as an ad and I encourage folks to save their coin and experiment with DIY methods..