I'd like to introduce you to a very special friend of mine. His name is Louis and he's seven years old. His mum, Tara and I went to primary school together in England and purely by chance ended up on the opposite side of the world decades later. Funnily enough it was Simple Savings who brought us together! Tara and her husband Greg became Simple Savers three years ago when they took part in the first No Spend Month for NZ current affairs show Campbell Live. In typical fashion they threw themselves into the challenge and even though Valentine's Day and Louis' birthday party fell during the same month the pair of them were not deterred from their mission and by the end of the month they had saved a whopping $1,000 . Just goes to show what you can achieve with a little conscious effort doesn't it!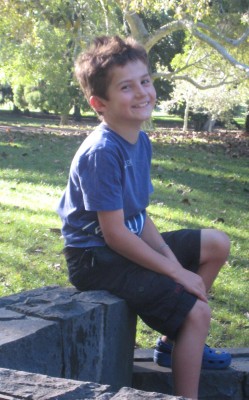 It's just as well this family are good at saving money because boy do they have some saving to do. You see from the outside Louis looks just like any other seven year old boy. He has a wonderful, caring personality, heaps of friends, is bright as a button and has a gorgeous smile as you can see. He can chat away happily to anyone about anything - I've learned heaps about caring for pet rabbits from Louis! However if you look closely at his picture you'll see he is wearing a rather important bracelet. It's his Medicalert bracelet which tells people he is a severe diabetic.
Louis was diagnosed with Type 1 diabetes when he was just five. It turned the whole family's world upside down and from then on life became a constant routine of monitoring food, monitoring blood sugar and administering medication. But like many people I didn't understand the implications of this condition. I remember when Tara first announced Louis' diagnosis. 'Oh no, that's terrible!' I said - and meant it - but in all honesty I thought it was a bit of an inconvenience, nothing more. I was one of the countless people who confuse Type 1 and Type 2 diabetes with being one and the same, when in truth they are very different. When you are a seven year old with Type 1, every day you are faced with a barrage of needles. When you are a seven year old with Type 1, everyday childhood illnesses and injuries are far more traumatic and prolonged. Just keeping a little fella like Louis well from day to day is a mission. You never know what each day is going to bring and planning anything can be very hard.
When I first started spending more time with Louis and his family I thought it was cute how, when Tara and I went out anywhere, she would give Greg a quick rundown of exactly what Louis had eaten, his last blood sugar reading and exactly what else he could eat and how much if needed before kissing him goodbye. 'How organised they are! How easy they make it all look!' I thought. But I was wrong. It's not easy, not at all.
They say 'there's no friend like an old friend' and Tara is one of life's true gems. She is one of the funniest people you could ever hope to meet and has me falling over my desk with laughter on a daily basis. She's been the same ever since we first met at nine years old and is good at putting on a brave front but the more time I have spent with her these past few months, the more I get an insight into what a massive weight diabetes is on any family's shoulders. When Louis has a bad day, Tara feels totally responsible, like it's all her fault. Of course it's not - but you try and tell any good mum that! I've been lucky - when I see Louis he's always placid, happy and talkative. I don't see him on the days when he's trying to resist his insulin or is just plain over it. I might not see Louis, but I see his mum and when she cries it just breaks my heart.
Do you know what the worst thing is though? If we lived in pretty much any other country this family's life would be so much easier. Louis would have his own insulin pump, which would hugely reduce the amount of finger pricks and injections, he would automatically receive the required amount of insulin he needed whenever he needed it and would be able to eat pretty much what he wants, when he wants, taking a huge amount of stress off Greg and Tara. No more mercy dashes in to school! But we live in New Zealand and our clean, green country is one of just a handful in the world which does not receive government funding for insulin pumps. For Louis to have an insulin pump his family are going to have to raise at least $8,000. That's for the pump alone and they only last six years, meaning they are going to have to find this amount again when he is 13 and again when he is 19, for the rest of his life. In addition, these pumps cost around $350 per month to maintain with all the necessary bits and pieces. See what I mean about a giant savings goal?
Louis has been through so much already but every time I see him he has that same gentle smile on his face. It's not his fault we live in one of the only countries that doesn't receive funding. He has a long road ahead and he deserves that bloody pump. So do his parents. So I'm going to make sure he gets it. On October 31st I am running the Auckland Marathon to raise money for my little mate. The support I have received already has been huge - and I haven't even done it yet! Louis isn't the only one with a long road ahead - between now and October 31st I will have run over 1000 kilometres but it will be worth every step if it helps make that little guy's life easier. So if over the next few months there might be the odd lengthy gap between SS posts, you know where I'll be - pounding the pavements. If you would like to learn more about Louis and follow my journey, you can keep posted through this special blog http://leggingitforlouis.wordpress.com/ See you at the finish line!