Wow, I can't believe it's already been a whole month since we moved house! I have to admit, reaching the month milestone was a fantastic feeling. I guess my confidence is still a little shaky from the bank debacle - and there are always people out there who think you are doomed to fail. For the first month I was so terrified I was going to run out of money, I almost had a panic attack every time I spent anything. I lost count of the sleepness nights I had, worrying how I was going to pay this and that. Finally I plucked up courage to check my bank balance and almost fell over to discover I had a lot more money in there than I thought. What a profound lesson Penny - if you don't spend anything it actually stays in your account! Not bad, especially after both my boys' birthdays falling in the same month too!
For a couple of days I was on Cloud Nine. I was a home owner, a she-warrior, a financial whiz! Not only had I got through the first month, I even had savings! I allowed to let myself to get a little complacent, took the boys out for the day and bought Ali some new shoes, which was a big mistake because the very next day - BANG - in just two bills I was $3,000 down. I thought that my legal costs had automatically been taken out by my solicitor at the time of settlement. They hadn't so it was a big shock to receive a bill for more than $1400 that I now had to find! In addition, when I checked my bank balance on the 14th of the month, I believed that my first mortgage payment had already come out on the 8th as was originally scheduled, so it came as another big shock to realise that it hadn't. The bank had moved my payment date to the 26th of the month without telling me. All of a sudden things were not looking quite so rosy - and there were still so many bills coming up!
So, as successful as the first month was, the second is going to be an even tougher challenge. The boys are great, they understand how it is. For the first time I'm really seeing the value of No Spend Month on a personal level and this is what we are going to have to do. I am so, so happy that I have all my Simple Savings skills to help me because it's these that are going to get us through and I am looking forward to making the most of them. I'm very fortunate that I have taken over a garden already full of food, with more to come and this is going to be a huge help. Currently I have lettuces, silverbeet, carrots, strawberries, tamarillos, oranges, lemons, lemonades, mandarins and enough parsley and rosemary to give to the whole town! Ali has always been interested in growing things, when he was tiny he grew tomatoes which were so delicious my friends used to pay him for them! But that was a long time ago and now he has taken on the position of Chief Gardener for the three of us, we both have a lot of learning to do! I'm looking forward to it - if only it would stop raining!
There are plenty of areas we can still improve, such as power. Being the hippy I am, I try and keep the lights off as much as possible once the dinner dishes are done and rely on my salt lamps for lighting at night instead. I've no idea how much it saves but it FEELS more economical! Plus they add a wonderful cosy feel to our little house at night that somehow brings us all together. Liam used to sit upstairs in his room all night but now we all hang out in the lounge together talking and laughing and watching movies and it's lovely. But I need to stop leaving the TV on as background noise to 'keep me company' when I'm working during the day! And getting washing dry in the weather conditions we've had since we moved is pretty much impossible. I've honestly managed to get no more than two or three loads dry naturally in the last five weeks! So frustrating having to use the dryer all the time, not to mention expensive. At the last house I used clothes horses with great success but this house is too compact to use more than just one small one without being a very risky fire hazard! It doesn't help that the washing line isn't in the best place, being stuck down the side of the house where no sunlight seems to reach. Things just HANG there, day after day! In the end I got fed up and bought a length of washing line and strung it up in a better place. Now it just needs to stop raining!
And then there's the age old issue of me just being plain old disorganised. I dread to think how much this dastardly trait has cost me over the years - but I have found something that helps! I had an epiphany at 4.30am the other morning while lying awake convincing myself I had no money. I was wondering how to remind myself how not to forget something important in the morning and it dawned on me - why didn't I download a free shopping list app for my phone? Surely there had to be one? Quite a lot more than one I discovered! I just chose one from NZ supermarket Pak and Save and this works really well for me. Because I'm never without my phone I can instantly add things as I remember them, no more forgetting to write things down or going out and leaving my shopping list still on the fridge! But a great bonus I've found is that not only does it stop me forgetting what IS important, it also helps me to evaluate what ISN'T important. Every time I have to make a trip to town now, I consult my phone list to ensure I'm making the most of my trip - and nine times out of ten I end up wiping off items that I thought were important at the time but on revisiting them realise they actually aren't important at all!
So I guess you can say I'm trying my best and hopefully my best will keep on getting better. Oh, before I go I must show you one saving I'm rather proud of! Our town has a great 'Buy, Sell, Swap' group on Facebook, which I keep a close eye on. I was looking for a small table to go by the front door but didn't want to spend too much. Then a few days ago I saw a rusty old style telephone table come up. I wouldn't normally have looked twice at it, but something in the way the seller said 'Would look brilliant if it was done up!' made me perk up my ears. The table was only $12 but for me it was a risky purchase. I am the world's least arty-crafty person and the chances of this project going horribly wrong were extremely high! Still, I figured it was pretty hard for this potential piece of scrap to look much worse than it already did, so I handed over $12 and went ferreting in the shed for a can of black spray paint I knew I had. And whaddya know, it WORKED! In just one hour, I had transformed it into something I absolutely loved! Even Liam, who on seeing it said 'What the hell did you buy that for?' saw the new improved version and said 'Wow, that looks awesome Mum!' Praise indeed from my cynical teen!
Here it is before: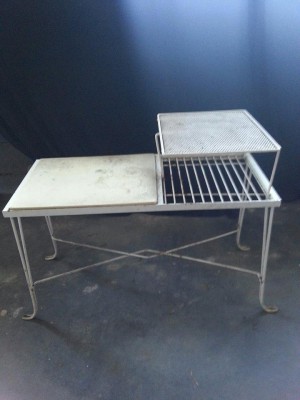 And after!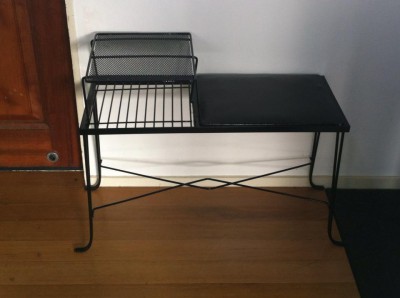 I reckon that was $12 very well spent! But even so, that was before I was $3,000 down. Now the pressure is really on to save harder than I ever have before!