It's 8.30am and the smell of freshly baked banana cake is wafting around me as I type. It's for a certain sleeping giant, who is blissfully unaware, still tucked up cosy with his beloved little dog. Yes, Liam is home! It's been a week already and the wonderful thing is, it's as though he's never been away. He's happy to be back and Ali and I are very happy to have him back. And, as another bonus (well, kind of) he cannot stop eating! Whilst this is not so good news for the budget, it's certainly good news for this worried mum, as in the weeks leading up before he left, he was literally existing on next to nothing so I'm hoping that this massive increase in appetite is due to the fact that my boy is finally feeling settled and happy. Long may it last, hooray!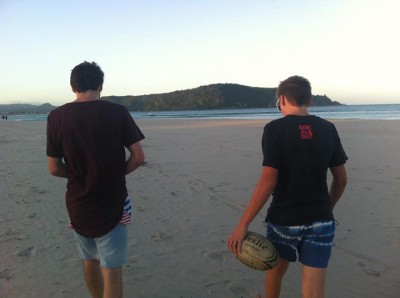 Everything just feels better now the three of us are back together - even the dogs are happier! We've been going for walks on the beach all together in the evenings and it's just lovely. The boys kick a rugby ball around, Hubble rushes about like a mad thing and Minnie trudges along stoically next to her mum, nose to the ground, completely oblivious to everything and everyone around her. As any Simple Saver knows, it's the simplest things which are often the greatest and most precious and it's times like these I treasure. We still have a long road ahead - Nawtypoo is still ours but we still have to work hard to keep her! Still, at least now we're all together and on the same page, understanding and supporting one another it doesn't seem quite so daunting. And, as the saying goes, there is always someone worse off than yourself. I sent an old school friend a Happy New Year message the other day on Facebook. Like me, his marriage had ended last year and he had also just been made redundant from his job as a chef before Christmas to boot. I wished him a happier and far less stressful year than the previous one. My heart broke when I received a message back almost immediately, 'I had to make myself bankrupt today'. And I thought I had it tough! I wanted to slap myself in the face. I've always known I had it easier than a lot of solo parents but this really made me count my blessings a thousand times over. Even so, I was really impressed by his positive attitude. If anyone deserves a break this year it's this chap and I really hope he gets one.
I've been on a bit of a health kick lately - that's a whole other blog! But one of the new joys Ali and I have discovered is tramping. We've been quite a bit over the past few weeks and love it. We're fortunate to have plenty of beautiful walks in our area and we can pretty much take our pick from 90 minute tracks to three and a half hour hikes and beyond. Apart from the teensy cost of petrol to get there it's basically free, we just pack a few snacks and water bottles and off we go! The other day we went to a place called Luck at Last Mine, less than 10 minutes drive from our house. It was beautiful! Although I have to say it has definitely been given the right name because you're flipping lucky if you ever find that mine. After four hours of puffing, sweating and climbing seemingly to no avail we had seen enough of the great NZ bush and traipsed our way back but even so our enthusiasm has not been dampened and already we are planning our next adventure!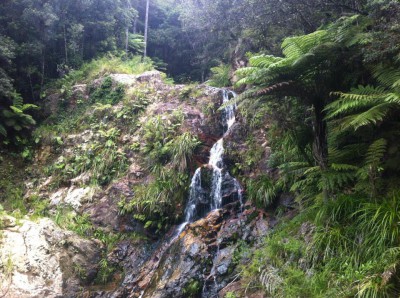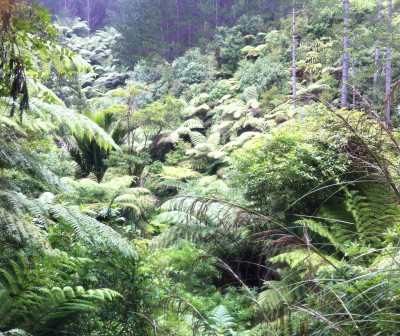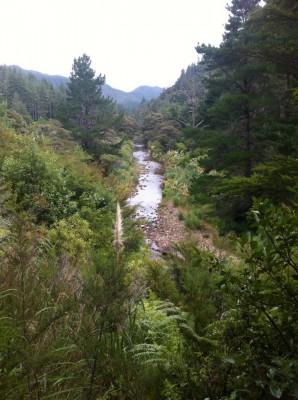 Not a bad way to spend a weekend. I just wish there were more weekends in the week! The school holidays are flying by and the boys have been working crazy hours but Ali has just enjoyed a wonderful week being a Simple Saver the best way he knows how - by catching his own food. In the five days he has shot a deer for the freezer, waited patiently in a creek and caught, prepared and cooked his own brown trout for dinner, then went fishing with a friend and brought home two snapper, which we simply pan fried in butter and lemon pepper and served with broccoli, beans, potatoes and salad, ALL freshly picked from my garden. Made me feel very self-satisfied and abundant I can tell you! Although I'm off to the op shop this morning to see if I can pick up any old net curtains as the pesky birds will NOT leave my tomatoes alone. I wouldn't mind if it was just the odd one but they get to EVERY ripe one before I do - and I feed the little blighters every day as it is!
If there's one thing all three of us seem to have learned from being apart it's that we appreciate each other and what we have a lot more. The best times we spend together cost nothing and whereas it was always me who seemed to do everything when it came to taking care of Nawtypoo, the boys are also more pro-active around the place now and like to keep it looking nice. With all the trees and gardens to take care of it does feel like a large and never ending job but they have really stepped up with things such as pruning back trees, chopping firewood, weeding and mowing lawns - even if it means we have to have a cricket pitch in the middle of the back yard! We were fortunate enough to meet some lovely neighbours just before Christmas who have a holiday home next door to us. They only come to stay every few weeks and often less but they have been so sweet to us from the start. The first time they popped their heads over the fence it was to ask us if we wanted a free Christmas tree as they were about to chop down two large pine trees on their property. Unfortunately we already had a Christmas tree - but we did need firewood! As it turned out, the husband is a qualified arborist and the boys went round to help with the felling of the trees. In return we got a whole shed full of firewood for the winter and an enormous pile of free mulch for the garden. In fact, there is so much mulch that they even offered it as a money maker for the boys, selling and delivering it to keen gardeners in the area. Such kind and generous people! The boys and I have been mulching the gardens together and it's a great feeling to know that even though it's the height of summer, we already have all the dry firewood we need to keep us warm all year when winter comes around.
As you can probably tell, I'm feeling a lot more positive than in recent blogs! The pressure is still on though of course and I'm still hoping to get an evening job. Unfortunately whilst Whangamata is still relatively busy it is a lot quieter this year; the volume of people has already diminished a lot (which is brilliant if you're a resident but not if you're a business owner!) This means that most of the businesses are not having to take on any more extra staff but still, will keep an eye out for anything which comes up and the boys are very supportive as they understand how important it is. They both get paid weekly and were flabbergasted recently to learn that it's not the same for everyone and their mum has to make her payday last a whole month. 'That's such a long time! How do you DO it?' they asked. Exactly, I winked! All of a sudden they understood far better why NOT spending money really is so important and that mum isn't just a boring old party pooper!
Amazing to think that this year I will have been a Simple Saver for 10 years! And I have to say that with the exception of the first year, where the concept of saving money (and indeed HAVING to) was almost an alien subject to me and I was like a sponge, soaking up every tip I came across, this year is proving to be the most valuable and rewarding - and it's only January! The tips are just as important now as they ever were and I love seeing all the new ones which come in and taking on board the ones which are relevant to me - but this year it's the inspiration from other members I am finding most valuable. I was so excited to read of Claire M's thoroughly well-deserved new kitchen! And GoGo Goanna's post-Christmas vow 'Re-evaluate luxuries and enjoy as you save' has already saved our family so much money - it really is so true. So many wonderful stories, too many to mention but my ultimate dream is to be a Shane O'Donnell. Shane is a Simple Saver from several years back who saved $30,000 in a single year. While this might be a far-off dream for me at the moment, I really like how Shane went to the trouble of sharing exactly how she managed to making such a huge saving, even including some of the frugal recipes which helped her. I remember Fiona interviewing Shane in a podcast back in the day when Simple Savings had its own weekly broadcast and it was amazing to listen to. If I can be a Shane O'Donnell in the home and a Felicity Kendall in the garden I will be one very happy and productive Penny Wise!