For those of you who may have missed it in the Forum, I received some very sad news last night. Pat Connor-Scott, known as 'Gran' to Forum members, passed away on October 28th after suffering a heart attack. At 75 years of age, she was to the best of my knowledge our oldest contributor and we all loved reading her posts, full of wit and wisdom. Pat did confess to having 'heart trouble' but she never let it slow her down. For years she single-handedly raised her grandson, and while he led her a merry dance as teenagers do, it was obvious to all that she loved him to bits.
I had the pleasure of meeting Pat back in May this year at an SS get together. Softly spoken, but with a twinkle in her eye, I can still hear her gentle Scots accent in my head. She was always dropping me a line just to say hello, or pass on a joke that had made her laugh. I'm so glad to have met her that day but am extremely sad that she won't be at the next get together. She and my mum had a lovely time strolling around the herb gardens at Hamilton Gardens, discussing and sniffing the various herbs - and sometimes sampling them! I posted this photo in an earlier blog but to save you trawling through, here it is again. Pat is third from the right.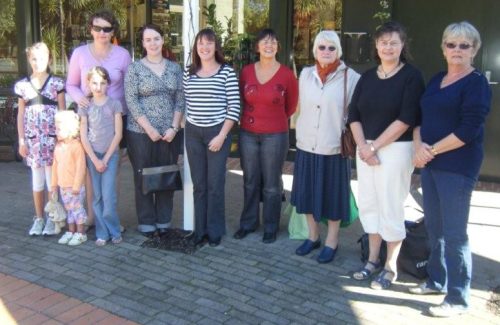 It is obvious from the Forum how popular Pat was. I wish she could see now how appreciated her posts were and how often she made people laugh. SS member Joni dug out two wonderful posts from Pat which sum her up so well. I hope she doesn't mind me copying them here. This one was written just two days before she died:
"No one individual is to blame for there being a depression or recession, all the same to me, but what a wake up call this recession has given mankind. It has made us all sit up and take stock of what we are doing, living beyond our means, throwing good money after bad, living as though there were tomorrow, and if there were no tomorrow we wouldn't need the things anyway. It has make us think about things like not throwing good food away, looking at preserving things, looking after things we already have, repairing things instead of chucking things out, swapping one job with a neighbour for something you can do for them. We used to live in a good way like this when I was younger, I am 75 now but yes we say 'the good old days' because people cared about what they had, what they spent, 'look after the pennies and the pounds will look after themselves,' my mother used to say to us. Now it has eventually been brought home to us that we cannot just live for the moment, we have a brain and need to use it not just for ourselves but for our future of our children, our planet and our survival whilst we are here or woe betide us. If we get another recession/depression or what ever you like to call it, let's not still be paying the backlog on this one, like credit card debt, big houses. How many chairs can you sit on at any one time, how many beds can a person sleep in at any one time, how many cars can you ride in at one time, how many rooms can you be in at any one time. Stop, look and listen. Use this recession as a life observation and work accordingly."
As always, Pat's sharp mind and wisdom was right on the button. I wonder what she would have thought of my decluttering, she would have been tutting to herself and shaking her head in despair! This second post will always remind me of Pat - thank you Joni for sharing it:
Words to Live by!
1. Never under any circumstances take a sleeping pill and a laxative on the same night.
2. Opportunities always look bigger going than coming.
3. Bills travel through the mail at twice the speed of cheques.
4. A conscience is what hurts when all your other parts feel good.
5. No man has ever been shot whist doing the dishes.
6. A balanced diet is a cookie in each hand.
7. If you must pick between two evils pick the one you never tried before.
8. Junk is something you've kept for years and thow out 2 weeks before you need it.
9. Experience is wonderful thing. It enables you to recognise a mistake when you make it again.
10. Never lick a steak knife.
A gentle soul who will be sorely missed. RIP Gran x