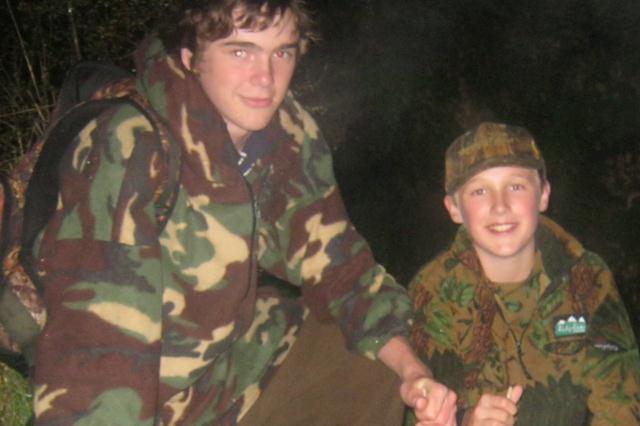 Here is a rare photo of my boys as you don't usually see them. For starters they're not fighting which is unusual and Ali isn't pulling a crazy face which is a real rarity but this was taken recently on an evening hunting trip, deep in the heart of the King Country. Ali is a seasoned hunter and bushman but for Liam this was his first night walking out of the bush in the dark, not to mention carrying a deer on his back. I've mentioned before how Liam has changed since living in Whangamata. Gone is the shy, anxious boy with no self esteem. He's been replaced by a happy go lucky young man who is no longer scared to give things a go. To say his dad and I are pleased is an understatement.
So what's brought about the change? It's simple really - he no longer spends most of his waking hours glued to video games and TV. Instead of rarely leaving the house, he's never home! He makes the most of each day. He goes and finds things to do, just like we had to when we were young. Mind you, there is a lot to do in Whangamata and the great thing is most of it is free. Another thing I love about living where we do (and I apologise if I have also said this before) is that it's a little like going back in time, 20 or 30 years or so. Just like some of the Simple Savings newsletters, where Fiona reminisces about the days when people would chat over the fence and everybody knew all the local kids and where they were and what they were doing, our little town is like that.
Ali has always been a 'do-er'. He's never been able to keep still and crams as much as he possibly can into each day. If he wants to do something, whether it be swimming, surfing or whatever he'll jump on his bike and go and visit his friends one by one until he finds someone to do it with. He has a Playstation in his room and it hasn't been switched on since we moved house over a year ago. Liam on the other hand couldn't have been more different. It seemed that days would simply pass him by in a blur of Ratchet and Clank or Modern Warfare - whatever his latest game obsession was. I admit, Noel and I clashed a lot about it. Where Noel was seriously concerned about how much of Liam's life was being wasted this way, I was far more relaxed. 'He's just a teenager, doing what teenagers do. Give the kid a break!' After all, his friends were all doing it too. Where was the harm in it? I used to cringe every time Noel would go stomping upstairs and throw Liam and his mates outside, telling them to stop being a 'bunch of girls' and get out in the sunshine.
In the end, the change came about from Liam himself, triggered by another boy he knows. This boy is a talented sportsman but doesn't play sports. Instead he plays video games. All day, every day. It affects his schooling, it affects his relationships, it affects his health, it affects his sleep. Liam and his friends used to go round and call for him but they gave up when he started locking the door so nobody could interrupt his gaming. Sad, terribly sad but true. All of a sudden, video games didn't seem so cool to Liam any more. 'I don't want to turn out like that!' he said. And that was that. The games got switched off and are now only played when it's raining or when a group of them are staying over and want to play. The rest of the time he's swimming, surfing, running, biking, walking the dog - anything really. I had to chuckle the other day when he arrived home after a day out and told me he and some friends had pooled their coins together and hired a couple of tandem bikes and spent a whole hilarious afternoon riding around. 'We must have biked over 20km!' he said proudly.
If there's one thing both Noel and I have been delighted with its the range of activities available at the boys' school. They are ALWAYS doing something, it's brilliant! Just last week Liam spent four days away at camp with his whole year, white water rafting and and water skiing at Blue Lake, near Rotorua and had an absolute ball. An absolute stipulation of these camps is that there are no cell phones, no iPods, no 'gadgets' of any kind. It's a sad sign of the times that these days school camps are as much about getting kids away from technology and out into the real world than simply offering the opportunity to do something different and bonding with their fellow students. Sadder still however is that the boy I mentioned in the previous paragraph chose not to go on camp and stay at home for the week instead. Liam however came home full of even more energy and no one was more amazed than Noel and I when he came bounding downstairs on Saturday morning and asked 'Dad, can we go clay target shooting?' The great thing is, this attitude is now rubbing off on his friends and more and more of them are asking Noel to take them fishing and bushwalking. Hooray for old fashioned fun!
So I stand corrected. I would much rather see my boys the way they are now; happy, healthy and making the most of each day rather than sitting inside playing shooting games with complete strangers on the other side of the world while real life and real fun passes them by. Making the change to his lifestyle has given Liam confidence, knowledge, skills, good health and energy. We no longer have to nag him to get outside - in fact, we have more trouble keeping him in! Although even the most active boys run out of steam eventually. Here are the boys after their hunting trip, fast asleep in their chairs. Both nights they were too exhausted to even make it to bed and spent the whole night in their chairs! Shh, don't tell them I showed you!