Whew! Well we're back from our whirlwind trip to Wellington – what a hectic few days its been! Considering the drive down took eight hours, we all got along extremely well and the kids didn't start fighting until there was less than 20km to go! We left home just after 7am to drive to the More FM studio in Hamilton. The interview with breakfast hosts KM and Stu was heaps of fun and the boys were spoiled rotten. They got to see how everything worked in the studio and left with armfuls of chocolate milk and Snickers bars – enough to keep them happily fuelled almost to Wellington!
It's been more than 15 years since I last travelled further south than the ski fields and we were all struck by the beauty and diversity of the NZ countryside; from mile after mile of South Waikato forests to the barren landscape of the notorious Desert Road and the rocky plateaus of Taihape. The quaint little towns dotted throughout the journey hadn't changed much over the years, except almost all of them now boasted a Subway outlet – and more often than not, a McDonalds and KFC!
We had packed only the bare minimum food to take with us, with the aim of buying what we needed to cook from the supermarket when we arrived. The only setback was, we discovered that our 'self catering' apartment didn't actually have any real cooking facilities to speak of so we ended up getting pizza delivered, which I would have enjoyed a lot more had it not cost $60 for the four of us. Ouch!
The morning of the Good Morning show arrived – and the atmosphere was tense. Actually, that's a bit of an understatement, the air was blue! In my haste to get everything done in time for the trip, I I had thrown half my wardrobe into the suitcase, thinking I had plenty of time to pick out a suitable outfit on the morning of the show. Oh Penny, you plonker! I discovered too late that nothing went together, or went along with their strict dress guidelines (no red, no black, no white, no patterns, no stripes). There was just 40 minutes until I had to leave for the studio and everything looked terrible! Trust me, it was BAD, I was in tears. Noel eventually could stand no more, stuffed me into the car and drove around the corner to Ballentynes, whereupon I rushed in and begged the staff for help. They were lovely and helpful and best of all, knew all about the $21 Challenge!
By some miracle we arrived at the studio bang on time and the four of us were ushered through. Everyone from the production crew to the show hosts, Steve, Brendon and Sarah were lovely and friendly and before I knew it, Sarah and I were on live TV discussing what to do with her leftover spuds, pancetta and black eyed beans. You can watch the clip here although I'm not sure how long it's on the site for. I'm not going to lie, live TV is absolutely terrifying! You have no idea where you're supposed to be looking and if you stuff up it's not as though you can edit it out. I hugely admire all those people who do it every day and are just so confident and relaxed. As for me, I was anything but relaxed – but I did feel much better having Noel and the boys in the studio with me, even if no one else could see!
In a flash the interview was over, I swapped my heels for sneakers and we headed for the Museum of New Zealand, Te Papa. It was everything I had imagined it would be and more, but most of all, I realised how very lucky we are as a family, to have already seen so much of the manmade world of Te Papa for real. Almost all of the artificial birds, fish,and creatures that were on display, we had experienced first hand, at home, in the bush, or out on the ocean. It made me appreciate our SS lifestyle even more. Te Papa is free to enter but you could stil blow your budget on car parking and food if you weren't careful! We popped out of the museum and grabbed a sandwich for half the price of the museum cafe, then walked back in to finish our tour. We all thought Wellington was a beautiful city and would have loved to spend more time there, although it definitely did live up to its 'Windy Wellington' reputation!
The following morning we made a start on the long journey back home, but this time we stopped over for the night in the bustling town of Ohakune, land of ski fanatics and giant carrots! We stayed at the Rocky Mountain Chalets which are lovely. I was pooped but Noel and the boys went up the mountain for the afternoon to indulge in some good old fashioned snowball fights! You can spend a fortune on ski hire and ski lift passes but they were just as happy playing in the snow at the bottom of the mountain for free.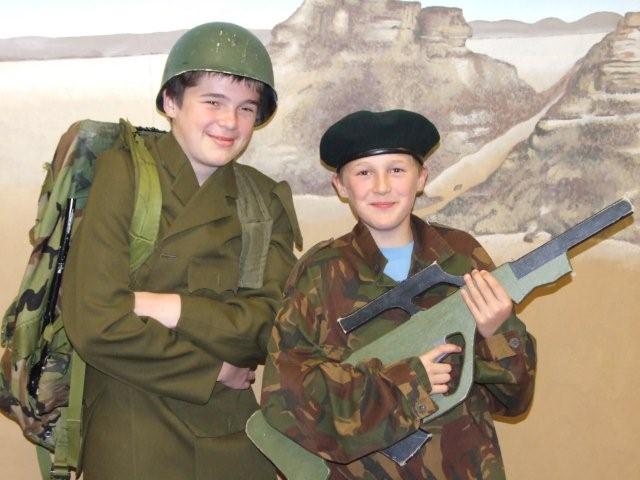 Homeward bound and we had just one more stop, at the NZ Army Museum at Waiouru. This was definitely a high point of the trip for the boys. We learned so much! The boys went mad taking photos, running around like mad things and saying 'woah!' at everything. Liam at 13 is at a notoriously 'hard to impress' age, so it was really heartwarming to see him take such an interest in his ancestors. Noel was proud as punch to learn his grandfather had served in the most feared and revered anti-tank regiment in WW2. His future grandparents had got engaged in secret before he went to war; she waited seven years for him to return so that they could marry. How romantic is that? I have to admit, I didn't think this museum was going to interest me much, but I could have stayed there all day, studying the medals and reading about the lives of the men who had earned them. It was a real eye-opener. I don't think anyone could possibly imagine what those brave soldiers went through, but it gave a pretty good insight to what clever, creative, funny and much-loved people they were before the war took them away from the lives they knew.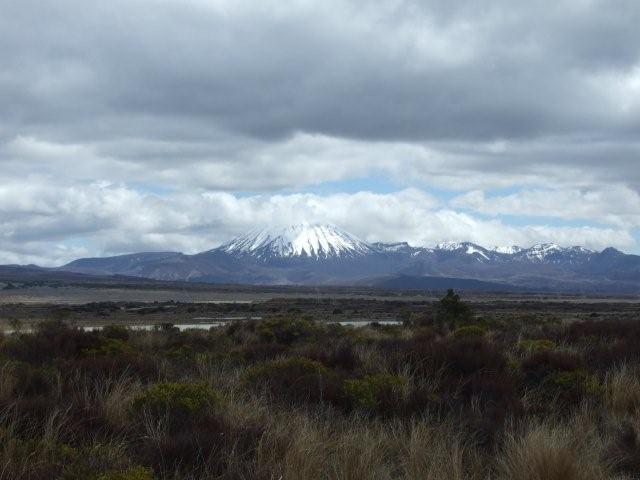 We bundled back in the car one last time and enjoyed a glorious scenic drive, past snow-covered Ruapehu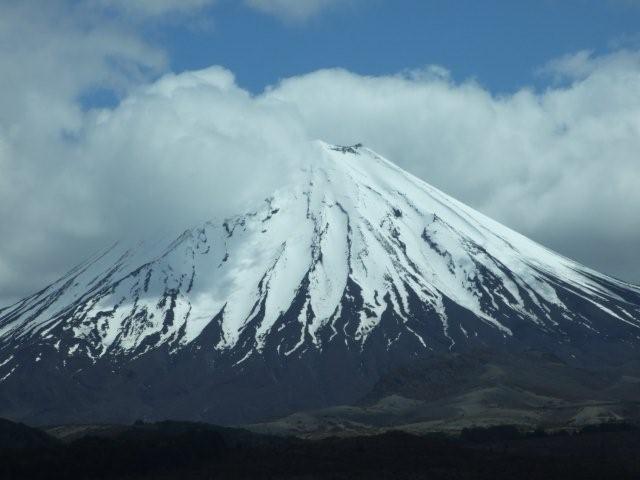 Mount Ngaruhoe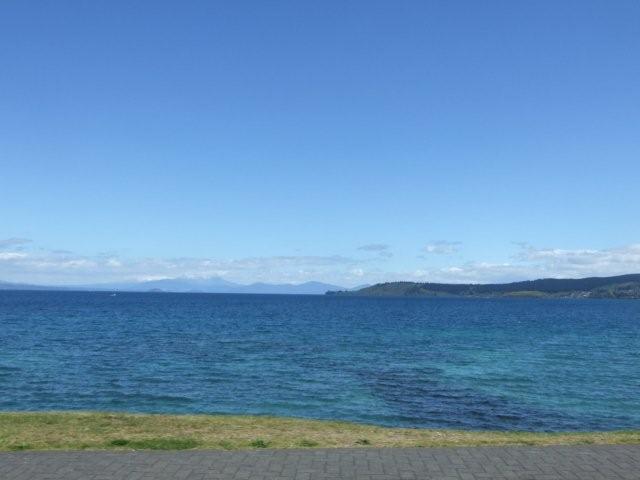 And our old favourite, Lake Taupo, glittering in the sunshine. Our aim had been for this trip to be as educational as possible for the kids, and I think we definitely achieved that; not just for the boys but for all four of us. The only thing which concerns me now is that Ali has his heart set on joining the army when he leaves school. I much preferrred it when he wanted to be a zookeeper!