June 22nd
Darn it, I can still barely squeeze a loaf of bread into my freezer, it's so full! I've decided I'm going to make a head start on July's challenge instead, to save $50 a week on our expenses. As it turns out, I'm already half way there this week! Even if it was by accident. Rugby season is well underway again and Liam asked me yesterday if we could please add the Rugby Channel to our Sky TV subscription. As it was being advertised for only $1 extra this month I agreed and rang Sky to request the new addition. I had been moaning about the increasing price of Sky for some time and to be honest it's always been a bit of a bugbear of mine. I hate paying so much money to watch TV - especially when we only watch a couple of the channels. As far as I'm concerned all it does is encourage people to waste their time watching more TV! However the males of the house insist it is an essential, as otherwise we wouldn't be able to watch most of the live sport year-round. Oh what a shame that would be...
Anyway! So I rang Sky and got a very nice, helpful lady. I told her what I wanted and while on the phone I thought I would just check to make sure that we were only paying for the basic package and not paying any extra for things that we didn't want. Thank goodness I did - turns out we were paying almost $25 a month extra for two channels we didn't even know we had! The bloomin' cheek of it! 'So haven't you even watched the Country Channel?' the lady giggled at the other end of the phone. 'No we have not! Or the Rialto Channel either!' Needless to say she cancelled both of these for me quick smart but I was pretty miffed to think how long we had been paying for these via direct debit, blissfully unaware. It's not the first time this has happened either, so I urge any NZ customers to ring Sky and check you are only paying for the channels you want and actually use. Who knows, maybe it will help with your $50 challenge for July too!
It certainly hasn't been a good week for phones in our house. My trusty mobile phone died abruptly and was unable to be resuscitated and Liam's got stolen out of his school bag. Which was precisely the reason why we have never allowed him to carry more than the most basic phone and all students know the risks of taking their phones to school but it's still a horrible thought to think that some lowlife has been ferreting through your stuff. Still there's always a positive I suppose. In Liam's case, he found a new phone on Trade Me which houses not one but two SIM cards. This means that, no matter which plan his friends are on, he can always get the best deal when he texts or calls them! Whilst my replacement phone isn't as technically advanced as Liam's, it's actually helping me become more organised, which is of huge value to me! I borrowed Liam's old phone for a few days when mine died (before his got stolen!) and discovered it had a calendar / to-do list type function, which pops up each day on the screen. Being the type of person who would forget her own head if it wasn't stuck on, I found this absolutely invaluable! When I replaced my own phone I enquired if the one I was looking at had the same function and it did. As another bonus it also had $150 off the usual price - done deal! Since then, I haven't forgotten a single thing! Unlike a diary, notebook or pieces of paper, which I inevitably put down and leave somewhere, together with all my reminders, I carry my phone with me all the time. Now I can type in my appointments days in advance, as well as any chores, shopping items or whatever. Already I can tell this wee gadget is going to save me a fortune!
Also, I can't remember if I told you this already or not but I have recently given up wine. Yes, really! Hard to believe after all these years but I have finally cracked it. Which means I am doing even better than I thought on my $50 challenge! As with so many of these things like smoking or whatever, when you give them up you don't always realise how much you're actually saving when it's just sitting in the bank. However, even if I haven't noticed the difference in the bank balance yet, I've certainly noticed the difference in the recycling bin! I only have to go to the recycling station once every two or three weeks now, instead of every week! That's got to be good! I wonder where else I could save?
I could always be like Liam I suppose and not spend a single cent at all. At 13 he currently has over $2500 in his 'car fund' for when he is old enough to drive. Just the other day he put $500 into it from his pocket money account. 'I figured I might as well, there's nothing else I need', he reasoned. That's after he bought himself a replacement phone too! Noel can't understand how he does it - to him it looks as though Liam's always buying things but on the contrary, he's only looking. There's nothing wrong with dreaming! On the rare occasion he does buy something, he usually goes and sells something on Trade Me to make up for it. He refuses point blank to buy anything he doesn't need and only buys things which he knows will have a good resale value. I reckon there's a lot of adults out there who could learn from this kid!
Mind you, he's not really that much of a kid any more. He might only be 13 but he is at least 15cm taller than me! I posted a photo of him on Facebook this week and a lovely member called Linda commented how nice it was to see the boys growing from toothless boys into young men. I realised that she was right - I've been writing my blog for over five years now and they've definitely changed a bit! This is how they looked at the start, aged six and eight.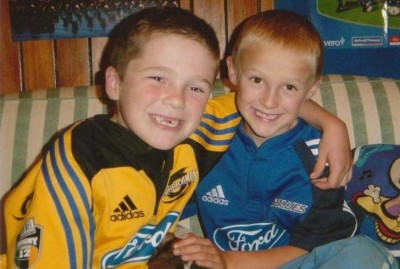 And this is how they look now!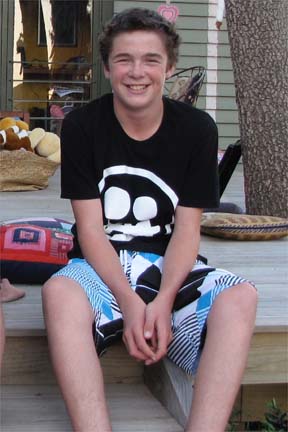 Liam, aged 13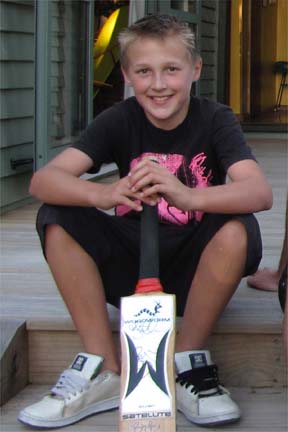 Ali, aged 11
I guess you could call them my own hidden gems! And talking of gems (oh Penny you're so slick!), this is one gem which should never be hidden. Now usually I'm in no position to tell anyone to spend money but this one is special so I'm going to tell you all about it anyway. For a long time, Forum members have followed the courageous story of an adorable girl called Imogen, who was diagnosed with cancer when she was just a wee tot. Time and time again our hearts have gone out to Immie and her amazing family as they battled on and prayed for a happy outcome. Sadly however, Imogen passed away in May, just a few days after her sixth birthday. Life can be so unfair but Immie will never be forgotten and remains in the thoughts and hearts of many members. I discovered by chance that Imogen has a very talented grandmother, who makes the most beautiful <A HREF="http://www.ladybirdladybird.com.au/">ladybird jewellery,</a> inspired by Immie. Part proceeds of each sale go to the Children's Cancer Institute. Each piece of jewellery is bright and beautiful, just like Imogen herself! I treated myself to a cherry tomato coloured ladybird pendant and proudly wear it every day. I adore it and think it's worth every cent and much more!