School holidays here and as always Liam celebrates them by getting the flu and giving it to Ali and me. Last thing I need right now is another chest infection with my new job starting next week! Not only that, being sick really isn't good for the budget with everyone craving fizzy drinks and ice blocks to ease our sore throats and constant coughing. The only good thing is I still have a whole stash of antibiotics from before I went into hospital so am taking those and hopefully that will save Liam and me $35 each at the doctor now he's over 18!
Not exactly the way I wanted to spend my last week of freedom with the boys before putting on my supermarket cap and hairnet! Still, I've been pootling around home making savings here and there. We've had 15 days of no money coming in at all, which I have to admit has been a real trial; not that we haven't been able to manage but it's just been constantly hard and frustrating for everyone not being able to buy so many basic things. Even so, we've done OK. When we ran out of washing powder I made laundry liquid. Before that I used Home Brand dog shampoo! After several nights of fever and sweating I needed something with a bit of clout to wash all our germy sheets and blankets and it was literally all I could find but it contained tea tree oil so I figured it would be good to kill any bugs. After all, if it's effective enough to clean a muddy dog, it would work in the laundry, right? I sprinkled in a few drops of eucalyptus oil for good measure and the results were brilliant, everything came out so fresh and clean! It was only when I ran out of dog shampoo four loads later that I had no choice but to make some laundry liquid and while I was at it I made a batch of liquid hand soap as we had run out of that too.
With all of us coughing and wheezing I haven't wanted to have too much damp washing hanging around the place so have had to resort to using the dryer occasionally but the local council very kindly helped us out with reducing the power bill by putting so much chlorine in the water that our entire tank full of tropical fish died within minutes of having their water changed. After 11 years of happy and uneventful fish keeping we had done this at least a thousand times so it was very unexpected and a huge shock. Poor Ali, he had loved and cared for his fish ever since he asked for a tank for his 5th birthday! On the positive side, it will be interesting to see how much of a difference it makes to the power bill no longer having to constantly heat a 220 litre tank and Ali should make a tidy little sum selling it on Trade Me!
Food wise, our meals have been minimalistic and somewhat interesting but nonetheless tasty and filling. At the moment we have absolutely no meat and can't afford to buy any but it's OK, if nothing else it's making for some creative cooking! The last piece of meat I pulled out of the freezer was a single chicken breast. I remember Sophie Gray saying you can make a single chicken breast go a long way and my children will eat pretty much anything if it is encased in pastry so decided to make her 'Chicken Pie with Herby Cobbler Topping from the Stunning Food from Small Change' cook book. Unfortunately I didn't have half of the other ingredients so had to improvise by adding a few sad looking vegies and attempting to make the sauce for the filling as yummy as possible. Even at 18 Liam still eats basically only two vegetables - potato and broccoli, so I was not feeling confident about the likelihood of him eating pumpkin, carrot, silverbeet and all the other not-very-well-hidden extras I had chopped up small and thrown in there. However to my amazement he ate the lot! Another night we created 'Not Pot'. This technically started out as Shepherds Pie but upon adding the secret ingredient - a can of condensed vegetable soup, we realised that my skimping on buying meat meant there wasn't going to be enough for the three of us. What to do, what to do? In desperation I grabbed a tin of spaghetti and chucked that in too. I was supposed to mash the potatoes but by then was feeling lazy so I just sliced them and put them over the top of the meat, hot pot style and then sprinkled them with cheese and put in the oven. The result we all agreed was amazing, it was so yummy! Delicious enough that we'll definitely be making it again, even if it's not an emergency!
By last night we were really getting down to the bare bones of the food supply and once again I was relying on tinned spaghetti from the food bank to save the day. I made 'Easy Pizza', which is a very simple but tasty scone dough pizza. I didn't even have any proper cheese but they turned out really well! All I used was one tin of spaghetti, one chopped onion and two rashers of bacon to make two enormous pizzas. I sliced a tomato on the top (as it turned out the boys said it didn't really need the tomato, I was just worried the pizzas looked a bit sparse) and I cut our only remaining cheese slice in the fridge into tiny pieces to scatter across the top. The result? Two very full and happy boys and one very relieved mum! Who knows what I'll come up with today but you can be sure I'll manage something! You can find the recipe in my little e-book 'A Dash of Soy and a Splash of Lemon' in the Downloads area but I'll post it here as well: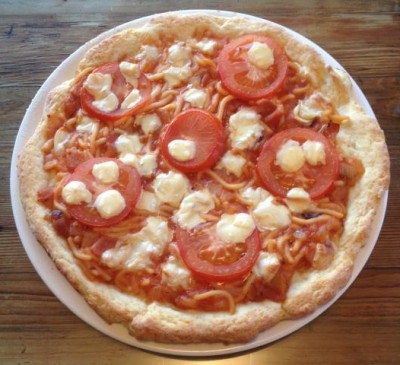 Easy Pizza
Ingredients:
1 cup self raising flour
1 cup cheese, grated
1 tsp mixed herbs (or whatever you have - basil, oregano and marjoram all work
well)
Approximately ¼ cup milk
Toppings of your choice, whatever you would normally use to make pizza or chuck
on a tin of spaghetti for a kid-friendly version they love (so do adults!)
Method:
Put all your ingredients except the milk into a large bowl. Slowly add the milk and
mix with your hands or a wooden spoon until you have a firm scone dough. Roll out
on a floured surface to around 25cm, then pinch all around the edges to make a 'lip'.
Preheat your oven to 220ºC and carefully place your pizza base onto a greased
baking sheet. Have fun putting all your toppings on, then pop into the oven for
around 10 minutes until the base looks golden brown.
At least hopefully from next week we will no longer have to resort to food parcels - and from now on I'll get 5% discount on all my supermarket shopping too! I admit to being rather nervous; it's been a long, LONG time since I had to share a workplace with people or even have to venture further than the next room to go to work! I hope I do a good job but more than anything I just want to be able to give my boys a better life. Stuff the tinned spaghetti, as soon as I can afford it I'm cooking us roast beef!