I have a confession to make. Don't worry, I haven't fallen off the wagon, I am still happily alcohol free! But for the last 35 or so years I have felt something has been missing from my life - a pair of red shoes. You see, when I was little I had the most awkwardly shaped feet; they were so narrow it was almost impossible to get shoes to fit me. I dread to think how many hours my devoted mum and I spent getting measured in shoe shops and how many hundreds of pounds we must have spent on getting 'special shoes' ordered. Top quality, sturdy things they were indeed but the problem with these kind of 'special' shoes was that they looked anything but special. Whilst my other friends pranced around in beautiful red shoes and spangles, I clumped around in hideous brown T-bar creations. Never mind that I probably had the most expensive, highest quality leather shoes in the whole school, they weren't RED and when you're a five-year-old girl wanting to be like all the other five-year-old girls, things like that are nothing short of catastrophic.
Eventually I did grow my way out of those T-bars and into regular shoes like everyone else but never once did I become the proud owner of a pair of red ones. Until recently - and it's all thanks to a fellow savvy saver - Linda from the SS team! Like me, Linda is a beach chick. She has her own funky style and is the queen of groovy beach wear. Little did I know however that some of her most gorgeous outfits come from one of her favourite Hidden Gem stores! Unlike lazy old moi, as soon as Linda moved to Whangamata, she threw herself into finding out as much as she could about the area - the best place to buy fruit and vegies, the best place to buy meat - and obviously clothing. I swear after two weeks here she knew more people than I did! But that's how you find Hidden Gems, you have to get out there looking and once you find them, you're all set to save yourself a lot of money.
I was keen to investigate this mysterious Hidden Gem called 'The Changing Shed' but if there's one thing I have learned over the years its that I should never go clothes shopping by myself unless I want to end up with a pile of ill-fitting, ill-suited garments I'm never going to wear again in a million years. An honest second opinion was what was needed and so Linda and I spent the morning of my 39th birthday op shopping (and eating cake). Never had op shopping been such a fun experience! The Changing Shed is an Aladdin's cave of rack upon rack of women's clothes and accessories. Most of the garments are top brand labels and all are in great condition. Linda whizzed around like a whirlwind picking out things for me to try and the two of us tried on one thing after the other, giving each other the thumbs up at the 'must have's' and cackling with laughter at the 'heck no's!' A fun morning indeed and I also had the pleasure of meeting the shop owner Liz, a lovely, friendly and helpful lady who went out of her way to make us welcome and show us where the best bargains were. I prepared to leave the shop clutching my new skirt, t-shirt and bag (this shop has the BEST collection of bags you can possibly imagine!) - and then I saw them. The most perfect pair of red shoes I had ever seen in my life and they were MY SIZE. Dorothy from the Wizard of Oz would have been proud for sure! And there they were, sitting, waiting for me. It doesn't matter that they had impossibly high heels and I knew my mum would tease me forever for walking in them with bent knees. I had waited almost my whole life for a pair of shoes like this and now, on my 39th birthday they were to be mine. What a wonderful present!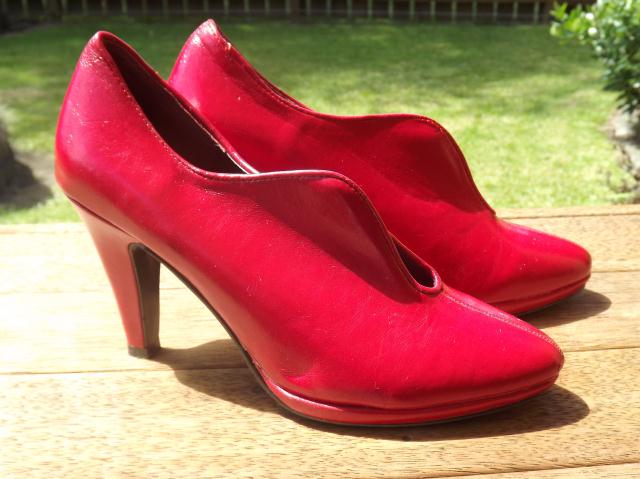 Since then I have been back to the Changing Shed and had a ball stocking up on summer singlets. People always comment on my Ripcurl, Roxy and Billabong tops and can't believe it when I tell them they only cost $3! In addition, Liz also takes in good quality second hand clothing and you can either trade in your garments for money, or choose to have store credit. Having lost 22kg in the past year I have a LOT of clothes I can no longer wear so for me this is perfect, I can take in all my clothing which no longer fits and walk out with a whole new wardrobe! I still have $70 to spend in store so I have a feeling I'll be back before too long! I'm so grateful to Linda for sharing her Hidden Gem and especially for my red shoes. Even now their decadent red-ness makes me smile every time I look at them!