Sometimes I swear my life is crazier than a soap opera. Which is why I haven't written anything lately, I just can't keep up! The last month alone has seen me perilously close to losing my house before bouncing back in the nick of time, then before I could recover from that I went from being given the opportunity of a lifetime - an all expenses paid trip around Asia - to having it pulled from underneath me less than 24 hours before I was due to check in at the airport! That's a story that's too long to share and its neither here nor there anyway; the wonderful thing to come out of it was that instead of whizzing halfway around the world at breakneck speed, I got to instead spend a leisurely extra couple of weeks preparing for Christmas with my boys and as I realised almost immediately with the cancellation of my trip, that was where I truly wanted to be.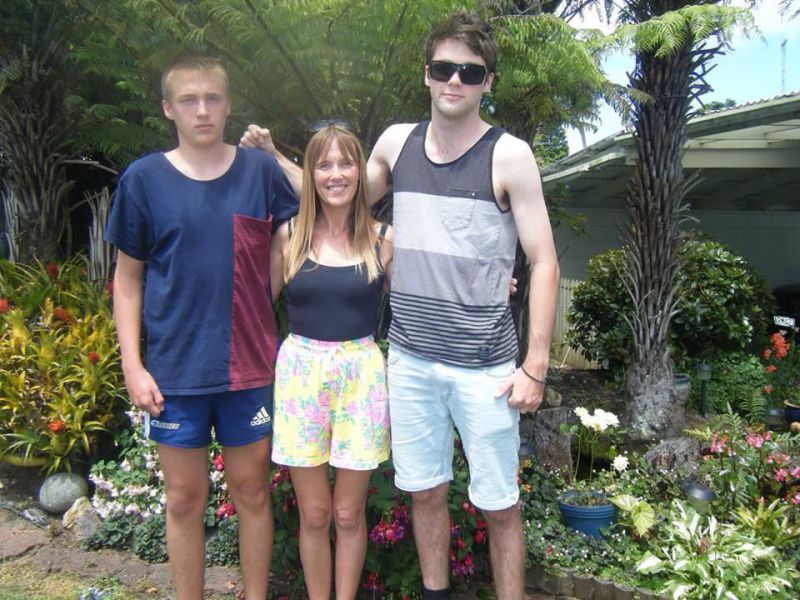 Ah yes, my boys. As you can see they are rather large these days. And biased though I may be, they are pretty fab. I remember when their dad and I first split up and people would pat my shoulder and say knowingly 'it's the first year that's the worst'. So I wasn't too impressed when that first milestone passed only to have people once again say in a knowing voice 'it's the first TWO years which are the worst!' Who knows what the future holds from here? The past two years have certainly been extremely challenging for all three of us but one thing is for sure, we have learned a truckload about people and about life. My boys are kind, they are empathetic, they are protective, they are grateful, they are incredibly strong, they are tolerant (especially of me!), they are pretty much completely unflappable and having had things as tough as they have the past couple of years, they take nothing for granted.
However what I love most about them is their perceptiveness. They see and understand so much more than I give them credit for. For example the other day Ali got paid $20 for mowing lawns. He had been without money of his own for longer than I could remember but when he came home he no longer had it. He told me that when he had finished mowing he went around to his friend's house, who lives just with his dad. 'He opened the fridge and they had NO food Mum', he said seriously. 'I mean I know we don't have much but they had even less. So I hope you don't mind but I gave them my $20 and told them I didn't want it back. At least they can go and buy bread and milk now'. I was so touched and so proud of him I burst into tears. I'm pretty sure that back when I was 16 I wouldn't have even noticed what my friends had in their fridge and have gone and blown the whole lot on make-up and CD's no sooner had that $20 been put in my hand. But that's Ali for you, he just sees things.
As for Liam, my gentle giant, well he's gone and surprised us all lately! Whilst perfectly capable, he's never thought of himself as an academic. However Liam's problem for some years has been that he has been unable to find his niche in life, something he's truly passionate about. It really troubled him greatly and affected his school attendance badly, as he truly had no idea why he was there, other than the fact that he couldn't find anything else he wanted to do either! Much as his dad and I loved him, we were starting to really despair of him EVER finding anything - and then three weeks from the end of school - his last few weeks of school EVER - he found it. And instead of finishing his 13 years of school on a mediocre note, he changed overnight and began working like a Trojan, staying late after school, working weekends and spending every spare minute doing everything he could to ensure he passed the year with the necessary qualifications he needed to study his dream course, a three-year Bachelor's degree in Creative Media Production.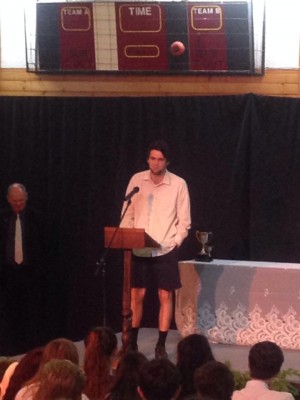 You see what I and many others didn't realise about Master Liam is that he is actually a very creative soul. All this time everyone thought he was up in his room just wasting his life away playing Xbox, he wasn't. OK some of the time he was! But the rest of the time he was working on his artwork, his graphics, his movies and animation. And his writing. I had absolutely no idea but he writes stories and poetry - and he's really good, what a dark horse! The only other people who knew about this were his classmates, where his comic talent is well known. So nobody was more surprised than me and his teachers when unbeknown to us, Liam - super shy Liam, who never says boo to a goose - suddenly got out of his seat at his graduation prize giving and took the stage in front of hundreds of people. And there, relaxed as anything and chuckling to himself as he went, he read out a poem he had written himself about every one of his class mates and what the future held for them next. It was hilarious, the whole place fell about laughing and he got the biggest cheer of the night! I was absolutely flabbergasted and as his teachers all came up and hugged me, it was obvious that they were too - even some of the men were in tears! And it was that night I realised that he had finally found his niche - and that he was ready to leave home.
So 2015 is going to be a very different year for us! Eight weeks from now Liam will be starting life as a uni student in Wellington and it will just be Ali and me here. Who knows what the year will bring but one thing is for certain, all three of us will be living off the smell of an oily rag! Everyone is conscious that the time we have left together is precious but for now everyone is working all hours coping with the summer influx here in Whangamata. Liam is working at one of the local motels as a jack-of-all-trades doing everything from ground maintenance and painting to laundry and stripping beds. It's a great way for him to brush up on all his domestic skills before leaving home. As for Ali, we're working together! I'm still at the Whangamata Club by night pulling pints but during the day I've taken on yet another job cleaning holiday homes for one of the real estate companies and the demand is such that Ali and I work together, doing as many as four homes every day before I can quickly dash home and get changed into my bar staff uniform. It's not glamorous but it's fun and I feel like all three of us are doing the best we can. Heaven knows it would be nice to start the New Year off on the right foot!
As you can probably tell, I don't get too much time to put 'pen to paper' at the moment! There are a million things I would love to say and will no doubt kick myself for forgetting to mention them but I couldn't end the year without thanking each and every one of you who has taken the time to read my ramble and support us this year. It's been a year of ups and downs to be sure, but for every down there has been more than enough ups to make up for it and the boys and I are truly humbled by the kindness shown to us, particularly by Simple Savings members. To those of you who used your super powers to make our festive season extra special, thank you so, so much. You know who you are, even if some of you insist on staying anonymous! I did say thank you via Facebook to my Christmas fairy who magicked beautiful new towels and a shiny new frying pan to my workplace but I don't know for certain if she (or he!) saw it so I do hope you see it here. Not only will Liam no longer have to take holey towels to uni, you have no idea how much of a lifesaver our new frying pan was when our oven was broken for three weeks! We are truly grateful. To my SS Secret Santa, my parcel currently sits under our Christmas tree waiting for Christmas Day - thank you so much, I know I shall love it! Once again this wonderful community of savers has helped us to survive the year in so many, many ways. From Liam, Ali and myself, we wish you all a wonderful Christmas and all the very best for a prosperous 2015!