The Christmas tree is up, the lights are sparkling, the wreath is on our front door - and that's all I've done so far. It's our first Christmas in our new little house and to be honest, I'm feeling completely overwhelmed. Unlike Sally in the newsletter stories, I don't have to worry about impressing anyone this year. My present shopping list has got a lot smaller and this year it's just going to be me, my boys, my mum and her partner. Technically it should be a really relaxed and low key Christmas! But the pressure is still very much on. You see, it's my boys' first Christmas without their dad and I want to make it extra special for them. I know they're going to be sad, I know they're going to feel it but I'm going to do my darnedest to make it as happy as possible.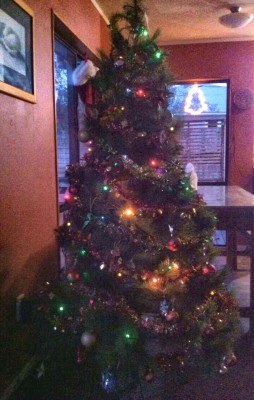 We all know Christmas isn't about the presents and I have no problem filling our home with masses of Christmas spirit - the same corny carol CD's will be playing the same as they have every year for longer than the kids can remember. Ali and I will make shortbread Christmas angels as always, the house will be full of the aroma of mulled wine simmering in the crock pot and there will be crackers and daft paper hats. But what is really worrying me IS the presents, or lack of them. We've always had a great big pile of enticing gifts under the tree and while the boys know money is tight, they still have wishes for Christmas just like every other child and right now, I have no idea how I'm going to afford ANY. Every spare dollar and beyond is allocated towards paying bills and I don't want to start the New Year off in overdraft or struggling with credit card debt. Still, I know there are many other families in the same position and far worse off and I am NOT going to let this beat me. I'm going to make sure my boys have a wonderful Christmas no matter what!
Tomorrow I am going to devote the whole day to selling my worldly goods on Trade Me, or on our local Facebook Buy Sell Swap page. I've actually had more success with Facebook as there are no fees and everything seems to get snapped up pronto, rather than having to wait for days for an auction to finish. No mucking about with postage either, as everyone just comes and picks up their bargains! Putting things on layby just isn't an option this year as I know I won't be able to pay them off in time for Christmas so I just hope my items sell. I think I also have a good amount of Flybuys points accumulated which could be a big help - unfortunately I'm still a joint card holder with the boys' dad though so I hope that he'll be willing to let me use some for their presents (and that he hasn't used them all up already!). I guess no matter what happens, as long as I'm being pro-active and doing all I can, I can't do any more than that. I did have one huge flash of inspiration for a wonderful present which I know the boys will love and help to keep the mood happy and light on Christmas Day! But, I can't tell you what it is yet!
I don't mean to sound all 'bah humbug' but I can't wait to get Christmas over with. Let's face it, when you're trying to save it's a bit of a flipping great inconvenience! Don't get me wrong, I'm looking forward to spending a relaxing day together and being on hand for the boys to do whatever they want; it's the one day when I do really get to relax in my own home and stop worrying about the huge pile of ironing or all the other squillion things that need doing - but all I really want to do is get ahead with my finances. Just keep plugging away at those lingering bills and get them paid off - at the moment it feels like I owe EVERYBODY money! I really don't like having that that hanging over my head. But from next week there will be no lunchboxes to make and I can make the three of us yummy lunches from next to nothing. Both the boys are job hunting - Liam had one and was loving the independence of earning his own money but unfortunately he got laid off a few weeks in after they took on too many staff and didn't have enough work. Ali is hoping to work at the local supermarket - with a population that swells in our town from 4,000 to 70,000 over summer the hours are intense but it's only for a few weeks and the money is well worth it.
I have a feeling that 2014 is going to be a good year for us - I do hope so! Both the boys have been through so much; they really deserve a good Christmas and an easier year ahead. But they have also learned an awful lot and I truly believe it has made them stronger, better people. They know what it is like now to truly exist on nothing (as do I!) and although there are times their situation makes them angry or depressed, they have learned through the friends they have made that there are many of their peers who have had to deal with much, much worse and it makes them humble. As for me, it's been a bumpy old time indeed! But every time I feel as though I've reached breaking point a little voice inside my head says 'No you bloody haven't!' and eventually I come out the other side with renewed determination. Right now I may be feeling a little overwhelmed about Christmas but I know we'll have a good day no matter what and apart from that I'm feeling stronger now than ever. I just can't wait for 2014 to hurry up and arrive so I can show my boys and myself what we can achieve. It's going to be the year of Penny, just you wait and see!