School has finished for the year, yippee! No more lunch boxes to make, no more uniforms to wash and when the boys aren't studying for their exams they're running around town trying to find part time jobs to keep them occupied over the next few months. As for me, I've been having a ball lately buying all sorts of new stuff! Let me see, so far I have four pairs of new shorts, four dresses, four singlets, two skirts, one hoody, one crocheted top, a brand new pair of jeans and two pairs of summer sandals. That's me well and truly sorted for a very long time to come, all for the princely sum of $40! Almost everything is a top brand label such as Volcom, Roxy and Billabong and I couldn't be happier with my haul but I didn't buy a single thing from a high street shop or chain store. I got almost everything but the shoes from our Facebook Buy Sell and Swap group and my sandals came from St John's op shop! As you can probably tell, I am finally feeling better, hooray! I'm still having blood tests and x-rays to ensure I don't have a relapse and am waiting on further tests from the hospital but the main thing is I feel good, woohoo! And after two whole months of doing next to nothing there's no time to waste!
Which is good because for a while I've needed a bit of a wake-up call to remind me how lucky I am to live in such a beautiful part of the country amongst such a wonderful, warm-hearted community. Even before I got sick and was stuck in bed for weeks I had long ago lost sight of all the blessings of living where we do and after such a long period of inactivity I couldn't even motivate myself just to go out for a walk the way I used to. I didn't want to see anyone, I didn't want to talk to anyone and I couldn't remember the last time I went to the beach! All the joy, all the appeal had just gone. I guess I'm sharing this because I know I'm not the only one and who knows? Maybe it happens to a lot of us; we become jaded with our surroundings without even realising and once it's gone, it can be hard to get back.
Fortunately in the majority of cases, no matter how dark and dismal things seem, life seems to have a way of gently picking you up, setting you on your feet and steering you back in the direction you're meant to go in and whilst I had got quite comfortable and accustomed to lying in bed day after day wallowing in self-pity, two months of illness really was not helping to pay the bills. I had to do something and during one of my legendary middle-of-the-night brainstorms a few weeks ago I remembered some stuff I had under the stairs and even tucked under my bed that I no longer needed. Nothing major, just $5, $10 and $20 items but I decided to try my luck selling them on our local Facebook Buy Sell and Swap group and planned to devote my day to photographing and listing them. Well I don't know what was in the drinking water in Whangamata that day but people were actually fighting over my listings, I could hardly keep up! For the next three days Nawtypoo was a hive of activity as an endless trail of people called in to pick up their new goodies and hand over their money. By the end of the weekend I had made $600! No postage, no fees, just a few hours of my time.
As you can imagine, I was absolutely delighted and didn't know who to pay first with all that lovely lolly! What an absolute lifesaver. I was really proud of myself for being so pro-active and resourceful after such a long slump and I think the boys were quite impressed too, but the best thing wasn't even about the money, it was all the new people I had met along the way. They were all locals in our little town of 4,000 yet in four years I had met barely any of them! They were all so nice and meeting them really gave me a lift. I get a free copy of That's Life sent to me every week and now when I've finished reading it I pop it in the mailbox of one of the Buy Sell Swap ladies so she can enjoy it with a cuppa and do the puzzles. A lot of the things I was selling people were buying to give as Christmas presents to their loved ones so it felt great to know that my unwanted stuff was going to a new home where it would be given with love and hopefully be loved by the recipient too.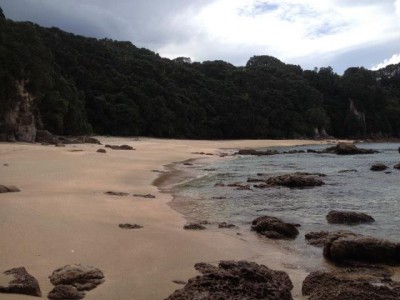 That little mission out of the way, I planned to once again return to languishing in my boudoir but Liam had other plans. 'Can you please come and help me with my photography project?' he asked. 'I need to find somewhere high to take photos from'. The first place we thought of wasn't suitable so had to go a couple of kilometres down the road to Onemana, where you can drive up a big hill to the highest point and look out over the sea. I thought that would do but apparently we needed 'somewhere with ledges' as Liam beckoned me to follow him down a nearby bush track. What I thought was going to be a five minute jaunt turned out to be a 90 minute tramp! Some of the hills were so big we had to grab on to a large rope to pull ourselves up. However once we reached the top and I had stopped grumbling enough to really look around I realised that the scenery was absolutely stunning. We could see for miles and miles! I thought that was it but Liam kept going, stopping every so often to snap away with his camera and after a while I don't know who was taking more photos, him or me! Through the bush we went until suddenly and quite unexpectedly I began to glimpse flashes of white sand and sparkling blue and green through the trees. There, in the middle of nowhere was a tiny beach! This time it was me nagging Liam to keep going as once again we had to hang on to the ropes for grim death as we made our descent but the effort was worth it. It was like something out of the Blue Lagoon movie! Completely perfect and absolutely unspoilt, we had this amazing little place all to ourselves. For four years I lived just around the corner, completely unaware that this delightful wee gem had been hiding on my very doorstep the whole time.
Eventually it was time to head back. Liam had all the photos he needed and as we chatted along the way, with him telling me excitedly that he only had five days left of school EVER, I realised that my gentle giant of a son wouldn't be with me for much longer. It made our spontaneous walk all the more special and I'm so glad I went along that day. It rekindled my enthusiasm for life, my love for the place I live and renewed my energy after weeks spent vegetating inside. And to top it all off, as I huffed and puffed my way back along the track my phone rang and it was the manager of the Whangamata Club, offering me a job starting the following day. One way or the other the powers that be were ensuring there was no way I was going back to bed! Mind you, I figured if I had managed to survive that bush track without my lungs collapsing I was pretty much well enough to do anything!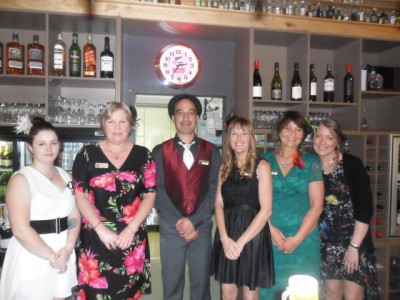 I have now been at the club for just over a week and absolutely love it. This is us dressed up for Melbourne Cup day! Can you spot me in one of my 'new' dresses? Actually this one WAS new, the tag was still on as the previous owner never wore it! It's tiring being on my feet after being sat behind a computer for 15 years (especially in a pair of $2.50 pink spangly sandals!) but it's so much fun it hardly feels like work. The staff and customers are all so warm and friendly, it feels as though I've been there for ages! I feel as though I'm right in the heart of our little community and I couldn't be happier or feel more lucky. My work is still mainly in the evenings so while I have to be more organised than usual (feels a bit weird cooking dinner at lunchtime!) I've got into a nice little routine of going for a good long walk for an hour early in the morning, then settling down to some writing before going to the club. And I've realised while on these walks, or at work that our little town really does have everything we need. I can't remember the last time I bought anything anywhere else!
For starters there's Fara, who lives down the road from me and sells all her free range eggs, avocados and other produce for nothing more than a gold coin donation. Several local ladies do beauty treatments and hairdressing from home - quite a few of my friends go to one of the bank clerks for all their waxing! We also have two amazing florists; Nikki sells gorgeous bouquets from her little gift shop at unbeatable prices but for a real gem I love the new florist in town, Kelly. Every Friday she makes up a beautiful big bouquet (sometimes with a beauty salon voucher tucked in for good measure) and then goes and leaves it in a random spot for someone to unexpectedly find and make their day. HOW COOL IS THAT! Not only that, for our recent school ball she made beautiful free corsages for every single one of the girls attending. All the kids had to do was put their name down for one and then pick them up on the day. All those dainty orchids and tiny roses must have cost a fortune! Even if she wasn't the cheapest florist in town she has my custom for life due to her sheer kindness. So many wonderful people. People will always complain about the price of things and our town is no different but I don't think they realise that we couldn't actually buy things cheaper anywhere else! Sometimes you need to get out there and have a good look around to see how fortunate you actually are. For a long time I had forgotten. I'm very happy to say that now I remember!