Well, it looks as though you're stuck with me hanging around here for a while yet - my brain scan was clear! Yippee! It appears I have ME, which is otherwise known as Chronic Fatigue Syndrome. Which puts me well and truly in my place, as I was always a firm believer that this sort of thing was not a real illness, but more a cop out for the weaker souls among us. Something to fall back on when you need a convenient break from life in general. Ouch - how wrong I was! I can now tell you first hand that it is very real and it makes you feel like complete and utter CRAP. While it doesn't last forever, nobody knows how long it will actually last - I've been told it will probably be a good few months yet. Oh joy!
Still, it's been a wake up call if nothing else. I've got no choice but to pace myself these days and am slowly learning that the world isn't going to collapse if I play Guitar Hero with the boys when I think I should be folding the washing, or if I cuddle up and watch a movie with them when I think I should be doing the dishes. It really isn't a big deal in the big scheme of things but spending time with my family is. I have learned in a big way that health and happiness is what matters most. Not cars, possessions or any of that stuff. All I want is to get well, keep well and stick around as long as humanly possible to live the SS way with my family and pass it on to my kids. You can't buy that sort of thing. It's kind of funny when you think about it, how we place so much importance on material things in life, and for what? They're only temporary after all, you can't take them with you. Yesterday is history, tomorrow is a mystery. Today is a gift, that's why it's called the present!
It would be nice however if the heavens had not decided to open on the very day we were due to leave for Australia. Instead of the beautiful sunshine and clear days we have been experiencing for weeks, we've been bombarded with torrential rain and thunderstorms ever since. Talk about rubbing our faces in it. Fortunately there's plenty to keep everyone busy around here. Noel has 34 days to go until Auckland Marathon and he's training hard, rain, hail or shine. I'm so proud of him and can't believe he's doing it for me. I don't think he can either, after he ran 25km yesterday knowing there's still 17km further to go on the day! He also has plenty to do in his vege garden. He and Ali were both out in their gardens today, weeding and planting and hanging up old CDs to scare away the birds. Ali's Grandma gave him some beetroot, carrot and radish seeds to plant, as well as some baby cabbage seedlings. Both gardens are looking really good and the all the rain is making everything take off like a rocket. I think it can stop raining now though!
Ali makes me laugh so much at the moment. I can't work out whether he is a good Simple Saver or not. His money always seems to burn a hole in his pocket when he's out. He'll spend it on anything from hats to lollies to fake moustaches and if there's a charity collection box close by he'll always put some coins in too, bless him. Yet when he's at home, he lives the perfect frugal lifestyle. Aside from his hunting, fishing and gardening he has also become mad keen to learn to cook. We had so much fun in the kitchen yesterday! First he chose a recipe for Scottish Oat Cookies from a school library book and made them from start to finish with barely any instruction from me. Then he decided he wanted to make dinner for everyone as well and picked tortillas filled with Chilli con Carne. He did everything himself from browning the mince: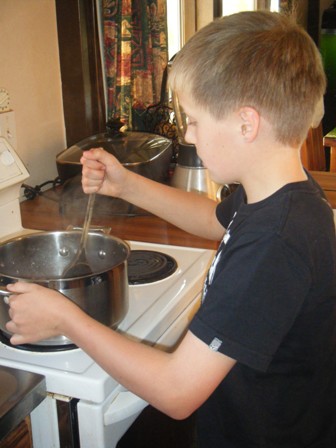 To adding all the spices and making the Chilli con Carne (hope it tastes as good as it smells!)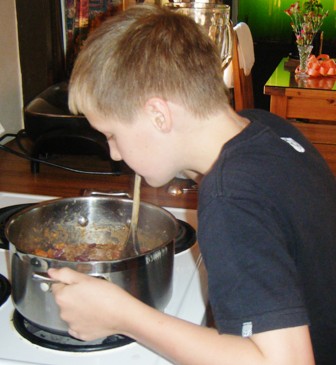 Then the real fun part - making the tortillas!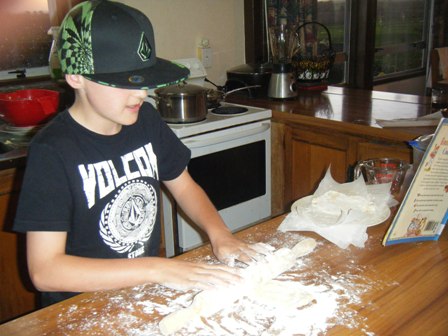 Making the tortillas was a real learning curve for us both as I had never made them before either! I had always put them in the 'too hard' basket but apart from the floury mess they were super easy to make. Just flour, water and butter, with a little olive oil brushed over the top. They tasted fantastic! The cutest part was how Ali insisted on following all the recipe instructions to the letter. The recipe book clearly stated that the tortillas were to be rolled out to 14cm wide - so out came his Australia Zoo ruler and each tortilla was carefully measured until it had been rolled out to the correct diameter! I was allowed to make the salad - but on HIS terms only, which meant no avocado! What with his cooking and his vege gardening he really is a boy of many talents at the moment. We were laughing the whole time while we were in the kitchen together and it struck me that what we were doing was really important. He was learning survival skills through cooking for himself - but at the same time he was learning that tortillas are made, they don't just come out of a packet and that Chilli con Carne is made by using spices and tomatoes, not by opening a jar. I feel like I have taught him something really valuable and Ali is over the moon - now he can whip up his very own chilli as often as he likes! Now we know how much fun it is to cook together, we have decided we are going to have a go at making some home made gifts for our home grown Christmas. Rocky Road, mince pies, you name it. Am looking forward to it already!
Have been writing a lot about Ali lately and you're probably wondering 'what about Liam?' Liam, bless him is 13 and currently on his own planet - we call it Planet Liam. He is, and always has been delightfully vague but this has now been accompanied by selective deafness, frequent eye rolling, a chip on his shoulder and the idea that the world revolves entirely around him. Nothing else matters as long as he hasn't run out of credit on his phone and can go skateboarding on demand. All of a sudden, parents are no longer acceptable to be seen with. Worse still, they have an annoying habit of continually trying to cramp his style and stop him from having fun, although they do still make a convenient taxi service. Talking has been replaced by grunting and he wants everything yesterday. There's just one problem - he doesn't want to pay for it! It's a standing joke that moths fly out of Liam's wallet when he opens it. The total opposite to his brother, he can hold on to his money for months. I guess they're both Simple Savers, just in very different ways!