Wow, three weeks in the new house already! What a heck of a busy time it's been too. Did I mention that as well as being the chief bear hugger of the household, Liam is also the biggest money drainer at the moment? I don't think I did! Ah yes, Master Liam has had a big few weeks to be sure. In the last month alone he has got his driver's license ($137), been on a ten-day rugby tour to Australia ($1500 for trip, $400 spending money, $140 for passport), gone to his first ball ($60 for ball ticket, $25 for after ball party and $199 for suit) AND it's his birthday next week! Good grief! It's been one thing after another - and that's not all yet, there's still more news! But I'll save that for the end...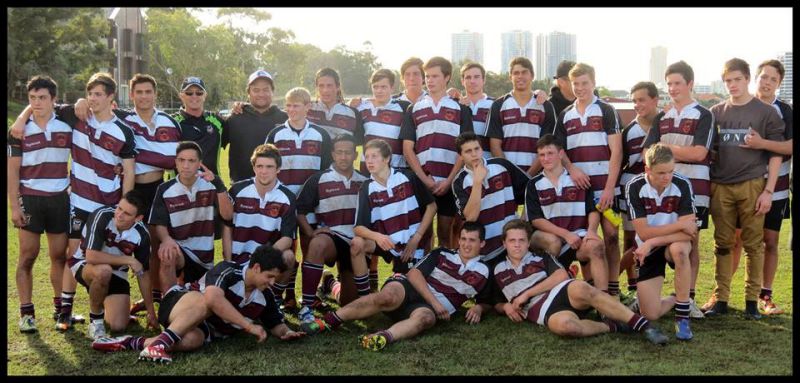 And, in Liam's defence, he did pay for most of his trip to Australia himself, using money he had earned from his summer job. The problem is with a seaside town like Whangamata is that it sort of dies during winter, and when the tourism drops off, so does the work. Ali is one of the fortunate few whose job as a kitchen hand has lasted all year round but poor Liam went from working up to 70 hours a week doing kayak hire and yard maintenance to nothing overnight and much as he would love to work, hasn't been able to find anything else to replace it. Fortunately he had put $900 of his summer wages into a savings account and that really helped towards his trip - but using that meant $900 less for his car fund. Saving for his first car has always been very important to Liam; in fact he has been saving up for one since he was eleven years old! Still, how often do you get the opportunity to travel overseas with 30 of your best mates and play the sport you love? Not that there was much rugby to be had as he went and broke his finger at training on the first day! Still, it was an experience he will remember for a lifetime. Can you spot him in this pic? Big clue, he's the one with the beard!
Settling into the new house was a strange experience for the poor fella, as excited as he was, he had missed out on the whole moving in process and felt a bit of a fish out of water as Ali and I breezed around the place. Still, he had only been home a few days when some exciting news came. It's not something we broadcast but Liam has been with a modelling agency since he was eight years old. Over the years he has been offered plenty of work but has always been too shy to take it. It's only now he's getting older that he's stopped worrying about what other people might think or say, so when he received an email from his agent the other day he was over the moon. Vodafone was making a new TV ad - and they had specifically asked for Liam to be the star of it! Best of all, they were going to pay him $1,000 for 10 hours' work! 'That will make up the money I used for my rugby trip Mum, my car fund will be back on track!' he said happily. There was just one problem - the film studio was two hours away and filming day was on the day of Liam's school ball. His first ever school ball. The one he had been looking forward to for months. But there was no denying, $1,000 was a lot of money and could certainly be put to good use...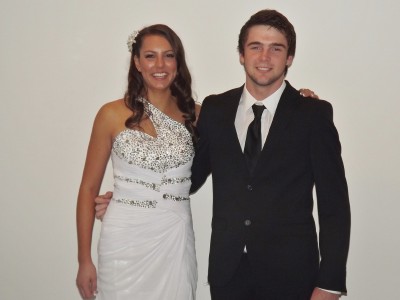 As far as Liam was concerned however there was no contest. 'There'll be other opportunities - I hope', he grinned. 'My mates are more important!' That, and one 'mate' in particular; there was no way he was letting the beautiful Jazmin, his date for the ball down!
Another milestone reached, and another coming up - Liam's 17th birthday. Amazing to think that when I first started writing about the little ratbag he was just eight years old and now he's 6'3! As I mentioned at the start of this post, he has indeed been saving for a car since he was 11 years old. Back in the days when we lived on acreage he would rear calves from newborn to weaning age and then sell them for a profit but he would also deposit his birthday money as well as money from selling his unwanted stuff online, any spare funds went into his car account. Over the years these bits and pieces have accumulated and grown into almost $3,000! Until his rugby trip took a third of his savings. The thing is, Liam having a car would actually be a huge help to our little household. The boys both changed schools several months ago to another college half an hour away and while it's a small price to pay for better opportunities and education, the only way to get them to school (apart from driving them myself, which I didn't really want to spend 10 hours a week doing) is through a privately funded mini bus, paid for by parents (all the possible car pools are full, trust me, we would if we could!) The cost for this bus is $160 per week for the two boys, which is just crippling. So when Liam got his license we applied for a special exemption to allow him to take him and his brother to and from school. This reduces our weekly travel expenses by more than half, yay! The only downside? It meant using my car. Which is fine, I have no problem with being a hermit most of the time but it did create a few problems on the one or two days a week I did actually need a vehicle. And, much as Liam didn't regret using his savings for his trip to Australia, or foregoing his TV earnings for the ball, now it was all over, getting his own car now seemed a distant dream - at least until the summer came around again and there was plenty of work around for the local kids.
So with his birthday around the corner, his dad decided to help him out. He had been shopping around for a first car for Liam for a few weeks and having spotted the perfect one, didn't want to miss out on it. So yesterday Noel picked him up from school on some random pretext and instead took him to the bank to withdraw his savings and finally, after almost six years, put them to use. Of course there was just one other very important factor - Liam had to like the car!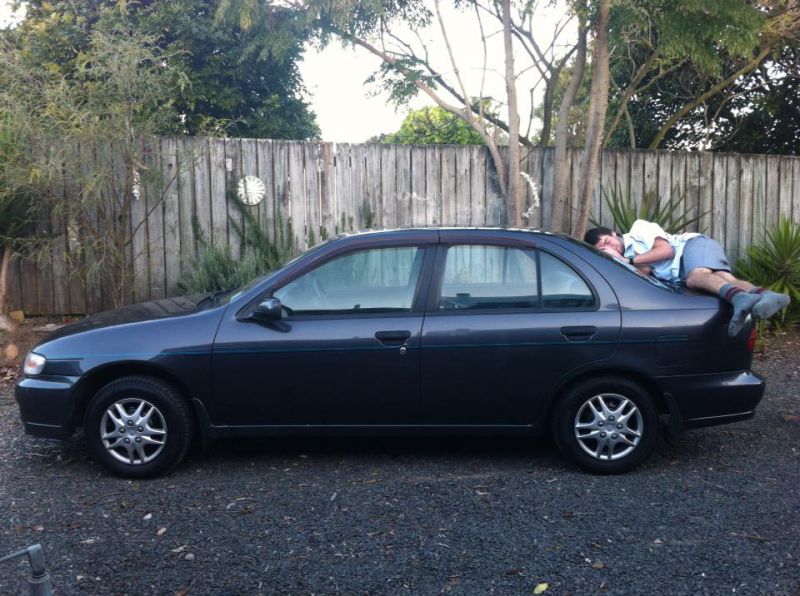 I think you can say he does :)
PS: Huge thanks to everyone who also helped make it possible for Liam to go to Australia. To his grandparents, to PGG Wrightson for sponsoring the $250 needed for his tour gear and most of all to the Te Kauwhata Lakeside Lions club for their generous and very unexpected donation. And if you're wondering 'What about Ali?' don't worry, he's been busy too - you can read all about him soon!
PPS: We LOVE our new house! I promise there will be more photos to come soon, am just waiting for the electrician to come and install some more power points so I can photograph the place without having a chest freezer and the clothes dryer on the front deck!