Jul 23, 2010
I can hardly believe it - my littlest baby is 12! Yesterday was Ali's birthday. Being the slack bunch we are, we believe that nobody should have to go to school on their birthday when they could be doing fun stuff instead. So I took the day off work and told Ali we could do whatever he liked. You want to go to the movies? I'll take you. Fancy a game of ten pin bowling? We can do that. His choice? He wanted to go fishing and try out the new fishing gear he got for his birthday. Unfortunately the weather wasn't suitable for taking the boat out but Ali was undeterred. 'The weather's fine for fishing off the wharf Mum!' he said happily after checking the weather forecast.
So we dropped Liam off at school (only the birthday person gets the day off!) and packed my car up to the roof with deck chairs, tackle boxes and buckets of stinky bait. Destination - where else - Whangamata! We arrived at the wharf to find the beach and surrounds deserted. We had the whole place to ourselves, bliss! I confess to being a very poor fisherman, I don't have a clue what I'm doing but Ali as always was in total control, setting up the rigs and baiting hooks. No sooner had we dropped our lines in the water than they were immediately set upon by dozens of nibbling fish. They stripped us of our bait time and time again but proved very difficult to actually catch. Unfortunately they weren't the only things biting either - we hadn't counted on the sand flies at this time of year!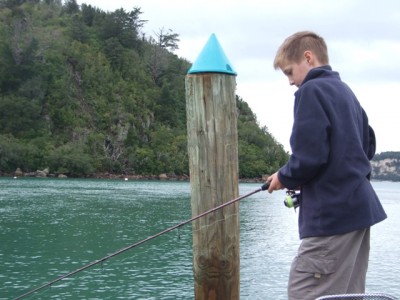 We spent several happy hours just watching the world go by. In the end I caught three fish but none of them were bigger than your average goldfish and Ali deftly removed them and sent them swimming back to where they had come from. Lucky we had already made plans for dinner! Sadly the birthday boy didn't catch a thing but he didn't mind, he was just happy to be there. 'There's no other place on earth I'd rather be today!' he declared. The plan was to visit the Ocean Sports Club and have lunch there but he was content to keep on fishing. 'I don't need anything fancy Mum', he insisted. When it was time to head home we popped into the local bakery and he grabbed a cream bun and a gingerbread rabbit. 'This is so yummy - and much cheaper than the Ocean Sports Club!' he munched. I certainly wasn't complaining. This birthday treat had turned out to be much cheaper than anything I had anticipated and we were both having heaps of fun!
We arrived home in time to pick up Liam from school and the two of them spent the afternoon outside playing rugby until it was time for dinner. I've said it before but Ali is one young man who always knows what he wants and when it came to choosing his birthday dinner he was true to form. 'What do you want to do?' we asked him. 'Do you want to go out to your favourite restaurant? How about we get pizza? You can choose whatever you want!' we told him. Ali had only one thing in mind. He chose his very favourite meal - Pasta with Chicken, White Wine and Cream from the $21 Challenge book!
'That was my best birthday ever - and the best dinner ever!' he said as I tucked him in that night. 'That's great Ali! I had heaps of fun too', I told him. 'Crikey - he must have had a good birthday. He even gave ME a hug!' said Liam, still in shock. Ali's best birthday ever had been simple from the start. All he wanted was fishing gear, a new Thermos and something for his beloved dog Minnie. He did get a couple of extra surprises which made him laugh. Liam bought him a DVD of Father Ted and he fell about laughing when he unwrapped his Old Spice deodorant. If you're thinking 'why would a a young fella like that want an old fashioned deodorant like Old Spice?', you obviously haven't seen the ads. Yes, hard to believe but Old Spice has become trendy, thanks to this rather delectable chap helping them out with an ingenious ad campaign. As soon as Ali saw it he said 'I want to get that!' and took great delight in applying it liberally yesterday so he would 'smell like a real man'! Like I said, he's a kid who knows what he wants. The thing is, he doesn't actually want very much . Most of the things he holds dear are things that money can't buy - and we wouldn't have him any other way!