Some of you may remember a few blogs back, I mentioned in passing that my kitchen had been taken over by a mutant eel. I have been asked several times since to share the full story and, seeing as my last few posts have been rather doomy and gloomy, thought now was a good time to share before it becomes a distant memory in my already over-cluttered mind! Let me set the scene. At the end of our street there is a creek where Ali and his friends like to go eeling. They have a net and often late at night they would go and set the net before bed, then get up bright and early to go and see what they had caught. Ali, being the hunter-gatherer he is made the acquaintance of a very nice bloke who would smoke their eels for free and whilst Liam and I wouldn't touch the stuff with a ten-foot pole, Ali and his friends regularly had smoked eel for lunch and afternoon tea. This became an almost daily occurrence and even on a school day, Ali would get up at 5.30am to check his net before he had to get ready for school.
Anyway, one such morning he trundled off on his bike down to the creek and I was a little concerned that he was taking much longer than usual to return. It turned out that he had caught the largest eel he had ever seen down there on his handline and it was so heavy he had to first drag his catch home in a sack as he couldn't possibly carry it home on his bike. Eeling is Ali's thing, certainly not mine and I listened vaguely as he told me that the eel was a 'tough bugger' but it was now dead and, not having time to do anything else with it, he'd put it in the fridge in its sack and would take it to be smoked after school. That was fine with me, at the time I was still hibernating under my rock and was even more vague than usual! Although my heart was broken, my brain fortunately was not, so I decided to take the laptop into my room to work and hide from the world until end of school.
Tucked up in bed all cosy I was soon nicely into my work when I heard a crash. Too lazy and unmotivated to go and check what it was, I figured it was just the naughty cat knocking something over on the kitchen bench and settled back into typing - when I heard an alarm beeping. What was that? It wasn't the smoke alarm; it was the fridge alarm! Ooh, was that Liam's cheeky dog in the fridge trying to get at last night's roast chicken? How on earth did that happen? I knew I wasn't quite the full ticket but surely I would have noticed earlier that morning if I'd shut a fox terrier in the fridge? Had he really opened the door? Not wanting him to eat the cooked chicken carcass I thought I had better go and investigate - and stopped dead in my tracks at the sight of an enormous eel stretched out across the kitchen floor. I kid you not, I almost died on the spot. Far from being dead, it had broken out of the sack and burst its way out of the fridge, taking with it three huge bowls of tomatoes I had picked the day before. The fridge was still beeping and the door was open but the eel was in the way, holding it open. The only way I could stop the beeping was physically move the eel - and that was NOT an option for this shrieking, cringing basket case! There was only one thing for it - I went back to my room, shut the dogs and I inside, jumped into bed and tried to pretend nothing was happening outside. The blasted fridge could beep all day if it wanted, I was NOT leaving that room until Ali came home from school! On the positive side, at least the chicken was untouched...
Shortly after however, I noticed that the beeping had stopped and thought I had better venture out once more to investigate. I peered around the corner of the kitchen and was mortified to see the eel had managed to close the door itself and had made progress across the floor, rolling towards me, slithering all over my lovely tomatoes and hissing menacingly with its mouth open. Good grief, it was only 9.30 and Ali wasn't due home until 4, heaven knew how far it would have got by then! One thing was for sure, I wasn't going near it - this thing was thicker than both my arms! I racked my brains for a suitable male to come and rescue me but the only ones I could think of all expected more from my company than removing an eel from my abode and I was not going there, no matter how dire the circumstances! So I texted Liam, who I knew had a study period at school. 'Liam please come and save me, Ali's eel has escaped from the fridge and it's slithering all over the floor, help!' A reply came back. 'Are you serious?' 'Yes! Please come and help me get rid of it!' 'No. I'm studying', came the reply. 'Liam you NEVER study, now come home please!' 'Yes I AM studying, I have a food assessment this morning remember? You're just going to have to do it yourself' he texted back tersely.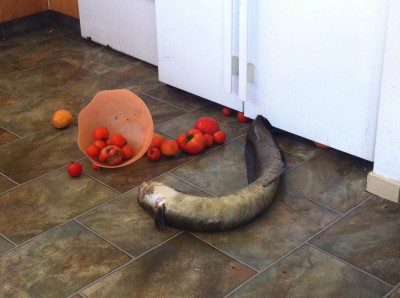 Don't be deceived by its size in this picture; there's still a heap more of it under the fridge!
Oh that's right, he did. Now what to do? My kitchen floor was covered in tomatoes and I had a giant eel making its way ever closer towards me. I tried Facebooking my friends for advice but they were all too busy killing themselves laughing to be of any help! There was only one thing for it. It meant driving an hour out of my way but desperate times called for desperate measures. I had no choice but to summon the hunter home to gain control of his prey. I rang the school receptionist and explained my predicament. According to the students she was still laughing at least half an hour later. 'In all my years at this school I have never heard such a funny reason for a student going home!' she guffawed. 'But I don't blame you at all! I'll have him waiting outside for you'. So I shut the dogs in my room (honestly, this thing was so massive I didn't even trust it not to eat a Cocker Spaniel in my absence!) and drove half an hour over the windy mountain road to Ali's school. As you can imagine, he thought the whole thing was absolutely hilarious, as did his classmates who had all been witness to my frantic texts. 'Take a video of the rescue Mum!' he said and as we arrived back home, all was quiet. Ali crept through the house while I followed behind, filming our mission for posterity. The eel, while it had progressed even further lay completely still. 'I think it's dead', Ali reported. But he ventured closer and gave it a little prod just to make sure and as he did so, it appeared to start moving slowly. 'Is it moving? I think it is!' I whispered and as Ali moved closer still, the eel suddenly jumped into the air and flipped over completely! I screamed, Ali yelled, we both jumped out of our skins and I dropped my phone, aborting our film mission which is just as well because had it got into anyone else's hands it would have probably gone viral on YouTube!
By now my Facebook page was also buzzing with posts about the eel and through all the hilarity there was one thing most of us agreed on. This eel REALLY wanted to live. What's more, it deserved to live after all that! So we decided to take it back to the creek it came from and release it. This however was easier said than done, as Ali didn't want to handle the enormous, slimy hissing thing more than I did. Not only that, it was so heavy, you simply couldn't pick it up and carry it! Still, we came up with a plan. First, we used a spade to gently manoeuvre the eel into a laundry basket, so we could drag the basket across the kitchen and lounge and out of the house. From there, we got a wheelbarrow and carefully rolled the eel into it. Then we set off wheeling it down the street! We got a few funny looks I can tell you but eventually we got there and watched with bated breath as the eel was released back into the water. At first we thought it was too late as it just floated there for a few minutes but all of a sudden it took off and we watched in happy relief as it went back to its swimming and doing what eels do. I did take a video of the release but unfortunately I drowned my phone last week when it fell down the loo and I lost everything that was on it!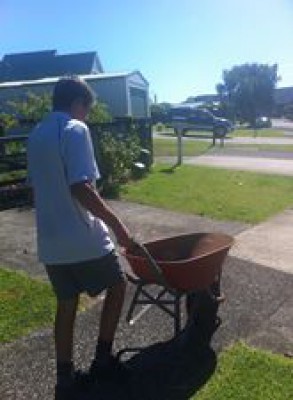 Later that afternoon I was recounting the tale to the local vet and when I described the eel he said 'Wow, have you any idea how old that eel is? People have been trying to catch it for years but nobody ever has. I can't wait to tell my kids that somebody caught it, they've been watching it since they were tiny! But it's even better that you put it back', he smiled. Having an eel take over my house was one heck of a way to get me out from under my rock - but once I came out of hibernation I never went back. As for Ali? He had no idea he had caught such a legendary eel and felt extremely privileged when he heard the story. And he's never going eeling again :)