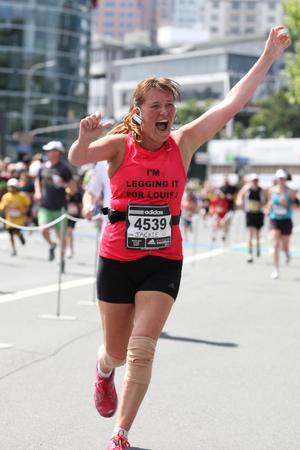 Well, I did it. This humble blogger is now a marathon runner! And not a bad one as it turns out. Forgive me for writing more about raising money than saving it in the last two posts but I promise from now on things will go back to normal. Just as soon as I get off Cloud 9 that is. Forgive me also for doubling up as the following post comes from my 'Legging it for Louis' blog but I couldn't have described the experience any better and I really wanted to share it with you. So here goes! I wrote this last night, the day after the marathon:
"One of my children's all time favourite movies when they were little was 'Thunderpants'. The lead character, Patrick Smash would end each instalment of his life with 'that was the best day of my life - ever'. I hope Patrick doesn't mind too much but I'm going to pinch his catchphrase because yesterday was the best day of MY life - ever. I hope I don't bore you too much in my efforts to recall it but I want to remember as much as I can while it's fresh in my memory.
I learned a heck of a lot yesterday! The first thing I learned was that Takapuna on a Saturday night is a very noisy place. I went to bed around 9.30pm but couldn't get to sleep until around 1.00am and woke up raring to go at 3.00am. Fortunately we had to get up at 4.00am anyway and Noel made me an awesome breakfast of sausages, eggs and bagels. I've learned from experience now that this is the perfect long distance running breakfast, it works for me every time. Before I knew it we were out the door and on the way to catch the bus to Devonport. Now don't laugh but this part for me was the most traumatic. You see, ever since a school bus smashed into my car in 2005 with the kids and I all in it I have had a phobia about buses. I don't care who the driver is, I don't trust them! Especially at 5.00 in the morning when it's still dark and I'm taking a bus route which is fraught with hills and roundabouts. So, crazy as it sounds I was a lot more relaxed about running 42km than I was about the bus ride there!
I arrived at Devonport and texted Noel to say I had survived the bus trip (naturally he was surprised and relieved) and from then on time flew. Next thing I knew, 3265 marathon wannabe's were crammed behind the starting line and we were off. The next thing I learned was that the North Shore is full of hills. FULL of them - which was a bit disconcerting to someone who had had absolutely no hill training whatsoever! But either I was fitter than I thought or the hills weren't too bad. It also helped that by chance early on I bumped into Greg and Tara's brother-in-law Steven, who was also running to raise money for a friend of his. He was feeling about as confident as I was about completing the mission at hand (as in, not at all) and for the next 40km I had a familiar face and an ally. That's the great thing about something like a marathon. You're all in the same boat. You smile, you joke, you encourage, you hi-five, you hug. Even if they're total strangers. It doesn't matter, you're in it together and you help each other to get through.
Even at 6 o'clock in the morning people were making themselves comfortable outside their houses, dragging couches and chairs outside, cheering us on and waving placards. Just as I was REALLY starting to get sick of those pesky Auckland hills they abruptly came to an end and I found myself setting foot on the Harbour Bridge. Everyone I have ever spoken to who has done the marathon says they loved this part and I was no exception. The sun was shining, the view was beautiful and I had great fun taking blurry pot shots on my phone. We wound our way around the marina and headed into the city and in no time at all I was half way through at the 21km mark. Which is right about when the pain started to set in. Still, I wasn't worried, I had run further than this before!
The next half of the race was the part everyone had warned me about. A scenic run around the bays from Westhaven to St Heliers sounds positively idyllic but this is where other runners told me you become really drained; not just physically but mentally because you can see exactly how far you have to run and you feel like it will take forever to reach your destination. But you know what? Contrary to popular opinion I actually enjoyed it! The scenery was beautiful and the weather conditions were perfect. In addition once we hit halfway the wonderful drinks people started serving us up flat Coke as well as water and Powerade. Ohh, how I grew to love that stuff for the next 21km!
From 25km on I was having a ball. In fact, I was singing! Which made everybody smile, I'm not sure whether that was because I looked like I was having fun or because I sounded absolutely dreadful but I sang. It really helped to pass the time and I knew I was making good time because all of a sudden I hit 32km and I only had 10km to go! And that was when the proverbial hit the fan. I'm not sure how or why it happened but I went from happily cruising along to just managing to put one foot in front of the other. On the positive side, everyone else around me was in the same boat - what a sad, painful convoy we must have looked! For the next 8km it totally SUCKED. The only thing which kept me going through this time was the drink stops - oh how I love thee flat Coke - and my phone. My sticky, Powerade-covered phone. My lifeline.
Because that's when the texts really started. I'd been enjoying steady messages of support since - well, since before I woke up. But thanks to my dear friend - me ol' china plate and Louis's mum Tara - they just started multiplying. She started telling all her friends to text me words of support and they did - from as far away as England. Honestly, my phone started going CRAZY. And that's when I started crying. And that's when I remembered once again that you can't run and cry at the same time because it's really hard to breathe. So I stopped crying and kept running - but I received 66 text messages during that marathon and would like to send a heartfelt thank you to every one of you who took the time to drop me a line. I can't begin to tell you how much you helped.
This post also wouldn't be complete without mentioning Louis's dad Greg's lovely family - sister Kaaren and her gorgeous children who yelled support at Mission Bay both there and back, as well as his parents Robyn and Jim, who, even though I missed them screaming at me the first time round at Kohimarama because I was too busy looking at the woman on the other side of the road handing out jelly beans, waited for me to come back again to run out into the road and give me a hug. It's things like that you never forget.
Many texts and many flat Cokes later I reached the 40km mark. And something in me changed, just like that. I had 2km to go - two poxy kilometres - and people waiting for me at the finish line and I vowed I wasn't going to keep them waiting any more. The marathon gods of music magically decided to fill my ears with my favourite running songs, one after the other and I don't know how or why but the pain disappeared and I just CRANKED it. Those last 2km were truly magical and for more reasons than one. One chap and I had been passing each other back and forth for a long time and I could tell he was really struggling. 'Come on mate, we can do this. I reckon we're almost there!' I told him. It was just him and me pretty much, with the odd person sitting on the pavement as we made our way back into the city. We turned a corner and as we did so, a man wearing a black shirt moved off the pavement towards us and started clapping and yelling 'Come on, you can do it! Well done!' It was Dan Carter. Dan Carter was cheering ME on! I admit it, I shamelessly ogled my way past. 'Did you see that? That was Dan Carter!' I told my running buddy, gobsmacked. 'I'm so glad you saw him too, I thought I was hallucinating!' came the awestruck reply.
And that was when the last song started. I've mentioned it before in my blog and I could hardly believe the timing - it was 'Walk' by the Foo Fighters. It was the perfect song and the perfect end to the perfect marathon. I raced towards the finish line (and no, I'm not just saying it, I actually did!) and that was it. I had finished the Auckland Marathon. I was sore as hell but I had no chafing and when I had plucked up courage to take my shoes off I was amazed to discover that I had just ONE blister. None of the dreaded blackened, missing toenails, that was it. As I crossed the line I spotted Noel and posed in a suitably victorious manner before carrying on to be met by a joyfully yelling Holland family, waving posters and bearing hugs. And that was the best day of my life, ever.
I completed the marathon in 4 hours 47 minutes and nobody was more surprised than me. I honestly thought with my track record that I would have been lucky to finish it in six hours! Just ahead of me was Auckland Blues captain Pat Lam. I had been close to him and his crew almost the entire time and I have never seen such a bad case of chafed nipples in my entire life. And to add insult to injury the poor guy had no sooner crossed the finish line after running 42km, he then had to answer a barrage of TV questions about Sonny Bill Williams!
As for me though, my mission was finally complete. I revelled in the achievement and soaked up the atmosphere for a while with Tara, Greg, Louis, Maia and their extended family before waddling slowly to the car and making our way home.
I have many, many people to thank for their part in my journey over the past five months and rest assured you all will be. But for now I would simply like to thank the following for the special part they all played in helping me get through yesterday:
Alex Kirkpatrick (I asked you to crack the whip and boy did you do that!), Belinda Lee, Meredith McRobbie, Morven, Kaaren and family, Jim and Robyn Holland, Claire Holt, Kim Prigmore, my lovely mum, my adorable sons Liam and Alistair, their friends Lalit, Jimmy, Gibby and Bradley, Tara 'Queen of Cellphone Self Portraits' Holland, Greg Holland, Louis Holland, Maia Holland and last but by no means least my biggest supporter, chef, shoulder, sounding board, training buddy, physician and pretty much everything else you can possibly think of - my husband Noel. My love and thanks go to you all, and the best news is, I want to do it all again! But, not just yet&"