Happy belated New Year! Here's hoping this year will be a wonderful one for us all. As with every new year, I've started this one with much vim and vigour but this year is different because I simply CANNOT stuff up or let things slide. Before it never mattered quite so much - but now it does. I have no other option but to do my best and that's what I intend to do for the next 357 days, to infinity and beyond!
Following my last blog I have received some wonderful advice and support from the Forum, thank you so much to everyone for sharing your wisdom and experience, it really is very much appreciated. As positive and motivated as I'm feeling, I also can't help feeling a bit yukky at the moment. I hate not having Liam here, it just feels wrong! I hate not being able to be his mum. I can't believe the wonderful, relationship we had has just crumbled and I've been left with this surly, angry and hurtful replacement. It sucks and I don't know what to do! I know I've always been lucky with my boys; they both have wonderful temperaments and have never been any trouble - maybe I've just had it too easy with them. I want my lovely laid back, sweet natured baby giraffe to come back. I want to show him just how much of a fantastic mum I can be and most of all I want the three of us to really pull together and see how much wonderful stuff we can achieve this year. One thing is for sure though, I've found chasing, grovelling and crying gets you nowhere - if anything being a weak, weepy mum seems to make things worse! So I've decided to just pull back for now and stay away. I don't know if it's the right thing to do - standing back and letting him get on with it makes me feel like a terrible mother and I don't want him to think I don't care or don't want him back but I can't see another alternative right now and at least if I'm not in his face I can't annoy him. He knows where I am if he needs me and hopefully in time he might miss us. Hopefully...
Fingers and toes crossed he does come back but time is of the essence and Ali and me are making the best of things. We've decided that we can't put our lives on hold while waiting to see what Liam is going to do so are going to proceed with our action plan as if he were not coming back. That way we're being pro-active and if he does return at any time, well that's a huge bonus! First things first, we have made the decision that we want to keep our house come hell or high water and will do whatever it takes to hang on to it. We are going to fight for Nawtypoo! Ah yes, the title. Being in possession of a particularly childish sense of humour, the boys and I affectionately named our home 'Nawtypoo Heights' when we moved in. There is some logic behind our madness but I don't want to give away our address to all and sundry! Anyway, there it nestles in the trees, out of sight at the end of our little cul-de-sac, framed by fragrant frangipani, climbing jasmine and an abundance of bright orange Chinese lanterns which swing merrily as you come through the gate. It's ours and Ali and I love it and we are NOT going to give it up!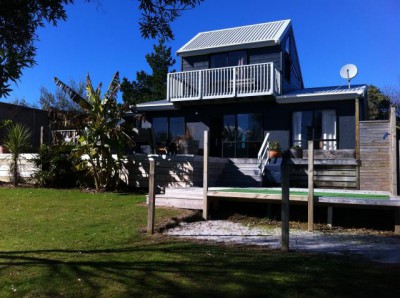 Ali, bless him is working like a wee Trojan at the moment. He has two jobs, working days at the local ice cream parlour and waiting tables at night at the Thai restaurant in town. Being a people person he really enjoys them both; especially at this time of year when there are so many interesting overseas visitors to talk to. I've put my name down at the local club in the hope of getting some bar work in the evenings and am at the top of the list should anything come up. It's been more than 20 years since I last pulled a pint but it should be fun and being a members' only club is a bit different to the other pubs in town. Hopefully I'll hear something soon!
I've opened a new savings account, which I've called a 'Debt Buster' account and any extra money I manage to save or make (e.g. through a second job or even Trade Me) will go into this account so it can be used specifically to pay off debts. First priority is to pay off the rotten outstanding bills which have been bugging me for months. Next is to pay off the $5,000 debt left over from my marriage, which I have been left to clear. As you can imagine, this fills me with great joy -NOT - but I'm just going to chip away at it. If I can get rid of the blasted thing myself it will give me a sense of achievement and satisfaction and like my mum always tells me, 'if you don't get given anything, you don't have to thank anyone for it!' On the positive side, our old bank is aware of my situation and are fine, they say I can take as long as I like to pay off the debt and there is no interest accruing. After that there's my car to pay off - but first things first, the debts I've mentioned already add up to over $7,000. If I can whack those off by the end of the year, I will be one very happy bunny.
I still have heaps of wonderful Forum advice to wade through and act upon but be assured I have not been resting on my laurels! It's so amazing what you can do when you really put your mind to it and I have been so inspired by recent Simple Savings stories to really bite the bullet and see what I can do. I woke up a couple of mornings ago and literally had a light bulb moment. Next thing I knew, I had saved a wicked $840 a month, just by tweaking a few outgoings such as insurance, getting rid of my landline (which I never wanted but had no other options in our area available at the time of moving), getting rid of a few other things such as Sky TV and finally standing up to Vodafone and demanding they let me out of the $70 per month mobile contract I've been fighting with them over for the past 12 months! Oh, the sweet smell of success - and this is just the beginning! These savings alone add up to $10,000 a year! Even if Liam does come back, it would be a wonderful feeling for Ali and me to be able to stand on our own feet and not rely on that child support to get us through the way we currently do. It's all quite exciting!
I might be sounding all bubbles and flowers but I'm under no illusions it's going to be tough for a very long time. This month in particular is going to be hard as work has been slower over December the way it is for many people and my income is down compared to usual. I've also been told I 'don't deserve' to receive any child support this month and I haven't had a chance to get any of my wonderful new savings behind me yet but it should only be a month before I start making some headway. A lovely savvy Forum member rather shrewdly pointed out in my last post that she felt I had been 'playing at Simple Savings' for a while and I think that's a great way of putting it. Don't get me wrong, I'm brilliant at saving money on all sorts of every day little things - more than anyone I know outside of SS land! But there comes a time when you really have to step up. I've been doing a great job in many ways for the past 10 months I've been on my own but as that $840 a month figure shows, there is still so much more I can do. Sometimes you just don't see it until you have to. Someone asked me yesterday if I was scared and I said no. Not yet - not until I have to be. I'm too busy being excited about finding new ways to save! But not just that. I'm in the absolute best place to save, right here at Simple Savings with you all!