May 20, 2010
Hellooooo! Sorry it's been so long! The boys and I have been sick on and off with a dreadful stomach/flu virus for the past three weeks, blasted thing, I thought we were never going to see the end of it! Still, we're fighting fit again now and apart from getting through copious amounts of lemonade our enforced confinement has had an extremely positive effect on our bank balance. In fact one week when Noel was away, the boys and I didn't spend a cent on food! None of us had the energy or inclination to leave the house so we simply used up whatever we had. Rather like a $21 Challenge week, only without the planning! I don't really recommend doing it that way though, I don't think the three of us saw a vegetable for about four days!
Of course these things always happen when Noel goes away. As well as abandoning us in our sick beds, he also drove away with my wallet in his glove box and no sooner had he left than water started gushing out of the top of the toilet cistern. Unfortunately I was tucked up oblivious at the other end of the house and by the time I found it three rooms were already several inches under water. I could have cried! I had to use every towel in the house to help mop up the mess and it was pouring with rain so had no choice but to keep stuffing them into the tumble dryer to get through the laundry mountain. Still, in a strange kind of way it was also quite fun. The boys and I camped out together in the lounge for days, warm and toasty in front of the fire. We talked heaps (when our sore throats would allow) and got to watch whatever we liked on TV (a rare occurrence!). Life is always so hectic and you spend so much time rushing around trying to cram as much as possible into each day that sometimes it's actually quite nice to not be able to do anything, to have to stay in one place. Even if you feel like crap!
Hopefully that's the last of our winter ills - although it's not even winter yet! Mind you, it certainly feels like winter in our neck of the woods. Even the dogs are feeling the cold, judging by the way I found Nushka, our miniature Jack Russell, when I got up this morning!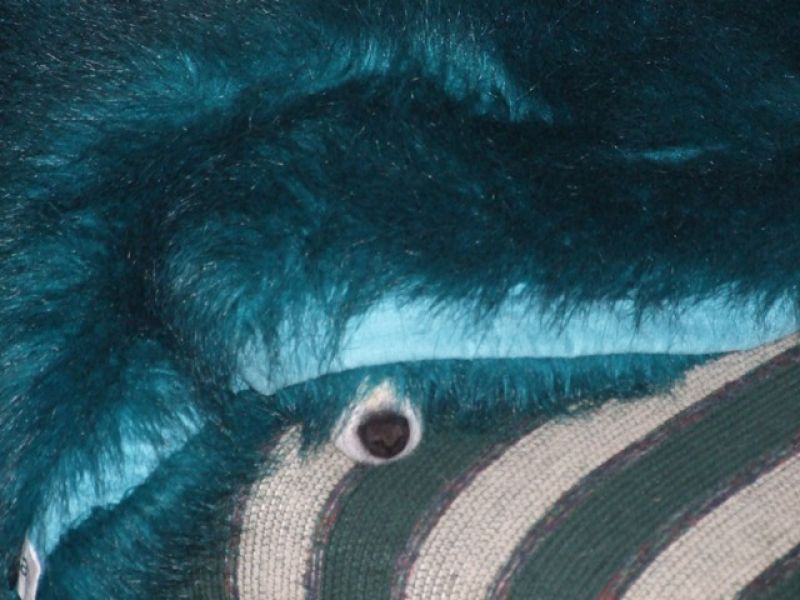 I'm fast becoming the size of a house thanks to all the comfort food I've been scoffing. We've been wolfing down bowlfuls of Kate's Rich Gravy Casserole (from the $21 Challenge book) poured over mountains of creamy mashed spuds and I've also developed a craving for curries, mainly due to all the yummy recipes I've been trying from the Forum. Butter Chicken, Beef Rogan Josh, you name it, I've made it! Noel and I agreed that I'm definitely a winter cook, whereas he is a summer cook. He's the BBQ king and makes wonderful salads, where mine are woefully boring but during the colder months it's definitely me who rules the kitchen, stuffing everyone full of hearty soups and stews. There's nothing I like better on a cold and yukky day than seeing my boys come home from school and tuck into a steaming bowl of soup, made with love by their mum! Mind you, I really have to lay off the caramel dumplings. Noel used to love these as a little boy when his mum made them on special occasions but they are so super cheap and easy to make that you could enjoy them every day if you wanted! Ali watched me make them the other day and couldn't believe that something that tastes so amazing was made using such plain ingredients!
Caramel Dumplings (from The Australian Women's Weekly Cookbook, 1970 edition) :-)
Serves 4
Dumplings
1 1/4 cups self raising flour
1/3 cup sugar
pinch salt
1 tsp vanilla
25g butter
1/3 cup milk
Sauce
25g butter
1 1/2 cups brown sugar, firmly packed
pinch salt
1 1/2 cups water
To make the dumplings, sift the flour and salt into a large bowl, rub in the butter and add the sugar. Add the combined milk and vanilla, stir well. You can add another splash of milk if you think the mixture looks too dry, the flour should be all mixed in.
To make the sauce, combine all the ingredients in a large saucepan. Stir constantly until boiling, then reduce heat to low. Drop tablespoons of dumpling dough into the simmering sauce, cover and cook gently for 20 minutes. Serve warm with cream or ice cream. YUM!
We had notification this week that Noel's new job officially starts on July 1st. Which is very exciting but it would be far more exciting if we sold our house before then! Things have been extremely quiet, which whilst expected with the current housing market, is still extremely frustrating! Although I'm very grateful that nobody did want to come and view the house while we were all sick - it looked like a total bombsite! We've learned a few things over the past couple of months about real estate anyway. Because we wanted our house to sell quickly, we chose a general listing with four agents in the belief that they would all do their utmost to sell our property. You would think it would work that way, wouldn't you? If that was me, I'd want to prove I was better than all the other agents and go hard out to sell it. But we discovered it doesn't work that way. It turns out that all the agents think everyone else must be doing something to sell it, so nobody ends up doing anything! After more than two months on the market, our house had been advertised just once, in a photograph the size of a postage stamp in the local paper. The last straw was when the open home we had booked two weeks earlier never happened as the agents totally forgot about it and missed the advertising deadline!
So we made the decision to go with a sole agency and wait to see what happens. Noel is quite unruffled by the whole thing as says we should just chill out and enjoy whatever time here we have left but as far as I'm concerned, if we're going I'd rather just get on with it! At least while things have been so quiet it has given us a chance to do all the little odd jobs around the house that have been niggling us for ages - in some cases, years! The house is spotless, the bathroom looks the best it's ever looked and the handmade timber kitchen units look brand new thanks to a good clean and a coat of clear gloss. The whole makeover, which included painting the bathroom, lifting the old vinyl, sanding the floor and replacing with a new floor covering, ripping out the grotty old shower doors and replacing with a smart new curtain, retiling the bathroom vanity unit and sanding and staining the cupboard doors, painting the ceilings in the kitchen and toilet and on both sides of the stairs and restaining some of the timber beams in the lounge cost a grand total of $1200, which included labour costs for four different local tradesmen. It has really freshened the place up, I wish we had done it years ago!
For the work done around the house and the difference it has made, I thought it was money well spent and so did the agents. They showed us several properties which are also currently listed where the owners have really gone overboard in an attempt to sell their homes. One person spent $30,000 on a new kitchen and another spent a whopping $100,000 revamping his kitchen! What they don't realise is that it's basically dead money. They made the mistake of thinking that if they spent $30,000 on their kitchen, it would add moonbeams to the value of their property. However the agents say it's not the case. While it may add a few more thousand dollars to the sale price, they would never recoup the $30,000 they had spent. In many cases, it actually makes no difference to the sale price at all! In the case of our bathroom, it was in a right old state thanks to me ripping half the wallpaper off three years ago so we had to do something about it, but it was interesting to hear just how many people make huge mistakes by spending a fortune when they don't need to. As one agent told me, 'You could go all out and spend thousands doing up your bathroom, only to have the next person move in and rip it all out and start again!' So I'm pretty darn pleased with our $1200 investment. Now all we need is for someone to come along and snap it up!
Will post again soon but I just wanted to share with you a real treasure of a moment I had yesterday. I was in the supermarket, queueing with my trolley when I spotted something I needed just a few feet away and dashed across to get it. As I returned, an old woman carrying a basket with only half a dozen tins in it attempted to push in front of me, shuffling along, head down. 'How rude!' I thought. Normally I would have let her go first but I was tired, grumpy and besides, my trolley was already there in front of her. The express lane was empty too, why didn't she use that? As far as I was concerned she could bloomin' well wait! However, it wasn't long before my conscience got the better of me. I had half a trolley full and while her basket only contained a few cans it looked heavy. I wasn't in THAT much of a hurry. 'Would you like to go first?' I asked her. Immediately her face lit up with the most enormous smile. 'Bless your beautiful heart!' she beamed. 'I didn't think there were people out there like you any more!' In less than two minutes she was done and as she left she gave me another huge smile and said 'Thank you for showing me that there are still generous people in the world. Some days I think the world is such a terrible place that it's all going to come to an end. You have restored my faith. Have a wonderful afternoon!' I left the supermarket feeling fantastic and so glad I had changed my mind. Such a small thing had cost me nothing but it had made one lady's day. And, I realised the moment she bestowed that beautiful smile upon me, she made mine too!