This issue includes:-
Sad Sally, Happy Hanna: Twisting by the Torch!
May: The Big Turn-Off
Penny Wise: Better Late Than Never
Best of the Vault: Small Things Matter
Best of the Forum: The Three R's
Best Members' Blog: A Simple Savings Mother's Day
Hidden Gems: The Loft Cafe
Cooking with Mimi: Campfire Cooking... Easiest Ever Dinner!
Claire's Corner: Beat the Winter Power Bill Blues
50c Indulgences: Photo Frames and Orange Java Scrub
Rob Bob's Gardening Blog: Tomato Power!
From Last Month: Don't Let Clutter Get the Best of You
This Month's Help Request: Funeral Plans
Goodbye for now!
---
Hello,
How are you going? I hope you have had a lovely month. Things have been busy in Simple Savings land. We were flat out this month helping look gorgeous for very little money with the beautiful cosmetic grade macadamia oil. If you missed the story on ACA earlier this month here is a link to it.
We love receiving your emails and Facebook messages. Here are some of this month's favourites: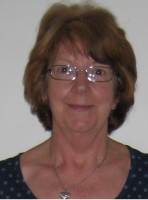 "I allowed my membership of Simple Savings to lapse, thought I didn't need it anymore. But having just received my newsletter, I realised how much I miss being able to log in. Having taken on a mortgage again at the age of 61 (plans in hand to pay this out on my retirement) plus paying for home improvements I thought I really need to be on top of our expenditure. So I'm back!" (Christine)
"Thank you for sending me Simple Savings... I read every word here in sunny British Columbia, Canada!" (Johanna)
"I just wanted to say thank you so much for your amazing books and website. I have totally changed my life and my attitude from last January! I found Simple Savings after realising that I had -$51.50 in my bank account and no savings. Your website has given me so many simple tips and has changed the way I think about spending money. My favourite quote is from the movie fight club: 'We work jobs we hate to buy stuff we don't need.' I am so aware of this now and my financial goals and attitude have changed forever! THANK YOU!" (Chelsea)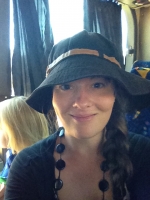 "I was thinking about not renewing my Vault membership this year as we have started cutting out all the 'little extras' we buy. However, after calculating how much the Savings Vault has saved me this year on just one hint, I stopped calculating the savings and paid my renewal fee! (The hint was lemon juice and sunshine to remove rust on my son's brand new white school shirts, a saving of $152 on shirts I would have had to replace!) Thank you Simple Savings!" (Jane)
Have a great month!
All the best,
Fiona Lippey
---
"Just a tick!" Chloe heard Sally's voice from inside as she stood on the door step. Seconds later the door opened, "Oh hi Chlo! This is a nice surprise, what can we do for you?" Sally stood in the doorway, holding a torch. Her hair was all over the place and her face was as red as a tomato. "Good grief. Sally always looks immaculate, she must really be sick! Lucky I came over!" Chloe thought to herself.
Out loud she said, "Well actually I came to check that you guys are all OK. Your lights have been switched off at night all week and I was worried you were sick. Is everything alright?" "That's sweet of you," Sally chuckled, "but everything is great! We're just switching off the lights for a week to save power." "Oh Sal, why didn't you say?" Chloe asked, concerned. "You know, if you're having trouble paying the bills I'll always help you out if you need a bit extra."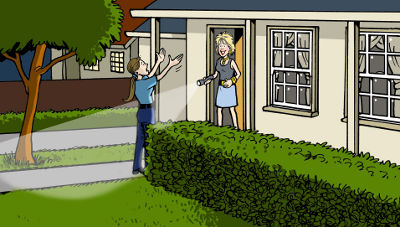 "That really is lovely of you," Sally smiled, touched. "But we're doing it for fun as well as saving money! Every night we switch off all the lights and screens and do something together as a family. Last night we played Monopoly." "Isn't that a bit extreme?" Chloe looked confused. "Why don't you just play Xbox or watch a DVD?"
Sally laughed and dragged Chloe inside. "Trust me; this is better than anything you're going to see on a TV screen tonight. Wait till you see Pete - we're playing Twister and he wants to win so badly he doesn't care HOW ridiculous he looks!"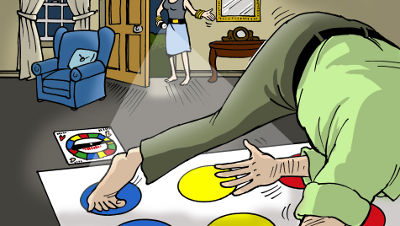 ---
Good on ya Sally! Saving power IS fun if we do it together - but reducing power is not just about saving money; it's about helping our planet. When it comes to global warming every little switch counts. Last week, my kids asked me about global warming. Answering their questions such as, "Why can't we stop it?" was very difficult. I wanted to tell them the truth, "Well unfortunately MY generation is really selfish. We like our cars and our lights and fridges and dryers so much that we don't mind if the sea level rises and wipes out the crops and your future some time in YOUR lifetime." But who wants to tell their kids that?
The best thing we can do right now for our children, their children and future generations to come is to make a conscious effort to really cut back on the resources we are currently using. Have you ever wondered why the slogan goes 'reduce, reuse and recycle' in that order? It is because the most important thing of those three things for us to do is to REDUCE. We need to reduce the amount of power we use. We need to reduce the amount of plastics we consume. We need to reduce the amount of clutter we buy. There is a great deal of focus placed on recycling because councils make money from us this way. But the most important thing we can do for the planet and our wallets is to reduce everything we can.
So this month, reduce and re-think the utilities and commodities you take for granted. STOP before turning on the aircon or TV. THINK how you could do things differently. SAVE money, energy and the environment. Try turning off all the lights except one and hanging out as a family in one room. Our family did this last year and it was fantastic. Make a conscious effort not to use your dryer - string up an extra clothes line under shelter if you can. Or you can go the whole hog like Sally and turn all the lights AND screens off and play Monopoly. Every little thing you do to reduce the amount of power you use counts - and you get to bring everyone together as a bonus!
---
"What are we going to do?" Liam asked yesterday, Mother's Day. It was mid-afternoon and the three of us had gone round and round in circles trying to decide what to do together to mark the occasion. The weather couldn't have been more glorious and there were plenty of free things we could have done - more than anything we wanted to go tramping - but the main obstacle was that my car's petrol tank was on empty and we couldn't afford to put any petrol in it. "See? Just goes to show that money does bring happiness," Liam said sagely. "Not necessarily!" I quickly told him. "You can have nothing and still be happy - and you can have everything and still be miserable." "True I guess," he pondered. "But even just ENOUGH would be nice!" I had to agree with him there. I mean, after all it WAS Mother's Day. I had made it plain to the boys that I didn't want any fuss, no presents; they needed to save their money. "It was my choice to become a mother; you don't have to thank me for it!" I told them firmly. But when the morning came around I have to admit I felt a little sad. The boys were feeling bad too - it just didn't feel right not celebrating the day together, especially now when we were more of a team than ever!
So round and round we went, until around 4pm when the sun was beginning to depart and the evening chill began to set in. And we finally agreed on a plan. It was Mother's Day, therefore I should do some mothering and teach my children something valuable. It's been decades since I learned how to roast a chicken but a few days ago I saw the Free Range Cook, Annabel Langbein making 'Easy Roast Chicken' on TV and the way she did it just made my mouth water so I thought it would be a great opportunity for the boys and I to give it a go. "Once you know how to cook a roast you'll always be able to feed yourself!" I smiled at Liam. "Yeah - as long as I don't mind waiting a couple of hours!" came back the reply. Even so, the boys got stuck in and the recipe was as easy as its name suggested. Before we knew it, the chook was in the oven and the most delicious smells began wafting from the oven.
While dinner cooked, we decided we would risk the empty petrol tank in the hope it would get us two minutes up the road to the video shop. It did and after much deliberating we used our bonus points to pick up a free movie - 'Life of Pi'. Fortunately the car also made it back home and as one son chopped a basket of kindling and the other filled up the wood basket, we lit a cosy fire and settled in for the evening. The chicken was a resounding success, so delicious and succulent, with golden brown skin crisped to perfection, just like Annabel said. Carving the blasted thing was not quite so perfect. I think the boys have quite given up on their mother in that department, but it did make for much hilarity!
Dinner over with, we sat down to watch 'Life of Pi'. What an amazing movie - I don't think I have ever seen Liam so mesmerised by a film, he was literally on the edge of his seat, eyes full of wonder. You don't see that much in your average 16-year-old boy these days. His enjoyment was almost as wonderful to watch as the cinematography! "Good movie, Mum!" he said as the credits rolled. Coming from Liam, that is praise indeed!
We may have started our Mother's Day late but we certainly made up for it before the end of the day. It was my first Mother's Day with no presents, flashy lunches or home-made cards. In fact, Ali even forgot to say "Happy Mother's Day" at all! But it didn't matter because my boys gave me what was more important - their time. We had heaps of fun, we didn't spend a cent and I was one very happy, contented mother. In fact I think it was quite possibly my best Mother's Day ever. Although thanks to 'Life of Pi' I'm not quite sure how long the enthusiastic yelling of 'RICHARD PARKERRRR!' around the house from both boys is going to last. I have a feeling it may be some time...
May 2013
---
Sometimes we are so busy chasing big savings that we can forget the small ones. We can save money by reducing, re-using and recycling simply by changing some of our small, everyday habits that we often aren't even aware of! It's time to look at how we do things. Here are some great ideas from the Vault to help!
I am saving around 60 hours' worth of electricity every year since I changed one small habit! Every morning, I switch the heater on while I get ready for the day, so the heater is on for about ninety minutes. Just before leaving the house for work I would turn the heater off. Until one day the penny dropped - I was leaving the house nice and cosy for the cat! Now the heater gets switched off about 15 minutes before I leave the house. Much better for the power bill and my pocket!
Contributed by: Brenda (Otago)
Save on hot water costs with this simple idea. We often use hot water out of habit when cold water would do just fine. But a plastic tumbler placed over the hot tap can help remind everyone to use the cold water instead. It's easy enough to remove if the hot water is really needed, but a great way to break an expensive habit!
Contributed by: Kerrie Brown
You can eliminate using yeast when making bread by keeping an egg-sized amount of dough from your previous effort. Mix it with the water from your new lot and then carry on as usual. This replaces the yeast you would have needed. I have even frozen the 'yeast ball' and used it once it has defrosted, all with no problems.
Contributed by: Leeps
As my children's t-shirts get smaller, I cut the sleeves out of them and make muscle shirts and singlets. In summer the kids wear the muscle shirts and in winter they wear them under their shirts and pyjamas.
So technically we get three uses out of one item - a t-shirt, a muscle shirt in summer and a singlet in winter. Then of course when you are finished with them as shirts and you have passed them down to within an inch of their lives, you can use them as rags. We have shirts that have been passed down through seven children. I haven't bought singlets for some years now which is a big saving!
Contributed by: Harmoniously Geeked
Don't use up all your monthly Internet allowance just by sending emails! It pays to check. Some of the emails that I receive these days now are videos and contain around four megabytes. This means that if you then send these emails with high megabyte content to 10 people, you are actually sending 40 mb each time. Think carefully to whom you are sending them to and whether they really appreciate receiving them. If they do not, don't send them at all and you will notice a remarkable reduction in your usage each month!
Contributed by: Barry Rowe
To save electricity, time and water, reduce the cycle of your washing machine to include only one rinse. Over a year you will be surprised how much time, energy and water you will save, and your washing will be just as clean.
Contributed by: Lois Kearns
Here are a few more ideas for our valued Vault members:
Refill pens with food colouring Contributed by: Robin Simpson
Recycle old boots Contributed by: Bron Dillon
Reuse and Recycle Contributed by: Zannatul Akter
Cheap 'recyclable' pet beds Contributed by: Sandra D
---
Yes, you know them - Reduce, Recycle, Re-use! They're good for our wallets, our environment and our homes. There are some fantastic ideas in the Forum:
Everything old is new again - but twice as expensive! Here are some great reducing and recycling ideas that even your nana would be impressed with!
read more...
This thread is a little RRRipper! You can reduce your gift-giving budget, recycle printed matter and re-use these little beauties again and again.
read more...
This thread just shows us the number of ways something can be re-purposed - what are you about to throw out that could be reborn into something useful again?
read more...
You may have turned heads when you wore it in the 80's, but it might just be time to say goodbye to your beloved yellow pantsuit! Garage sales are a fantastic way to reduce your clutter and make a few dollars in the process.
read more...
---
One of the many benefits of being a Vault member is that you can win a cash prize of $100 each month for your Simple Savings blog! Starting your own blog on the site is easy. All you have to do is log into the Vault, click on 'My Desk' at the top left, then 'Your Blog'. Then get writing! We love reading all your money saving trials and tribulations and really appreciate the effort that goes into each one.
This month's winner is Beth W. for her first blog AND her first Simple Savings Mother's Day. Keep up the great work, Beth!
Hello friends! I am a newbie to Simple Savings and this is my first ever blog. I have had a fabulous Mother's Day and just had to share with like-minded people. Let me tell you a little bit of background: I am a mum of four beautiful children aged seven, four, two and six months. In between maternity leaves I have worked for a supermarket in different roles to boost our household income. Over the years I have got better at budgeting, shopping and running a household but have not gone on a holiday for five years, bought any new furniture or had a savings account. Two weeks ago a dear friend gave me 'The $21 Challenge'. This led me to the Simple Savings website and I've been addicted ever since!
I have started making changes to my life but the biggest change is to my thinking. I am excited and positive about the changes to my family. Back to Mother's Day. Here I am doing the $21 Challenge and making some great changes from the brilliant tips from the Vault but what was I going to do about Mother's Day? I usually spend $50-$100 on a present for Mum and I was hosting lunch for seven adults and five children. I started thinking negatively... "A very cheap Mother's Day". I started cooking and freezing the week before (recipes from $21 Challenges). By Wednesday I had scones, slice and sausage rolls. I was worried there still wasn't enough food, so I messaged everyone and asked them to bring a small thing each. They were happy to. On Thursday and Friday I made a memory jar (tip from the Vault, thank you dear member!). I bought a $4 jar and on colourful paper wrote memories I have of Mum. On Saturday the kids and I made Mum a 'bunch of flowers'. We used patty pans and our craft box. I then stuck them to a wooden skewer using sticky tape. I got an old pot of playdough and pulled the label off and squished all the playdough down so it sat firmly in the bottom. We then arranged all the flowers in the pot. They looked amazing!
How did the Mother's Day go? Great! Fabulous! Amazing! Mum was so happy with the present she actually cried (happy tears)! The food was delicious and all home-made. We ate, chatted and laughed. So I started the week thinking "Cheap Mother's Day"... well I am changing that to "A very thoughtful Mother's Day"! It has reminded me what these events are about - being together and laughing and remembering times past.
In conclusion, I had a great day, spent about $200 less than I normally would and I have completely changed the way I feel about these special occasions. Now my brain is ticking, "What can I come up with for Christmas?" :-)
To read any of our members' blogs, click here
---
Our Hidden Gems directory is designed to help members source the best deals in their area. This month's Hidden Gem is The Loft Cafe as nominated by Dee.
Although it's called "The Loft Cafe", this little cafe is on the ground floor and there is not a loft in sight! The food, service and prices are all delightful. The staff is very friendly and are only too happy to accommodate people like me with various food intolerances and/or allergies. The cuisine is (really tasty) Thai as well as a selection of quiches, cottage pies, pasties, salad rolls, muffins and so on. The Thai fare is all cooked to order and is fresh and delicious - Pad Thai, Tom Yum and so on. The cost of these meals is only $9.95 each which is cheap dining in W.A., especially the tourist mecca of Fremantle. All meals can be takeaway as well.
They also serve coffee and have 'Happy Hour' coffees from 8am till 11am for $2.95 each - and the coffee is excellent! There is also free 30 minute parking just outside which is a real bonus in Fremantle. I took my husband recently and when we left he said, "What a find, Dee!" - I'm sure you'll think so too.
Where: 60 Adelaide Street, Fremantle, WA
When: Breakfast/lunch (call for opening hours/days).
Contact: (08) 9335 3524
Well done, Dee on locating such a fantastic Hidden Gem and thanks so much for sharing.
---
Pasta and tasty herbed veg in foil parcels!
Campfire style cooking... yummmmm... turns this...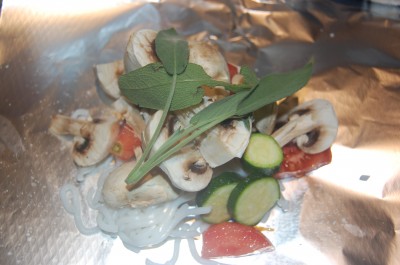 into this...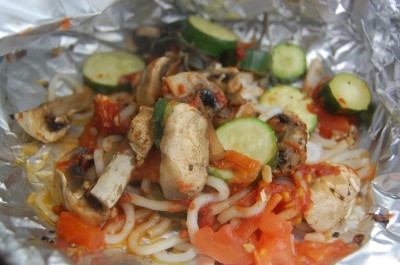 ...and it's so easy, you'll forget that that strange square box in the kitchen is an implement for cooking!
We love this recipe so much. It's quick and easy, super tasty, costs next to nothing and even kids and guests lap up stuff in foil straight out of a campfire, fireplace or oven.
Best of all... no washing up, a great opportunity for conversation and a saving on your energy bills!
For each serve you need:
2 squares of foil about 30cm x 30cm
A handful of cooked rice noodles or cooked pasta
2 cups winter vegetables, diced into large pieces
A drizzle of oil
Salt and pepper to taste
Fresh or dried herbs for flavour
Then you just:
Lay one square of foil per person along your kitchen bench or outdoor table.
To each square, add a handful of cooked noodles or pasta, your desired vegies, spices and seasoning and a drizzle of oil.
Lay the second square of foil over the lot and pull it up a bit in the centre so it forms a sort of pouch effect to trap the steam and infuse your packaged noodles and veg with all that steamy flavour. Then crimp the edges all the way around, gathering the bottom sheet of foil into the upper one and turning over so it looks like a foil pie.
Pop this in a foil baking tray to protect it from the direct heat a little and into your hot coals, fireplace or oven heated to 200C if you lack access to a cozy fire. Let it steam away for between 20 and 35 minutes. Move it around occasionally so the bottom doesn't scorch if it's in the fire.
Gather the troops around with tea towels on laps to protect them from the heat, forks in hand, and distribute your parcels.
Enjoy the silence as everyone slurps and enjoys.
You can discover more of Mimi's creations in our Members' Blog section:
May 2013
---
Last night at my Weight Watcher's meeting (ah hem, 5.6kg lost since you're asking!), I got chatting to another member about how jolly cold it's getting here in Auckland (especially when you're wearing a lightweight t-shirt and cotton pants for your weigh-in!). After thoroughly bemoaning the increased cost of keeping a household running over winter, she told me her power bill was a whopping... wait for it... $170! Whoa, I nearly fell off my chair. Seriously? That's positively eensy compared to our average winter fork out of $350 a month. She has the same family size as me, yet half the power bill? Something wasn't adding up here. I began the interrogation!
Okay, first up she had a fire burner, so there was a definite saving there over our hodge-podge of outdated electric heaters. Aside from that, she told me she was a stickler about switching off lights and appliances. It got me thinking. Especially when I arrived home and found every single light (yep, every one!) in the house blazing away. I could smell the money burning! After stomping through the house flicking switches and hollering down the hallway to the family about their evil money-wasting ways (ok, so I have been known to leave the stereo going to keep the dog company... I accept my portion of the blame!), like a bolt out of the blue (of the low-watt, energy saving variety), I came up with a cunning plan.
It was time for a family confab. First, I dug out two power bills. One from summer ($120) and one from last winter ($380 - ech!) so the kids could see just how much we're spending. We then brainstormed ideas on how to cut costs and delved into the Vault to check out even more brillo ideas. Actually, the kids had quite a few good ideas including using a timer in the shower to keep hot water costs down (especially good for our youngest who will shower for as long as she can get away with!), reusing their towels, and switching off the hallway light at night time (in favour of a small low-watt night light for DD's room).
In addition, I've told them that every time I find a light left on in their room (or TV, computer or other power-sucking device), I'd be fining them! Our two daughters get a small weekly allowance, so they've been told that for every misdemeanour, they'd be fined $0.50c from their next pay, and for our 19-year-old, his board would be duly increased. Well, that got their attention! I've never seen such a flurry of light flicking!
We're also toying with the idea of making the leap from electric heaters to a heat pump. Our house is soooo cold over winter (wooden floors, large windows!). After doing a bit of research and speaking to a few heat pumped-friends and family, I think the investment will pay off. Firstly, it will be more economical to run; we can dry off lightweight clothes on a rack while it's being used. It will also help keep condensation at bay and it has a timer so we can set it to come on only at certain times. But I'd be keen to hear from others who have one - do you think they're worth the investment?
One thing's for sure, saving power is most definitely a family effort. There's no point in conscientiously switching off lights only to find your teenage son is using the dryer to warm up his underpants.
I'll be interested to see how we go this winter! What's your best tip to encourage the family to switch off?
You can read more of Claire's warm and wonderful words in our Members' Blog section here.
---
This month has been about 'Choosing Joy' with the 50 Cent Indulgence thread and one of the things that brings joy to all our hearts is beautiful photos of family, friends and fondly remembered places. Annabel sent me photos of her garden which are just glorious! I wanted to display them nicely and this was a FREE indulgence. It simply meant washing out a couple of empty jars and then slipping the photos into them. I then just tied a ribbon on top that had come on a parcel recently. Other additions are tying some string around the top, scraps of velvet or lace or rusty stars if your taste is country. It makes a great display and you can do special groupings of weddings, family members or places that you have visited. Have fun creating beautiful table-scapes for your home!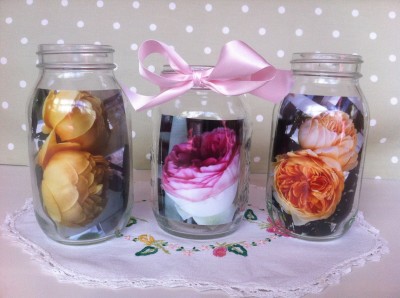 Do you ever have a hard time waking up in the morning? I know I do! But sometimes, fun little things like this orange java body scrub really help me get up and get going!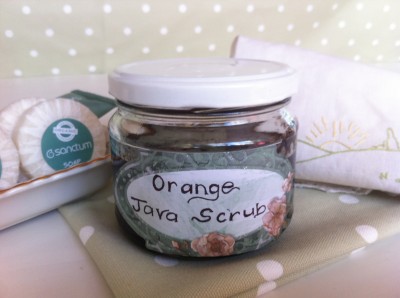 This simple scrub is one of my favourites. I LOVE using it in the shower after skin brushing. It rejuvenates me and puts an extra kick in my step!
Ingredients
1/2 cup coffee grounds
1/2 cup sugar
1/4 cup hot water
1/4 cup macadamia oil, sweet almond oil or olive oil
20 drops orange essential oil (more or less to desired preference)
Instructions
Combine coffee grounds and sugar in a small bowl.
Add hot water and allow to sit for 10 minutes.
After mixture has sat and formed a paste add the sweet macadamia oil and orange essential oil.
Mix well with a spoon. Adjust oils until desired texture and scent are achieved.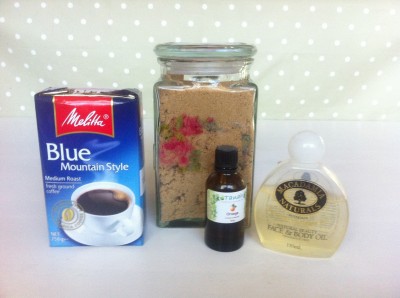 Notes
Try this recipe with fresh coffee grounds instead of used. The fresh grounds will contain more antioxidants and more caffeine than used coffee grounds which will increase the effectiveness of the scrub.
Any type of sugar will work in this recipe. I just use organic cane sugar, but you could use white or brown sugar.
You can use extra virgin olive oil instead of the sweet almond oil. It just has a much stronger scent than the almond oil, but if that is all that you have available don't let that stop you from trying this recipe! Olive oil is a great moisturiser and the body scrub will still work great
The sugar and coffee grounds work to exfoliate your skin.
The macadamia oil does a wonderful job at moisturising your skin.
The caffeine in the coffee stimulates the blood by dilating the blood vessels. This will tone and tighten your skin and help with the appearance of cellulite!
The caffeine will also help to increase circulation and reduce water retention.
The antioxidants in the coffee help your skin to get rid of toxins.
It smells a-maz-ing!
It makes a great gift! Simply paint a salsa jar lid with spray paint and attach a label!
You can drop in and join Helen, Annabel and the Under 50c Army here:
Choosing joy, set the temperature to 'warm'
---
Thanks to the cooler weather and dwindling fruit fly numbers, we are coming into our best tomato growing time of the year. I have been caught by surprise with the only plants ready to go out being some gifted tigerella tomato seedlings. The only fruiting plants we have are a few volunteer yellow cherry plants growing wild in the patch and the KY1 bush tomatoes that are about to be pulled out. I am going to sneak in some late starts so decided to save some seeds from the KY1 tomatoes this week. I am saving the seeds using two different methods this time.
The first method I used was to ferment the gel from the seeds. It is a very easy method that some people swear by as it helps to remove the gel coating from the seeds that contain the germination inhibitors. It is as easy as adding the seeds to a jar with a few centimetres of water covering them.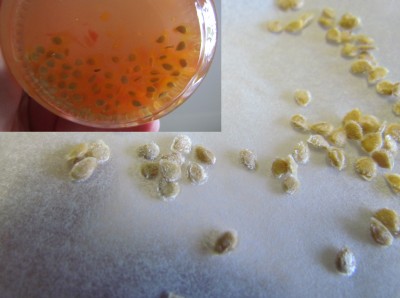 The seeds are then left for two to four days (can be up to a week when it's cooler) so the fermentation process can 'dissolve' the gel that surrounds the seeds. You can normally tell they are ready by a small growth of mould on top of the water and/or a funky fermenting smell. The contents of the jar are then washed in a sieve under a tap until only the clean seeds are left. The seeds are then left on some baking paper to dry, then packed up and stored in a cool dark dry place until they are needed. This method does leave you with a very clean looking seed and is the preferred one used by a few of the more experienced seeds sharers I have spoken to.
The second method I used was to remove the seeds from the fruit, wash off and remove any flesh and leave them to dry on some baking paper.
Another variation of this method is to let the seeds dry out on some paper towel. Once the seeds are dry you can cut up the towel with a few seeds on each which makes them a bit easier to sow out when the time comes. Store them in a cool dark dry place until they are needed. While this method leaves the germination inhibitors around the seeds, I have never had a problem growing plants from seeds saved this way. I will be doing a germination test between the two different saving techniques as well as planting out some seeds squeezed straight from some fruit just to see if there is much of a difference. I will show the results in a follow up post.
I have been really interested in trying to make tomato powder after seeing it on a few websites. It is a great way to store tomatoes that doesn't take up much space at all and really isn't that difficult to do.
The first step is to dehydrate some tomatoes. For this we have been using the KY1 tomatoes that we have been harvesting over the past few weeks. These tomatoes are a sweet fleshy variety that are full of flavour. They are a determinant variety which means that these plants will normally grow one to two flushes of fruit before the plant dies. This also means that the plant provides you with a load of ripe fruit all at once which is great if you want to preserve them.
The first step in the dehydrating process is to slice up the tomatoes about 1cm thick and evenly space them on the tray and fire up the dehydrator.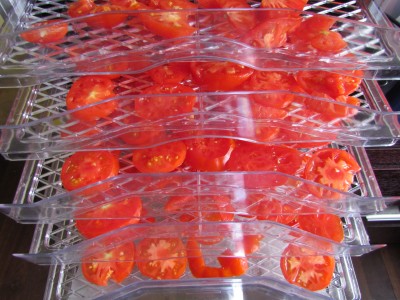 This being our first batch of dehydrated tomatoes I was quite surprised about how much weight was dried out of these fruit. I didn't weigh them before adding them into the machine but I would think it would have been over two kilograms.
The dried weight of all those tomatoes was only 98g which just goes to show how much water is locked up in them. The next step is to add the dried tomato pieces into a food processor/blender and process until the dried pieces are turned into a powder.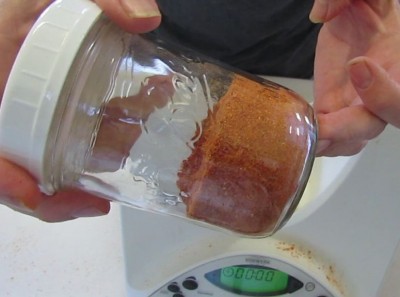 It is then stored in an airtight container until needed. When it comes time to make up your tomato sauce or paste all you need to do is add some to hot water, stir and let it sit until the water has been absorbed into the tomato.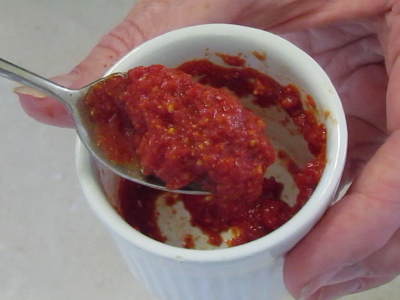 It will slowly thicken further if heat is added. I am thinking of taking advantage of any cheap tasty tomatoes I can find to make up some more as I think this will be the best way to store tomatoes for later use.
Well that's it for now. Hope you all get a chance to get out into the garden and get some dirt under your nails... : )»
You can read more of Rob Bob's gardening adventures in our Members' Blog section here:
May 2013
---
Last month Denise Partridge emailed us about ideas to help her declutter:
"I would like some hints on decluttering. It is too easy to buy things cheaply and collect far more than we need. I'd like some ideas on decluttering and limiting waste so I can spend more time on what I want to do."
We got some fantastic ideas - thank you for sharing your wisdom! Here are some of our favourite replies:
If you find yourself with too much household clutter, it may help to think about the reasons behind it. Typical reasons include (and I am probably guilty of a few of these):
Things never break so don't get thrown out. But as new stuff is needed (for many reasons - growing kids, changing needs and so on) we just get more stuff!
Poor storage turns even the best and most useful things into clutter.
We can't bear to part with things because of the memories attached (even if they are sometimes broken).
We get given stuff that has no real use.
Not being able to find what you need, and it's cheap enough to just buy another.
Here's a few tips to help clear your clutter:
Focus on one area at a time. When one small target area or room is clean it will feel great and give momentum and encouragement to keep going.
Throw out junk mail immediately and stop shopping for non-essentials for a month.
If you want to buy something, wait 24 hours before going back to buy it - that can often stop impulse buys.
Store things properly. If space is limited think about what is needed to be kept at hand. We each have two sets of active sheets and three towels in the linen cupboard - the rest are stored in a less accessible and intrusive cupboard.
Label boxes or cupboards for the things you need and make sure things go back in there.
Contributed by: Coop
Decluttering can be so much fun and the benefits are many! Increased space, extra cash, greater pride in the possessions you cherish, and a feeling of being in control of your surroundings. Here's how I do it:
Go room to room and assess everything in the room. Ask these questions about each item, big or small:
Do I use it? Do I like it? Does it have special meaning to me? Does it add to my life? If you answer 'yes' about an item, then keep it. But it must have a real reason you can justify.
If a guest came in here, what would I want to change? If you imagine seeing your house through someone else's eyes, it can be very illuminating!
When you start sorting through things, put them in to one of four separate piles:
Sell: For things that have some resale value.
Charity: If it's in good condition but unlikely to be sellable, give it away.
Recycle: For paper, glass and so on.
Rubbish: For anything broken or unusable.
What you should be left with are the useful, wanted things. Once these things are less cluttered by the "junk" you'll find you can appreciate them so much more. In fact, if you discover things you hadn't seen, worn, read or played with for some time, it can really feel like Christmas! And if you manage to sell unwanted items, you get extra cash as a bonus.
Contributed by: Rebecca D
Here's my simple philosophy to keep your home free of clutter: If it doesn't make you smile, get rid of it! I used to hold on to gifts, awards, and so on as I felt obliged to keep them, even though the items didn't have positive memories attached to them. But I now feel lighter removing such items from my environment!
Contributed by: KarenC
Here is my 'five step program' for clearing your household clutter:
First, walk around your house and write down everything that is bothering you. Don't be overwhelmed if the list is huge!
Next, sit down (with a cup of tea) and rewrite your list. Put it in order from what is bothering you the most to the least. Rewriting it also helps get your head around it all.
Be sure to write very specific tasks. If you just write 'organise wardrobe' it can feel like a vague task that can be overwhelming and too hard. It's better to break it up into lots of small tasks, for example, 'organise underwear drawer, tidy shelves, sort out hanging clothes'.
Put your list somewhere you'll see it, so that it keeps you motivated.
Work through your list one task at a time. When you finish the list, celebrate!
You'll feel fabulous as each task is ticked off the list and being organised will save you money and time!
Contributed by: Beth W
The Home Storage Solutions website offers excellent support and tips on how to de-clutter your home in 15 minutes a day! It also includes a monthly plan to help you stay focused. The site is www.home-storage-solutions-101.com/declutter-your-home.html
Contributed by: Nina Vine
De-cluttering can be overwhelming, so my tip is to tackle just one room per month. I spend a few hours "spring cleaning" and tidying just one room and then next month do another room. That way each room gets a thorough clean each year and, as we tend to keep it neat once we spend time on it, it stays de-cluttered longer.
Another tip to help you avoid clutter is to ask yourself how long you had to work (if you are in paid employment) to cover the cost of the item you are thinking about buying... it makes you think twice about needing it!
Contributed by: Kylee R
If you need to get rid of clutter, check out www.365lessthings.com! This is an excellent website that helps you de-clutter by getting rid of one thing each day. The writers of this blog are very much in tune with the SS mentality. There are also links to other great blogs about minimalism that come every Friday as part of the newsletter. It's well worth signing up for, or just check in on Fridays. Colleen makes the process simple and enjoyable and there is a good supportive community.
Contributed by: urbanpeasant
If you need to declutter, here are my three steps to make it easy!
ONE: STOP buying! Avoid the shops unless you have a specific item in mind, resist the urge to browse! If you are going to purchase something ask yourself "Do I already have one? Do I own anything that will do the same job?"
TWO: If you have a lot of clutter and are overwhelmed, start small. For example, tackle one drawer at a time. It may also help to get a trusted friend who will be firm with you to help you get rid of things.
THREE: Sort your clutter into three piles: The first is the 'KEEP' pile - for things you need and have a place for. The second is the 'DONATE/GIVE AWAY' pile - for things that can be given to charities or secondhand shops. The third is the 'THROW AWAY' pile - for things that are broken and unusable.
A few extra tips:
If Great Auntie Mabel gave it to you and you don't have a need for it, give it away! It was a gift and now belongs to you for you to do with as you wish.
If the donate/give away pile has any value, have a garage sale to recoup some expenditure. But do it soon and don't let the stuff back in the house! This takes energy, time and willpower so if you are lacking in any of these, just give the things away!
If it has sentimental value but no use, take a photo and get rid of it.
Take a hard look at what you have kept, and think again about whether you really need.
Surround yourself only with things that give you joy!
Contributed by: hylda33
---
Helene G. has emailed asking for some help! She writes:
"I am currently researching funeral plans and I am confused by the price differences. What I should do?"
If you have any pearls of wisdom you'd like to share with Helene, please send them in to us here.
---
Well, that's your Simple Savings Newsletter for May 2013 and we hope you have enjoyed it. Don't forget to think about the Big Turn-off this month and how you are going to do something in your home - and then let us know!
Our members are hugely important to us and we love hearing from you all! So next time you're on the website, why don't you get in touch and say 'G'day'! Let us know what you would like to see more of in our newsletter or any suggestions you have for something new to try. We love receiving your clever ideas!
Don't forget to spread the love around to your family and friends too by forwarding them our newsletter or letting them know about our website. Help make their lives easier and save them money too! Or tell them about us on Facebook by clicking the 'like' button on our Simple Savings Facebook page.
Till next time...
All the best,
Fiona