This issue includes:-
Sad Sally, Happy Hanna: Disappearing Act
April is $21 Challenge Month!
Hidden Gems Competition Winner
Best Member's Blog: This Month's Winner
Best of the Forum: A Helping Hand
Best of the Vault: Ways to Win the Challenge
Cooking with Mimi: Spaghetti Pie and Vanilla Panna Cotta
Penny's Blog: The "Haven't Got $21" Challenge
Lin's Garden Diary: Gardening by the Moon!
Homeopathy Corner: Titanic Explanation
From Last Month: Pets at Home
This Month's Help Request: Kids' Clothes for Grown Ups?
Savings Story: From Tears to Triumph
And Now, the End is Near :-D
---
Hello,
Penny here! Can you believe the $21 Challenge is now in its SIXTH year? Wow, time really does fly, doesn't it! We have now sold out of copies of the $21 Challenge book in Australia and are also down to the very last few in NZ. We are printing some more but they will be a couple of months away so if you are wanting a copy to assist you with your $21 Challenge this month you might want to head to your library or ring around your friends and neighbours to see if they have one you can borrow. We do have some great news for all Kindle users however. Due to popular demand a Kindle version of the $21 Challenge will be available shortly!
Thank you for all your continued support. It is fantastic to read your letters and know that Simple Savings and the $21 Challenge is still helping people after all these years!
"Thank you for a wonderful book. I received it a couple of weeks ago, but have just started putting it into practise because the town near where I live is experiencing floods and I can't get into town. Instead of jumping in the car and driving the long way around (70km instead of 7km) I looked in my pantry and freezer to see what I had. So far this morning I have made a batch of basic biscuits (three varieties), a chicken casserole, a lasagne and some creamed rice and I haven't even touched the surface. Not only am I saving the petrol money, but I am excited about being in the kitchen again and seeing what I can create. Thanks once again." (Elvie Barnes)
"I recently had to cut down on health insurance premiums, car insurance premiums and road service premiums! All are getting over-ze-top expensive. I'm a widow and pensioner BUT with my 10-10-80 budget, I'm doing well. I now look forward to including the $21 Challenge to my arsenal of weapons to win the war! Love your newsletters, the site and blogs. Keep up the great work - you have made such a difference to our families - as well as given greater self-esteem and empowerment to (former) struggling people. You and the team are tops!" (Merryl Christen)
All the best,
Penny
---
"Happy Birthday! Hope you've had a wonderful - oh dear, whatever's the matter?" Sally's broad smile vanished at the sight of Chloe standing in the doorway in floods of tears. "It's Tom - he's GONE!" Chloe wailed. "No he's not! I saw him this morning!" said Pete. "Exactly - and he hasn't been back since! He said he was going to take me out to dinner at 6pm but he's still not here!" Chloe said, wide-eyed with panic.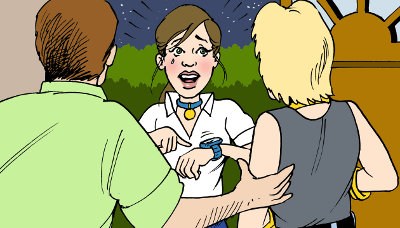 "Um, are you sure you're not worrying a little prematurely? It's only 6.15 now!" Sally said gently. "But it's my BIRTHDAY! And there's no sign of him anywh-wh-where" Chloe replied, lip trembling. "Tell you what, how about we keep you company until he turns up? I brought you some bubbly, why don't we open it?" Sally said brightly. "Thanks Sal," Chloe gave her a watery smile.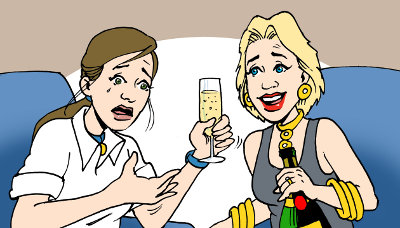 An hour and a half later the wine was all gone and Chloe had broken out into fresh tears when they finally heard a knock at the door. "Chloe - I'm so, so sorry" spluttered an apologetic Tom. "I was shopping for your gift but they had sold out everywhere and..." SLAM! Tom found himself staring at the door, gift still in hand. Pete chuckled "Well that's gone and done it. He's never going to get lai - OUCH! What did I say?!"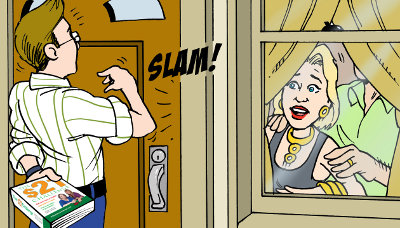 ---
If you are a relatively new member or this is the first you have heard of the $21 Challenge you may well be wondering what on earth we are talking about so we shall take this opportunity to explain. Are you sitting comfortably? Then we'll begin:
Once upon a time there was a super savvy Simple Savings member called Barb, who wanted to go shopping to buy food for herself, her husband and their two teenage boys. However Barb's plans were thwarted when her cheeky husband came home with nothing but a $20 note. What on earth was he thinking?! There was no way Barb could feed their family for a whole week with just $20! Or could she? Not to be beaten, Barb rummaged around and found a $1 coin in her pocket and vowed to show her husband just how resourceful she could be.
With a big supermarket shop no longer an option, Barb had no choice but to go back to using basic skills which were second nature to our parents and grandparents but have largely been forgotten in today's society of convenience. Skills such as:
Planning the best way to use what food she already had on hand
Using up the food she had first before allowing herself to buy any more
Making smart shopping choices so she could get the best value from every dollar in her $21 budget
Getting creative with recipes and diversifying where necessary
Cooking from scratch instead of resorting to expensive packets
These skills got Barb through the week with ease. She finished the week under budget and nobody starved, in fact quite the opposite. The first ever $21 Challenge was a resounding success! Pleased with her huge saving, Barb wrote to tell Penny Wise of her triumph over her mischievous hubby. Penny was understandably impressed but what resonated most with her was how easy Barb made it sound - and how much fun! She decided to give it a go herself and challenged other Simple Savings members to do the same. The rest, as they say is history and as the years have gone by, the $21 Challenge has spilled over from the Forum into the big wide world of Australian, NZ and US media and eventually evolved into its very own book. Six years on, Barb's idea is still helping thousands and thousands of families make massive savings on their food bills and teaching them to become better cooks and smarter shoppers - for life.
The moral of the story? The $21 Challenge is FANTASTIC. It will change the way you think. It will change the way you cook. It will change the way you eat. It will change the way you shop. It will save you an absolute fortune. But you won't believe just how much until you try it. So this month, give it a go. There is stacks of information to help you and tons of support and recipes in the Vault and Forum. You can learn all about exactly how the $21 Challenge is done in our newsletter archives:
Or for the most up to date and comprehensive information, including a list of the many benefits, you can read the first two chapters of the $21 Challenge book absolutely free. If they don't inspire you, nothing will!
Best of luck - and don't forget to let us know how you go!
---
Thank you to everyone who entered our Hidden Gems competition last month. We had tons of fantastic entries and picking just six winners was no easy task but here are Fiona's favourites:
Bendigo Woollen Mills, 4 Lansell Street, Bendigo, VIC.
Nominated by Bev, Bendigo Woollen Mills sells top quality wool at the right price. If you don't live in Bendigo no problem, they deliver! Vault members can read more about them here.
Legends on Hansen, 20 Hansen Street, Corryong, VIC.
Nominated by Caroline Casey, Legends is the perfect comfort stop when travelling to and from the Snowy Mountains. Vault members can find out more here.
Temptation Bakeries, 8/213-223 Wells Road, Chelsea Heights, VIC
Nominated by Alice, this is the place to go for top quality baking, including REAL pies with real chunks of meat and vegies! For Vault members, more information is here.
Specially Gifted, Shop 1, 107 Princes Highway, Milton, NSW
Nominated by Morag Oliver, you can't beat Pat for terrific customer service and the best prices gifts and kitchenware. Vault members can find out what makes her shop so special here.
Glenferrie Shoe Repairs, Shop 8, 673 - 681 Troubadour Arcade, Glenferrie, VIC
Nominated by Rachel Bucknall, and with good reason - this Hidden Gem has saved her hundreds of dollars already! Learn how she did it here (Vault members only).
Carmen's A Little Taste of Italy, 142 Bridge St, Muswellbrook, NSW
Nominated by Akelamummy, just reading about this family friendly restaurant will make your mouth water. Vault members can find out what makes Carmen's so popular here.
Congratulations to all our winners, they each win $50 cash. Keep those hidden gems coming, you could be a monthly prize winner too! Tell us about your favourite store here.
---
One of the many benefits of being a Vault member is that you can win a cash prize of $100 each month for your Simple Savings blog! Starting your own blog on the site is easy. All you have to do is log into the Vault, click on 'My Desk' at the top left, then 'Your Blog'. Then get writing! We love reading all your money saving trials and tribulations and really appreciate the effort that goes into each one.
This month's winner is Nicky A for this extract from her blog:
OK, $21 was not my budget, I set a $50 budget (but this was for me, hubby and our six kids). This is the first time I have tried the Challenge and was really wondering if we could do it. Armed with my newly arrived $21 Challenge book, I was excited and enthusiastic to get started. I did not have an overly stocked pantry or freezer before starting and in all honesty, if I wasn't on the Challenge this week, I would have spent over $250 this week on meat, groceries and fruit /vegetables. We only have two days left to go as I started on Sunday and I still have $38.40 left in the kitty. I am so proud of myself. My family are none-the-wiser that they have been "doing without" because they haven't! We had plenty of cereals hidden away at the back of the pantry, so this will take care of our breakfasts for this week, along with tinned fruit and 2kg of fruit yoghurt. We also had a good supply of school snacks of various types to get us through the week, along with the fruit /vegies in the fridge. There was some sliced bread and Lebanese bread in the freezer with simple spreads to get us through the school lunches, so only dinner and after-school snacks to sort out.
Sunday - I had to put petrol in the car (not from my budget) and while I was there, I was able to get a loaf of bread and two litres of milk for free thanks to my fuel discount. We had a late lunch BBQ with meat from the freezer, so the kids only ate a snack later on for dinner (two-minute noodles or tinned spaghetti or baked beans).
Monday - For dinner, I found a bag of chickpeas in the bottom of the pantry. Made fresh falafel (chickpeas; coriander; parsley; onion; garlic and spices - all from our garden or supplies). Put on Lebanese bread and served with tomato slices; pickles (another half-used jar from the corners of my pantry used up and Baba Ghanoush (eggplant spread) - found in my freezer from last time I made falafel). An added bonus was the amount of falafel mix I made was enough to freeze half the batch for another time. Yippee!
Tuesday - I had some frozen pizza bases to make homemade pizza. I would have normally gone out to buy some tinned pineapple but I didn't bother and everything else I had on hand. Frozen grated cheese got used up, as did a half jar of sun-dried tomatoes. Added some ground beef (mince from the freezer); tinned mushroom pieces; slices of capsicum (almost ready to be thrown away, so I'm glad it got used up). Delicious and even have enough for a whole pizza of leftovers. I needed to buy more bread - got five loaves for $5.00, some are going straight in the freezer.
Wednesday - had a frozen cooked chicken in the freezer (bought for $2.49 on sale at the end of the day, it has in the freezer for a few weeks, so again, I am glad to use it up). I de-boned it and used a small portion of it for chicken, vegetables and noodles. I had the dried noodles in the pantry, along with the marinade. I also got to use up a bag of vegies for stirfry (the pre-packed ones - I got it on sale last Friday, so not from this week's budget). I needed more milk for tomorrow morning, so purchased 2 x 3lt milk and spent $6.60. So I have a total of $11.60.
Thursday - Kids sandwiches with more of the chicken from last night. This stretched a long way as I bulked up the sandwiches with lettuce and mayo. Dinner we will have spag bol - I have everything I need.
My girls are heading away camping with Girl Guides over the weekend and need some home-baked goods to share with others. That is fine - I have all the ingredients for brownies and also a cake. So no spend there. However for dinner while they are away, they are cooking up sausages. My girls have special dietary requirements - so I will need to buy them their own sausages - but they only need a few each, and there is still plenty of my original $50 left over. I may treat my boys to hot chips tomorrow night and I will still be within our budget!
Saturday night - I have a roast in the freezer and will serve it with mashed potato and peas. So again, no spend here.
Overall, I am thrilled. My pantry and freezer are slowly emptying of all the bits and pieces. I will never shop the same again... look at what I achieved on such a little budget. I have shown myself that my pantry and freezer do not need to be bulging with food. I can cook great food from what we have and simply make do! I can't wait to see exactly what my weekly spend / saving will be.
And... the verdict!
I got my girls $5.00 worth of sausages (more than enough for the two of them). Will get my boys $8.00 worth of hot chips tonight for dinner as a treat. We will eat these with a loaf of bread from the freezer purchased earlier this week and we ALWAYS have BBQ sauce on hand.
Thought I should buy some more milk while I was at the shops (so we don't fall into the trap of purchasing this over the weekend at the petrol station. Cost $6.60). Also had to get some Panadol Soluble for hubby's sore throat $4.60.
So my total of purchases today was $24.20. I had already spent $11.60 earlier in the week. Taking my total spend to $35.80 from a budget of $50.00. So I still have $14.20 left!
I also forgot to mention about our afternoon tea snacks for the kids for the week - (all from ingredients in my pantry)
Mon - Pikelets and jam
Tues - didn't bother with anything. The kids finished off each other's lunchboxes and I had dinner ready when they got home, so they ate early before the mad dash back out for footy training and Girl Guides... no time to sit around eating!
Wed - Cinnamon Cake
Thur - Kids polished off the left over pizza from Tuesday night.
Fri (today) - I will pick the hot chips up on the way home, so the kids will eat early and finish off any leftovers from the lunchboxes.
Sat - I plan to make a batch of cookies from the freezer (one of the bulk recipes from SS).
All in all, I have loved being on the Challenge and plan to do it again soon. I may even delay shopping next week and just see how long we can "get by" just with bread, milk, fruit and vegie purchases. Will keep you all posted and thanks always for the support and your tips!
Congratulations on a terrific effort Nicky! To read more from her, or any of our other members' blogs, click here
---
Whether you are a $21 Challenge 'newbie' or a life convert, everyone can benefit from the experience and guidance of others to stretch their dollars further. Take a peek at how savvy members in our Savings Forum are preparing for the Challenge ahead.
Here is the ultimate 'how to do it' and 'what works' guide for the Challenge from our clever member, Claire M. If you have ever wondered how to get started or wanted to follow the success of other members, Claire has helpfully collated lots of useful threads all in the one place. Are you ready to take the Challenge?
read more...
A revamp on a golden oldie. Tradies wife has provided this neat twist on the 5-cup loaf recipe from the $21 Challenge book and shows everyone that substituting ingredients is the key to completing your Challenge with style.
read more...
No $21 Challenge would be complete without checking out what 'Garden Groceries' are growing in your own backyard. Our greenthumbs are here to inspire you with wonderful winter veggie ideas! This thread includes a bonus summary of previous seasons veggie threads too.
read more...
If you are lacking in motivation to attempt the $21 Challenge just spend a few moments reading the aspirational journey of Frogdancer as she saves towards debt free living. Well done Frogdancer, what an outstanding example of how the Challenge can be put to work in improving anyone's life!
read more...
This thread is straight out of the pages of Part 6 of the $21 Challenge Book- Bonus meals: How to turn Pantry Clutter into Cuisine. Our magnificent members offer advice on making yummy meals from mysterious ingredients.
read more...
---
We all want our $21 Challenge month to be easy, fun and above all, to slash our grocery bills! The Vault is an awesome resource just teeming with tips and hints to help you stay focused and on track to making your Challenge a success. Go on, what are you waiting for? Dive in!
I paid off my credit card, thanks to the $21 Challenge book! I read it, filled in the sheets for the pantry, fridge and freezer inventory, planned my menu and was so excited to spend only $22.65 during my first Challenge. No wonder people are rapt with the book! I love the recipes in the book, as well as my neat and tidy pantry, fridge and freezer. I adore the curry recipes and the weekly life planner. Sophie's Peanut Chicken and Rice is a real favourite, as are the bulk biscuit recipes. In the first month alone I reduced my food bill from $447 to $276, a saving of $171.
Feeling inspired, I cut up my credit card, paid off what was owing and cancelled it! I have a debit card which I can still use like a credit card, but as it uses the money in my account, I have to think twice before I buy something in case I overdraw the account and have to pay bank fees. Without the use of a credit card, I have a more defined limit which makes saying 'no' easier. It is very exciting and liberating to know that I can have more control over my finances with a bit of forward planning!
Contributed by: Vivian Rudowski
My husband is self-employed and over Christmas and New Year we were waiting on a payment that had been due in November. I had not done any shopping for over a month, and we felt like there was nothing in our pantry, especially my five kids who repeatedly moaned "there's nothing in here!"
Of course, that wasn't the case. It's amazing what you have stashed away in containers or hiding at the back of each shelf. On a closer inspection, we found dried beans and lentils, flour, sugar, cous cous, rice and lots of other bits and pieces.
We managed to feed our family of seven on the 'nothing' in our pantry for another two weeks. We are lucky enough to keep chickens, and have a very basic vegetable garden, so all I really needed to purchase was milk. We made pancakes, pikelets and scones, and even a chocolate cake with the cocoa we found - these snacks kept the kids, and hubby, very happy!
We survived until our very overdue payment finally arrived. We have now decided that we will eat the cupboard clean every month, as this encourages us to save money by using what we already have and by not allowing things to go out of date.
Contributed by: Verity Roser
I had 20 kids and adults coming over for my seven-year-old's birthday party. As the party was due to take place at the end of our credit card month, I had no money to buy the normal party goodies like chips, dip, biscuits and so on. Thankfully, I had recently read The $21 Challenge and had this book in mind as I planned the party. I started to think about what was already in the pantry and fridge. To my delight I was able to make a sultana cake, chocolate slice and Anzac biscuits. I also had fruit cake left over from Christmas which I sliced up.
Now for the party bags. I didn't have much money to spend on these but I had heaps of plastic bags in the drawer. I went shopping and bought two bags of fun size chocolate bars, a bag of generic brand soft lollies and a carton of single serve chips. These treats went into the plastic bags and everyone was happy!
I couldn't believe how much the whole party cost me. Just $10 instead of my normal $50 spend! I felt very pleased with myself and all the guests were well fed. The other mums were also happy that the kids were fed good home-made food instead of junk.
A huge thank you goes to the people behind The $21 Challenge. Without reading this book, I would have been struggling to cater for this birthday party.
Contributed by: Anon
A great standby meal for my large family is 'patties'. They're cheap to make and are a family favourite. Into a large dish I grate whatever vegetables I have available, for example, carrot, potato, pumpkin, sweet potato, broccoli and stem, zucchini and so on. I then add some finely chopped onion, garlic and celery tops, including the leaves. I throw in a very generous amount of mixed herbs for flavour, add salt to taste, eggs to bind, and some flour for the binding as well. I blend up some rolled oats to make oat flour, about 1/2 cup for a small batch of patties. The rolled oats makes the patties firmer. I mix all the ingredients together, adding water if the mix is too dry or flour if the mix is too wet.
I heat a pan and pour in just enough oil to cover the bottom. I use olive oil, and have the oil hot enough to seal the patties as they're being cooked. If the oil is not hot enough to seal, the patties will absorb the oil and make the patties too greasy. I turn the patties after a few minutes to cook the other side until golden brown. I serve with salad or vegetables for a main meal, or use them as a terrific sandwich filling.
NOTE: I use an ice cream scoop to pick up the mixture and put it into the pan. This means the patties are the same size and look really good.
Contributed by: Dawn Thyer
This hint was a saviour during our last $21 Challenge.
The girls were looking for lunch and complained there was nothing to eat, so I found a large plastic platter and put the following treats on it:
A leftover BBQ sausage, thinly sliced
Two slices of leftover bread, buttered and cut into quarters
A diced kiwifruit
Four strawberries
A small piece of cheese, diced
1/4 tin corn kernels in a lettuce leaf
A muffin, cut in quarters
Four leftover chicken nuggets, cut in halves
A dob of cream cheese with a little corn relish mixed in
Four cucumber slices
Four cherry tomatoes
One Vita Wheat, halved
I gave the girls and myself a saucer each, plus a cocktail fork and everything was eaten and enjoyed. Now we often have 'platter parties' for meals and snacks. A novel way to serve up a meal when you have 'nothing' to eat!
Contributed by: Mona
I have been collecting recipes that use the same vegetables I have growing in my garden. This helps me when I have a glut of vegetables all becoming ripe at the same time. I produce a variety of meals using the same type of vegetable, however, the flavou0r is always different and the family doesn't complain. Using my home grown fruit and vegetables as the basis of my meals makes the $21 Challenge easy.
Contributed by: Helen Reilly
Here are some cheeky extras for Vault members only
Imaginative lunch box fillers Contributed by: Elizabeth Walker
Long-term Challenge success Contributed by: Georgie P
Reverse $21 Challenge cuts food bill in half Contributed by: Caroline
Use the Challenge for back to school Contributed by: Lorraine Clark
Many ways to meet the Challenge Contributed by: Dianne Barling
---
Don't you love those impromptu dinners that just sort of 'happen'? The ones where someone drops in for a coffee and the conversation and company is so good you end up inviting them to stay for dinner? I've found these are the ones that are the most fun and the most memorable.
But what if that happens and the budget is a bit tight or you're doing a $21 Challenge? Well, I've got good news for you. This month I've got a recipe for a delicious pie that uses a ridiculously small amount of ingredients and a yummy dessert that will use up some of that gelatine we've all got stashed at the back of the pantry.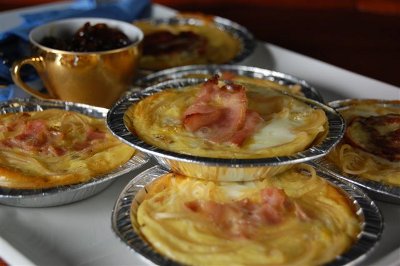 This tasty pie is one my mum used to serve for dinner when our family of seven would suddenly swell to 14 because we were all having friends stay overnight! She had a way of magically turning simple leftovers into a tasty feast and this was one of our favourites!
Equipment:
Large saucepan
Pie dish (or for snacks and lunches, use muffin pans or individual foil pie tins)
Cooking spray or oil to grease the pans
Mixing bowl
Whisk
Grater
Colander or strainer
Tongs
Ingredients:
A fistful of uncooked spaghetti. If you form your thumb and forefinger into a small 'O' shape, and measure your spaghetti in the 'O', that's about the right amount.
8 cups water
1/2 tsp salt
4 eggs
1 cup milk or cream (reconstituted powdered milk or evaporated milk are fine also)
1 cup cheese
Seasoning to taste
Leftovers such as sausage, bacon, roast meat, vegetables (optional)
Method:
Preheat your oven to 180°C. Pour water into the large saucepan with salt and bring to a rolling boil. Add the spaghetti and allow to cook until al dente. While the spaghetti is bubbling away, prepare your dish by spraying liberally with cooking spray or greasing with oil. If you're using foil tins, you'll need to place them on a baking tray for easier transfer to and from the oven.
Sprinkle the base of the dish or tins with cheese. This is going to bake into a lovely base for your 'pie'. Next it's time to mix the eggs with your choice of milk, cream, evaporated milk or powdered milk, and a little seasoning to taste. Your spaghetti should be ready now, so drain through your colander and allow it to cool slightly.
Using the tongs, pick up a few strands of cooked spaghetti at a time and arrange them neatly in the base of your dish or tins. Add in your odds and ends of deli meat, sausage, roast, vegies or any other leftovers. Finally, pour your egg and milk mixture over the lot, and pop your pie into the oven.
The smaller ones will cook in around 10 minutes, the larger single pie version in around 15 minutes. You only want the egg mixture to 'set'. So just bake them until the middles are firm to touch. Once done, remove your Spaghetti Pies from the oven and serve immediately, or store them in an airtight container in the refrigerator for lunches and snacks.
We'd often enjoy our Spaghetti Pie served with a yummy grown-up tasting relish or chutney but a generous crisp salad using leafy lettuce and juicy sun ripened tomatoes straight from the garden works wonderfully too. And of course, for anyone still hungry, there was always dessert'...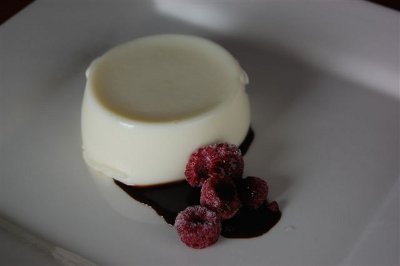 Mum never called these by their posh name of Panna Cotta. She called them Vanilla Puddings. We were lucky to have the luxury of having a mum who knew that with a bit of kitchen magic, and very few ingredients, a restaurant worthy dessert was just a blink of an eye away!
These delectable morsels need a few hours to set. But they're almost as easy as whipping up a packet jelly and taste so much better. Once you realise how simple they really are, you'll want to keep them in the fridge for an anytime snack or replacement for an instant dessert
Equipment:
Medium saucepan
Medium mixing bowl
Small bowls or ramekins
Whisk
Measuring cups
Small plates or saucers for serving
Pointed knife for unmoulding
Ingredients:
2 1/4 cups milk or cream (or a combination of both)
1/4 cup extra milk
1 tsp vanilla essence or extract
1 heaped dessertspoon of gelatine
1/2 cup sugar
Cooking spray or oil
Method:
Lightly spray or grease your ramekins or dishes and line them up along the bench. Pour your ¼ cup of milk into the bottom of the medium mixing bowl, and sprinkle the gelatine on the surface. Leave the gelatine to sit and soften.
Put your 2¼ cups of milk or cream into the saucepan along with the sugar and vanilla and stir over a medium heat just until the sugar has dissolved. Remove from the heat and pour over the gelatine and milk mixture. Whisk well. Pour into your prepared ramekins and refrigerate for a few hours. When they're set like jellies, they're ready.
Line up your small plates or saucers along your bench. Run a pointed knife around the edges and shake the panna cottas gently onto the plates. If you prefer, you can just serve them in the ramekins.
Homemade chocolate syrup is a great partner for this too. A drizzle of that little bit of heaven over the puds and you'll be a mum of legendary status!
You'll see. Entertaining during a $21 Challenge will be water off a duck's back from now on!
---
Another $21 Challenge Month is almost upon us! One thing that a lot of people get mistaken about is that you have to be pretty much broke to do a $21 Challenge. You have to be on the bare bones of your bum with close to no food and no money in order to 'qualify'. However this couldn't be further than the truth. Obviously it is a brilliant tool to fall back on when times are tough and things go wrong but there is never a right or wrong time. Just because you have money in the bank doesn't make you ineligible.
Take Barb for example, the original founder of the $21 Challenge. When her husband came home waving that $20 note after she had asked him to bring home some money for food shopping she could have given him a swift clip round the ear, hopped in her car and gone and got herself the money she needed for the shop she had originally planned. But being made of tougher stuff she chose not to. She decided she wanted to prove a point and show her cheeky hubby what she was capable of. And that, dear reader is exactly what the $21 Challenge is all about - realising what you are capable of. Showing yourself and others how little you can get away with spending, how little you can waste, how resourceful you can be, how creative you can be, what a smart shopper you really are when you put your mind to it.
Thinking back to all the $21 Challenges we have done as a family I don't think there has been a single one that we have had to do out of necessity. I could be wrong but I'm not going to trawl through the last six years of blogs to check! On the whole it has always been out of choice - the first one back in 2006 was for fun, to see if we could and all the others I can remember have been to brush up our skills or to make sure things get used up, or have been part of the Simple Savings calendar like now. But this year will be a little different for us because when April 1st comes we will be starting our $21 Challenge with nothing. Not even $21. Quite simply, we can't spend anything because we haven't got anything so we're just going to have to make do and apply the same principles as we have with every other $21 Challenge.
I have to admit having no cash is a tad inconvenient. I'd be lying if I said it didn't get me down a little sometimes but immediately after I wrote my last blog 'Paying the price for being too nice' I accidentally stumbled upon a couple of threads in the Forum which changed my perspective. First this one:
This thread blew me away and soon had me counting my lucky stars and scolding myself for being a great big girls' blouse. I mean for goodness' sake Penny you have HEAPS! You're not living in your car, you're still living in your cute little beach house, surrounded by tons of possessions and two cars parked outside. You have more food in your pantry, fridge and freezer right now than some people ever have. You have enough toothpaste, shampoo and whatever else you need to keep going for quite a while yet and if you don't, you know perfectly well how to diversify. You may not have anything in the bank right now but you still have a LOT. Reading the stories of other Simple Savings members helped me to define what being broke really is and the fact they were brave enough to share their stories and show how they have moved forward was hugely encouraging and inspiring. Just because a person is broke today doesn't mean they are doomed to being broke forever. It also made me see that if and when the proverbial did hit the fan, there is always something more you can do. If they can claw their way out of genuinely dire situations, I can claw my way out of this
And if you want to be truly motivated to save money, take a look at Granny's thread. I may not be where she is yet but I plan to be! Her story really makes me smile:
People think I've won Tattslotto
Brilliant, just brilliant! And that's one of the things I love best about Simple Savings. Whether you have heaps of money or whether you have zippity, we can all freely talk about it here. If you started with nothing and worked your way up to a position of security, you can help others by providing tips and encouragement. On the other end of the scale if you HAD money and now find yourself with none, there are always people like in the two threads I have mentioned to help you see there is light at the end of the tunnel. As Granny herself says 'It amazes me still to see how SS ways can do so much for you' and there's no better proof than her! So I shall stop whinging about being 'broke' and do my $21 Challenge the same way I've always done it, because it doesn't matter whether you have a $100, $21 or $0 budget, the principles are always the same. Will let you know how I go - good luck everyone!
---
A few weeks ago I was introduced to the idea of 'Gardening by the Moon'. It may sound a little like stumbling out into the garden in your pyjamas in the middle of the night to pick your peas but no! It is actually an ancient agricultural practice that has been used by farmers from all over the world for several thousand years.
Talking amongst keen local gardeners it appears many people follow it and swear by it. I was keen to give it a go too and was very excited to stumble across exactly what I needed in my local Post Office! It's simply called 'Garden Diary' and is a simple, step-by-step guide to gardening by the moon. It has a monthly calendar showing the moon phases as well as a breakdown of the best days to plant, sow or dig!
There is a huge amount of information out there on gardening by the moon. The idea is that there are four phases to the moon, each phase lasting 6-8 days, with the moon passing through a complete cycle every 29 days. Apparently during these stages amazing changes happen to the earth as the moon increases and decreases in light and water is pulled up and down from the earth. The first phase is the strongest and weakens during the second stage, lessens during the third stage and finally rests at the fourth quarter. Farmers noticed that all aspects of farming were affected during this time. I guess it's the same way gravitational forces affect ocean tides, and because the Moon is closer to Earth, its effects are more noticeable.
There are plenty of sites on the Internet, so I suggest spending some time looking for something relevant to the area you live in and ask around, you will be amazed by the knowledge of some people. This week my Garden Diary says 'spend some quiet time in your plot, hoeing and weeding'. I'm up for that! Happy gardening everyone!
---
As the world gets ready to watch Titanic again, scientists are trying to figure out why. Researchers at Ohio State University in the US have found that we like watching tear-jerker films like Titanic because they make us happy. Homeopaths call this the phenomenon the "Law of Similars" and they take advantage of it regularly.
In this month's article Fran tells us more about the "Law of Similars". Click here to read more.
---
Last month Leonie asked:
"How can a couple with pets and without children reduce the costs of owning a home - mortgage and associated running costs, bills and so on? Nowhere seems to cater for people like us. We don't need a huge home but we do need a yard for our dog and chickens. How do people like us find affordable housing?"
Thank you to everyone who responded to Leonie's help request. Here are some of our favourites!
Hi Leonie, there is still affordable housing everywhere!
Option 1 - Consider a home 10 - 15 minutes further away. If you drive an extra 15 minutes to work or are on the bus for 15 minutes more it is often substantially cheaper. Always search a suburb and include surrounding suburbs. I have seen some gems pop up.
Option 2 -Two bedroom houses. They exist, sell slow and are often on the market longer because most people do not want two bedrooms. Use that as a search criteria in all suburbs and surrounding areas.
Option 3 - Townhouses are still affordable and you can still have pets. They are often cheaper than houses as you have less land.
Option****4 - Buy a home you could live in but rent it out for a few years to get tax benefits before you move in. It helps reduce the cost of mortgages initially.
Option****5 - If within distance to work consider a kit home on land and see some of the tips here on finishing half the house and once you have more money finish the other half.
Option****6 - Really consider whether the city you are in is right for you. My husband and I moved to Adelaide (without any family or friends) and love it here. Houses are also half the price. Jobs are everywhere. Choosing to stay in the current city may not be best for your long term goals. You can always move back later once you have some equity/savings.
Option****7- In the meantime, look at cheaper ways to save on living costs. An old house in a poor area will save rent money for mortgage money.
Contributed by: Louise Harvey
I don't know what age group you are in Leonie, but we are in the "looking forward to retirement" bracket. We live in Queensland but have family in South Australia. We realised we could not afford to stay in our house on retirement so looked around at alternative styles of living. We have settled on a small house in a retirement village in South Australia where we can afford to live freehold with just a weekly maintenance fee. This fee covers the cost of water, maintenance of our small front garden, maintenance of electrical appliances included in the house on occupation, painting inside and out when necessary, secure access, no council rates and a small back yard which we maintain. We can have our dog/cat but chickens - I don't think so. I am still working full-time and by the time I can afford to retire next year will be 68. I am looking forward to not worrying about looking after a big garden during my precious weekends, other than watering a few pot-plants. Retirement housing communities can be accessed if you are 50+. Keep an open mind and look around, it took us 18 months to find what suited us. Good luck.
Contributed by: Ann Hanson
If you have transferrable skills, leave the expensive real estate in the city and move to the country. Houses have huge backyards, there is great community spirit and blocks to build your own home on are dirt cheap. Check out Wudinna in SA for example.
Contributed by: Sue Olsen
I had the same problem some years ago. Now when I go to a real estate agent looking for a new rental home the first thing I tell them is that 'I have a problem'. They look concerned and then I tell them what pets I have. Then I tell them what sort of place I am after. That way they know my priorities and what places to not think about showing to me. Most reasonable agent know that if you have a pet you are a caring person and there is a good chance that you will look after their property.
Also, have you thought about sharing a house? There are other folk like you out there. I once rented a large house with a nice yard. I had a cat and two small children. I advertised and subleased the two biggest bedrooms to a young family with a dog. Their dog and kids lived quite happily with my cat and kids! Ground rules were laid at the start e.g. cleaning up after their pet, no alcohol and bed times for kids. I always found that if I was upfront with the agent or the owner there were never any problems.
Contributed by: Patricia Parkin
You could come to live in Isisford as we just have - huge gardens, cheap housing - our rent is $98 a week and we are renting our house elsewhere for $340, dogs and chooks welcome and a tranquil lifestyle by the Barcoo river. We are renting but sales of houses here are in the low $100,000's. You can grow your own vegies, with less water restrictions, go to the craft classes and learn a whole new way of living. We are 50 years young and have just made the move from two high pressure jobs which left us frustrated and exhausted every weekend, to being able to live on one wage, go fishing, walking, camping on the river, and actually have time for a social life!
Contributed by: Chris Coles
I would really recommend cultivating a relationship with a couple of the property consultants in the areas you are interested in. They will be able to let you know when a bargain comes on the market before it gets advertised. This is how we got our wonderful home. Also, don't rush. Set your budget, and stick to it. Make lower offers, you may well snap up a bargain. But being able to do that relies on the mindset of NOT RUSHING! I speak from the experience of being the type of person who does rush. It's never worth it.
Look in areas that are not as trendy as you'd like - in five years' time when you've paid off a chunk of your mortgage you can look at moving on. Or staying and paying the whole mortgage off.
Finally, while you are taking your time and looking around, start saving like mad. Every cent you can add to your deposit reduces your repayments and lowers the amount you will be paying the bank in interest. Ideally you will save a MINIMUM of 20% of the house value, as this ensures you do not have to pay mortgage insurance, which in no way protects you, but is for the benefit of the bank. Purely wasted money.
Good luck, it is daunting, but it is entirely do-able. Remember, house prices are higher, but so are incomes. We waste more of our money on disposable wants than we do on needs. You can do this if you get your head in the right place. Look back to the 1950s for inspiration!
Contributed by: Hannah Chapman
We started our first home searching many years ago and we too owned a dog, no children. After looking at current pricing of houses, I knew I had to find something my husband liked, at a rock bottom price - not at the top, the bottom. We were shown an old wooden house on stumps, structurally sound in an OK neighbourhood, with a safe large back yard, and easy travel to work. We bought that house, it was as good as our current rental, and with the bank, we were on our way. The house had great potential, and we all lived happily with doggy allowed to come inside, and our own painting on the walls. When the time came to sell our beloved house we made a profit, which then allowed us to build on acreage, and now we have three children, two dogs, and two cats. Forget the champagne taste, go for the practical, and open your life with your own home.
P.S. Older homes in our area have bigger yards - lots of happy hunting to you!
Contributed by: Tanya Rognoni
---
This month Sophia asks:
"I have lost a lot of weight over the past year and have gone from a size 14 to a size 6. I should be over the moon but I am really struggling to find clothes to fit me. Even adult size 8 clothing just hangs on me. I am resigned to the fact that I am going to have to look at wearing children's clothes but there is such a small selection of shops where I live and none of them have a children's range except for toddlers! Can anyone recommend any stores which carry a good range of clothing for teen girls?"
If you have any tips which can help Sophia, please send them in to us here.
---
Last week my eight-year-old son had a complete meltdown. He had just been at school camp then to hospital for a pre-op visit as his tonsils are coming out. On the way home we stopped at the supermarket and as we were leaving my son asked me if we could please go and have a look at some MGP scooters. For those of you as in the dark about MGP's as I was a week ago they are brightly coloured really expensive scooters that 'everybody' has.
I had just purchased ice cream so looking at shops wasn't really an option. Then the tantrum started. He was tired from camp and his coping skills at this time were nil. He cried, he screamed, he had snot pouring, because he was never going to get an MGP. He then suggested that maybe I could buy him one next pay day, to which I responded that the next big item we were going to buy him was a new bike. This brought on the response "I hate being %$#@ poor" along with more tears, more snot, and other self-defeating comments.
As a parent I had two choices here. I could either bite, probably yell and generally make him feel even worse about himself. Or I could do what I did. I stayed calm, gave him a big cuddle when we got home, and sat down using my obviously better developed SS skills than I had previously given myself credit for. We worked out a plan as to how he could purchase the $170 scooter. With the money he had saved from Christmas we went and put a scooter on lay-by. For the next five weeks he now has to earn $20 week in to clear the lay-by in time. He chose the toys he wanted to sell on Trade Me and he has worked out with his aunts and uncles how much he can earn by washing their cars and helping them stack their firewood.
I didn't just want to buy him the scooter as he won't value it as much as he would if he had earned it. My son's financial crisis is over and bliss is restored in my household!
Contributed by: Bubble (from her blog)
---
Yes, we have reached the end of another newsletter! I hope you really enjoyed it and have been inspired to try something new. Thank you to all the members who have contributed this month too! Your feedback is hugely valuable to us so do drop me a line next time you're on our website to let me know what you enjoy and find helpful, or if there are any areas we can improve. If you have enjoyed this month's newsletter, please spread the word so together we can help others save money too? You can either forward this email to your friends or tell them about us on Facebook by clicking the 'like' button on our Simple Savings Facebook page. Couldn't be easier!
Best of luck with your $21 Challenge. We look forward to seeing you next month!
All the best,
Fiona