"Secrets to Saving Money in Australia" Free Newsletter - May 2008
This issue includes:-
Sad Sally, Happy Hanna: Spending Spiral
June is 'National $21 Challenge' Month
Sophie Gray: When Less Really is More
Special Guest: Anita Bell!
Best of the Forum: Who Dares Wins
Penny's Blog: Penny's Pantry & Freezer Stocktake
Homeopathy Corner: Controlling Impulses
From Last Month: Keeping Mould Away and Making Memories
This Month's Help Request: Double Trouble Twin Gifts
Saving Story: Wake Up With Simple Savings
---
Hi!
It's Penny here, wishing you a happy National $21 Challenge Month! Can you believe it's been two years since the very first $21 Challenge? Since then thousands of families all over the world have given it a go, isn't that amazing? The $21 Challenge has been on the radio, in newspapers and magazines and even on national television. From the start people have been intrigued by the possibility of feeding a family on such a tiny amount but it's become about so much more than that, as you'll see in this newsletter. With food and petrol prices high and morale low, National $21 Challenge Month is here in the nick of time to show what we can all do to help ourselves with a little know-how. We are so fortunate to have these skills already. This month it's our aim to show everyone in the whole country how it's done!
If you have done a $21 Challenge before, now is your chance to help others who will be taking the Challenge for the first time. Your knowledge and experience can help and inspire many others - just like these fantastic letters!
"I just wanted to say a big thank you. Because of the ideas on Simple Savings I have just saved over $6500 on my new car! Before I started on this journey I would have just accepted what was on offer, but not any more. In the end, the deal breaker was over a $110 cargo tray which one dealer would not include in the deal. They were so shocked that I walked over $110, so was my husband. However that $110 in our mortgage will save me around $660 in interest. I even found a better interest rate via the Money Magazine website saving me even more money. All this on top of the $7000 a year I am now saving on groceries and another $8000 on other expenses. Again, a big thank you." (Samantha Kortt)
"I cannot believe how helpful your site has been to me and my family - and I have only been a member for a month! I have totally changed the way we live and finally realised (with your help) that the only thing stopping us from saving was being disorganised! I am now menu planning and budgeting like a woman possessed and not only can I see an unusually high bank balance - I am not constantly running around to and from the shops! My goal is to pay off our mortgage in five years (or close to it!) and I don't know how I would have begun to do this had I not found your site. $47 well spent, I am telling all my friends." (Simone Miller)
"Wow! I just signed up and had a quick look at your pages. I probably need a few days to read all the information on saving, sites and tips. I just don't know where to start! The only thing I am kicking myself for is that I didn't sign up ages ago! Well done girls! Thanks again." (Catherine Laverton)
"I just felt the need to say thank you for this wonderful site. I have been a member for two years and it has taken me some time to get into the savings habit but I am now getting into the full swing of it. I am proud to say that with all the help from the Forum and tip sheets that I have managed to save myself $41,490.88 so far! When my husband became ill I buried my head in the sand and just carried on as normal, creating unmanageable credit card debt on the way. Although I am not saving, I am managing my money wisely and getting ahead. I can now see a more positive future ahead. Many thanks." (Marian, aka Princess Excess)
"Thank you. Thank you. Thank you. I have been searching for a way to save money for our family and trying to do my best with what I know. Wow, after looking at your site for the first time tonight I am inspired! I can save money and still do the best for my family. I applaud you for not only showing people how to save money but also how to save our impact on the environment as well. I think every household should have your website as their home page to check out the daily tips. I certainly will be. It's time to retrain our way of thinking. I have noted down your website to pass on to all friends and family and am going to suggest my son's local primary school to publish your website in their weekly letter for all other families to enjoy. Thank you for saving our family money." (Tracey Ings)
Have a great month! Penny Wise
P.S. Here is a link to our $21 Challenge Guide
You'll also find more information about the $21 Challenge in last June's Newsletter
---
1. Sad Sally, Happy Hanna: Spending Spiral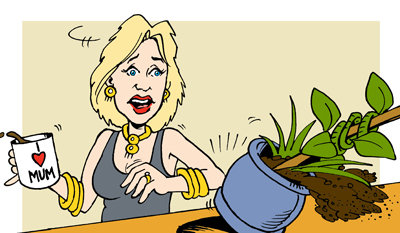 Sally was having a rotten day. The kids were sick; she'd been up all night with them and had to take a day off work to look after them. 'Perfect timing,' she groaned. 'I'll never be able to afford my new dining suite at this rate!' She was starving after running around after them all morning and was looking forward to finally having some time to herself. She sat down at the table and knocked the dreaded pot plant flying as she did so, sending dirt everywhere.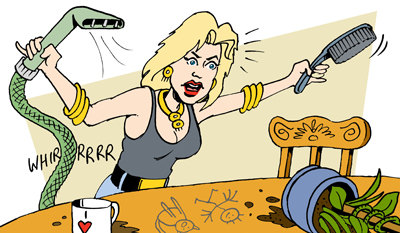 Sally could have cried. 'Stupid plant. Stupid life. Stupid daggy table!' she grumbled as she cleaned up the mess. 'I don't care what Pete says, I've had enough!' The whole day had been a write-off and this was the final straw. 'I might not have control over anything else today, but I do have control over this blasted table!' She picked up the phone with one hand, the Henry Newman's catalogue with the other and ordered herself a brand new dining suite.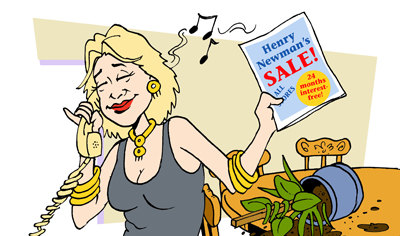 Immediately she felt better - nothing like a little old fashioned retail therapy. It wasn't even as though she spent any money anyway - Henry Newman's did finance! 'Don't you just love interest free terms?', Sally gloated to herself. Tonight they would be eating together at a nice shiny new table with shiny new chairs - and she wouldn't have to pay for it for 24 whole months!
---
2. June is 'National $21 Challenge' Month
Picking up the telephone, dialling Henry Newman's and ordering a new dining suite made Sally feel in control of her life, for a while. But sadly, it was a trick. We all have times like Sally, where nothing ever goes right but emotional shopping is not the answer. It's just a sure-fire way to take a rough patch in your life and make it a whole lot worse. Instead of helping her household, Sally has sent her family careering further into debt. Tonight, when Pete gets home, Sally is going to have one heck of a spending hangover.
When Sally grabbed the Henry Newman catalogue, she lost her direction and became a real shopping victim. She lost control of her life. One way you CAN regain control over your life however is to do a $21 Challenge. It will give you and your whole family a sense of purpose. A sense of direction and a sense of power most shoppers have lost. The $21 Challenge is guaranteed to save you money, but it is much more than simply a money saving exercise. It is a control exercise. It is about regaining control of your life, your kitchen, your health and your family.
When you walk into a supermarket with no real purpose, you have no 'real' control over the decisions you make, what you buy and what you spend. You are in every sense a shopping victim. Vulnerable, open to attack. Sounds a little over-dramatic? Not at all. When you go to a supermarket, every product you come across has its own dynamic marketing team, screaming 'Buy me! Buy Me! BUY ME!'. You are tugged here, there and everywhere until eventually you give in and buy things just to get out of the store. If you go in unprepared, the store will take advantage of you. Your kitchen will be stocked with products they wanted you to buy, rather than what is good for you to eat.
Not so in a $21 Challenge week however! This is when you say to the shops, 'you are not getting any more of my money! I rule my kitchen and we are going to eat healthy this week using foods I have cooked from scratch from products I already have in MY kitchen. I am clever and I can do it!'
This sense of purpose builds the self esteem of your entire family. You know the old saying, 'United we stand'. Now stand united together as a family against the supermarket. So many people let advertisers pull their family apart - but not when you are doing a $21 Challenge. Let's see how much of your family's money you can keep. Sit down with the kids this evening, talk to them about the Challenge and ask them if they would like to participate. Explain how much money you usually spend on groceries each week, let them work out how much money you would save by doing a Challenge and then ask them how they would like to spend that money if they help you to succeed. This will get the whole team onside and make the Challenge a really enjoyable way to save.
The $21 Challenge is about so much more than money. It is about clawing back control and declaring to retailers 'I'm giving you as little of my money and my life as possible! From this moment on I'm wresting back control of my kitchen'. This sense of direction gives you dignity, it gives you power, it gives you control. The Challenge is about declaring to the world you are powerful. I'm a successful person, I am master of my household, I can live on $21 this week!
So let's get started. It is time for you to take your life back!
---
3. Sophie Gray: When Less Really is More
Have you ever wondered if you could manage the $21 Challenge? Now is the time to find out! $21 might not seem like much to spend but that's the whole point. It's not about the spending; it's about the not spending. Making the most of what you've already got. No doubt I'll hear the young 'uns moaning 'There's nothing to eat!' in our house. It's not true of course, there's plenty of food. (Actually there are plenty of ingredients; they're just waiting to be made into food.)
'Go and buy us something!' they'll cry. 'Biscuits, cake, ice cream, and things we can microwave. Buy things in rustly packages to go in our lunch box and sugary snacks we can wash down with fizzy drink! We know they're out there and we WANT them.' It's important to resist their badgering, so while they are glued to the mirror petrifying their hair I'll take stock of what I've actually got, that way I won't need to buy very much. Nor, I suspect, will you!
Take stock of staples
You need to do this so you can plan your meals. How much bread, milk and cheese do you go through a week? Do you have enough flour to bake scones and muffins for the lunchboxes so the bread lasts longer? Have you milk powder as a back up if you run out of milk? Use it in baking, porridge and to make yoghurt.
What canned food have you got?
Tuna, corn, salmon and asparagus all make good fritters, risotto, quiche or potato cakes. Baked beans are a good addition to casseroles, sausage bakes, soups and toasted sandwiches. Tomatoes are great for casseroles, pasta sauce and soup. Turn tinned fruit into puddings, muffins, crumbles and pies.
If you have little to spend, then the carbohydrate and vegetable portions of the meal are the first priorities, as we use them to make the expensive meat portion go further. Do you have any couscous, rice, dried pasta or flour and eggs to make your own fresh pasta? (Check out the video clip for making your own pasta at www.destitutegourmet.com). Do you have yeast for a home-made pizza base, lentils or chickpeas (protein and carbohydrate in one humble bean)? What about potatoes, kumara or pumpkin, dried soup mix or split peas?
Some cuisines are better at stretching a small amount of meat, while others work well without any meat at all. Asian influenced dishes will make a small amount of meat go a long way; stir fries and noodle dishes in particular. If fresh vegetables are in short supply, use frozen or bulk up with a bag of mung bean sprouts, they're cheap, tasty and price stable as they are not a 'seasonal' food.
Mexican and Indian dishes based around dried beans are brilliant; nourishing, tasty, and cheap! Think bean burritos, bean nachos, refried beans and vegetarian chilli. Mediterranean and French provincial cuisines often combine meat, vegetables and beans in cassoulet and braised dishes - warming, comfort food that is cheap to make. Or soups such as French onion or minestrone, super cheap and delicious.
Mince, casseroles and canned fish are all really easy to stretch, as are chicken breasts and schnitzel. Try some of these recipes for starters:
Chicken stew with dumplings
This recipe makes a little bit of chicken go a long way. I use cooked chicken, the leftovers from a roast work well. Alternatively you can use a large boneless breast cooked. It doesn't take long to make and is good and filling.
1 ½ cups cooked chicken
1 tsp oil
2 stalks celery, chopped
1 onion, chopped
1-2 small chorizo, sliced or chopped
1 litre of chicken stock
1 cup kumara or sweet potato, diced
½ tsp mixed herbs
1 ½ cups - 1 400g can cannellini beans or other beans -such as kidney or butter beans use what you have
1 tbsp corn flour
For the Dumplings:
120g self raising flour
50g butter or non dairy spread
Pinch of salt
1 tsp mixed herbs
Scant 1/3 cup water to mix
Heat the oil in a saucepan and sauté the onion, celery and carrot. Add the chorizo, stock and herbs and simmer until veg are tender crisp. Stir in the Kumara and cooked chicken and season with salt and pepper. Continue cooking until the vegetables are soft.
To make the dumplings combine the flour, salt and herbs in a bowl or processor then rub the fat into the flour. Stir in the water to make a soft dough. Divide the mixture into 12 balls - they'll swell a lot as they cook.
Stir the beans into the chicken mixture then pop in the dumplings, spooning mixture over the top of them to submerge them. Simmer gently for 10 minutes or until dumplings are puffed up and piping hot. Mix the cornflour with a drop of cold water and stir it in to thicken the gravy. Serve with vegetables.
Cook's tip: If you don't have chorizo, a spicy Spanish style sausage flavoured with chilli and paprika, you could use a little chopped bacon for extra flavour.
Gluten free: You could make this without the dumplings. Reduce the liquid so there is just enough for a good gravy and serve it over creamy mash. If using sausage in the recipe check it is gluten free.
Dairy free: Use non-dairy spread such as Olivani in the dumplings.
Sambal stir fry
Stir-frying is not just a healthy, quick way to cook; it's a great way to make a little bit of something go a long way. Use whatever vegetables you have on hand and substitute chicken or seafood if you prefer.
Serves 4
350g beef, thinly sliced (you could use schnitzel or stir fry meat or thinly sliced blade steak or even minced beef)
1 large onion, sliced
2-3 cups seasonal vegetables, chopped or sliced (I use the food processor and slice courgettes, capsicum, carrot, cabbage and so on and add broccoli or cauliflower florets)
1 tsp ginger
1 tsp salt
2 tbsp oil
3-4 tbsp kecap manis (see cook's tips)
2 tbsp soy sauce
350g dried noodles or fresh noodles if you can get them
½ cup chopped coriander
1-2 tbsp lemongrass, crushed and chopped
1-2 tbsp sweet chilli sauce
Juice of a lemon or lime
Heat oil in a wok or large pan, sear meat then add onion and toss till softened. Add other veg and stir fry for several minutes, add seasonings and sauces and continue to stir fry, if pan is too dry add a slosh of stock made with a stock cube or powder and continue to cook until veg is cooked but still crisp.
Meanwhile cook or soak noodles according to manufacturer's instructions; most dried noodles will cook in a couple of minutes in boiling water.
Lastly add the coriander and lime juice and toss through the noodles.
Cook's tip: Kecap manis is a sweetened soy sauce used in Indonesian cooking.
Autumn crumble
I costed this crumble out and it came to $2.44. It's easy to make and you can add other fruit to the apple base, canned or bottled fruit, or uncooked soft seasonal fruits will all combine well. Use whatever you have to hand.
1 kg apples, peeled and sliced plus other fruit if using
1 cup self raising flour
½ cup rolled oats
½ cup brown sugar
70g butter or margarine
A pinch of cinnamon
Place the sliced apples in a saucepan with a ¼ cup water, cover with a lid and simmer, stirring frequently till apples are becoming soft, then remove the lid and allow liquid to reduce.
While the apples are cooking pre heat the oven to 180°C and prepare the topping. Rub the fat into the flour so it forms crumbs. Stir in the oats, sugar and spice and mix.
Pour the cooked apple into an ovenproof dish, add any other fruit if using and sprinkle on the topping. Bake in the pre heated oven for 30-40 minutes. Serve warm or cold.
---
4. Special Guest: Anita Bell!
We've been fortunate enough to have Anita Bell as our special guest debt-buster for the past few months. Each month we have asked her to pick three questions from our members to answer. You can view her range of books and get yourself an autographed copy directly from Anita's website
Here are this month's three questions and answers:
1. Lisa wrote:
"I have a property with mortgage repayments of $522 a fortnight, I have a tenant who pays $220 a week, $20 goes in real estate fees. I am renting in another state and also have about $30,000 worth of other debts. I am on a low income, should I sell the rental property to get rid of the mortgage and debts or should I battle on? I probably wouldn't be able to get another loan as I have a bad credit rating."
Hi Lisa!
Selling the property isn't your only option. Sure, it would solve a few problems, but you have to solve the reason for those problems arising as well, or else it's highly likely that you will get into trouble again, only next time, you won't have anything to save you if you sold it the first time.
Your decision (to sell or keep) will also depend on what your long term goals are, and how comfortable you feel owning an investment property. For example, if the home was originally yours and you had to move out, perhaps because of a divorce or other family/job reasons, then it's likely that you would feel better selling the property and clearing your debts with enough left over for a deposit to help you start again. (And I'm assuming you don't want to move back into it yourself.)
But if it was purchased as an investment, then it's unlikely your goals have changed and therefore it's worthwhile considering ways that you can keep the investment, while also bettering your current situation... so...
Even though you haven't given me enough details to provide exact figures for my response, and even though refinancing to a longer/bigger loan sounds like an odd thing to do in trying to save yourself, I can make a few (very rough) calculations which should help, based on what little you were able to tell me:
For example; $522 per fortnight tells me that your loan is likely to fall between $130,000 and $140,000. It's also logical to assume that you bought the property a few years ago when it was easier to afford than your current situation (and when 25 years was the most common loan term), and also if I assume that you're paying roughly 8% at the moment without any extra repayments.
So assuming you did buy at least two years ago, then it's also likely that you've got at least a little bit of equity built up in the property from the combination of your repayments so far (assuming it's not an interest only loan) plus its natural inflation in value. (Assuming you haven't refinanced it before, and assuming you haven't missed any repayments yet, then I'd guess you should have between $20,000 and $50,000, which would include the original deposit used to buy the place, regardless of where you live. And if you live in an area that's defied the bursting of the property bubble, or if you've owned the property for five years or more, then it's possible to have up to $200,000 worth of untapped equity waiting to help you. Of course, releasing that much extra is not only unlikely on low wages, but also unaffordable and even dangerous, given your current situation. So you need to find a balance.)
But if you do have any amount of equity built up (meaning that you own more of the property's current resale value than you did when you bought it or acquired it through divorce), then it's possible that you may be able to simply refinance the current loan to be longer (30 years is increasingly popular), even though you have current bad debts. Technically speaking, this isn't a new loan, so your lender doesn't necessarily have to go through the full process of getting a full credit check. From their perspective, you are already meeting the repayments, so lengthening the loan to reduce the repayments is usually a very quick and easy process (provided you keep an eye on the warnings below).
You might also have a high chance of borrowing enough money to clear your debts as well as continue buying the property (it's called 'releasing equity'), if you can clean up your debts (and solve the reason for them) AND authorize your lender and/or solicitor to pay off all of your existing bad debts as part of the loan process (rather than promising to do it after they give you the money). Note: if you borrow extra AND find a cheaper interest rate AND lengthen the period of your loan, then it's possible that your repayment may either drop or not change at the same time as you 'clear' all your debts. (See warning 3 below.)
Also note: If you lengthen the current loan with your lender, it makes your current repayment lower (lower again if you refinance to a cheaper interest rate)... And then the property would be earning enough to either pay for itself, or pay you a little bit extra each week to help with your budget... either way, it may cost you more in loan interest in the long run, but the increasing value of the property should make up for it (and some!) if you're able to hold onto it.
Or depending on what the exact figures are for your loan, income, annual tax and expenses, you might be able to do all of these things; i.e., buy the house at lower repayments and clear your debts and begin earning a small regular income from the property.
Traps to be wary of:
1) Any interest or fees that you pay on money that is released from ANY investment for use in paying personal debts or personal purchases is not tax deductible. So you will need to ask your accountant to help you figure out the amount to refinance before you shop around for the best loans with lenders who will help you through this situation. On the bright side; you can still have tax deductions for the percentage of the loan interest and fees that ARE used for the investment. (Note: your accountant also needs to be an authorised financial advisor before (s)he can help you with this situation... and yes, they are different jobs nowadays.)
2) If a spouse or ex-spouse still has their names on the title deeds and/or current mortgage documents, you'll need their authorization to refinance, but on the bright side, this presents an opportunity to swap names on the deed, if necessary, even if you have to endure a bit of emotional or financial pain while dealing with them again.
3) You're not really clearing your debts if you're refinancing them to be a part of your investment loan (a non-tax deductible part). You're just financing them at a lower interest rate than you are currently, and your tenants may or may not be contributing to paying them off for you (as part of your taxable income).
Interesting side note: If you refinance in such a way that the income from the tenants starts to be more than the loan costs etc per year, then you're using positive gearing, instead of negative gearing.
2. Cat McD asks:
"My partner and I are considering buying a house in 12-18 months. We currently have $37K saved for a deposit and will save at least another $45K in that time and probably more. We also have a car loan for $25K. We currently pay $300 p/f and the minimum payment is $215. The interest rate is 7.5%.
"When we come to buy a house we should have a combined salary of $80K. The car loan is our only debt. We don't have any kids. We will try to buy in the Brisbane area.
"I'd love to know whether Anita thinks above and beyond the $45K that we plan to save for the deposit, is it better to save extra money for the deposit or pay off the car first? I know I have given a lot of specifics but it might be helpful to other people as well."
Hi Cat!
Wow, you've done very well with your savings compared with your income! Even if you acquired part of it through lump sums, keeping it without spending it should earn you a gold star!
Now to your question... Your plan in regards to your car loan will depend on how the interest for your car loan is calculated. For example, some car finance companies have loans which are designed to make you pay all the interest first up (or regardless of how early you pay off the loan). Whereas it's more likely that a personal loan or overdraft (if you used one of those) will cost less in interest if you pay it off sooner. Early payout fees and restrictions on extra payments will also be worth checking before you make your decision.
I doubt very much though, that it's worth using any of your savings to pay off your loan (at this stage!), if your future goal is to buy a house, and there are a few reasons for this:
The bigger the cash deposit you have, the less your stamp duty and other fees will be when buying your house... and stamp duty is ridiculously painful enough (even as a first home buyer in most states), without deliberately pushing even more money into the bulging coffers of your state's treasury fund (but usually only happens when you absolutely, positively can't scrape together another hundred dollars or so for your deposit).

Any extra payments that you make on your car loan now can be counted by the bank later as being evidence that you are not only 'above average' at handling money (which shoots your home loan approval to the top of the pile), but that these regular extra car repayments can be diverted to help afford your mortgage repayments once the car loan has finished, (or sooner, if there's any doubt that you might not be able to afford even minimum repayments... but I do hope it's not the latter, because you should always budget to afford an increase in up to 5% interest on your loans as a safety net in case that really happens. as it currently is)

When the time comes to buy your home, it may be possible to refinance both your home and car loans onto the one cheap loan (effectively releasing any extra repayments you may have paid on the car by then), perhaps at the same time as you upgrade your car to a new car (with the longest warranty you can get), whilst still pouring the same car repayments into your super-loan (in addition to the repayment needed to pay for the house portion of the loan)... and that way, you'll save hundreds or even thousands on your car loan at the same time as upgrading to a warranty-covered car that may also suit your future family needs better than your current vehicle. Just whatever you do, please DON'T combine your car and house loan without increasing your repayments to be more than what the bank tells you that you need, or else you'll be paying off the car for just as long as the house. (And usually your car has been sold or rusted into the ground by then!)

As a variation on the above... If the exit fees and loan interest on your current car loan make it wiser to start making extra repayments now (instead of stashing aside for a bigger deposit), then later on, refinancing this loan (into either a new but cheaper car loan, or a combined cheaper loan with your home) at the same time as you buy your home will help you to 'release' these extra repayments for use in whichever way you need the most at the time i.e. help with legal fees or furniture perhaps? (Note: if that sentence sounds a bit too complicated just read it again without the bits in brackets.) And in the meantime, at least you've 'parked' your extra savings somewhere that it's saving money... not in the same way that your current 'savings' are saving money by earning interest... since interest on a savings account is usually pathetic compared to the interest charged on loans, so it usually pays to reduce your loan interest than to park money in a savings account. Even if both interest rates are the same, it can still be better off reducing your debt because every dollar you don't have to pay is worth at least $1.80 that you had to earn if you had to work overtime etc to achieve it.
As for timing your home purchase, this will depend just as much on how far prices come down, as it does on how big your deposit can get. I say this because the property market in every city is under a lot of strain at the moment. Strain = downward pressure on prices. As a very general rule of thumb, the property market is becoming overpriced when the average price of a home is more than 3.5 times the average annual income of home owners in that suburb. So arguably, home buyers have been experiencing even more financial strain than anything you've heard in the news, and for a lot longer than you've been hearing it. (No doubt existing home owners know exactly what I'm talking about!)
This slight diversion in my discussion does still relate to your situation, however, because new home buyers (as well as the more experienced investors) are rebelling (about time though!) and refusing to pay continuing high prices. In some areas, it's not uncommon to see price reductions of $100,000 or more. So unless interest rates drop or wages go up, prices in most areas still have a little way to fall until they reach a place where they can sit out the traditional 7-year plateau. (Still fluctuating a little in every area along the way of course.) At the same time, we know that the pressure from ridiculous fuel prices and increasing food prices/shortages will force a reduction in interest rates (usually not long after an announcement about a rise in unemployment). So, due to timing, house prices may only fall a short way further before they're inflated again when interest rates drop. This is likely to cause them to 'hover' above their natural plateau for even longer than they should (or cause the next plateau to be longer too). Therefore, it can be worthwhile staying alert to bargains, particularly this coming November to January... (the almost-reliable Christmas/New Year slump)... and if you see an opportunity to leap in before your deposit is as large as you may plan, then it could be worth while doing so.
Additional notes:
* The last plateau before the now-famous boom had lasted about 14 years, held off largely but arguably by the radical introduction of GST. About 18 months before the boom, when it became obvious to those 'in the know' that the economy needed a good kick start, the 'reinvention' of second mortgages into revolving credit loans eliminated the 'stigma' that went with second mortgages, making it 'trendy' to invest. Regular promotion then caused house prices to rapidly escalate as more and more people jumped on the band-wagon and pushed prices up... not only as high as they should have been if GST hadn't artificially strangled the market in the first place, but even higher, because of the 'feeding frenzy' that many less experienced investors were easily stirred into.
* If these cycles in the economy interest you, then check out the last chapter of "Your Money: Starting Out & Starting Over". Because although that chapter is mainly about shares, and figures in that book are about five years old, I have deliberately not bothered to update that particular book in the series, since it's far more powerful, I think, to see just how much investments in shares have gone up in comparison to property (even counting the two alleged 'market crashes' during this time). You'll be blown away. In fact, if you plan on saving for another year, that chapter will show how it could be well worthwhile to at least consider putting about half of your current savings into particular shares. (Not just the normal shares or managed funds that most stockbrokers/financial advisors would normally direct you to. This chapter shows how to tell when their recommendations suit your pocket more than theirs... or how to tell when share-investments don't suit you. Please make your decision - in all investments - based on knowledge, not fear.)
* If it's a better understanding of house values that you're interested in instead, then read "Your Investment Property" after reading "Your Mortgage" (which is primarily for first home buyers).
* Aside from the almost-reliable Christmas/New Year price slump for properties (and to a lesser extent shares), there will also be an increased chance for 'spot-bargains' in the last three months before the end of each financial year, but only for as long as investment properties can be 'cashed into super' without paying capital gains tax.
Did I forget anything? Oh, yeah... Happy house hunting!
3. Moira P asks:
"Being a few years out from retirement, most of the people around us at our age are selling their investment properties, and loading up their super fund, to draw down an income.
"In this economic environment (high interest rates), would you recommend that we sell the properties and put into super, or best to keep them if we can afford the cash flow? Under what circumstances would your strategy change?"
Hi Moira!
Firstly, I'd bet that it's mainly the 'still-financed' properties which are being 'cashed into super' for a number of reasons...
Debt-free investment properties (like debt free stockmarket shares) provide their owners with a regular income that increases every year in line with inflation, while the underlying value also continues to rise in value. So there would have to be a very interesting reason for a wise investor to give up such benefits in favour of super.
This is because Superannuation is a pile of money that decreases as you draw out your pension and other lump sums, and therefore each year, the income from the investment also decreases.
In effect, 'cashing in' property for shares is like handing the lump sum to your super fund (or managed fund) and with it goes all the future capital gains that you would have earned (and which they can now afford to buy). Also, when investing in super, you virtually have to take a bet on how long you're likely to live and budget to ensure that you don't run out of life before your super fund runs out of money, keeping in mind that medical and living expenses continue to rise as you age.
On the other hand, if your income from your super fund or investment property isn't enough to sustain you by themselves, but it would be (for as long as you expect to live) if you combined them, then it can be worthwhile combining them. You can do this before you retire if you choose to sell assets and park the cash in your super, but you'll have to wait until after you retire if you wish to get money out of your super to invest directly (and nearly always there's strict rules if you go this way, but if you do, you'll often be glad you didn't sell earlier... although you can sometimes withdraw your 'voluntary' contributions early if you do it at certain times, like when you resign from a government job).
Secondly, I'd suggest that the decision to cash a valuable asset into super isn't always made by such people based on money alone. (You can also cash in a small business or other major income earning asset, provided that it meets the strict guidelines, explained in "Your Retirement"). Often, other factors may occur to improve the appeal of super too, such as
a troublesome tenant

growing costs or need for major maintenance soon for the property

declining health which effects your ability to manage the investment

other financial pressures which make it appealing to keep aside a lump sum from the sale instead of cashing it all across to super

when you're going to have a reduction in job-income which will affect your ability to keep up with repayments

when you have reduced taxable income, you also have reduced tax benefits from negative gearing, which means one or two of the most debt-laden properties may need to be sacrificed to ensure the sustainability of the remaining portfolio, sometimes leaving a bit left over for investment in super.

it's easier to divide up money for your kids and other benefactors in your will than it is with properties (anything that's left in your super fund is also payable to your benefactors after you kick the bucket)

you don't care anymore (and before you think this is a pathetic reason that will never happen to you, remember that even without the outside pressures of running your own home, let alone investments while still trying to enjoy your golden years with friends and family, your automatic hormonal changes during the aging process can affect how your brain works and realign your priorities in ways that you, as a younger person, would naturally rebel against. The result is that many pre-retirees consider it can be worth the drop in stress to simply let go of things as 'unimportant' as investments.)

you've been duped by peer pressure into following the flock instead of checking first if it's best for your particular situation... but you can instantly cross this last one off your list, Moira!
Note: although these are some of the most common reasons why pre-retirees will often switch strategies and cash in their properties for super (now, and for as long as they can avoid paying capital gains tax when they sell), this list doesn't quite answer your question about what I would do.
Rather, it makes my blood boil to think how many pre-retirees are being encouraged to cash in their most debt-free properties in order to maximise the amount they can avoid tax on, regardless of what their entrance or management strategies might be. (Although my concern also extends to those poor souls who become convinced that reverse mortgages or selling up to rent in a retirement village is automatically the answer.)
Think about it: high debt properties are one thing, but who does it benefit to encourage investors to 'cash in' their debt-free and low-debt properties in favour of super?
The banks, who profit from having the greatest number of homes in Australia under finance?

The superannuation funds who invest partially in property in order that they can benefit from the capital gains and regular income?

Any government who needs a pile of money they can see as reassurance that they don't need to stash aside so much in the future for Centrelink pensions?

Investment advisors who make a living from assisting the changeover?

All of the above?
But having said all this, here's my answer to the last part of your question: Under what circumstances would my strategy change?
The answer for me is: almost never would I change my exit strategy.
But this is because my exit strategies are already decided during the purchase stage. (That's unusual for most investors.) You also have to remember that I'm a bit different because most investors use the buy-all-I-can-now-and-worry-about-it-later strategy, whereas I deliberately aim for debt freedom on each asset (or at the very least, positive gearing on some assets in time for retirement). So every major asset (be it shares or property) is purchased with a debt and retirement strategy that's already set, and already designed for balance throughout my portfolio over time (yes, even where super, co-contributions and spouse contributions are concerned).
Think of these as two opposite ends of the strategy scale. Most investors are encouraged by banks and advisors to lean toward the other end of the scale from me, whereas I would encourage you to seek a comfortable compromise that suits your own personality and situation.
But let's not say that my plans are always set in concrete either; it's more like heavy wet sand. Because although I'm prepared to uproot and change at any time, the only circumstances that would normally (and have ever) cause(d) me to do so have been a major change in tax law. Or perhaps a change in government legislation or policies regarding home ownership/investment that are equally unpredictable.
In the past, I have occasionally sold a major asset much sooner than expected, but only when those particular assets have greatly outperformed other assets in the same class AND they were likely to slump again soon (either considerably or for a sustained time). So although you might say that at my relatively young age, it's no wonder that I didn't choose super (although I do also stash a little away every year into super... and to an amount that always maximizes my tax benefits)... the real reasons that I usually favour direct ownership of investments (rather than indirect ownership through super or managed funds either for that matter), are because;
If I make a mistake investing, then I pay for it, chalk it up to experience and go on with a greater wisdom so I can ensure it never happens again, but if my super fund manager makes a mistake, then I have to take their punch on my chin, lick my wounds and try to hope they've learned their lesson and won't do it again. (Meanwhile, how much do they really suffer for their mistakes when they're still earning 6 or 7 figure incomes?)

Investing directly in the same/similar investments that super funds use, may mean that you have to take an extra step in learning how to do it (see last chapter of "Your Money"), it also means that my investment portfolio has always outperformed any super fund - not because I'm clever. It's mainly because I get to keep all the management fees, capital gains and franking credits (pre-paid tax) that they normally keep for themselves, for their shareholders and for their very well paid fund managers. So although cashing into super may save tax the first year that you 'cash in', and drawing out of super may have tax benefits when the time comes too, the rules for super change far too often to overlook the fact that investments taken over three years or more are usually far more profitable when done directly (assuming you're at least competent).
And now for the doozie...
My personal retirement strategy is to have a portfolio that increases in its underlying value so that income from it can keep up with inflation, which also means I can live virtually forever without any worries about money. (A bit like the queen really, except that I don't have the class to be worthy of tax-paying subjects so I cling to a childhood dream of becoming immortal, hehe.) But if/when I do kick the bucket, I plan on leaving a decent sized legacy for my friends, family and favourite charities. And if I'm lucky, a future government will eventually see the wisdom in allowing self-funded retirees the same capital-gains-tax benefits applicable to those who take the less stressful (and arguably the less economically helpful) road of relying on super funds and/or Centrelink. After all, there are very few ways to break the cycle of poverty-level pensions; but one of them is to allow and encourage the passing and building of wealth from generation to generation. And I for one would rather die trying (pun not intended).
I hope this helps.
Note: Anita Bell is a bestselling Australian author who writes from personal experience. She is not associated with any particular bank, real estate agent, stockbroker or other investment advisor and she uses the profits from her books to help others, so she mentions specific books in her replies for reference purposes only, to help point readers in the direction of more thorough responses where necessary, and she encourages budget-battlers to borrow her books from friends or local libraries wherever possible. (When borrowing from libraries, remember to ask your librarian to check that you're borrowing the most current editions)
---
5. Best of the Forum: Who Dares Wins
We have a lot of daring members in our Savings Forum which is obvious by the list of endless challenges and support groups - good on you! Here are some of our favourites which we hope will inspire and encourage you.
A total one stop shop support team to help you not spend your money!
read more...
Do your own individual grocery challenge each month which will keep you way ahead.
read more...
If you think you can't do a $21 Challenge because you have no food or excess stock, read how our clever members still find amazing ways to succeed.
read more...
Find out what our clever members are doing for entertainment and adopting the $21 Challenge theme.
read more...
Be inspired by finding out how the $21 Challenge mindset has changed the life of other members.
read more...
Enjoy the interesting 'blogs' of members tackling the $21 Challenge. You are not alone!
read more...
---
6. Penny's Blog: Penny's Pantry & Freezer Stocktake
May 15, 2008
Now, for anyone who is going to find looking at a long list of food boring, do not proceed any further! I just thought it would be interesting to compare with other SS'ers. I know a lot of you do OAMC (Once A Month Cooking) which is what I also aim to achieve after $21 Challenge Month. Looking at what's in my freezer at the moment, I don't think it's going to be too much of a problem!
Freezer Inventory
BREAD:
6 gluten free buns
3 gluten free pizza bases
2 loaves Dovedale fruit bread
3 loaves Dovedale rice bread
6 gluten free paninis
1 loaf 'normal' bread for Noel
1 bag rice bread crusts (for making GF breadcrumbs)
FROZEN VEGETABLES
3 bags green beans
1 bag peas
1 bag silverbeet
1 bag broccoli
7 bags cauliflower
1 bag cabbage
4 bags celery
FROZEN FRUIT
1 container of peaches
1 container of plums
1 container of apricots
2 containers of blackberry and apple
1 large bag bananas
LEFTOVERS FOR LUNCHES
6 vegetarian pies
1 French shepherds pie
1 lamb and vegetable soup
FISH
5 packs of smoked fish
2 whole flounder
MEAT (lol, are you ready for this?)
2 bacon hocks
20 pork chops
15 scotch fillet steak
59 bags of beef mince (yes you read right!)
3 packs gravy beef
5 rolled beef roasts
9 corned silverside
1 bag bacon pieces
3 venison roasts
2 packs lamb medallions
1 pork roast
5 packs venison steak
1 beef pot roast
1 bag oxtail
2 packs BBQ steak
11 packs gluten free sausages
3 packs bacon
1 lamb roast
1 wild pork roast
4 packs porterhouse steak
2 beef shins
2 beef topside roasts
1 pack wiener schnitzel
1 pack rump steak
4 packs fillet steak
1 pack pork strips
6 chicken pieces
MISCELLANEOUS
12 frozen white wine cubes
1 tub vanilla ice cream
8 fruit ice blocks
1 bag home-made chicken stock cubes
4 home-made pasta sauce
Jings! If that lot doesn't show the benefits of buying meat in bulk, I don't know what does! Now for the pantry:
Pantry Inventory
PASTA
1 serve rice and vegetable pasta
1/2 bag risoni
Lasagne sheets
1/2 bag arborio rice
1 bag basmati rice
1/2 bag sushi rice
Small bag macaroni elbows
1 packet rice papers
1 bag rice and corn pasta
FRUIT AND NUTS
1 jar sultanas
1 bag ground almonds
1 jar dried apricots
Pecan nuts
Pumpkin seeds
Flaked almonds
Pine nuts
1 bag walnuts
Brazil nuts
1 bag cashew nuts
1 bag peanuts
Sesame seeds
BAKING
1 1/2 packs dark chocolate melts
1/2 pack milk chocolate melts
1 tin treacle
Cocoa
Baking soda
Cream of tartar
Gluten free yeast
Bread improver
1 bag coconut
Vanilla essence
White sugar
Plain flour
2 bags raw sugar
1 bag SR flour
1 1/2 bags rolled oats
Brown sugar
Tartaric acid
1 pack Bakels Gluten Free Bread Mix
1 pack Bakels Gluten Free Baking Mix
Oatmeal
Oat bran
Rice flakes
Brown rice flour
White rice flour
1kg gluten free flour
1 box Weet-Bix
1 packet butter cake mix (for emergencies!)
1 tin condensed milk
1 tin chocolate condensed milk
Milk powder
Soy flour
Spelt flour
Corn meal
Rye flour
Ground millet
Buckwheat
Golden syrup
Guar gum
Gluten free baking powder
Silver cachous
Hundreds and thousands
LUNCHES AND SNACKS
1 packet Uncle Ben's Golden Vegetable Rice
1 can pumpkin soup
1 can vegetable soup
6 Fruit Strings
11 packs mini potato chips
1 pack popcorn kernels
2 tins Watties Big and Hearty soups
1 tin spaghetti
2 tins tuna
3 gluten free nut bars
3 packets rice crackers
3 jars home-made tomato soup
SAUCES, OILS AND VINEGARS
Tamari sauce
Worcestershire sauce
Olive oil
Sesame oil
Malt vinegar
Cider vinegar
White vinegar
White wine vinegar
TINNED FOODS
1 tin mixed bean salad
2 tins tomatoes
2 tins tomato sauce
SPREADS
Peanut butter
Marmite
Our Mate (English Marmite)
3 jars home-made plum jam
2 jars home-made passionfruit jam
HERBS AND SPICES
Salt
Pepper
Allspice
Cinnamon
Oregano
Turmeric
Whole cloves
Chilli powder
Yellow mustard seeds
Thyme
Ground coriander
Garam masala
Poppy seeds
Ground cardamom
Five spice
Nutmeg
Cumin
Ground ginger
Cayenne pepper
Marjoram
Cumin seeds
Lemon pepper
Garlic salt
Roast chicken seasoning
Thai seasoning
Tuscan seasoning
MISCELLANEOUS
1 carton lactose free milk
2 packets gelatine
1 packet lime jelly
Bulgur wheat
1 bag palm sugar
1 bag split peas
1 bag lentils
1 jar crushed ginger
Arrowroot
2 sachets Easiyo
Hot chocolate
6 Sip Ahh straws
Massel vegetable stock cubes
Massel chicken stock cubes
Oxo cubes
Bisto
Phew - think that's quite enough to be going on with! I haven't even done the fridge yet but there's not much in there anyway, and of course there's the fresh fruit and vegetables but they get replenished all the time so not really worth including. We've just used up the last of Noel's home grown potatoes, which is a bit sad really, there's nothing we liked better than going out to the garden and digging up a feed of spuds whenever we wanted! Initially Noel said it wouldn't be worth growing potatoes but we have found the exact opposite; it's been well worth it for us. What I like most about my pantry stocktake is seeing how it has changed over the last few years. Almost everything in here is just an ingredient - a basic food which gets used to make into something else. That's a big difference from the old me, whose pantry was full of jars of pasta sauce, Chicken Tonight and packets of cook-in-the-pot meals. I definitely know which one I prefer! Bring on National $21 Challenge Month - I'll be ready!
---
7. Homeopathy Corner: Controlling Impulses
What has homeopathy to do with this month's challenge? Plenty! If you are a terror with the credit card, or if your home is full of useless purchases, then homeopathy can help.
For most of us, impulse buying is just a case of giving in too easily to temptation instead of exercising a little self-control. For some of us, though, impulsiveness can affect every part of our lives, causing us to continually spend more than we should. This is where homeopathy can help. It can put us back in control of that impulsive streak rather than it controlling us.
If you are impulsive, competitive and driven then you may need the homeopathic remedy Nux vomica. If your impulsiveness accompanies symptoms of emotional vulnerability, introversion and a craving for salt, Natrum muriaticum can help. Those needing Pulsatilla pratensis will have upset stomachs from rich and fatty food, feel the heat, and cry easily, while Veratrum album can treat impulsiveness in those who are restless and chilly, yet love cold drinks.
These are just some of the homeopathic remedies used for impulsiveness. You can read more about them by clicking on their names. Do be aware, though, that many other remedies also help. The one you need is the one that matches your symptoms. Because impulsiveness is not a short-lived acute complaint, its treatment will be beyond the scope of home prescribing. Your best option is to see a practitioner rather than trying to manage it by yourself.
---
8. From Last Month: Keeping Mould Away and Making Memories
Last month Dianne Harris asks:
"I have recently moved back to Cairns and over the last few weeks mould has started to develop on shoes, clothing, furniture, and so on. We live in the rainforest so the humidity is very high. Does anyone have any suggestions on ways to reduce the growth of mould and how best to treat it? I have wiped the mould away with a cloth soaked in bleach, but expect it will return. It is even on the baby's cot."
Thanks for all your great tips on how to combat mould. With tips like these, mould could become a thing of the past!
Vinegar will remove mould for good
Avoid spending money on products that won't remove mould and use white vinegar straight from your pantry. I recently learnt that bleach doesn't kill mould for good, it disguises it so you won't see it grow back. Instead, we successfully removed mould from our ceilings using a squeeze mop and an 80:20 vinegar to water solution. Vinegar can be used to wash clothes and sheets and for wiping over hard surfaces. It is also effective in the washing machine and will remove detergent residue on clothes, is a great fabric softener and is far nicer on your nose, lungs and the environment.
For more details see http://isyourhousekillingyou.sbs.com.au/problems/mould.html
Natural remedy for mould
Tea tree oil is a natural way to rid everything of mould. Use one capful in a litre of warm water, soak a cloth in the solution and wipe over shoes and furniture. Allow to dry and air well before storing. After 12 years in Darwin we found tea tree oil to be a great germicide and fungicide. It can also be used for washing clothes and as an antiseptic for mozzie and insect bites.
Keep cupboards well ventilated with Damp Rid in buckets and renew frequently when it turns to liquid. Silica gel packs (that come with your shoes) are great when storing your shoes in plastic shoe boxes.
Home-made spray to remove mould
Mould will disappear with this simple mix of one tablespoon of eucalyptus oil, one tablespoon of methylated spirits and two cups of water. Spray over the mouldy area a little section at a time, then wipe clean. This mixture also works well as a disinfectant.
Use Dettol to keep shoes mould free
Dettol will remove mould from shoes and will deter any mould from growing back. Simply wipe it over the shoes and the mould should disappear.
Clove oil keeps away smells and mould
A few drops of clove oil in a spray bottle of water not only kills mould but will also prevent it from growing. My 30 year old bathroom has no sign of mould and smells good too.
Baking soda absorbs moisture
An inexpensive way to quickly absorb moisture, odours and deter mould is to use containers of baking soda. You can buy it in bulk and it only needs to be replenished once a month depending on moisture levels. I find it helps in smaller areas like closets and drawers where there isn't much air circulation. It certainly helps make mould more manageable.
...and Kirsty Bishop asked last month:
"Being kept busy having had three children quite close together, I have never got around to putting together a memory box as such for them (yes I know, very slack of me!). I am looking for ideas and information on what I should put in there and also where to find info from the previous birth dates without having to spend a lot of money."
It appears it's never too late to create a box of memories. We received some terrific ideas about how to create and keep wonderful nostalgia for future generations.
Look in your money tin for year of birth coins
You don't need to buy expensive coin sets to commemorate your baby's birth date. If you keep a money tin like I do, just sift through the coins and find ones with the year your baby was born. It has been really easy to collect coins this way and put away in memory boxes.
Memories for 80 cents
For just $0.80c I can display a whole year's worth of memories for my two children. I purchase display folders in bulk for $0.40c each, label the spine with the year and display school photos, certificates and so on inside. My children love looking at them and the information is easily accessed if needed.
Source important date information from libraries
It is easy to find information for your children's memory boxes at your local library in the newspaper archives. Photocopy the front page of the newspaper for information on the important days. Another thing I do is keep a pile of my children's drawings and staple them into a book for their memory boxes. It is an inexpensive memory for them to keep and it also keeps down the clutter in the house.
A life of memories in a box
When I was growing up, my mother would capture memories using my school pictures. She would ask me to write a little about myself on a giant envelope; things like my age, my best friend (at the time), what grade I was in, my teachers' names, what I wanted to do when I grew up, and other cute things you ask kids, and then she kept one of my school pictures in that envelope. When I turned 21 she gave me a box filled with these envelopes, as well as other photos and bits from when I was growing up and now I have a great memory box of my life. I can even see my own handwriting at every stage and see all the different careers I had in mind (vet, horse trainer, teacher - the usual little girl stuff) and I still laugh about how many 'best friends' I had over the years.
Simple items make good memories
Collect simple things for your children to remember and make memory boxes that will last forever:
Special photos, birthday/Christmas/christening cards, foldable art work (or photos of special work), mementos from hospital, commemorative birth certificate and so on can be placed in scrap books or display folders.
Coins and stamps released in the year of their birth.
Newspapers published on the day of their birth. Contact the local newspaper and ask for a back issue or visit the library. You may find one online, even if it is only the front page.
Report cards, certificates and medals.
Written letters, diary notes, thoughts of special days or memories that you have.
A list of your aspirations for your child, for example, what you wish for them in their lives.
Teeth given to you from the tooth fairy, a lock of hair.
A piece of jewellery, for example, a charm.
A favourite small toy that they loved when little.
Treasures - that beautiful shell that was picked up on the holiday at the beach, the odd shaped stick, the rock that sparkles in the sun.
Nappy boxes hold precious memories
My children each have their own treasure boxes for their precious memories. I found I had little bits of memorabilia for each child scattered throughout the house and never knew where to put it all. I got four empty nappy boxes, printed up A4 name labels and the kids decorated their own box. These boxes are kept out of reach at the top of the cupboard and I can quickly put anything we want to keep straight into them. It can be sorted and refined at any time down the track if it gets too full. Things I put in there include birthday cards, a few paintings or drawings, trinkets, birth certificates, one or two special dresses, shoes or outfit and a special toy that they have since grown out of. The kids love it when we get them down and look through them.
Never too late
It's never too late to start a memory box for your child. If you kept baby clothes, keep one favourite garment or just the buttons from cardigans; newspapers from the day of birth, a favourite toy, cards and photos from special days, baby books from the clinic and so on. For a girl you could take a photo once a year at the same spot, dressed in a 'grown ups' dress. After about 15 years the dress will actually fit and you have a nice memento to frame.
Use the Internet to collect memory box ideas
You can find great ideas for memory boxes on the Internet. DIY Network and Baby Crazy show you how to make your own.
www.diynetwork.com/diy/cr_boxes/article/0,,DIY_13747_2273730,00.html
http://esvc001058.wic023u.server-web.com/lldiymembox.asp
For information from previous birth dates without having to spend money, the Internet is a great resource. You can find free, useful links such as these:
On This Day: encarta.msn.com/encnet/features/onthisday.aspx
School Libraries Online resources page: www.iasl-online.org/advocacy/resources/today.html
Keep a journal of memories
Preserve your memories for free by writing them down. In generations to come even the most mundane jottings will be a source of free and amusing entertainment for the younger branches of your family tree. You can even record details about objects that you put in your memory box, for example, where/who they came from and why they are special. Photos are another great way to preserve memories, just remember to date everything.
Bottomless boxes of memories
Create a treasure trove of memories for your child with little outlay and in next to no time. I decided to make memory boxes for each of my four children and bought a set of large cardboard boxes with lids from Ikea. The boxes sit on top of their wardrobes and I throw in whatever I think will be a nice future memory - trinkets collected from holidays, hand-made Mother's and Father's Day cards, drawings, school awards, outgrown toys and so on. I write information on the back (such as the date and child's age) or I put items into a plastic bag with a note. I started this system when my 10 year old was in pre-school and have yet to fill a box - they seem to be bottomless.
---
9. This Month's Help Request: Double Trouble Twin Gifts
This month Maureen Martin asks:
"My friends are having twins and are on a very limited income. I would really love some ideas as to what to give them for a baby shower for first time parents that also won't blow my own budget but help them. The babies are due in July! Thank you."
Twins are wonderful, but for first time parents or for friends wanting to give gifts it can be a little tricky. We'd love to hear your ideas for Maureen here.
---
10. Savings Story: Wake Up with Simple Savings
I stumbled across Simple Savings two weeks ago and haven't stopped reading. It certainly has come at the right time. My husband and I finished four skint years of going back to university and now have great jobs - a doctor and a lawyer. We're set, right? Not exactly. Somehow, after earning more than $130,000 combined in our first year out of uni, we are now in a worse financial position than ever before. With our first bundle of joy on the way it's now time to shape up.
Simple Savings has already started changing the way we think about money. I started writing down what I spent a couple of months ago but Simple Savings gave me the strength to add it up and face the totals. Ouch - over $800 per fortnight spent eating out and on taxis alone! We both work long hours at stressful jobs so have fallen into the habit of convenience and treating ourselves - after all, we work hard right? It was a wakeup call to realise that we're working hard just to support our spending habits - and mounting debts.
We have now filled out the Simple Savings Habit Changing Calendar with our most expensive habits. If we succeed each month, by the end of the year we'll be saving $678 per week!
I have rearranged my work schedule to minimise the amount of overtime I will be working. A big cut in pay, yes, but looking at what I spend made me realise that all of my extra overtime money and more is spent on 'timesavers' and rewarding myself for working so hard. Working fewer hours will give me the time to implement our saving strategies. An added bonus is that, being pregnant, reducing the hours I spend on my feet in the high-stress environment of the hospital is only going to be good for me and bub.
My husband searched online and found a company that rents cars at $6.00 per hour, and it turns out the pick-up site is 20 metres from our building. Since the bus stop and train station are each abut 50m away we have now committed to slashing our taxi fares.
The hint '$1.00 a thousand times over' has resulted in a savings graph on our fridge showing how much we have saved each day. Our goal: to save $1000 by the end of the month. We have already saved $312 in four days by simply deciding if we actually 'need' rather than just 'want' something before pulling out our credit cards.
We've started well, but the tough thing is going to be keeping our motivation going. So my first monthly reward for making breakfast at home every day is going to be a subscription to the Vault. See you there!