"Secrets to Saving Money in Australia" Free Newsletter - June 2007
This issue includes:-
Sad Sally, Happy Hanna: Fast Track To Savings
Guaranteed Savings with the $21 Challenge
MEMBERS' TREAT: The $21 Challenge Survival Guide
Sophie Gray: Running On Empty
Rental Crisis
Penny's Blog: Steel Resolve
Homeopathy Corner: Tutorial No. 11
From Last Month: Scrapbooking
This Month's Help Request: Limes and Cubby Houses
Saving Story: From Spendaholic to Debt-Free
---
Hi!
It is amazing what we can achieve when we really put our minds to saving money. The Save-O-Meter total is nearing two million dollars!
It really is possible to become debt-free. Your wonderful letters, such as the ones below are living proof that it's never too late to start!
"I would just like to thank you all. We have just paid our last house payment and are now debt free even though we are both 53! I wish I had found your site years ago. I have wasted a lot of money on credit cards over the years and can tell you that all that shopping can never replace the great feeling of having no debt!" (Ann Chambers)
"Thank you so much for your great website! I have gained so many tips on saving and have even come up with some fab ideas of my own. It has given me the motivation to work harder at saving and spending less. Each week our shopping bill is getting less and we have even found ways to reduce our bills!" (Jill Sherrin)
"The best thing about this site is that everyone shares savings information across areas where they have expertise - which means we ALL get to make savings across ALL areas of our spending. Add all the small savings up and you get a large saving!" (Sue Arthur)
"I joined your site a few weeks ago and have been totally motivated to save money. I especially love ALDI shopping. After hearing you on Vega 91.5 Melbourne I looked you up, then went through my bank statement for May and discovered that in three weeks we had spent $900 on groceries and cash out and another $1000 on ...stuff??
In two weeks I have saved $400 on groceries and am enjoying the challenge of time management, working full time, baking and figuring out healthy budget meals for our family of five. I have already sourced a trailer load of sawdust for the garden and kitty litter and today we are setting up our chook shed and vege patch. Life is great!" (Clare Allen)
Well done everyone!! Keep up the good work!!
Many grins,
Fiona
---
1. Sad Sally, Happy Hanna: Fast Track To Savings
Hanna was watching Sally in amazement at the latest Savings Group meeting. She couldn't believe the change in her lately. Hanna had known Sally would love the bags last month - after all, if there was one thing she loved better than shopping, it was looking good while she shopped! However, today's meeting really took the cake. Here was Sally, hanging on to every word that was said and actually taking notes! Hanna couldn't help but wonder what was going on. Was the group finally getting through to her? Had Sally really turned over a new leaf?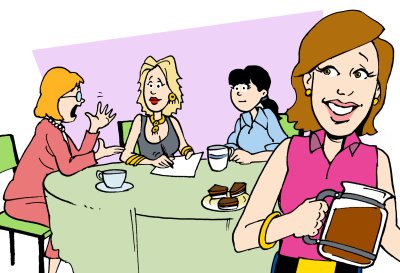 She certainly looked the picture of the diligent saver - and in Sally's mind, she was - at least for now anyway. After all, she had some serious catching up to do. Pete had not been impressed with the new tops she had bought and demanded she take them back for a refund. He thought she had returned them as planned and was pleased but instead she had just hidden them in the back of her wardrobe where he would never look. Unfortunately, this still left Sally with a problem. How could she account for the missing money? Pete was still watching her budget like a hawk. She could hide a couple of dollars here and there on the grocery bill if she needed to, but those tops had cost $140. How on earth was she going to knock off $140 in one week?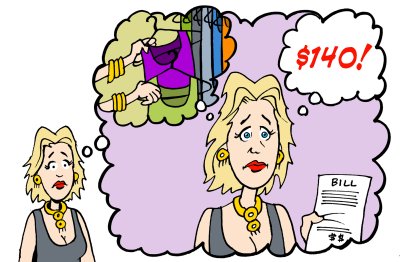 Sally was all out of ideas and soon lost patience with the way the meeting was going. Suddenly her hand shot up. "This is all too slow! I don't want to save bits of money here and there; I want to save heaps of it now! This week! Immediately! Can any of you show me how to do THAT?"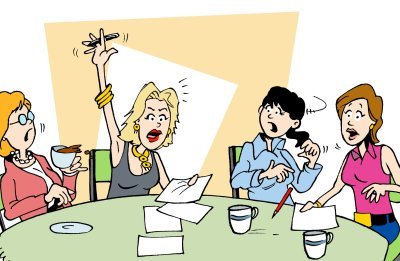 Hanna didn't miss a beat as she looked around the room. "We most certainly can!" she grinned. "Girls - it is time for the $21 Challenge!"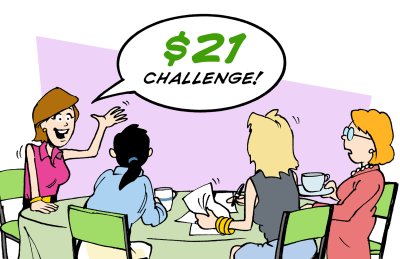 ---
2. Guaranteed Savings with the $21 Challenge
Hanna knows if you want to save money and see results FAST, the $21 Challenge is the quickest way to make a big difference to your budget. The $21 Challenge is unique to Simple Savings and in the 12 months since the first Challenge was launched, around 2,000 members have taken part in the seven day grocery bill slashing marathon. Many members now routinely use the $21 Challenge to help them through tough times, cope with unexpected bills or earn family rewards faster. For the uninitiated, how and why the $21 Challenge began is explained here.
But what is it?
Your mission, should you choose to accept it, is to aim to feed your family on a meagre $21 for an entire week. It can be done! All you need is a little know-how - and a steel resolve. How many of us head to the supermarket to buy the same old things week after week, regardless of whether we actually need to or not? More often than not, we simply do it out of habit. But what if you couldn't get to the shops one week? Or if there just wasn't enough money to go round? You'd have to make the best use of what you've got - and that's what the $21 Challenge is all about.
It's about opening your eyes! Many people have absolutely no idea what is in their pantry and freezer but if push came to shove, the majority of us would be able to live quite comfortably for at least a week, if not much longer on the supplies we have stashed away. All the help you need to turn random ingredients into tasty meals can be found in the Vault and the Forum, often without having to spend a cent.
It sounds like hard work - why should I bother?
The $21 Challenge is the secret to making some major financial headway in just seven days. If you are serious about saving money, this is the way to achieve it. The time and effort you put in is small compared to the savings you'll make! Before dismissing the $21 Challenge as too hard, consider the main benefits:
Guaranteed savings. Doing the Challenge WILL save you money. If your regular grocery bill amounts to $200 a week, your first $21 Challenge will leave you with an extra $179 in your pocket at the end of the week. Enough to pay for your car rego, new school shoes or to put aside for a family treat or emergency money. With a little practice, some of our members have found they are now able to live on $21 a week for several weeks at a time. Imagine if you and your family could do a $21 Challenge for one week out of every month based on these figures? Over a year that would add up to $2,148 extra in your bank account!

Becoming resourceful. Doing the Challenge will turn you into nothing less than a culinary genius. It's amazing what delicious family meals can be made out of a stray tin of tuna, half a can of baked beans or the peanut butter at the bottom of the jar. You will soon be an expert at thinking outside the square and your family will love testing out all the new meals!

Declutter, declutter, declutter! Doing the Challenge is a great way to determine exactly what you have and what you need in your fridge, freezer and pantry. It's also a great way to expose any unnecessary purchases and ensure you don't go buying them again out of habit or through clever advertising. For example, on taking part in the first ever $21 Challenge one member was amazed to discover she had no less than 11 cans of corn lurking in her pantry!

Less wastage. Not only can the $21 Challenge save your family precious dollars, it can also help save the planet! Instead of carelessly throwing out pots of leftover this and that, or leaving vegetables to wilt forlornly in the back of the fridge, with the $21 Challenge you WILL find a way to use them - and enjoy them too!

Sense of achievement. The $21 Challenge gives you confidence in the knowledge that you CAN survive when times get really tough. Involve the family, tell them what you're doing and don't be swayed. Take pride in serving up delicious frugal meals. Work out ways together to help you stay within the magic $21 figure for the week - you'll be surprised how quickly the kids will rise to the challenge! Part of the huge appeal of the $21 Challenge is that it's supposed to be fun and there's no better feeling than getting to the end of a Challenge week with your budget intact!
---
3. MEMBERS' TREAT: The $21 Challenge Survival Guide
So - are you ready for the $21 Challenge? Vault members can find out everything they need to know by downloading a copy of the $21 Challenge Survival Guide. It contains a heap of inspiration, Challenge Week menu plans and great recipes. Should you decide to take on the Challenge for your household, be assured you are not alone! In the Forum you will always find plenty of people doing the same, who can help, support and advise. In case you need just a little more motivation, check out some of these related Forum threads:
...And many more!
For non-Vault members; we asked Sophie Gray to write a special piece to show you how to thrive on next to nothing...
---
4. Sophie Gray: Running On Empty
My friends' son Antony and his girlfriend Aimee are getting married. We're all so excited! Of course, I'll simply have to buy some lovely new shoes (to match my new dress). It is a wedding after all! Right now, the happy couple have the whole big adventure ahead of them. Home, career, family and finances. Oh - and food of course. This I'll be watching avidly, as Aimee is a vegan, while Antony is butchery manager in a large supermarket! It's going to be fascinating as that unfolds. All that aside though, my little wedding splurge is going to cost me. So, I'll have to make some cut backs (or should that be sling backs, or maybe kitten heels?).
Whether it's a wedding, a savings goal, a sticky financial patch or doing the $21 Challenge, there are tricks and techniques for surviving the lean weeks. I like to call it 'running on empty' - trying to get by on as much as possible, by spending as little as possible. This means cooking meals that are tasty, filling and healthy and also really cheap to make. Because, while I might be happy eating soup three or four times a week, my beloved husband would be hollow eyed with hunger and every now and then I'd have to throw him a bone! I like that I know how to make delicious, nourishing meals that everyone enjoys, with money left over for shoes and handbags (I'll definitely need a new handbag). That's a recipe that makes everyone smile and you'll find it's easy when you know how.
Running on empty:
The leanest budgets call for the cleverest cuisines, food styles that disguise inexpensive ingredients, make the most of seasonal produce and make a small amount of meat seem like plenty. Think peasant cooking, Indian, Mexican, Italian, Asian and so on. If you have a household of sensitive palates, then select from cuisines that are less highly seasoned e.g., Mediterranean/Italian or French provincial.
Milk powder is cheaper than fresh milk; use it for baking, white sauces and porridge and save the fresh version for where it really counts.
Check out the special offers, get in touch with what's in season and only then plan your meals.
If using meat - choose recipes that will produce a little 'leftover' - casseroles, stews, curries, chilli, meat balls, that type of thing. The left over portion can go onto a pizza, into a calzone or a gougere (savoury choux pastry crust), fill jacket potatoes or small pies. Alternatively go for 'less meat required' options, such as stir fry, risotto, pizza, cassoulet and yes, soup.
Do a big bake - it doesn't have to be a figure-busting butter blow-out. Some savoury scones, date scones, muffins and biscuits will help fill lunch boxes cheaply, provide loads of filling snacks and make you more likely to invite someone round for coffee instead of going out.
Choose your fruit carefully - apples are generally the cheapest and most versatile fruit choice, but check out what is in season and use it before you lose it - if it's getting overripe bake it, stew it or poach it in syrup and serve it with cereal - waste not, want not!
Fill up on the right stuff - plates should be filled with seasonal vegetables alongside a serving of the main course dish. Veges are cheap, very healthy and take a long time to digest so keep us satisfied. Or offer a bowl of soup to start. It's a cheap way to 'take the edge off the appetite', ensure everyone is getting their recommended vege serves and makes a little bit go a long way.
Take stock of your cheapest ingredients - do you have flour, eggs, dried beans, pasta and rice, tinned tomatoes, stock, dried spices, veges and fruit? How will you manage for milk and bread? What will you offer for breakfast? Porridge, pancakes and eggs are cheap options; packet cereals aren't - make a plan and stick to it.
Bacon and Rosemary Risotto
This risotto is a good standard family friendly flavour combination. Try some of the variations below for a more stylish, but not expensive finish.
Serves 4
3 rashers of streaky or middle bacon with rind removed (could substitute chorizo or other sausage if no bacon)
2 tbsp oil
1 onion, chopped
2 cloves garlic
2 cups Arborio rice
3 small rosemary sprigs
750ml hot chicken stock
¼ cup cream (or evaporated milk) or some grated cheese
Heat oil in a medium saucepan, sauté the onion till starting to soften, then add the garlic.
Set the stock in a saucepan on the stove to stay hot.
Chop the bacon and add to the pan, continue cooking until bacon is lightly cooked. Add rice to the pan, reduce heat and stir continuously until rice is coated with pan oils and ceases sizzling. Toss in the rosemary sprigs and add a cup of stock. Stir frequently till stock is absorbed. Add more stock and continue in this manner until risotto is creamy and soft - use more or less stock as required.
Stir in cream and season to taste.
I like to serve this topped with a handful of rocket leaves and some shaved parmesan as a light main course.
Try topping with roasted tomatoes and parmesan cheese or good well flavoured sausages, cooked, sliced on the diagonal and piled on top with chopped parsley.
Risotto is excellent as a side dish and moulds nicely into timbales. Lightly oil a small cup or pottle, pack the risotto in firmly and turn out onto the plate.
Left over risotto can be shaped into risotto cakes; just dip in flour, egg and breadcrumbs and pan fry. Serve with salad and a relish or chutney as a meal or starter.
Freeze small quantities of left over cream in ice cube trays for when you only need a tablespoon for enriching a sauce or soup.
Savoury Sausage Empanadas
Empanadas are the South American Samosa or Pasty. Made from pastry, they can be stuffed with sweet or savoury fillings. We like savoury empanadas, they make great 'eat with your fingers' food for picnics but they're also a favourite family dinner, being closely related to that other popular pastry dish 'The Pie'. This particular recipe makes a little bit of good quality sausage go a long way. If you don't want to make the crust, you could use puff or filo pastry or just shape the filling into rissoles and fry lightly to serve with sauce.
Makes 6 adult size serves, or more for littlies
For the crust:
300g plain flour
100g butter
Just enough water to mix
Extra flour for rolling
Filling:
1 tsp oil
3 good, well flavoured sausages, uncooked
1 large onion
3 medium potatoes, peeled and diced
1½ tsp cumin
½ tsp paprika
¼ tsp salt
Pre heat the oven to 180°C.
Place the prepared potatoes in a saucepan of salted water and boil till tender. Meanwhile, heat the oil in a frying pan. Squeeze the sausage meat out of the sausages into the pan and with a fork squash it and crumble it as it cooks. While the sausage crumble is cooking add the chopped onion and stir the mixture frequently.
Drain the cooked potatoes well and add them to the sausage mixture with the spices and salt and mash together with a fork.
Set aside to cool.
While the mixture is cooling, make the pastry:
In a bowl or processor combine the flour and butter, pulsing or rubbing the butter into the flour with your fingertips until the mixture resembles fine breadcrumbs. Add just enough water to form a soft dough.
Place the dough onto a floured bench and roll out quite thin. Cut six circles from the dough, I trace around a side plate with a knife, approximately 16-19cm. You can make yours bigger or smaller if you prefer.
Place a pastry circle on a greased baking tray. Brush a little water around the edge then spoon some of the sausage mixture on to one side of the circle. Fold the pastry over the filling and pinch to secure the edge. Continue with the remaining pastry circles and filling and bake in the preheated oven for around 20 minutes. The pastry should be pale with just a hint of browning on the edges and the filling piping hot. Serve hot or cold with veges and tomato sauce if you like.
Cook's tips:
Use this technique with leftovers to create a whole new meal; casseroles, stews and curries can all be used this way. Try using pumpkin instead of potato, or use the pie filling from the humble pie recipe below.
Humble Pie
Savoury cottage pie filling with crispy golden mash on top, this is real family food; just made without meat, so it's not only healthy, it's very inexpensive.
For the filling:
3 cups cooked brown lentils
1 medium onion, chopped
1 clove garlic, chopped
1 tbsp oil
1 handful of plain flour
¾ cup lentil cooking water
1 tsp of beef or vegetable stock powder
1 tsp Marmite
1 tbsp Worcestershire sauce
1 tbsp soy sauce
1/3 cup tomato paste
1/3 cup tomato sauce
Heaped teaspoon of mixed herbs
1 cup frozen mixed vegetables
½ tsp salt
Pepper
For the topping:
700g potatoes, peeled and cut in chunks
1 tbsp lite Olivani or a knob of butter
1/3 cup trim milk
Salt and pepper to taste
Cook the lentils in plenty of water till tender - approximately 40 minutes. Reserve ¾ cup of the cooking liquid.
Place the potatoes in a saucepan of cold water and bring to the boil, simmer till tender, then drain and mash with the milk, butter, salt and pepper.
While the potatoes are cooking sauté the onion and garlic in the oil, stir in the flour and then, using a whisk add the cooking liquid a little at a time, mixing well after each addition. Stir in the sauces and seasoning, herbs and lentils and lastly add the mixed veg. Simmer for 10 minutes stirring frequently.
Pour the mixture into an ovenproof dish and top with the prepared mashed potato, swirling with a fork to make spiral patterns on top.
Bake in a preheated oven at 200°C for 20 minutes or until golden and crispy on top.
Cook's tips:
You could serve this in individual dishes or ramekins - freezing spares, the filling can be used in crepes or pastry.
Dairy free: substitute butter with Olivani and use soy milk to mash spuds.
Gluten free: check all seasonings and sauces are gluten free varieties.
---
5. Rental Crisis
One of the biggest side effects of the massive real estate boom over the last ten years is that housing and rental affordability is at an all time low. This means both buying a new home and finding somewhere affordable to rent are even more difficult. So we have put together some tips from the Vault, to help you find a better deal and save.
Avoid constant moving
To avoid constant moving, I always used an agency and asked them to offer me only investment property that had been with them for a couple of years or longer. I also invited them to pre-approve me, making life easier for them and through feedback I found that they offered me the better properties in return.
The one lesson I did learn was patience and persistence, and never upset the lady on the front desk! I did get a reduction in rent on one property I leased when I offered to take good care of the garden for the owner. Of course, I kept my word.
Approach the neighbours
After moving 11 times in five years while renting, I said enough was enough! I wanted something reliable and long term for myself and my three children under five.
I researched through the Internet to see what was available. I picked the ones I liked, and after viewing I would come back and have a chat with the neighbours. During one of these chats, I got lucky. One of the neighbours knew the owner, and I asked what would be the likelihood of them selling to me.
She told me that would never be possible as the owner was left the house as an inheritance - if she ever sold, her ex would try and take a share of the house. Not to be deterred, I asked the neighbour if she would call the owner on my behalf and propose that if we kept up the maintenance on the house ourselves would she consider a reduced rent? She agreed!
I now pay $185 for a four bedroom, fully fenced home by the beach! Previously to this, it had been a holiday home rented out for $200 per week. I had never paid more than $180 for rent before, but the extra $5.00 for the long term security is well worth it.
Cheaper rent vs transport costs
Take your transport costs into account when planning to rent. Get the calculator out and work out the rent for different areas and add the transport costs. For example, we live closer to the city and bus stop. Transport costs us $25 each per week and we walk to the bus stop as it is close.
We worked out if we lived further out, we would spend less on rent, but more on transport, more time in the train and would often save no more than $10 per week. So overall the rent may be more expensive where we are, but it actually worked out cheaper, more convenient and gave us more time too!
Landlords are approachable
Don't be afraid to approach your landlord for help if you are renting an uncomfortably hot building. I'm a landlord who has learnt from experience that happy tenants are by far the best tenants. Ask your landlord if they will do a deal which will benefit both of you - your landlord purchases a portable or installed air conditioner, in return for which you will pay a couple of dollars a week extra in rent - up to an agreed price (for example, 30% of the total purchase price).
That way, you get to enjoy an air conditioned home for as long as you're living there, and when you leave, the air conditioner stays - improving the property value and also providing an incentive for the next tenant. Each of you will only ever pay a maximum of 50% each, plus your landlord may be able to claim a tax benefit (depreciation) if it's installed. Another incentive for your landlord may be that you will agree to an extended lease if air conditioning is provided - or let them know that they will soon be paying for advertising, lease fees and such because they'll be looking for a new tenant!
If that doesn't work - why not offer to buy ceiling fans, and as the landlord's contribution - they pay for installation! They're very cheap (around $49 plus installation), effective, and a definite improvement to the value of the property.
Please send in your tips
Finding quality affordable accomodation is a real challenge for Aussies at the moment. If you have a great tip or a great renting story please send it in to us and you might even win a Vault Membership. Click here to send in your tips.
---
6. Penny's Blog: Steel Resolve
May 28, 2007
One week down on the Challenge! I'll be honest with you, I didn't QUITE make it; I ended up going over by a measly $1.43 but there was method in my madness. I figured it made better sense to splash out $5.80 on a big bag of potatoes rather than keep making a trip into town to buy one or two in order to stay within my $21. Even so I waited until the weekend to buy these and it was not a decision that was made lightly, especially when I'd had to use up every inch of determination on Friday and Saturday. On Friday morning I woke up with what felt like the hangover from hell, which I knew wasn't possible during $21 Challenge week and realised I must be sick instead. I ended up spending most of the weekend comatose on the couch in my special penguin polar fleece pyjamas, which are specifically reserved for sick or feeling-sorry-for-oneself-days only. I felt so bad on Friday afternoon that I thought there was no choice but to forego the Challenge and ask Noel nicely to bring home some takeaways on his way home from work. However, as dinner time approached I just couldn't bring myself to do it - I would not allow myself to give in so easily! Using the leftover pumpkin from the night before, I consulted my Sophie Gray cookbooks and had whipped up a delicious pumpkin curry in no time, along with a large dish of Indonesian rice to go with it, which used up the last of the wilting spring onions in the fridge. The kids had sausages with their rice, as they were still horrified that I had tricked them into eating pumpkin the night before and vowed never to touch the stuff again.
Yes, I achieved the impossible, I managed to get my children to eat pumpkin - and not just eat it, I mean WOLF it down! If there's one good thing about taking part in a $21 Challenge, it's that it makes the kids a lot more willing to try new dishes - mainly because they know there is basically no hope of being given anything else! In my last blog, I mentioned how I had found a recipe for Pumpkin and Feta Fritters in one of Jo Seagar's cookbooks. They were super quick and easy to make but let's face it - they didn't sound exactly appetising - I didn't know if even I was going to like them, let alone the kids! So I put a token fritter on each of the boys' plates for them to try and stacked up the rest on a platter in the middle of the table. They demolished the whole lot before they had even touched their meatballs and then asked if there were any more fritters! They were indeed absolutely delicious and the boys were raving on about them with such enthusiasm that I couldn't resist confessing as to their main ingredient. 'PUMPKIN?!! ERGH!!' they protested, but it was too late! These fritters are so good, I can't not share the recipe!
Pumpkin and Feta Fritters (makes about 10)
4 eggs
1 cup self-raising flour
1 cup pumpkin, grated or finely chopped, microwaved or steamed until just softened
1 tsp crushed garlic
1/2 cup feta cheese, chopped or crumbled
Freshly ground black pepper
1/4 cup oil and 50g butter, to cook
In a bowl, beat eggs. Mix in flour to a smooth batter. Add pumpkin, garlic, feta and pepper (feta is quite salty so no extra salt is required). Heat oil and butter in a pan over medium heat until the butter has melted and is bubbly. Spoon a large tablespoon per fritter and fry for about three minutes, or until you see bubbles start to 'pop' on the surface. Then carefully turn and cook the other side. Drain on paper towels and keep warm while you fry remaining mixture.
I am so glad I found this recipe, I can see it's going to become a regular dish in our household, $21 week or not! Another bonus of doing the Challenge is that for some reason I enjoy cooking a lot more. I suppose there's more of a sense of pride in serving up delicious meals for the family when they have cost so little, or in some cases nothing at all. Unfortunately I didn't get to share my frugal culinary skills with Maxine and her family on Saturday as planned, as I was still too sick but I still managed to avoid getting takeaways and threw together a Cottage Pie (using a secret pantry ingredient my mum told me about years ago - a can of condensed vegetable soup, it makes all the difference!) and French beans from Noel's garden; a much unexpected treat for this time of year! Mind you, if this week's Hint of the Week is anything to go by, I guess we should indeed start to be able to enjoy these kind of supposedly seasonal treats more often; I'm definitely going to try the Sweet Potato tip as soon as I can lay my hands on some spare pots!
It made me smile to see a recent Forum thread entitled 'Recipes from Gran's cookbook! I have been having a similar fun experience lately checking out and sampling one of my mother-in-law's old recipe books. It's actually The Australian Women's Weekly Cookbook and this version was published in 1970 so it's older than I am but it's an absolute goldmine of great recipes. Reading through the more than 250 pages, what struck me most was how many of the foods we now commonly use today did not appear in that book. It made me think that perhaps today's society is so caught up in impressing each other with arty farty foods that many traditional dishes no longer see the light of day. A real shame but after trying the AWW recipe for Egg and Bacon Pie, our family agreed it was the best one we had ever tasted and I was determined to get a copy of my own 1970 book! How easy was it going to be to get a 37 year old recipe book though? I decided to search Trade Me, NZ's version of eBay and happily found quite a few but they were all around the $10 mark and at least $5 extra to post this large, heavy hardcover book. I couldn't really justify spending that much on an old cookbook and had just about resigned myself to having to photocopy all the recipes I wanted out of my mum-in-law's book when I remembered a clever new hint I had seen in the Vault just a day or two before called 'Search for typo's on eBay and save and realised I could actually try this out. I had been searching for 'Australian WOMEN'S Weekly' but what if I searched for 'Australian WOMAN'S Weekly instead? I typed it in and found the exact same book with a dollar reserve and no bidders! I asked the seller if she would consider a 'Buy Now' and ten minutes later I had snapped it up for $1.50! She only charged $3.50 postage too, so my total cost was $5, compared to at least $15 had I not thought to use the tip! I have a feeling that my new purchase is going to save me a lot more than that too, with all the old-fashioned recipes and cooking from scratch hints. Should be a big help in future Challenges!
We finished off the first week of our Challenge with corned beef silverside, accompanied by Self Crusting Quiche a la Sophie Gray, using silverbeet and zucchini from the garden and eggs from our lovely hens. I have discovered lately that I can get Liam to eat pretty much any vegetable if it's chopped up in a quiche - although he may well be keeping a sharp lookout for pumpkin now! I would have liked to stay within the $21 but I still reckon $22.43 is not a bad effort. Apart from being ill, I found the whole week very easy but I'm not so confident this week; although it doesn't help when my friends tell me 'you're never going to do it - the cupboards are bare already! They're not Simple Savers though - they don't see what I see. My shelves might look bare to them but I still see plenty of meals there - so what if none of them come in a jar or packet? At first glance I see Weetbix and Cornflakes; enough to look after not only our breakfast requirements but also baking needs. Thank you so much to everyone who helped me out with cornflake recipes, I have made the 'Choc-chip and Cornflake biscuits' and Honey Joys so far from that thread and everyone loves them!
Yet another good thing about the Challenge - the family love being guinea pigs when trying out all the new baking! Let's see, we also have lasagne noodles, rice, couscous, potatoes, canned beans and chick peas, honey, jam, dried fruit and coconut, not to mention a whole pumpkin, a sack of potatoes and a freezer full of meat and frozen veges. Plus I have learned from Sophie Gray that you can make just about anything tasty and interesting with the addition of some simple sauces, herbs and spices. Tonight's dinner will be one of the kids' favourites, corned beef fritters to use up the rest of last night's meat and after that, who knows but I can see there's still plenty to be going on with!
Penny's Blog is a special treat for Vault members and is updated a couple of times a week. You can drop Penny a line here - she loves to hear from other members!
June 2007
1st - New tricks
4th - Starvation diet
10th - Black to red and back again
18th - Murphy's law
22nd - All hail Sophie Gray!
25th - Christmas rebellion
---
7. Homeopathy Corner: Tutorial No. 11
Wouldn't it be great if, every time you went to a doctor or health practictioner, you knew if you were truly getting better? Well, this month Fran explains what will happen when your overall health is improving. To read Fran's article go to: www.homeopathyplus.com.au/book/tutorial-11.html
---
8. From Last Month: Scrapbooking
Last month Jane Bird asked:
"I love Simple Savings and all it stands for. I would like to start Scrapbooking but am worried it could turn into a costly exercise! If anyone can offer any advice or tips on low-cost ways to get this new hobby, I would greatly appreciate it."
Wow! We had a feeling this request would provoke a huge response and our crafty members did brilliantly. Thank you to everyone for your savvy scrapbooking suggestions! Unfortunately there is no way we can print them all in this newsletter, but here is a small selection to inspire any budding scrapbookers:
Free scrapbook adornments wherever you look
Scrapbooking is a wonderful legacy to leave for your children, and it doesn't need to be expensive. Save cards, wrapping paper, pretty packaging, ribbons, gift bags, tissue boxes (some are pretty funky), colourful pages from magazines, lace, felt, fabric, silk flowers - whatever you think may come in useful. Go to your local hardware store and collect paint swatches, cork and felt furniture protective stickers and flat metal washers - look closely, you can find embellishments everywhere!
Try making 'Serendipity Squares' (glue tiny scraps of paper onto a piece of cardboard so that they cover it completely and then cut the cardboard into a series of squares, hearts and so on), as these are a great way to make gorgeous embellishments that can be just the colours you want. Cut up cards or wrap in the same way - a series of three squares 2cm x 2cm cut from a card covered in yellow roses was one of my favourite embellishments in my wedding album. I matted the squares with the yellow envelope that came with the card, and arranged them in a row.
Don't forget your sewing machine if you have one too! You can use your machine to stitch the paper in different colours and designs, all for nothing. Buy double sided sticky tape from Big W at less than $2.00 a roll, rather than at a craft store. Also check out the cheap shops like GO-LO and The Warehouse. They sell a lot of stickers and lettering cheaply, not to mention stamp kits and card stock. Scrapbooking can get very expensive, but if you save your money for a nice album, you can scrimp and save when it comes to the pages.
Scan and print your own unique scrapbook paper
Don't ever enter a scrapbooking shop other than for inspiration! You can get big packs (12" x 12") of 100 sheets of beautiful papers from Big W for under $10. Use these even if you want to cut some into strips. If you are doing smaller albums (A4 or smaller) go to the local stationery supplier and buy board and paper in bulk. If you have a colour copier, or even a colour printer and scanner, you can copy wrapping paper by scanning into the computer and print as required onto plain white cardboard (about $22 for 500 sheets). Scan and print anything - I have even copied a beautiful floral blouse and skirt of mine! I have copied prints from my kids' shirts, leaves from trees; the list is endless. If you have a digital camera program on your computer, have a look at the background pages available. You can use these to make albums on the computer but they also make fabulous scrapbooking papers when printed onto plain paper or board.
I do recommend you get a cutting mat (any size or brand will do), craft knife and a paper trimmer (the post office seems to be the cheapest stockists of these). For double sided tape to stick photos or additions down, Big W sells photo stickers for $2.50 for a box of 250 in their photo department, or I go to my local framing shop and buy 100m of double sided photo tape for $5.95. Browse junk shops for ribbons and stickers and so on and if you want beautiful letters like the ones in scrapbooking magazines, make them yourself by using a craft knife to cut letters out in pretty paper you have printed yourself. If you want to purchase a book or magazine to help get you started, buy one that has example papers, letters and images in the back - but don't use the originals, just copy them as required, so you can use them again and again.
Take advantage of free scrapbooking knowledge
I wanted to start scrapbooking as a hobby but didn't have a huge budget. The first thing I did was go to the library and borrow some books on scrapbooking. There were many interesting tips and hints on getting started but I also learned that I only really needed a few pieces of basic equipment to start and I could build up over time. I photocopied the key pages and made up an album in a plastic sleeved folder, to enable me to always refer to these great ideas over time. Another tip I learned was to keep everything you cut up (even your scrap paper) in little snap self-seal bags. What you don't use on one page will be perfect for another project. $2 shops stock very competitively priced materials and keep an eye out in the Trading Post and store catalogues such as Kmart, who often have 25% off sales. Keep a list of your 'must haves' and only buy these when they are on a genuine discount. You will also find lots of free templates and ideas online - just go to Google and type in key words like 'free scrapbooking ideas'.
Once armed with this knowledge, try to find a friend or group of people who also love scrapbooking. Many people know of classes being offered locally, or you can just get together in each others' homes. By starting off with the minimum equipment, you can pick their brains as to where they buy their supplies (most scrapbookers are very savvy shoppers and will share all their tips!). Also, when you get together in a group, everyone shares their equipment, which means even if you haven't got all the bits and pieces yourself, you can keep borrowing and sharing and still enjoy your new hobby! Take a little notebook and write down tips every time you get together - you'll be able to share these with others as your knowledge grows!
Quality scrapbooking supplies from discount stores
I started scrapbooking last year but had a very limited 'indulgence' budget to use. I went to my local scrapbooking shop and found I could do a beginner's class for $5.00 - this taught me the basics, the terms used and also showed me what tools I would need (and I created a fantastic first page for my album). Most scrapbooking stores offer similar classes.
I then went to my local discount stores like Crazy Clarks, Dollars and Sense, Choice, The Warehouse and so on and found they all have scrapbooking sections (and many other crafts as well!). I can buy everything I need including papers, double sided tape, embellishments (all acid and lignin free for photos) for just a few dollars - many I bought were exactly the same as the scrapbooking shops, but for 50% to 75% less! The basic equipment, such as a steel ruler and knife are also found in these stores in the outdoor/tools sections.
For ideas to create your pages, you don't need to pay to go to classes as there are many Internet sites with hints and hundreds of pages to view for free - try www.scrapjazz.com/gallery and www.scrapbook.com/gallery to start.
I calculated that my first album cost an average of about $1.75 per page (well inside my budget), compared to about $5.25 if I had shopped only in a scrapbooking store. This is a saving of about $140 for a 40 page album!
Store scrapbook supplies in cheap tacklebox
A low cost solution for storing scrapbooking equipment which works really well is a cheap plastic tacklebox. You can find these in the fishing tackle or storage department in large stores such as Kmart. They are perfect for storing embellishments and so much cheaper than buying brand name scrapbooking containers! You can also use make-up foam applicators to apply chalk, paint, ink and so on - they are washable and can be used again and again. For paper storage, I find the 12" x 12" un-used pizza boxes work extremely well and you can often pick them up for free if you ask nicely!
---
9. This Month's Help Requests: Limes and Cubby Houses
This month Annette T. asks:
"I have lots of limes and I'm not sure what to do with them all. Does anyone have any suggestions for using these lovely citrus fruits? I think my tree is a Tahitian variety and the limes fall off when they are ripe, which is happening now - today there were 15!
Some help with ideas would be greatly appreciated as I hate to waste them. Thanks!"
If you have any suggestions to help Annette use up her surplus limes, we would love to hear them! Please send them in to us here.
Also, this month Jodie G asks:
"We would like to purchase a timber cubby house for our daughter and have been quoted from $425 (untreated timber) to $1500 so far. Does anyone have any ideas or know of anywhere they can be purchased cheaper? It is near impossible to find one second hand in the area that we live."
We are sure there are some fantastic members out there able to help find the perfect solution for Jodie! If you have any suggestions for an affordable cubby house, write to us here.
---
10. SAVINGS STORY: From Spendaholic to Debt-free
I am currently still paying the price for my old spending habits but I have turned my habits around and it is paying off. When I turned 25, I decided to become debt-free as soon as possible.
To do this, I have had to forego my previous love of designer clothes, perfumes, shoes, dining out - expensive everything! Instead, I sat down and worked out my income vs my expenses - the 'needs' rather than the 'wants.' Whatever is left over is made as extra repayments into my credit cards - a substantial saving in interest payments.
Next, I made up a simple spreadsheet. It details what I owe, less the repayments that I make, as well as major annual items like insurance, car registration, professional memberships and car services. I've even broken this down into months, which allows me to physically see that I am making a (small) dent in my debts. By doing this, I can see that with a lot of discipline, I can knock off one debt a year. Whenever I feel as though I'm slipping in my determination, I take another look at the spreadsheet to remind myself that by sticking to my plan, I can be completely debt-free in two and a half years. It's a long and slow process, but I'm on track!
Also, I've always found that an effective way to save was through tax, so I ask the payroll to not claim the "tax free threshold" for my salary. My pay is a little less a month, but because I don't see what's being taken out as tax, I don't budget for it and don't miss it. So now, the end of financial year income tax time is always a great time for me because I know that I will get a minimum of $1,000 as a tax refund - to go towards paying off my debts, of course!
By making small regular extra repayments and using my tax return, I estimate that I can pay out my debts a whopping three years earlier. Even at a generously low interest rate of 10% on what I owe, this equates to a saving of $4,330 for me per year OR $12,990 over the three years!
So, not only will I be debt-free and own my new car in two and a half years, I'll have saved myself nearly $13,000 - not bad for a former spendaholic!