"Secrets to Saving Money in Australia" Free Newsletter - May 2009
This issue includes:-
Sad Sally, Happy Hanna: When Life Gives You Lemons
June is National $21 Challenge Month!
$21 Challenge Competition
Best of the Vault: How Far Can You Stretch?
Best of the Forum: Frugal Foodies
Sophie Gray: Dumpster Diving
Penny's Blog: Modern Day Cavemen
Homeopathy Corner: Swine Flu
From Last Month: Looking the Part
This Month's Help Request: Pantry Problems
Savings Story: Our 'Wow' Moment
---
Hi,
Penny here - It's National $21 Challenge Month again! Boy, the $21 Challenge has come a long way. Can you believe it is in its third year? What started off as a bit of a giggle has become so much more than simply saving money for a week. The $21 Challenge is a real chance to sharpen up your survival skills and discover how easy it really is to live off the smell of an oily rag!
Our family has been busy getting ready for our $21 Challenge. Are you going to do it too? I love hearing how other members have been successful in slashing their grocery bills. So does Fiona - in fact, she has asked me to announce a brand new competition!
As well as the popular Hint of the Week competition we're all familiar with, where members share their favourite money saving tips on absolutely everything, there is now also a specific $21 Challenge competition. We are giving away 2 x $50 prizes each week for the next 4 weeks for your best $21 Challenge story, tip, recipe, etc.
To enter the $21 Challenge Competition and win $50, click here.
Each week's winner will be announced with our regular Hint of the Week email. We want to know how you survived your own Challenge week! If there's anything related to the $21 Challenge that has helped you get through and you think could help others, we want to hear it. After all, helping each other save money is what Simple Savings is all about!
"I would just like to thank you very much for your $21 Challenge menus and the War on Debt calendar, which I have started to put into practice. It is bringing my stress levels and worry about finances to a slow rest. Even though I have a way to go before I am comfortable, I'm putting one foot forward and the other will follow!" (Helena)
"All I can say is 'wow'! I accidentally stumbled on your site from the That's Life! website. I read an article, followed the link, and again 'wow'! This is exactly what I have been looking for! I am so excited by this that I think I just killed my printer. I am printing the 'War on Debt' calendar, the Purchase Planner, the tip sheets and more, as well as making folders for my sister and my daughters, who I know have been looking for this sort of thing for a while as well. My eldest daughter recently moved into her own place and I still have a 15 year old daughter at home who is currently studying Year 10 and working part time. Some of the hints and tips I have found on your site will even help her and I am putting together a folder with bits and pieces that will be practical to her. I love the site and fully intend on becoming a paid member ASAP. Finally there is somewhere to get financial advice for the everyday living costs of everyday people. Good job and thank you!" (Denise)
"My husband and I have one credit card each and mine always had money owing on it (although we don't use it now). I have a two-year-old and another on the way. My husband is the sole bread winner and only takes home about $35,000 a year. We rent and have normal household expenses. I heard about you on Today Tonight and thought to myself 'I will have to look at that website'. I duly did and could not get over the many things that I could learn and do to save what money we have left every fortnight. I downloaded your Bill Payment System and started using it and I am proud to say I have saved about $800 in the last fortnight. Just by watching what I spend, I can save! I have never saved in my life, I am so happy. Now my husband and I don't argue at all. Before, I was always stressed about money and we fought so much. I am amazed. Thank you for helping me and others out there who are struggling to make ends meet. You are an inspiration." (Carol Beardmore)
"I just wanted to thank you. I have learned new things and saved and now, at 22, my partner and I will be purchasing our new home and budgeting and managing our finances. My partner had no idea I had a budget sheet for myself! Now he has to take the challenge and stop impulse spending. This site has really changed my life. My friends cannot believe how much I have saved. Thanks again!" (Stephanie Yapp)
"I have just renewed my membership after a few years away and have just had the most enjoyable evening looking through everything and learning a lot. Keep up the good work - this site is an absolute delight." (Marina Kanaris)
"Thank you, thank you, thank you. Today I finally paid off my credit card. I have been revolving $4000 on it for years, never able to get rid of it until joining your site. I paid off the last $100 today! Simple Savings has simply saved me since being a member. I have paid off my credit card, set up a saving accounts and now have three months of mortgage payments in savings. I was almost made redundant last year and this motivated me to stop the cycle of debt and worry, to finally (with your help) cut back and take the stress off myself. I also have a trip to the USA for my best mate's wedding in two weeks, paid in full. Thanks again - just the other week I saved $200 in computer virus software by finding a superior product for free through your site!" (Linda Keech)
"I just wanted to thank you for your wonderful website - it is really well organised and easy to find information. I spend my spare time learning new ways to manage my home and my cash, and I can feel my attitudes changing as I take control of my life. The only problem is that I'm trying to plan meals and freeze extra portions to save time and money, but I am now enjoying cooking and grocery shopping so much that I will soon outgrow my freezers! Your site and your members are inspiring, many thanks." (Phillipa Montier)
Good luck with your $21 Challenge Month!
Penny
P.S. To give you a boost during $21 Challenge Month we have dropped the price of membership by $10. From $47 to $37 till 9pm on June 30th. To join the Vault the cheaper rate go to: www.simplesavings.com.au/order/
---
1. Sad Sally, Happy Hanna: When Life Gives You Lemons
Pete groaned inwardly. Sally was on the phone to her mother again. The two of them had been chatting for ages - that's just what they didn't need, he thought - a bigger phone bill! 'I'm sorry to sound so gloomy Mum but I just don't know what to do anymore. Pete and I worked really hard on our Bill Payment System. I really hoped it was going to be the answer to our problems but now I feel even worse! We worked out when all our bills were due and the amounts, but instead of showing us how much money we had, it just showed us how much money we didn't have!'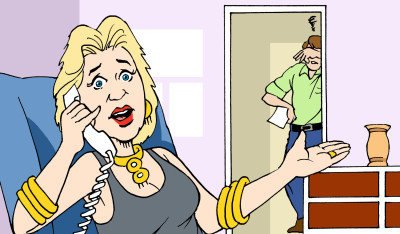 Well she was right about that! Pete thought to himself. He hadn't exactly been over the moon himself to discover how little they had to live on for the month but it wasn't all bad. At least Sally had been able to see once and for all in black and white that they simply didn't have any money leftover for all her usual little luxuries and impulse buys.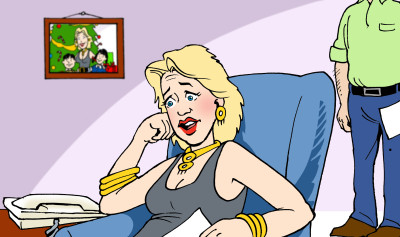 At last Sally hung up. 'Feel better for getting that off your chest?' asked Pete. 'No, not really - it's not like it makes the problem go away, is it?' grumbled Sally. 'Oh Pete, how are we going to get through to next pay day? If we're to pay all those bills on time, I'm going to have to feed the whole family on just $200 for the whole month. Like anyone could manage that! We are just going to have to use the credit card - unless you've got any better ideas?' she said, scowling. 'As a matter of fact I do!' grinned Pete. 'Look at the calendar. It is $21 Challenge Month!'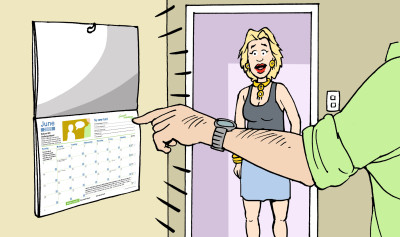 ---
2. June is National $21 Challenge Month!
Sally is about to find out that it really IS possible to pull money out of thin air - with the $21 Challenge! If the $21 Challenge is something you have been putting off because it seems impossible or 'too hard', think again. All the resources and support you will ever need are available to you, here on this site. In the free area you have Penny's $21 Challenge Survival Guide which will fill you in on what it's all about. There is also a handy Menu Planner and Ingredients List to help you stay within budget and ensure you buy only the food you need for your super frugal week.
If you are new to the Challenge:
Your mission, should you choose to accept it, is to only spend a meagre $21 to feed your household for an entire week. It can be done! All you need is a little know-how and a steel resolve.
The Rules of the Challenge are:-
Don't cheat. The aim is to make the most out of what you already have, not go to the supermarket and stock up on everything before the week starts – that's cheating!
Make shopping your last resort. Your objective is to make shopping your absolute last resort. You have to use up everything in your pantry before heading to the shops.
Limit your spending. Your budget is tiny, a meagre $21. Make it last.
Be resourceful. If you run out of something, make do. Find another way to make it or look for something else to eat.
For Vault members, the $21 Challenge is a breeze! You will find your Vault membership really is worth its weight in gold this month, with countless ways to help you get through the week. The cooking section of the Vault currently contains 1730 tips and recipes to make something out of nothing. How can I use this? How do I cook that? Or even 'Help! I've run out of...' No problem! Just search for what you need on the site. We can pretty much guarantee you'll find the answer!
With your Vault membership also comes round the clock access to the Savings Forum. This means you have other members on hand 24/7 to motivate and support you. They are $21 Challenge experts and collectively there is nothing they don't know. At the time of writing this newsletter we counted 86 threads on the $21 Challenge alone! They are a fantastic source of information, tips and recipes. Reading both the Vault and Forum will really get you in the mood for taking on the Challenge and making some SERIOUS SAVINGS.
So this month see how much of your usual grocery budget you can manage to keep in your pocket with the $21 Challenge. It's fast and it works. For many households the Challenge has become a regular helping hand; a reliable old friend to get you through when things are really tight. It's also the most fun way to save money that we have ever come across!
No more excuses - give it a go!
---
3. $21 Challenge Competition
Yes, you read right! We are giving away two $50 prizes each week for four weeks during National $21 Challenge Month for the most outstanding, entertaining or useful tips or tales. Now is your chance to put your hand up and yell loud and proud 'YEAH! I'm a $21 Challenge survivor!' The winning entries will be published each week alongside our regular Hint of the Week competition. Now is your chance to help and motivate others to have fun and save money with the $21 Challenge!
Enter here with our online competition form. Feel free to fill in as many fields as apply to your household. Your entry can be as funny or as serious as you like. We're really looking forward to hearing how you made it through!
---
4. Best of the Vault: How Far Can You Stretch?
Whether you want to try the $21 Challenge for one week of the month or adapt the target to something more suitable for your family, there are loads of wonderful ways in which members love to 'challenge' themselves and stretch their dollars further.
'Challenge night' saves $25 a week on groceries
I have devised my own version of the $21 Challenge to suit my busy schedule. Rather than do the challenge for a week, we do it three nights a week using up what's left over. I pre-cook meals once a fortnight and do double serves of everything to feed us from Monday through to Thursday. Friday, Saturday and Sunday nights are 'challenge nights' where we make a meal with whatever is left from the week plus anything in the pantry or fridge. This stops the pantry from exploding and saves money as well. Over the past two months we have saved about $25 a week, which is more than 10% of our food budget.
Pantry Challenge
Try this fun game out with your family next time the cupboard's looking a bit bare. We call it the Pantry Challenge! With the budget extra tight for almost a week recently, I was feeling like Old Mother Hubbard and all out of meals and ideas. Fortunately, we came up with a plan! My daughter took an eco-friendly shopping bag and told each of the kids to go to the pantry and pick out an item. The challenge was, my daughter had to then make up something to cook for dinner out of their selected items - a bit like the television show 'Ready, Steady, Cook!'
Far from being a disaster, we ended up with a fabulous dinner of baked beans/lentils with jacket potatoes, sour cream and salsa, accompanied with salad. We even had some yummy chocolate cream tarts for dessert! We have since enjoyed other Pantry Challenge meals, such as sausage tacos accompanied with the left over salsa. It's a really fun way to save heaps of money and we're all realising that not being able to go to the shops isn't quite such a hardship after all!
$21 Challenge saves $150 in a week
As a new member, I have saved $150 in my first week, thanks to the $21 Challenge! I thought I was careful with money until I discovered this site and realised how I could further improve my spending habits. I decided to give the $21 Challenge a go and it is now Thursday and I haven't been to the shops yet!
I have become a problem solver due to the fact that I must use what is in the fridge/freezer and pantry. I nearly buckled when my four year old wanted 'pink milk' and I had run out of Nestle Quick but no problem in the end. I found some rose pink food colouring and with just one drop - presto, pink milk! It does take some preparation because you are cooking from scratch but it is all worth it when your family tells you that the dinner you made tonight was the best, and is there any more?
My other dilemma was to use the three zucchinis in the crisper, so I made them into a slice. It was so easy to make and I had every ingredient on hand without even trying!
Zucchini Slice (serves 4-6)
3 zucchini, grated
1 onion, grated
1 potato, grated
4 slices of ham/bacon, chopped
1 cup of cheese, grated
6 tablespoons plain flour
3 eggs
Salt/pepper
Put all ingredients into a big bowl and mix really well. Pour into a quiche dish and cook in the oven for one hour at 160C. If you are vegetarian, simply leave out the ham. Simple, delicious and super cheap!
$21 Challenge style parmigiana
When trying to stick to the $21 Challenge I have discovered that there are many uses for all sorts of normal everyday items in my pantry! I discovered that I had three jars of pasta sauce but no mince left. However, I did have rissoles, so I cooked them up, poured a jar of pasta sauce over, grated some cheese over the top and baked it in the oven until the cheese was golden brown. It was just like having a fancy parmigiana, except this one fed our family of five for less than $5.00!
Tacos make cheaper, healthier 'nachos'
I have discovered how I can save $1.75 per packet on my son's favourite meal! During a recent $21 Challenge week I went to buy corn chips to make nachos. However, they cost $3.50 per packet and we would need at least two, so this didn't fit into my Challenge budget. My son had asked especially for nachos and I had already promised him so I racked my brain for a solution. I decided to try using tacos instead! There was 60g more in a pack of tacos and none of the air you get in a chip packet. They also have less flavouring and preservatives. All I had to do was break them into pieces when I got home - everyone was happy!
Expand a bare pantry with substitute ingredients
If you ever get halfway through cooking only to discover you have run out of an ingredient you were certain you had, don't rush down to the shop, do a Google search and see if it can be substituted. Key in the ingredient you have run out of and the word 'substitute' and you should get the answer you need. I have been caught out a few times and checked the Internet (www.landolakes.com or lancaster.unl.edu/food/ciqsubs/shtml) and found out that you can use milk instead of eggs for crumbing, you can make self raising flour from plain flour, and tomato paste from tomato sauce. Using substitutes could also expand your options when the pantry is bare or when you're doing the $21 Challenge!
Entertain without spending a cent
I fed two families a three course meal, all without spending any extra money! I set myself a challenge to put on a three course meal using only ingredients in my cupboard and fridge, similar to a $21 Challenge (except no spending)! We had starters, soup, main course, dessert and something with coffee - I felt fantastic and proud. Simple Savings has taught me to stock up on staples such as eggs, bread, flour and in season vegies so check the cupboard and scan your recipe books for inspiration. It just takes a little imagination - like turning chops into kebabs!
Here is the menu I created:
Starters: Flat bread baked with paprika and served with hommus dip.
Soup: Pumpkin and sweet potato (guests bought dinner rolls).
Main course: Lamb chops - skewered and pan fried - like kebabs, roasted zucchini, potato, carrots and sweet potato.
Dessert: Lemon tart (made my own pastry).
Coffee with florentines - no glace cherries though, not quite the same!
Vault Extras
Get your food free all the time Contributed by: Bozena Warzecha
Love food hate waste Contributed by: Esme Bell
Stocking up brings spending down Contributed by: Julie Armstrong
---
5. Best of the Forum: Frugal Foodies
The whole aim of the $21 Challenge is to cook as much as possible using what you have available. This however does not mean 'going without' - far from it! Have a look at what the members in the Savings Forum are doing to get ready for the $21 Challenge Month.
NOTE: the Forum is in our paid members area, the Vault. You have to be a Vault member to access it.
With more and more members feeling the pinch of the recession, $21 Challenge weeks are becoming increasingly common in many households. This is an awesome thread started by Claire M which contains heaps of terrific information about the $21 Challenge for newbies and veterans alike.
read more...
Our clever members share their secret recipes for dinners that cost less than $5.00! Well done everyone!
read more...
You can save around $100 minimum on your groceries with a few simple changes and some ingenious $2 dinner ideas. Check out these for starters!
read more...
This amazing challenge has been running for two years! Join in and challenge yourself to see how long you can shop in advance for with careful menu planning and motivation.
read more...
On a diet and worried about weight gain during the $21 Challenge month? Look no further! Your very own support group will help you keep on track.
read more...
---
6. Sophie Gray: Dumpster Diving
At dinner recently, my nephew El was regaling us with stories of his latest 'dumpster diving' exploits. Dumpster diving, for those not in the know, is the practice of clambering into supermarket dumpsters to retrieve edible dated or damaged stock. It was made popular by a group who describe themselves as 'freegans', foraging daily for sustenance in urban environments, eating wild food or perfectly good food that has been discarded.
El and his mates are appalled at the obscene amount of perfectly good food they find discarded simply because the packaging has been damaged, or because it's nearing expiry. Boxes of chocolates and luxury treats, trays of yoghurt, fresh veg and mountains of bread, all tossed out in the rubbish. This same boy won't hesitate to buy a hot breakfast for a homeless person on a cold morning - it's not about stingy-ness, it's about the sheer waste.
It's easy to become de-sensitised to waste; often the more we have the less we care. Unlike the supermarkets, I simply can't afford to waste anything and if I can make what I've got go even further then I'm well pleased. One of the skills of surviving the $21 Challenge is not wasting anything you can use, and making the most of what you've got while avoiding the lure of the supermarkets and their advertising (much like the freegans actually).
I've developed these super stretcher recipes specifically to make a little go a long way, and while not quite free, they are pretty cheap and you won't need a ladder and a teenager standing lookout to get your dinner on the table.
Don't waste that little piece of leftover something! Make it go further by:
Wrapping it a crust, crepe or a flatbread.
Add beans, green vegies or a layer of something starchy - pasta, potato, tortillas.
Fill the plate with cheap seasonal vegetables.
Fill the plate with staples - rice (rice salad, Pilau, risotto), pasta (macaroni 'n' cheese, pasta in sauce).
Add it to something to make a fritter or cake - risotto cake, corn fritters, potato cakes, frittata...
Add it to a quiche or pizza.
Super stretcher - Beef and sausage roll
Few people can resist the lure of crispy pastry! Add the savoury succulence of a herby sausage filling and you are onto a winner with the family. Sausage meat can be fatty and all meat is expensive. This super stretcher recipe combines lean beef mince with the sausage meat for a healthier option and stretches 500g of meat into 8-10 serves.
250g sausage meat
250g lean beef mince
1 tsp mixed herbs
1 onion, chopped
2 medium potatoes, scrubbed and boiled till tender
¼ cup tomato sauce
¼ cup chutney
2 sheets of frozen puff pastry or a block of pastry (home-made short crust will also work if you have no frozen pastry)
1 egg for glazing - optional
Preheat the oven to 220°. Prepare the pastry by brushing a little water along one edge. Overlap the wet edge with the second sheet of pastry and press firmly (I roll over the join a few times with the rolling pin). If using block or home-made pastry roll it out to roughly 50cm long and 24cm wide.
Chop the onion and combine with the sausage meat, beef mince and herbs, this can be done in a food processor. Slice the cooked potatoes into ½ cm slices. Combine the chutney and tomato sauce.
Brush a little water down one long side of the pastry. Spread the sauce mixture over the pastry not quite to the edges. Form the meat mixture into a sausage shape down the middle of the pastry, flattening it slightly so it is compact. Place the potato slices on top of the sausage and carefully wrap the pastry around the filling. Stretch the pastry a little if you need to, to accommodate the filling. When you have joined the pastry along the length of the roll as best you can (don't worry if it's not perfect) carefully lift (using a long spatula) or slide the roll onto a greased baking tray, you may need to place it diagonally. Beat the egg lightly and brush over the pastry, then use a serrated knife such as a bread knife to cut slashes into the pastry top at 1 ½ - 2cm intervals. Bake in the preheated oven for 25-35 minutes or until pastry is a rich golden brown. Slice and serve hot or cold with vegetables or salad.
Cook's tips:
We get at least 8 adult serves (2 slices per person) from this when we serve it with side dishes. If you are feeding little people you'll get even more. If you don't want to waste an egg on 'glazing' the pastry, just brush it with milk.
Super stretcher - spicy beef, beans and rice
This is probably not the prettiest dish you've ever made but it is really tasty, it's easy and very cheap to make. Stretching 250g of minced beef to serve six people, this recipe may just save your bacon. Serve it with pretty roasted carrots, parsnips and beets or green beans and grilled tomatoes.
1 cup of green or brown lentils simmered in boiling salted water for 20 -30 minutes until soft
250g lean beef mince
1 onion, finely chopped
2 cloves garlic, crushed
1 ½ cups long grain white rice
3 ¼ cups hot water
3 tsp beef stock powder
½ tsp salt
Fresh parsley - a couple of handfuls if you have it
Hot sauce
1/3 cup sweet chilli sauce
1/3 cup tomato sauce
2 dessertspoons chutney
1 ½ tbsp Worcestershire sauce
Simmer the lentils as described above and then drain them well, rinsing off any sediment.
Heat a large non stick frying pan and sauté the mince till brown, crumbling it as it cooks. Add the onion and garlic and cook until soft.
Combine the hot sauce ingredients and add 2/3 of the sauce to the pan. Stir in the rice, beef stock, hot water and salt and simmer, stirring occasionally until rice is tender and liquid absorbed. Stir in the lentils and taste, add the remaining hot sauce if you want more punchy flavour. When the lentils are well combined add the chopped parsley and serve.
I serve this with a mix of pretty roasted vegetables, carrot batons, parsnip batons and roasted baby beets but any veg will do.
Super stretcher- savoury Italian calzones
500g beef mince into 12 or more serves? That's good value by anyone's reckoning!
I use a yeast bread crust for the calzones, so you'll need to allow time for the dough to rise. You could use pastry but the dough is cheaper and healthier and very filling. I also like to add some grated cheese to the calzones, but that too is optional.
For the crust
4 cups plain flour
1 tsp salt
½ tsp sugar
1 dessertspoon oil
1 ½ sachets instant yeast
1 ¾ cups warm water (or more if needed)
For the filling
500g lean beef mince
1 onion, chopped
3 cloves garlic, crushed
1 400g can chopped tomatoes
1 400g can concentrated tomato soup
1 tsp mixed herbs
½ tsp oregano
1 can or 1 ½ cups cooked cannellini beans or other white beans
¾ cup grated cheese - optional
To make the crust
Place the dry ingredients in a large bowl. Add the oil and enough warm water to make a dough. Stir together and knead on a well-floured surface for about 5 minutes. It's preferable to work with soft dough, as dry dough is very tough to knead and roll. You can always work extra flour into a moist dough but once you start to knead it is very difficult to add extra liquid.
After 5 minutes kneading the dough should be smooth and elastic. Put it back in the bowl and microwave 1 minute on low, stand for 10 minutes then repeat till dough has doubled in size, or leave in a warm place till doubled.
To make the filling
Brown the meat in a hot pan, stirring frequently to crumble it. When it is all browned add the chopped onion and garlic and cook until soft. Stir in the tomato soup, tinned tomatoes and herbs and simmer for 20 minutes or until the liquid is reduced and the mixture is a thick sauce-like consistency. Drain and rinse the beans and stir them into the sauce. Set aside to cool.
To assemble
Preheat the oven to 200°
Roll the dough out to a thickness of around 3mm if you can, and cut into rounds. I use a 15cm noodle bowl as a cutter, you could trace around a saucer.
Put a dough round on a greased baking tray, brush a little water along ½ the rounds edge. Place 2 dessertspoons of the cooled meat mixture in the middle and add a pinch of grated cheese if using.
Pick up opposing sides of the dough round and starting at the bottom edge, pinch the sides together. When they are joined, crimp them well with your finger tips, it should resemble a Cornish pasty with a crimped seam down the centre. (I've tried doing them flat like an apple turnover but the filling spills out). Continue until all the rounds are filled - I usually get 12 from a batch of dough with a spoonful or two of filling left over. Add a sprinkling of cheese to the top of each one if you like, and bake at 200°C for 30 minutes or until golden.
Serve hot with salad or cold in a lunch box or picnic basket
---
7. Penny's Blog: Modern Day Cavemen
May 28, 2009
*Grin* every $21 Challenge month this happens! As soon as I write the contents of my pantry and freezer in my blog in the lead up to a $21 Challenge I get letters from members saying 'Penny that's not a stocktake, that's a whole supermarket!' Admittedly Noel and I were quite delighted to discover just how much food we did have in the freezer the other day - and that's just one freezer, mind - we still have another to delve into!
I honestly think a large freezer is one of the best investments you can make. Our freezers save us a staggering amount of money. If you don't have room for one, get rid of something else less useful and put a decent sized freezer in its place instead! Ours sits in the back porch. It is probably older than I am but is still going strong. We inherited it from Noel's grandma in 1993 and it was a good few years old even back then. It measures 1300mm x 660mm x 900mm and is full to the brim with meat. I was amazed when I took this photo this morning to realise that out of the hundreds of packages in there, just TWO have been bought from a shop - a bag of chicken pieces and a whole roast chicken. All the rest has come about through Noel's hunting and fishing exploits. I never realised how much we take it for granted until Fiona asked how on earth we ended up with so much meat in our freezer. My answer was 'Two blokes, a rifle and a fishing rod'.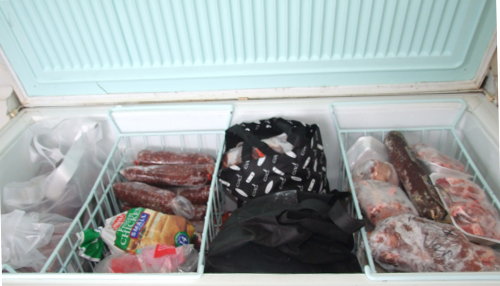 Noel learned to fill the freezer from a very young age. From the age of eight years old he loved nothing better than going hunting or fishing with his uncle and young cousin. Together they would spend hours, days at a time in the bush on hunting expeditions. Whatever he shot or caught he would proudly bring home to his mum and she would dutifully cook it and serve it up for the family. At 19 he met me. My Dad, being a keen shooter himself, and Noel got on like a house on fire. I was used to Dad bringing home pheasants for my mum to pluck when I was small in England so this shooting lark was nothing new to me. The difference was, I had never had to cook it before. The first time I went duck shooting with Noel I burst into tears. Didn't go down well I can tell you!
For years I struggled to eat the things he brought home. It didn't seem right to me, not coming from a supermarket and all nicely wrapped in plastic. It was too real to me. I didn't like thinking about the beautiful animal that once lived in the bush and was now served up on my plate. To be honest I was still like that until quite recently - I would serve it up to everyone else but not have any myself. But the more I learned about Noel's work in the livestock industry, the more I realised how daft I was being. I was really lucky - Noel was giving me a choice. What would you rather do Penny? Would you rather your meat came from an animal who had known nothing but complete freedom in the wild and simply had the misfortune to come across a bloke who was a good aim with a rifle? Or would you rather it had spent its days in captivity, being pushed from pillar to post and fattened up with the sole purpose of ending up on somebody's table, before being sent to the abattoir with a truckload of other stressed and bewildered creatures?
Even the kids prefer 'wild meat' to shop-bought meat. Liam's favourite all-time foods are duck, venison and scallops - all provided by Dad - and nothing beats a feed of freshly caught fish! No additives, no preservatives in any of them; just real food. It didn't cost a fortune in feed and resources to raise them, just grass and natural foraging. Venison is one of the healthiest meats you will come across, containing next to no fat or cholesterol. I've never thought about it before but I can also see it's a far more environmentally friendly way to source meat too. No real transport costs, no excess packaging. Where possible, Noel does the butchering himself. If it wasn't for him, we would never get the chance to eat venison. Deer were once a feral pest in this country. The problem was so bad that in the 1930's the government enlisted professional hunters to cull the population. During the 1960's entrepreneurs recognised the opportunity to ship to Europe where venison was traditionally a favoured dish. Hunting became so lucrative that the deer population dwindled to the point that deer farming became economically viable, at least once deer-proof fencing was invented!
Today NZ is the biggest supplier of venison in the world but only 5% is eaten here, the rest is exported. According to 2008 prices Kiwi customers wanting to buy venison from supermarkets were having to cough up anything from $36 to $99 per kilo. So going with the average price being $55 per kilo and the average amount of meat we end up with being around 45kg, Noel saves us around $2475 with every deer he brings home! Jeepers! Even if it only got put into sausages (which it doesn't) you're still looking at an easy $1000. Gold plated bangers! To be honest, I still prefer the taste of beef over venison any day, but if it keeps us well fed and is almost free, I guess I can learn to live with it!
I'm very glad - and fortunate - to have married a hunter gatherer. We never catch or hunt for more than we need and if we do have a surplus we give as much as we can away to friends and family. It's great that my kids appreciate the good food they have and where it's come from. I realise that we are in the minority living the way we do. The skills Noel has have been passed down from generation to generation and in turn he is passing it on to his sons. Liam's favourite thing in the whole world is to go out on the boat overnight with his dad and beloved dog Hubble, catching fish and cooking it on board.
Ali first learned to shoot when he was 8. At 10 years old he is as capable as any adult in the bush and has the utmost respect from men three times his age who hunt with him. He is mature, responsible and his knowledge of nature and wildlife blows me away. Heck, it even amazes his teachers! He knows just how lucky he is too and finds it hard to believe that most of his friends have never eaten fish that didn't come out of a packet and weren't covered in breadcrumbs, let alone venison. His favourite place in the world is deep in the heart of the bush with his dad, learning about the world and creatures around him.
It sounds ironic, but Noel, Ali and my late father are the biggest conservationists I know. They have nothing but love and respect for wildlife - yet they all hunt them. I can see it for myself, plain as day but it's always been such a strange combination to come to terms with. Having written this blog it finally makes sense to me and I appreciate their efforts far more. My fellas are modern day cavemen; hunter gatherers who continue to provide food the old fashioned way. They save us THOUSANDS of dollars a year. The food they bring home is additive free, preservative free, styrofoam free and almost cost free. Best of all, it has been allowed to BE free. I would definitely rather eat my meat that way! It's great to know we have so much food on hand going into $21 Challenge week. We have free, fresh eggs from the chickens and the vegie patch is worth its weight in gold at the moment. Bring on National $21 Challenge Month!
P.S. It might sound like it but not ALL our meat is sourced from the wild. Members have been writing to ask how we save money on other meat too, particularly beef and lamb. That's a whole other blog, I'll tell you how we do it in the next one!
Vault Extras
5th - Reality Bites
8th - Mistaken Identity
25th - Wine Flu
---
8. Homeopathy Corner: Swine Flu
This month Fran explains how the Swine Flu came to be, your risk of catching it, which symptoms to be concerned about, conventional medicines and their side effects, possible vaccines, necessary precautions and how to treat the flu homeopathically. To read Fran's article go to:-
homeopathyplus.com.au/hplus/treatment-room/straight-talk-about-swine-flu.html
---
9. From Last Month: Looking the Part
Last month Rose H asked:
"My husband will soon be made redundant and he hasn't bought himself new clothes for 10 years. I love him but quite frankly he looks daggy, let alone presentable enough for future job interviews. Unfortunately with the cost of raising kids, buying groceries and paying large bills for school I have had difficulty splashing out on a new wardrobe for myself, let alone him. I would like to find deals on men's clothes and inexpensive alternatives to designer suits to help update his look. Can your members help point me in the right direction?"
Clothes library for interview outfits
If your budget doesn't stretch to new clothes for that all-important interview, don't panic. See if you can locate a clothes library in your area. You can borrow clothes for interviews just like you would borrow books from the library!
Clothes libraries provide suits and outfits for people who can't afford to dress for a job interview. In Perth they have the Belmont Clothes Library and in Victoria they also have a service called Fitted for Work which is similar to Belmont but I believe is only for women. Both of these places can be found through a Google search.
Clothes libraries are all over Australia, you just need to get in touch with a worker through a community centre or somebody at your local council and they will help you.
Look the part with dressmaker help
If you need a new outfit to smarten up your wardrobe, ask around for a local hobby dressmaker who does it from home for a bit of extra cash and something to do. You'll be surprised how many there are. You can get phone numbers from your local primary school uniform shops, and formal wear stores usually keep business cards and lists of local phone numbers.
A new business outfit every day
Men don't have to spend a fortune on business wear to look the part in the office. Most men don't really need an extensive work wardrobe, since business clothes all look much alike. A tie is the only item that stands out in a man's business outfit. All you need is a collection of ties and a man can look different each day. I've found my husband some great ties at op shops.
If you're not required to wear a suit every day, aim for just one or two suits for important meetings and buy separate pants for the other days, so the suit pants don't wear out before the jacket. Business shirts do wear out and look tatty at the cuffs and collar, so do get the best quality you can afford and they will look better longer.
Mix and match for an up-to-date wardrobe
To save money on good clothes for work, my partner asks family for money each Christmas, so that he can update his wardrobe. We usually wait until after Christmas or get family members to give it to him just before the end of the financial year (for his birthday) to take advantage of the sales. I also look in places like the Salvation Army store for suit pants, and mix and match with newer cheaper items from Big W, Kmart or Target. If you take advantage of the mid-year sales you can often get some great up to date bargains for up to 70% off and you can add these to an existing wardrobe to update the overall look. Mixing quality items with inexpensive ones can really bring a look up a notch.
Get kitted out for work with Freecycle
I have found Freecycle to be a fantastic source of clothing when I went back to the workforce. You would be amazed what people give away! I couldn't afford new clothes and was embarrassed the first time I collected a bag of Freecycle clothes but I have to say most were in good condition and wearable. I see people even ask for certain clothing items. After a good wash and press you stop worrying about it and nobody else will know.
Suss out your wardrobe before splurging
Before splashing out on a new wardrobe, suss out what you need first. What do you actually need clothes for? Is it for job hunting, going out, exercise, what? Then, go through your current clothes and see what can be kept and what has to go. Once this is done (and this is important - you don't want to buy what you already have), make a list of what you need based on the purpose of the clothes.
Also, look in the Yellow Pages or online for second hand clothes shops or fashion recyclers. I have bought clothes on eBay - I prefer not to as I like to try things on, but there are bargains to be had regardless.
A whole business wardrobe for $20
Having just returned to the workforce after looking after the kids, I found myself with no business clothes and a tight budget. So I hit the op shops. Just this week I have bought two black business skirts at $2.00 each. I spent $2.50 on a business jacket last week because it was on red tag special at the op shop. I have so far managed to buy enough clothing for almost a full week of work in only about a month of looking. To get the best value for money it helps to stick to basics and not follow styles. Most clothing in the op shops is one to two seasons behind the fashion but if you stick to the classic looks then you should be fine.
My friends and I have an op shop morning once a fortnight. We all climb in the car and drive around the five or six op shops in our area to see what we can find, then return for lunch together at someone's house. Yesterday alone I bought approximately $250 worth of clothes for $20!
---
10. This Month's Help Request: Pantry Problems
This month Patricia Brooks asks:
"We have a storage problem with our pantry. It is about 56cm wide and deep and too tall for me to reach the top shelf. My problem is that the items at the back get lost, and a couple of times I have bought a grocery item, only to find I already have one tucked away at the back. Most solutions are costly so if anyone can suggest a more cost effective way to organise it we would be very glad."
If you are an organising queen (or king) we'd love to hear how you keep your pantry easy to access. Send your tips here.
---
11. Savings Story: Our 'Wow' Moment
We have just had our Simple Saving 'OH WOW' moment. As of this week, our mortgage is the only debt we carry!
When we started receiving the Simple Savings newsletters, about five years ago, my hubby Richard and I were saving for our wedding. Nothing huge on the 'average' scale - we had two children, renting, both working and a credit card with $15,000 limit. We became members a few years later when that credit card was maxed out at $25,000. We needed to bring that under control and so wanted to become proud first home buyers! Want, want, want.
With both of us working we could borrow heaps (with the credit card 'just roll into the mortgage') but the information gleaned through the Vault steered us to limit to the borrowing capacity of one income if interest hit 15%-20%. That alone saved us. A year later I was unable to work, having a spinal op last September and it will probably be another year before I can consider working. If it appeared things could not get 'worse', the financial crisis did impact us when Richard's work had a huge number of staff made redundant.
Thankfully Richard is still employed - but he is now working four days a week and it has reduced the take home pay by a quarter. But you know what - we just paid off our credit card! That monster disguised as a harmless little piece of plastic has been up as high as $25,000 (and cancelled with the assurance 'we'd never get credit again') down to $15,000; to $12,000; $7000 and we now have a limit of $5000 with the full amount available.
This has been possible largely with the help of the 'Babysteps mortgage', 'Garden gurus' and 'Grocery challenge' Forum threads, as well as many a $21 Challenge, however it all stemmed from the No Spend month last year. That challenge made us aware as an entire family what we were spending on what, and the discovery of the Forums, coupled with years of trawling through the Vault, steered us to a zero credit card balance.
Not only that, we still have almost $1000 in the savings account! We've never had savings before - it's always been 'available credit'. It is a wonderful feeling to have the mortgage as our only 'debt' - and we are paying our own mortgage, not someone else's for once! We are saving into a high interest account and we have a credit card we can now pay out in full every month, gaining excellent benefits and reducing a LOC mortgage we were told took discipline to manage and we 'would not be able to do it' - but we have! There is absolutely no way I would have placed a bet on ourselves at the start of this year to have halved the credit card debt by now, let alone have totally cleared it, have growing savings AND be living on less money in that time. But we are definitely the winners here!