This issue includes:-
Sad Sally, Happy Hanna: No Jacket Required?
November is Nude Food Month!
Great Aussie Street Party
Hidden Gems Competition Winner
Best Members' Blog: This Month's Winner
Lin's Garden Diary
Best of the Vault: The 3 R's
Best of the Forum: Nude Food is Just the Beginning!
Cooking with Mimi: Berry Yummy Muesli Balls and Nude Lasagne
Penny's Blog: A Song to Get Me Home
From Last Month: Help Me Conquer My Shopping Bag Mountain!
This Month's Help Request: Unique Christmas Gifts
Savings Story: Satisfaction Guaranteed!
So Long, Farewell, Auf Wiedersehen, Goodbye :-D
---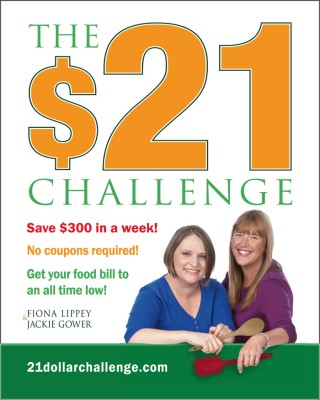 Hello,
Guess what? We have good news. The $21 Challenge book is being released in America this month! It is both really exciting and really scary. I hope they like it. It is already on sale at Amazon. Here is the link. If you have five minutes spare can you please review the book on Amazon? It looks so lonely without any reviews.
Your comments such as the ones below are so encouraging to $21 Challenge newbies. I hope the people in America find the Challenge just as helpful and enjoyable as these families have!
"I bought your book last week and I just love it. I always thought I was good with money, but seriously, your book is the best idea giver I have seen. I feel like a part of a special group and reading all the stuff on the Internet is so good too. I was nearly thinking I wish I was one of those families that spent $300 a week on shopping so I could see what a massive difference it could make, but really, saving what I did this week is huge. More importantly, it has given me the confidence in knowing that even after losing my job, I can feed my kids and pay the bills and still laugh at the end of the day. That is something you can't put a price on. Thanks so much you guys." (Katherine B)
"Just wanted to let you know how fantastic your site is. I started the $21 Challenge on the weekend and I have had a fantastic weekend with kids cooking up a storm. I will never buy pizza bases again, mine are too yummy. OK, it takes a little extra time and planning but boy is it worth it! I felt a sense of achievement and empowered. I just hope the rest of the week goes as well. If all goes well, I plan to attempt the $21 Challenge every three months and with the savings plan a holiday for the family." (Gabrielle Hayes)
"The $21 Challenge book has been awesome, we have used it a lot over the past few weeks as we are packing and moving and trying to cut costs everywhere. We have a family of seven and have spent just $40 on food each week, for the past three weeks!" (Colleen Ross)
"Thank you so much for your site. It took me a long time to bite the bullet and subscribe. In two days, you have saved me $300! Thank you so very much, I am sure that it won't be long and I'll have another huge saving." (Amanda R)
Thank you everyone for your terrific feedback! We really appreciate every single tip we receive every week too, so keep sending them in. As well as helping other members to save money, you could also win yourself a free 12 month Vault membership (value $47) in our weekly Hint of the Week Competition!
P.S. Thank you to everyone who asked when the 2012 calendar will be ready. Rest assured it's on its way!
P.P.S. If you would like to order your friends a copy of the $21 Challenge book for Christmas, you will need to order it before the 30th November. The Lippeys are going on holiday in early December.
---
"Hello, Love, how was your meeting?" smiled Pete. "Great! We had a lot of fun," grinned Sally. "Oh - and I've got an invitation from Hanna. She wants us all to go nude together this month." "She - she does?" Pete narrowly avoided spilling his coffee all down his shirt. "Well that's a surprise; I would never have thought she was the type!" "Oh yes, Hanna and John have been nudists for years!" Sally told him earnestly.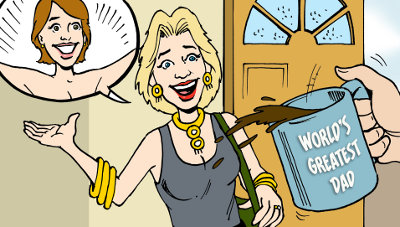 "They have? I can't believe John hasn't mentioned it before! Honestly, you think you know a bloke and then they go and surprise you like that," Pete shook his head in wonder. "Well I don't know, Sal, how do you feel about it? I mean, it's a pretty big step." "Oh come on Pete, the whole Savings Group is going nude - we can't be the only ones. It'll be fun!" Sally insisted.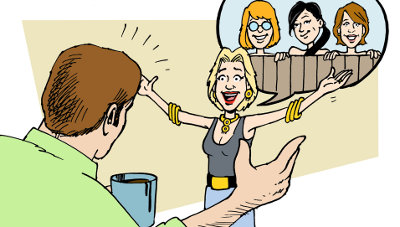 "Well, if you're sure," Pete sighed. "So where are we going nude then, some sort of camp? At least we won't need to pack much I suppose!" he chortled. "Camp? No, of course not!" Sally said, bemused. "We'll all be doing it in our own homes, for the whole month." "A whole MONTH? Sally we can't! What if the neighbours see? And the kids - what will they think?" Pete babbled. Suddenly the penny dropped and Sally burst into hysterical laughter. "Oh, Pete don't tell me - you didn't seriously think - you haven't seen the calendar have you? It's Nude FOOD month!"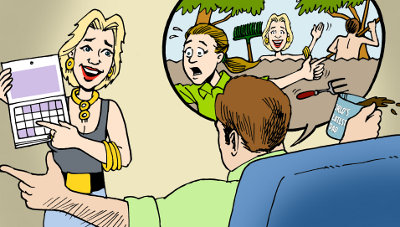 ---
The Nude Food Challenge is one of the favourite months in the Lippey household. It gives Fiona an excuse to eat yummier food than usual. It gives her an excuse to bake extra batches of fresh cookies, buy extra fresh fish from the markets and plant extra vegies in their yard. When we first ran it in 2007 the Lippeys loved it so much it became a way of life. Plastic wrap became a thing of the past and Fiona hasn't needed to buy any since. Unfortunately old habits die hard and she ended up with four rolls of the stuff before she worked out that she didn't need it on her shopping list anymore!
The reason why Fiona loves nude food so much is best explained in this article she wrote back in 2007. We rarely repeat articles but in the case of this one it's a must-read:
"Many people would describe modern packaging as a massive leap forward for mankind - but I'm not so sure. While all our technological advancements have made cooking easier (I love my oven and blender), when it comes to the quality of the food I think we have gone backwards. The introduction of disposable packaging means that instead of eating fresh food from the yard, our food is now several days, weeks or even months old by the time it gets to us. My favourite example is vacuum packed meat. It might look lovely and fresh in its fancy plastic bag but thanks to that bag the meat can be three months old and full of amines - yet sold to us as 'fresh'!
Once upon a time all our food was rudie nude. That is, food with very little clothing. No disposable plastic, no pretty labels, no sneaky tricks, just fantastic 'fresh' food. The wonderful thing about nude food is that it is fresher, tastier, cheaper and more nutritious than its heavily packaged counterparts.
Nude food is wonderful because it is cheaper. It costs money to package food; they need processing plants, transportation, petrol and all these costs add up and are passed on to us, 'the consumer'. So this month set yourself a goal to stop paying premium prices for earth vandalising, expensive packages by making the effort to learn how to grow some of your own food. This month prepare yourself a patch of soil, buy some sturdy food plants and give growing your own food a go. After all, food you grow yourself is virtually free.
Nude food is fresher. The whole point of packaging is to extend the shelf life of a product. That's jargon for making sure the food rots slowly. Well to be frank I don't want to eat rotting food, even if it is only partly decomposed. I love my food fresh! Biscuits taste the best snatched from the baking tray after they have come out of the oven, not from a throwaway plastic tray taken from a throwaway plastic wrapper. So this month set yourself a goal to bake everything yourself. Don't buy anything you can easily bake at home.
Nude food is tastier. The most delicious meal I have ever eaten was completely nude. It was 13 years ago in Thailand. We were travelling down a river in tropical heat without a fridge. So instead of bringing chicken fillets, our guides brought the whole 'live' chook. At tea time it was discreetly dispatched, plucked and barbecued on an open fire. No seasonings, no herbs, just fresh cooked meat. It was divine! Even nine years later I still salivate just thinking about it. That chicken made me realise how much we have lost. The older the food is the less natural flavour it has and the more things we need to do to it so it tastes nice. All the seasonings and flavours we add are just trying to cover the fact that the food we are eating is old. I really want to eat fresh food - but I can't bring myself to kill a chicken! So instead I'm going to go to the local wharf once a week this month and buy the morning's catch, right next to the trawler. If you live inland, get some freshly slaughtered livestock. Let's see if we can all eat one really fresh meal a week this month.
Nude food is healthier. Nude food is so delicious and fresh. It doesn't need preservatives or chicken salt to give it flavour. It tastes divine just the way it is. When it comes to fruit juice, it's the phytonutrients in plants that contain most of the flavour and a lot of the health benefits. Once a plant is juiced it oxidises very quickly and the phytonutrients are lost. So even though buying orange juice at the supermarket is convenient, getting out the juicer is much better for you. So this month avoid store bought juice, instead treat your taste buds and squeeze yourself something nude. Then taste the difference!"
Since the above article was written progress of sorts has been made. We now have many nude lunches and that's a fantastic place to start but nude food isn't just about having a healthy lunch box; it's about much more. It's about growing your own food. It's about getting high quality meat for little money. It's about cooking from scratch, because it is the best, healthiest and cheapest way to live.
So this month have a competition with yourself or your neighbours to see how many nude meals you can make from scratch. How many batches of biscuits can you cook? How many scrummy cakes can you bake? Can you eat one meal each week that is really fresh? Fish fresh from the wharf? Meat fresh from the butcher? Who can get the best, freshest food? Come on, join the rudie revolution and go nude with us this month!
---
The date for the Great Aussie Street Party is only a month away! Have you got your invites out yet? If not, get them printed and in your neighbours' mail boxes quick as not only will you be bringing your neighbourhood together but you could be in with a chance to win a fantastic cash prize!
That's Life! magazine have once again got behind our Great Aussie Street Party and are running a fantastic competition. To enter, you must hold a street party on either Saturday 3rd December or Sunday 4th December 2011. Then tell That's Life! in 500 words or less all about your party and send in your story with an entry form and at least one photograph. Easy - not to mention a lot of fun! You can download your entry form, as well as invitations from www.thatslife.com.au or you can find it in Issues 45 and 46 of That's Life! magazine. There is a prize of $1000 cash for the first prize winner and five $100 runners-up prizes. Entries close January 5th 2012. Visit www.thatslife.com.au for full terms and conditions. Have a fantastic street party and good luck in the competition!
---
Our Hidden Gems directory is designed to help members find it easier to source the best deals in their area. Whenever you come across a real gem of a store, enter it in our Hidden Gems directory and you could be in to win our monthly prize of $100 cash! This is our way of saying thank you for helping other members save by sharing your knowledge. The more information you can give us, the better your chance of winning. This month's winner is Treasure Market Caboolture as nominated by HappyHappyJoyJoy. Recycling markets like these are great and who knows, you may have a treasure trove just like this one hiding near you! Be sure to tell us about it if you do! Here's what makes this one such a great example of a Hidden Gem.
51 McNaught Road (via Pasturage Road) Off Bribie Island Road, Caboolture, Queensland, Australia
Do you love to hunt down a bargain? Are you into recycling? Or are you just looking for somewhere different to mosey around on the weekend?
Then head on out to the Treasure Market at Caboolture. It's the recycling area right next door to the landfill/rubbish dump. Don't let that put you off though! Instead consider the things that people throw away - furniture, outdoor furniture including sun loungers, exercise equipment, gardening tools including pots and stands, outdoor play equipment, books, clothes, electrical goods - all it needs is some TLC and you have yourself a real bargain! The adage of one man's trash is another man's treasure is 100% true!
It's fun for the whole family. Need a new doghouse for Rosie? For around $10, you can get one here. We will always remember a family of three little girls with their mum and dad and the way the kids yelled when they found a 'house for Rosie'.
Looking for deck chairs for the summer? There's a separate area for these, $5.00 each. Yes, you read it right! $5.00 each. And, sun loungers? $10 each. Outdoor tables from $5 to $20, and that's for the big, 'seats eight humans at once' size tables!
Hoping for a new dining room table with chairs? I saw a lady buy a complete set in pristine condition for less than $100 and that included six matching chairs. I've even seen a fabulous 'Fred Flintstone' lounge suite with matching full length mirror, snapped up for a bargain price.
All this and more at the Treasure Market at Caboolture.
Fabulous finds I've gotten myself: matching surround sound speakers for my PC $10 (and yes, they work!) and for hubby: a fabulous La-Z-Boy armchair for $20. It needed a good brush down and vacuum, and now it takes pride of place in our sitting room. We both cannot believe that someone would toss out such a comfy lazy boy chair in such good condition. Maybe someone was moving house and ran out of time in terms of listing it to sell? Maybe someone updated their lounge and the chair didn't match? Whatever the reason, we're overjoyed to have picked up something we otherwise would not have been able to afford. My latest project is two bedside tables - I'm repainting them cream - and they cost me $5.00, and I'm recovering a barstool I bought for $3.00.
Those in the know turn up bright and early to get the best stuff. Take your trailer with you. The one time we didn't take the trailer I spied an outdoor bamboo bar with two matching bar stools. Couldn't fit them in the car, so someone else snapped up a bargain!
They are open Every Friday, Saturday and Sunday from 8am-1pm except Good Friday, Anzac Day & Christmas Day.
Tip #1: To get the best deals, be there early! The Treasure Market opens at 8am and the staff transfers over all the 'new' finds first thing in the morning. We arrived at 9am one Sunday and watched with sad eyes as someone else trotted by with two gorgeous, large size lounge rugs. If only we'd been there sooner! *great wailing and gnashing of teeth*
Tip #2: The money the Treasure Market makes goes directly to paying the wages of the three staff. So they're not there to rip you off. They work hard, they're decent, friendly people and moving stuff through the market is their job. So no worries on getting a good price. Everything is a good price!
Tip #3: Take your trailer. First in, first served. There is no holding area for goodies bought, so if you want something, you will need to take it with you on the day. True, I've seen couples pay for a dining room set, and then the wife sat on one of the chairs whilst hubby went home to get their trailer. But unless there are two of you, definitely consider taking your trailer, especially if you live locally.
Congratulations on being this month's winner and a huge pat on the back to the Treasure Market for providing consistently outstanding customer service and value for money! You can enter your own Hidden Gems into our monthly competition here. Thank you and good luck!
---
One of the many benefits of being a Vault member is that you can win a cash prize of $100 each month for your Simple Savings blog! Starting your own blog on the site is easy. All you have to do is log into the Vault, click on 'My Desk' at the top left, then 'Your Blog'. Then get writing! We love reading all your money saving trials and tribulations and really appreciate the effort that goes into each one.
This month's winner is Rob for this extract from his blog Picture of the Day. A perfect choice for Nude Food month we're sure you'll agree!
Silverbeet Pesto
Taken from this Forum thread
Original version by Elizabeth Thompson.
We have an abundance of Mangel leaves at the moment and have been eyeing this recipe off for a while on the Forum so gave it a whirl last night...
It was changed a bit from the original so here is my version...
10 large silverbeet stems and leaves chopped then steamed with a little water in bottom of a pan until softened then drain... (I only used 3 with about 15 Mangelwurzel leaves as they are smaller...)
10 small cloves of garlic
1/8 cup Rice bran oil or whatever oil you prefer
1/8 cup Balsamic vinegar
1/4 cup Black Spanish Olives
1/4 cup Basil, I used Purple Opal Basil
1/2 cup of Romano or Parmesan Cheese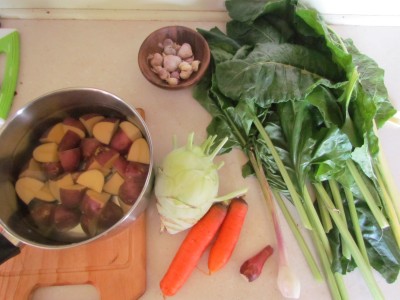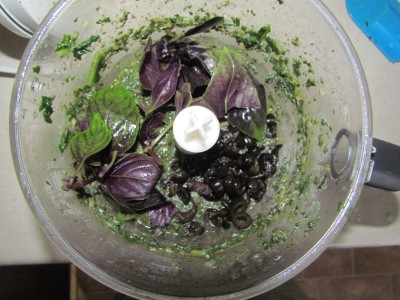 Add all the above ingredients except for the cheese into a food processor & blend until smooth while the Silverbeet is still hot.
Leave to cool then blend the cheese through well...
We had it on Rib Eye steak topped with Pan fried mushrooms.. The sides were a Home grown Kohlrabi Coleslaw with a Bean & Corn salad... Was going to be potato salad but I changed my mind...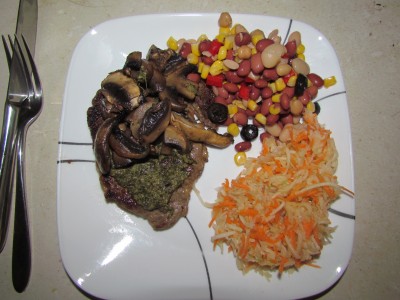 Congratulations Rob, what a fantastic achievement! To read more from him or any of our other members' blogs, click here
---
What a fantastic start to our new vegie garden! In just four weeks we have gone from seeds to fabulous looking plants! The kids and I are so proud of our new collection of greenery - all we require now is the vegie garden! I know, I know - I said I had set out on a mission to create this fantastic new vegie garden and haven't even got one yet! It's OK though; my wonderful hubby Lee assures me he will help build it this week - yay! You see I have a very good excuse - we are about to start building a new house and couldn't even place the vegie garden until we had confirmation from the council as to the house's location.
I have learned a lot over the past few weeks - one thing is that having a 'garden diary' is definitely the key to success. It allows me to keep an accurate record of when my seeds were planted, type of weather, when harvesting is due and so on but I just know it will be a Godsend over the next few months or even years to come, to be able to refer back to. If you are anything like me I easily forget and this allows nothing to be missed!
I have also learned that having a 'gardening mentor' is extremely valuable and is providing me with more and more confidence in the garden! All you need is someone who has a healthy looking vegie garden - then pick their brains, and voila, you too can have one just like them!
The other thing is it's not such a good idea to drink wine and plant your seeds, as I found out when my new neighbour decided to introduce himself with a bottle of wine. Check out this blog post.
Oh and one last thing - myself and the kids have had an absolute ball doing this together. Sebastian can now tell the difference between a tomato plant, lettuce, radish, carrot and coriander. He was really tested last weekend when I had a brainwave! Because of my wine effort when planting, I had an abundance of tomato plants, lettuces and beetroot, so I thought the kids could sell them! It was our rubbish recycling day and our neighbours had a heap of large Coke and lemonade bottles. I cut the bottoms off, poked in some holes, filled each one with potting mix, wrapped newspaper around each one to hide the ugly looking container, then finished it with a raw piece of string wrapped around to make it look pretty and wrote the type of plant on the front. The kids dragged their small table from the kitchen to the front of the section, Seb made a STOP sign and we sat there for just over an hour selling plants! Every time a car came past Seb would hold up his stop sign and Zoe would wave frantically. Not everyone stopped, but a heap did and the kids made $14. They then divided their earnings between them, putting half in their saving money box and the other half in their wallets to spend. I was so proud of Seb telling people what plants they were!
I have engrossed myself in lots of gardening books and came across this which my 'gardening mentor' also recommended and agreed would work for me (the lazy gardener!). The thought of having to pick up a spade on a regular basis to turn my compost or remember to go and grab some kind of horse poo and straw to add is all in the too hard basket for me! So this lasagne layering technique sounds awesome! I also read a fantastic hint recently on the Forum saying you can do this in smaller pots too, then plant a herb on the top. When the herb is finished or you need more compost simply transfer the herb and use the compost in the bottom to add to your garden.
Find a spot to plant out a new vegie garden. There is no need to dig it over, simply follow these instructions.
Place layers of newspaper or cardboard over the grass area, overlapping them slightly. You could go to your local newsagent and get leftover papers. Make sure you remove all the glossy printed ones.
Saturate the paper and/or cardboard.
Add a thin layer (approximately one inch) of horse manure on top of newspaper (go to your local horse stable and see if you can collect horse manure - they will most likely give it to you for free).
Next, add a thin layer of hay.
Add compost
Now repeat the layering. Newspaper (then water), manure, hay or leaves, compost. Repeat this two to three, even four times, then add a good quality soil to the top
This no dig gardening on top of existing ground is very easy, cheap on materials and has all the nutrients to grow healthy vegetables.
There are many good reasons to grow your own food; your vegies will be free of toxins and herbicides, they are picked fresh, taste better, have a higher nutritional value and less expense!
So join me in this month's Nude Food Challenge and create your own vegie garden!
PS: Just wanted to share with you one last thing that happened whilst eating my salad at dinner tonight. I said to Seb and Zoe, 'You know what? Very soon we will be able to pick all these vegies from our new garden!' To which Zoe replied, 'We can even pick our own cheese!' Don't you just love what comes out of kids' mouths? I will update you next week with a blog and photo of the new vegie patch!
I will continue to blog my gardening journey here between newsletters and would love any savvy tips from members. Happy gardening everyone!
---
This month, we want you to contribute as little as possible to landfill. Say 'no' to plastic wrap and Styrofoam and 'yes' to Nude Food! Reduce, Reuse and Recycle. Remember to first 'reduce' (do I really need to buy this item with all its packaging?), then 'reuse' (where else in my home can I put this item to use?), and finally 'recycle' (where can I donate this item so someone else can use it?). Whatever is left over you can 'compost'! Imagine the money saved just by doing the 3 R's! Here are some terrific tips from the Vault to get you started.
This tip for reducing the costs of children's school lunches works on the principle that you pay less for volume and more for packaging. Instead of buying single-serve sized chips, drinks, fruit cups and so on, buy the larger (and cheaper) packets and divide them up between the children. You can use re-sealable bags (which are reusable) or small plastic containers. Not only will you save mountains of money, you will reduce your amount of rubbish.
Contributed by: Joe Butler
This idea is for those who live in a home with a garden that is too small to have a compost bin. I use an empty garden pot and cut a square of one of those net bags oranges come in to cover the hole of the pot. Put in a layer of old potting soil (from a pot where the plants have had their day). Each day save your fruit and vegetable scraps in a container. Place in a layer of scraps, then cover with another layer of old soil. Repeat layer by layer until the pot is nearly full, ending with a layer of soil (water as you go).
Then, while the compost is breaking down and baking, plant some seasonal seedlings on top and in no time you will have potted colour and compost underneath, not only feeding your seedlings but ready for the garden when the flowers are spent at the end of the season. I sometimes benefit from crops of vegetables germinated from the seeds in the compost such as tomatoes, cucumbers, capsicum and butternut pumpkin.
This is a multi-recycling exercise using unwanted orange bags, unused pots, old soil and fruit and vegetable scraps and, of course, it is a great medium for the latest seedlings. Instead of flowers on top you could plant your favourite herbs while the compost is baking.
Contributed by: Marlene Tribbeck
I have found a great way of storing foods such as pasta, lentils, spaghetti and rice, by reusing the five litre plastic containers our bottled water comes in. If you have to buy bottled water then why not try a little clever recycling? Simply dry off the bottle afterwards and use it to store your main kitchen staples. Need convincing? Here are a few reasons why it's such a great idea:
They are a handy storage size, transparent and can be stored easily on or under shelves. The labels are easily removed and, with easy-to-grab handles, they are very accessible in your pantry. They are easy to top up, the contents are easy to pour and they are sturdy for long-term use. Using these bottles not only saves a lot of plastic waste, but saves money on more expensive glass storage, which is usually smaller. They also look attractive full, and can save a lot of money by having staple food easily available at low cost. Now there's NO excuse! Go on; give your water bottles a new lease of life!
Contributed by: Marie
Instead of throwing away plastic butter and margarine tubs, which are not recyclable in all areas, I use them as seed raising trays for herbs and vegetables. I punch holes in the bottom for drainage, fill them with seed raising mix or good potting mix and place the lid underneath as a saucer. Since they are small, they can be placed on a windowsill or kitchen bench where the light is good. As the seedlings grow, they can be planted out in the garden or potted up if you have a container garden. Surplus plants can be sold at fetes or given to friends and family. A simple and economical way of growing your own herbs and vegies and saving nasty plastics from going into the landfill!
Contributed by: Carol Phillips
Being a Simple Savings member offers so many benefits to help you save money. Having access to all the amazing hints and tips in the Vault can really get you saving some serious money. To reward our members, here is a small sample of the pearls of wisdom you can find locked away in the Vault.
Recycled containers for pantry storage Contributed by: Helen Muscat
Recycle roast potatoes Contributed by: Amanda W
Recycle Pringles lids for tinned food covers Contributed by: Michelle Warrener
Recycle expensive chocolate boxes for handy containers Contributed by: Annette Tinsley
---
Saving money and saving the planet really do go hand in hand. Why splash your cash on something new when you can reinvent what you need from existing 'junk' you already own? Our money-conscious members will inspire you with these eco-friendly Forum threads!
Donna is getting the party started by encouraging us all to get involved in the Planet Ark National Recycling Week. Why not host a swap party in your neighbourhood?
read more...
This is another ingenious way to recycle plastic bottles whilst reducing the need to buy resealable bags. Conscious consuming at its best!
read more...
This thread shows how easy it is to do the full nudie by banning pesky plastics from your life forever. Be inspired by our clever members!
read more...
And here are yet more industrious ideas to keep your food nude!
read more...
---
Now let me get one thing out of the way straight away. The Nude Food Challenge has nothing to do with eating in the buff. So you can all stop worrying. Your wibbles and wobbles are safe from scrutiny and the neighbours won't be talking about you. The Nude Food Challenge just means we want to try to prepare as much of our food this month from ingredients without packaging.
Now far from being boring as my lot predicted, with cries of 'what about Weis Bars and Magnums?' it's actually a really great way of increasing variety in your family menu. It really makes you think out of the box (pardon the pun) and reassess why you use the ingredients you do, day in, day out.
This month's offerings include a super delectable lunch box, breakfast or dessert treat and a scrummy new twist on lasagne.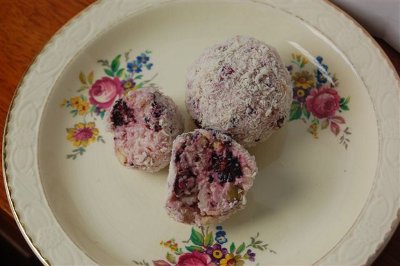 For one serve
Now you need to start this one a few hours ahead of when you want it. The muesli needs to soften up a bit in the yoghurt before you roll it into little balls. Make sure there's a space in your fridge for this one. In fact, put a 'reserved' sign on that space. You'll be making these often!
Equipment:
Small mixing bowl
Saucer
Fork
Tablespoon
Covered container for storage (make sure it's deep enough to store a walnut sized ball)
Ingredients:
4 tbsp of your favourite muesli
2 tbsp of your favourite thick yoghurt
2 tbsp softer berries like blackberries, mulberries or raspberries
1 cup desiccated coconut
Now you just:
Put your muesli and yoghurt into your small mixing bowl.
Place the soft, squishy berries on the saucer and use the fork to mash them up a bit. Sometimes it helps to cut them in halves or quarters first. Once they're mashed, add them to the muesli and yoghurt.
In the interests of following our nude theme, don't cover your bowl with cling wrap. Just pop a saucer over your bowl and into the fridge it goes.
Check your mixture after a couple of hours. It should be nice and firm and ready to roll into balls. If it's a bit sloppy add another dessertspoon of muesli and let it sit another hour or so. Sometimes this can happen if your yoghurt is the thin kind. No drama, this will still work, it's just getting those ratios of muesli and yoghurt at a happy medium.
Once it's about the consistency of biscuit dough you're ready to roll.
Put half of your desiccated coconut into the container you're going to use to store these little morsels. Then take your tablespoon and scoop up some of the mixture. Roll into a little ball about the size of a walnut. Drop into the coconut-lined container and repeat until the mixture is all used. You should end up with five or six yummy balls.
Take the other half of the desiccated coconut and sprinkle liberally over your muesli balls. Now gently roll and toss them until they are thoroughly coated with your coconut.
Your yummy little morsels are now ready to eat if you like, but I actually prefer to allow them to chill again so they're nice and firm.
I keep these cool in lunch boxes sitting them next to a little bottle of water that I've frozen. You could use ice packs too.
These are so addictive that you'll be hiding your share at the back of the fridge with a note on them that says 'cabbage soup' so no one else goes looking! Yum!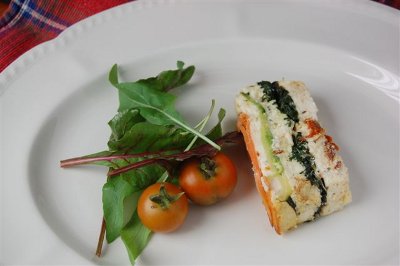 Now how about a healthy, nude food, new way to serve lasagne?
It's hard to imagine lasagne as anything but sheets of pasta, oozing with cheese, bolognaise and béchamel sauce.
This whole nude food idea gave me cause to reassess the way I serve lasagne and challenged my ideas on using anything out of a packet. That's a jolly tough call. There's the pasta, the tinned tomatoes, the cheese... well, you get the idea.
So I've come up with a completely different idea. In this recipe my sliced and roasted vegies replace the pasta and a flavoursome herbed ricotta sits in place of both bolognaise and béchamel sauce. It's healthy, light, gluten-free and scrumptious and can be served hot or cold. Let's call it a Nude Summer Lasagne.
Equipment required:
Loaf tin greased with oil from the sun-dried tomatoes, and lined with non-stick baking paper
Non-stick frying pan or ridged griddle pan
3 large mixing bowls
Large microwave-safe bowl or container
Sharp knife or mandolin slicer
Vegetable peeler
Measuring cups
Kitchen tongs
Pastry brush
Foil
Large glass or coffee cup
Ingredients:
500g fresh ricotta (available at deli section of supermarket)
2 eggs
12 sun-dried tomatoes in oil, diced finely
1 tsp each dried basil, thyme, oregano and onion flakes
1/2 tsp dried garlic or one fresh clove garlic, crushed
Ground black pepper
Salt (optional)
20 leaves (1 large bunch) silverbeet
1 large sweet potato
1 large zucchini
1/4 cup water
Oil from the sun-dried tomatoes
You're going to need about 30-45 minutes for preparation of your nude lasagne, so clear the decks, take the phone off the hook and pop on your favourite music. Michael Buble, Pavarotti or Dean Martin seems very lasagne-ish to me!
Preheat your oven to 180C.
Now you can use any ricotta you like, including home-made or out of a tub. In the interests of being 'nude', I've suggested trying the one from the deli. It usually sits near the antipasto selection and looks a bit like a big round white pudding.
Plop your ricotta into one of your mixing bowls and crack the eggs over it. You're already feeling that creative vibe, aren't you? Add the basil, thyme, oregano, onion flakes, slivers of sun-dried tomato and garlic and give it all a good stir. Grind some black pepper over it while you sing 'Dat's Amore' to no one in particular. Set it aside.
Remove the spine from your silverbeet leaves and shred the leaves into large sections with your fingers. Use the silverbeet spines for another meal, like a stir-fry if you like. Scrunch the silverbeet leaves into your microwave-safe container and add a drizzle of water - about 1/4 cup is right. Pop a cover on the bowl and microwave for about four minutes on high. Remove and immediately run cold water over the leaves to freshen and cool them. With clean hands, take handfuls of the leaves and squeeze as much moisture from them as possible and drop them into your second mixing bowl. Discard the liquid. Set aside the cooked leaves.
Peel your sweet potato and slice as thinly as possible. I like to do mine lengthwise as this will help 'bind' your lasagne together more effectively for serving. This is easy if you have a mandolin slicer. Be very careful and keep your hands well away from the blade. I bought my mandolin slicer at Woolworths for just $10. Set the slices aside for a minute.
Top and tail your zucchini and slice it lengthwise into nice long wide ribbons with your mandolin slicer or sharp knife. Watch your fingers or you'll be hitting those high notes with Pavarotti!
Now put your frying pan or griddle pan over a hotplate heated to high. Use the pastry brush to lightly grease the pan with your oil from the sun-dried tomatoes.
Pan-fry each slice of sweet potato and zucchini for just a minute until golden on each side, flipping them carefully with your kitchen tongs. You want them softened, but not limp. Set them aside in your third bowl.
Now you're ready to assemble your fabulous gluten-free, nude, roasted vegetable summer lasagne.
Put your lined loaf tin on the bench in front of you and line up all the other bowls ready to go.
First do a layer of herbed ricotta. Divide the ricotta into three equal portions, separated in your mixing bowl. Spread one portion evenly in the bottom of your loaf tin.
Now take the cooked and drained silverbeet and layer that over the ricotta.
Follow with another layer of the ricotta.
Next, layer the roasted zucchini slices... yum.
Follow with another portion of ricotta.
Finally, layer your pan-fried sweet potato slices all over the top.
Use the base of your glass or coffee cup to compact the lasagne well. Just press gently all along the surface of the loaf in your tin, to make sure the layers are nicely compressed.
Pop into your oven and bake for about 45-60 minutes. Ovens vary and loaf tin sizes do too. So if your tin is larger, cook for longer.
Your lasagne is cooked when a skewer inserted into the middle goes in and comes out easily.
Remove from your oven, cover with foil and allow to sit for about 20 minutes.
Run a knife around the edges of your lasagne and very carefully, with a plate on top of the tin, invert it. Remove the baking paper and cut into thick slices to serve. If you have an electric knife, this is an easy task. Otherwise use a very sharp knife to get a nice clean slice.
Once you've done this the first time, you'll feel confident enough to vary the type and amount of vegies and ricotta to suit your own tastes.
We love eating nude. Especially with some nice Italian inspired music on the iPod. Cheeky? Nah. Healthy? You betcha!
---
November 1st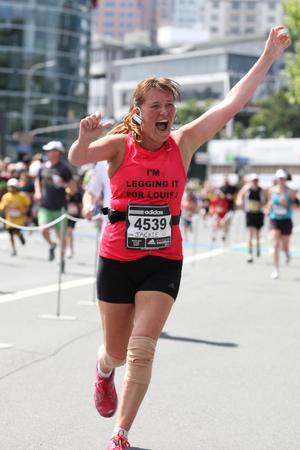 Well, I did it. This humble blogger is now a marathon runner! And not a bad one as it turns out. Forgive me for writing more about raising money than saving it in the last two posts but I promise from now on things will go back to normal. Just as soon as I get off Cloud 9 that is. Forgive me also for doubling up as the following post comes from my 'Legging it for Louis' blog but I couldn't have described the experience any better and I really wanted to share it with you. So here goes! I wrote this last night, the day after the marathon:
"One of my children's all time favourite movies when they were little was 'Thunderpants'. The lead character, Patrick Smash would end each instalment of his life with 'that was the best day of my life - ever'. I hope Patrick doesn't mind too much but I'm going to pinch his catchphrase because yesterday was the best day of MY life - ever. I hope I don't bore you too much in my efforts to recall it but I want to remember as much as I can while it's fresh in my memory.
I learned a heck of a lot yesterday! The first thing I learned was that Takapuna on a Saturday night is a very noisy place. I went to bed around 9.30pm but couldn't get to sleep until around 1.00am and woke up raring to go at 3.00am. Fortunately we had to get up at 4.00am anyway and Noel made me an awesome breakfast of sausages, eggs and bagels. I've learned from experience now that this is the perfect long distance running breakfast, it works for me every time. Before I knew it we were out the door and on the way to catch the bus to Devonport. Now don't laugh but this part for me was the most traumatic. You see, ever since a school bus smashed into my car in 2005 with the kids and I all in it I have had a phobia about buses. I don't care who the driver is, I don't trust them! Especially at 5.00 in the morning when it's still dark and I'm taking a bus route which is fraught with hills and roundabouts. So, crazy as it sounds I was a lot more relaxed about running 42km than I was about the bus ride there!
I arrived at Devonport and texted Noel to say I had survived the bus trip (naturally he was surprised and relieved) and from then on time flew. Next thing I knew, 3265 marathon wannabe's were crammed behind the starting line and we were off. The next thing I learned was that the North Shore is full of hills. FULL of them - which was a bit disconcerting to someone who had had absolutely no hill training whatsoever! But either I was fitter than I thought or the hills weren't too bad. It also helped that by chance early on I bumped into Greg and Tara's brother-in-law Steven, who was also running to raise money for a friend of his. He was feeling about as confident as I was about completing the mission at hand (as in, not at all) and for the next 40km I had a familiar face and an ally. That's the great thing about something like a marathon. You're all in the same boat. You smile, you joke, you encourage, you hi-five, you hug. Even if they're total strangers. It doesn't matter, you're in it together and you help each other to get through.
Even at 6 o'clock in the morning people were making themselves comfortable outside their houses, dragging couches and chairs outside, cheering us on and waving placards. Just as I was REALLY starting to get sick of those pesky Auckland hills they abruptly came to an end and I found myself setting foot on the Harbour Bridge. Everyone I have ever spoken to who has done the marathon says they loved this part and I was no exception. The sun was shining, the view was beautiful and I had great fun taking blurry pot shots on my phone. We wound our way around the marina and headed into the city and in no time at all I was half way through at the 21km mark. Which is right about when the pain started to set in. Still, I wasn't worried, I had run further than this before!
The next half of the race was the part everyone had warned me about. A scenic run around the bays from Westhaven to St Heliers sounds positively idyllic but this is where other runners told me you become really drained; not just physically but mentally because you can see exactly how far you have to run and you feel like it will take forever to reach your destination. But you know what? Contrary to popular opinion I actually enjoyed it! The scenery was beautiful and the weather conditions were perfect. In addition once we hit halfway the wonderful drinks people started serving us up flat Coke as well as water and Powerade. Ohh, how I grew to love that stuff for the next 21km!
From 25km on I was having a ball. In fact, I was singing! Which made everybody smile, I'm not sure whether that was because I looked like I was having fun or because I sounded absolutely dreadful but I sang. It really helped to pass the time and I knew I was making good time because all of a sudden I hit 32km and I only had 10km to go! And that was when the proverbial hit the fan. I'm not sure how or why it happened but I went from happily cruising along to just managing to put one foot in front of the other. On the positive side, everyone else around me was in the same boat - what a sad, painful convoy we must have looked! For the next 8km it totally SUCKED. The only thing which kept me going through this time was the drink stops - oh how I love thee flat Coke - and my phone. My sticky, Powerade-covered phone. My lifeline.
Because that's when the texts really started. I'd been enjoying steady messages of support since - well, since before I woke up. But thanks to my dear friend - me ol' china plate and Louis's mum Tara - they just started multiplying. She started telling all her friends to text me words of support and they did - from as far away as England. Honestly, my phone started going CRAZY. And that's when I started crying. And that's when I remembered once again that you can't run and cry at the same time because it's really hard to breathe. So I stopped crying and kept running - but I received 66 text messages during that marathon and would like to send a heartfelt thank you to every one of you who took the time to drop me a line. I can't begin to tell you how much you helped.
This post also wouldn't be complete without mentioning Louis's dad Greg's lovely family - sister Kaaren and her gorgeous children who yelled support at Mission Bay both there and back, as well as his parents Robyn and Jim, who, even though I missed them screaming at me the first time round at Kohimarama because I was too busy looking at the woman on the other side of the road handing out jelly beans, waited for me to come back again to run out into the road and give me a hug. It's things like that you never forget.
Many texts and many flat Cokes later I reached the 40km mark. And something in me changed, just like that. I had 2km to go - two poxy kilometres - and people waiting for me at the finish line and I vowed I wasn't going to keep them waiting any more. The marathon gods of music magically decided to fill my ears with my favourite running songs, one after the other and I don't know how or why but the pain disappeared and I just CRANKED it. Those last 2km were truly magical and for more reasons than one. One chap and I had been passing each other back and forth for a long time and I could tell he was really struggling. 'Come on mate, we can do this. I reckon we're almost there!' I told him. It was just him and me pretty much, with the odd person sitting on the pavement as we made our way back into the city. We turned a corner and as we did so, a man wearing a black shirt moved off the pavement towards us and started clapping and yelling 'Come on, you can do it! Well done!' It was Dan Carter. Dan Carter was cheering ME on! I admit it, I shamelessly ogled my way past. 'Did you see that? That was Dan Carter!' I told my running buddy, gobsmacked. 'I'm so glad you saw him too, I thought I was hallucinating!' came the awestruck reply.
And that was when the last song started. I've mentioned it before in my blog and I could hardly believe the timing - it was 'Walk' by the Foo Fighters. It was the perfect song and the perfect end to the perfect marathon. I raced towards the finish line (and no, I'm not just saying it, I actually did!) and that was it. I had finished the Auckland Marathon. I was sore as hell but I had no chafing and when I had plucked up courage to take my shoes off I was amazed to discover that I had just ONE blister. None of the dreaded blackened, missing toenails, that was it. As I crossed the line I spotted Noel and posed in a suitably victorious manner before carrying on to be met by a joyfully yelling Holland family, waving posters and bearing hugs. And that was the best day of my life, ever.
I completed the marathon in 4 hours 47 minutes and nobody was more surprised than me. I honestly thought with my track record that I would have been lucky to finish it in six hours! Just ahead of me was Auckland Blues captain Pat Lam. I had been close to him and his crew almost the entire time and I have never seen such a bad case of chafed nipples in my entire life. And to add insult to injury the poor guy had no sooner crossed the finish line after running 42km, he then had to answer a barrage of TV questions about Sonny Bill Williams!
As for me though, my mission was finally complete. I revelled in the achievement and soaked up the atmosphere for a while with Tara, Greg, Louis, Maia and their extended family before waddling slowly to the car and making our way home.
I have many, many people to thank for their part in my journey over the past five months and rest assured you all will be. But for now I would simply like to thank the following for the special part they all played in helping me get through yesterday:
Belinda Lee, Meredith McRobbie, Morven, Kaaren and family, Jim and Robyn Holland, Claire Holt, Kim Prigmore, my lovely mum, my adorable sons Liam and Alistair, their friends Lalit, Jimmy, Gibby and Bradley, Tara 'Queen of Cellphone Self Portraits' Holland, Greg Holland, Louis Holland, Maia Holland and last but by no means least my biggest supporter, chef, shoulder, sounding board, training buddy, physician and pretty much everything else you can possibly think of - my husband Noel. My love and thanks go to you all, and the best news is, I want to do it all again! But, not just yet..."
---
Last month Laura asked:
"I've just arrived home from a trip to the supermarket. I opened my cupboard where my plastic shopping bags are usually stashed, and was horrified when they all tumbled out to meet me! I do use eco bags where possible but the pesky things just keep on mounting up! I don't want to contribute them to landfill and feel there must be a better way to use my enormous collection. I remember as a child my nanna would sit for hours crocheting plastic bags into tougher, funky looking shopping bags. Alas she is no longer with us but I would love to hear how other members manage their plastic bag mountains. Can you help?"
We sure can! We received a MASSIVE number of emails full of terrific ideas on what can be done with all those pesky plastic bags we inevitably seem to end up with. Thank you to everyone who took the time to write in with suggestions for Laura. Here is a list of the most popular:
Drop them into your local op shop or second hand shop. They are almost always grateful for more bags. Or, ask market stallholders if they would like them.
Take them back to the supermarket. Supermarkets often have a bin in front of their store where you can recycle your bags.
Shoe covers! Great for putting over the kids' feet when coming home from the beach or the garden.
Seat protectors. Try using one in the car after swimming so the wet towel doesn't make the seat wet.
Lining your kitchen bin and other rubbish bins.
Keep plastic bags in the car at all times - you'll be surprised how often they come in handy!
Take them to your local kindergarten or child care centre. Child care places love these for nappies, wet/dirty clothes and 'take home' bags.
Nappy bags for disposing soiled nappies. Much cheaper than buying them from the baby aisle!
Doggy doo bags for when you're out and about with Fido. Much cheaper than the pet shop version and does exactly the same job! Don't forget the cats too; plastic bags make excellent free kitty litter tray liners.
Bean bag stuffers! Keep your bean bags full and comfy by popping your unwanted bags inside.
Or, how about these ideas for getting creative with your plastic bags?
Try cutting the bags in a spiral pattern into long strips of 'yarn'. You can then knit or crochet them into mats to use at the front door or in the garden to kneel on. You could also knit or crochet bags or hats out of them.
Contributed by: Kathleen Hughes
Look up 'plarn' and how to make it on Google. Basically it is strips of plastic bags tied/looped together. You can then knit or crochet them together to make anything, absolutely ANYTHING. I have just made some baskets and am planning on making some shopping bags and outside picnic blankets!
Contributed by: Sharon Marriott
You can do more with the crochet technique than you think by laying the crochet between baking paper sheets and ironing it; it will melt together and stiffen, then bend or cut into any shape you need. You can make lamp shades, place mats, plant shelters over frames, tissue box covers and bags, not to mention knitting or plaiting for ropes. The possibilities are endless and the kids can make stuff too; a great recycling project for holiday fun.
Here is one website example
blog.craftzine.com/archive/2007/08/plastic_bag_crafts.html
Contributed by: Jo Bodey
Use your unwanted bags to make something festive for Christmas! All you need is a coat hanger shaped in a circle, a mountain of plastic bags (cut into equal lengths, for example, 2cm x 8cm) and old tree decorations or tinsel (small bits that always break off are good). Tie the plastic bags around the coat hanger until it is covered, then ruffle them up, add a hanging decoration in the middle and use the hook to hang on your door.
Contributed by: Stacey Macdonald
I love doing art and craft projects so this is what I did with my mountain of bags. I made some bowls using the age old technique of papier mache. I was actually short on money for a present to a friend, so I made it for her. First I chopped bags into strips. Then I got old newspapers, made the flour paste mix as usual and layered it all on a balloon. You just stick plastic pieces on top of paper pieces and layer as you normally would with papier mache. It looked great and one, it gets rid of the bags, and two, it makes the object stronger! You can make any shape or object this way, just make sure your last layer is paper so you can colour it.
Contributed by: Sanela Sinikovic
Turn disposable bags into a 'fabric' bag. I have recently stumbled upon a couple of websites with hints on recycling plastic shopping bags by fusing them into a stronger 'fabric'. Yesterday I made a very strong shopping tote bag from 20 flimsy grocery bags. It only took me a couple of hours to do and it was immensely satisfying. When you become proficient at that, you can get more creative with colours and designs to make all sorts of things like make-up bags and pencil cases or anything else your imagination can come up with. Here is a very good instructional link on how to do it:
http://www.instructables.com/id/Fusing-Plastic-Bags-the-eclipse-way/?ALLSTEPS
You can also use the same technique to make place mats, baby bibs, baby change mats, waterproof aprons; the only limit is your imagination!
Contributed by: Gloria Kelly
---
This month Maryann asks:
"I would REALLY love some suggestions for different gifts for Christmas this year. I love to give home-made gifts and have done gifts in a jar and all kinds of hampers thanks to the brilliant suggestions on Simple Savings. They are always a big hit but this year I am struggling to come up with something really unusual. Time is ticking on so I would love to know if your members have any ideas, either home-made or bought that I will be able to get organised in time for Christmas!"
We're sure they do, Maryann! If you have any tips or suggestions which can help, please send them in to us here.
---
I have learned it definitely pays to shop around for a good mechanic. I just wish I had found mine earlier! After my husband decided we wouldn't be getting a new car, I requested the air con to be fixed in mine as winter is too cold and summer too hot for our small children. On the way to getting a quote, however, my diesel pump broke so I ended up having to pay double to fix both. I wasn't happy with this but it had to be done.
My husband picked up the car from the mechanic three days later and noticed the handbrake light stayed on despite the handbrake being off. Another three days later and my car was being towed back to the same mechanic due to more repairs being needed. He didn't charge me which I thought was nice. My husband didn't trust him but I thought he was so genuine.
Three months later my brakes were still not working properly and my car was going through oil (something it had never done) and blowing lots of black smoke but by this time we had saved enough to fix it. After calling a few mechanics and asking their opinions and researching the Internet, it was decided we would start with cleaning the fuel injectors (at worst having to replace them) and the brakes booster. We were looking at over $1000 to fix my car once again - despite paying over $1300 three months prior.
This time instead of the previous mechanic we took it to Automotive Satisfaction in Oxenford, QLD. The mechanic there discovered a small simple hose wasn't attached to the brake booster. He put that back on, my handbrake light went off, my brakes worked properly and it didn't blow any smoke. He saved me $1000 just because he checked what I asked the other mechanic to check! He didn't charge me anything and it took him all of two minutes to fix my car. I was so grateful to him and if my car ever needs fixing I'll be going back there without hesitation. I have recommended them to anyone who asks so I hope they have gotten more business from me. They definitely deserve it!
Contributed by: Anita Holland
---
Wow! Didn't we manage to cram a whole bunch of money saving ideas into this month's newsletter? I hope you really enjoyed it and have been inspired to try something new.
I am always keen to receive your feedback about the kinds of things you want to see more of in the newsletter and those things you would rather we leave off. Drop me a line next time you're on our website. If you have enjoyed this month's newsletter, why not forward it to your friends to help them save money too? Or tell them about us on Facebook by clicking the 'like' button on our Simple Savings Facebook page.
Best of luck with your Nude Food Challenge. See you next month!
All the best,
Fiona