Making Christmas Gifts
The Ultimate Gift Planner
NEW Competition: Inspiring Others
WINNERS: Proudest Simple Savings Moment
Forum: We Have a New Search Engine!
Two-hour Decluttering: Precious Memories
---
Hello,
How are you doing? I hope you are having an enjoyable festive season.
First up; the legendary Simple Savings Calendar is ready. How low can you go in 2019?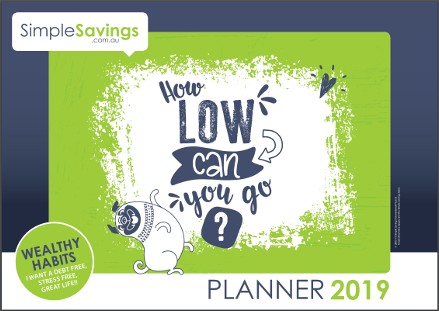 We have made many changes to the site this year and hope to make many more.
Wishing you a wonderful Christmas,
Fiona
P.S. If you're stuck for a gift idea for someone you care about, how about gifting them a Vault membership? It costs just $21 and will help someone else to save money all year round. Who knows, it may even change their life!
---
This year all my Christmas shopping was complete by December 1st. The tree is up, presents are wrapped... and I am a big fat liar! The truth is, I have planned out everyone's gifts, but we are still busy making them. Making Christmas gifts is one of my favourite things to do. We make all sorts of gifts, Word Art, customised bags, Christmas trees, favourite songs, t-shirts, biscuits, jars of troll blood, even 'poo' - yes, you read right!
Here some of the gifts we have made this year, as well as instructions on how you can make them too:
How about this for a heartwarming gift for a favourite teacher? Miss Elora made these two pieces by asking her classmates what they think of their teachers and then typing their responses into WordArt.com.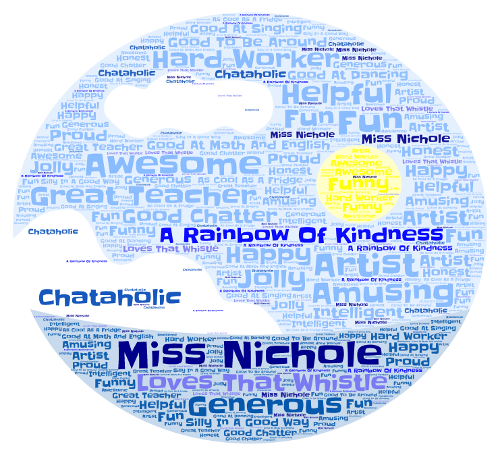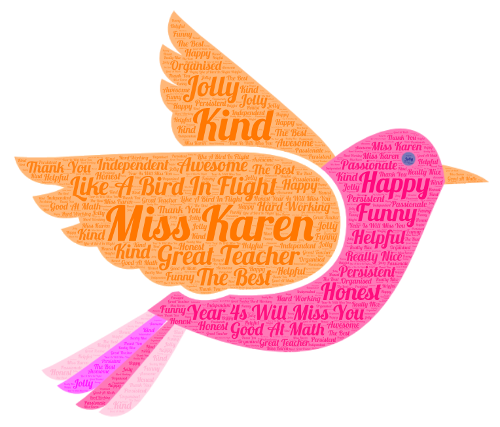 All you have to do is type in your words, choose your design and play with it till it is perfect. Guaranteed to make your recipient's day!
Shopping bags are a very practical gift. Since the Compulsory Bag Ban I've tested nine different types of re-usable bags in order to find the best one for the job. I wanted a bag which is strong enough to carry my shopping, small enough to fit in my pocket and live in my handbag, large enough to fit my shopping in, looks good and is well priced. The best bags I found were at Woolworths and cost 99c. They meet all my requirements and are also really easy to decorate and transform into a unique and personalised gift.
Here are some of the bags the kids and I have decorated for our friends, family and each other. At the bottom, I'll show you how we did it.
Elora (aged 9) did this one for her teacher.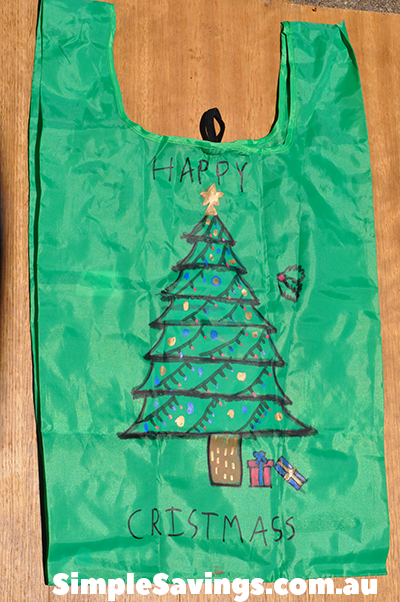 I made this one for my stylish friend. I kept it simple, so it would match her capsule wardrobe.
This one I was testing simple patterns: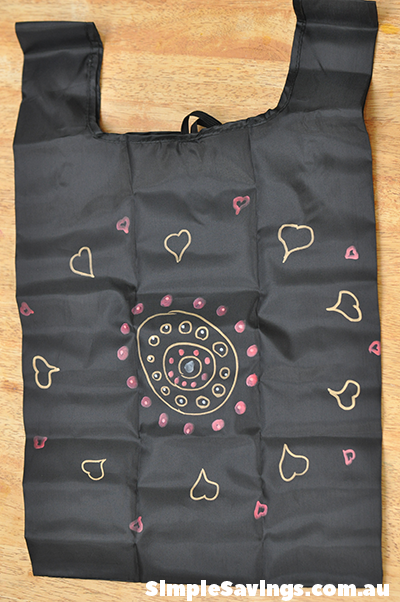 and this one is our Christmas card design: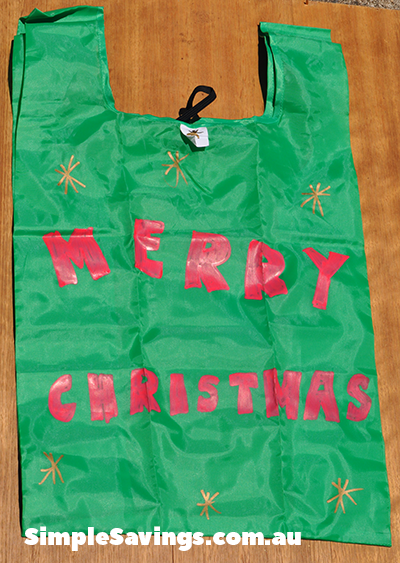 Creating your own is simple. Simply grab some 99c bags from the Woolworths checkout and some oil based paint markers, available from Office Works. You may have noticed me use these in previous newsletters.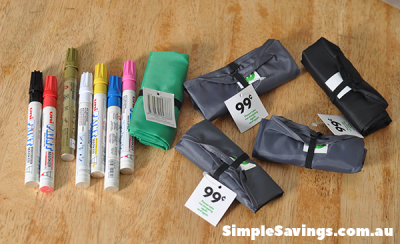 Before you start decorating the bags, place some paper inside the bag to catch the paint which may seep through the fabric. Then draw away to your heart's content!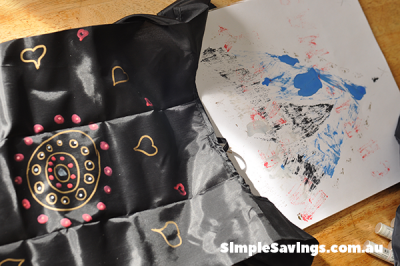 Next, cut the supermarket logo off the tag. Do not cut the tag off! The tag helps you find the piece of elastic, which holds the bag together.
The tag folds over so you can slide your scissors into the middle of the tag, cut it in half and then remove the half with the logo.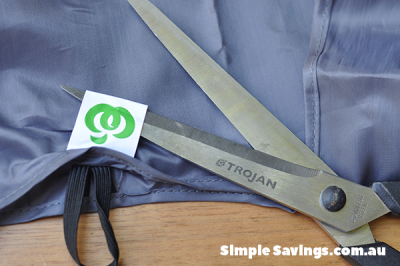 Then you can simply colour the remaining tag.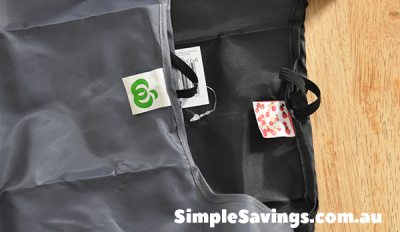 Miss Jacqueline has been busy making Christmas trees with her 3D pen.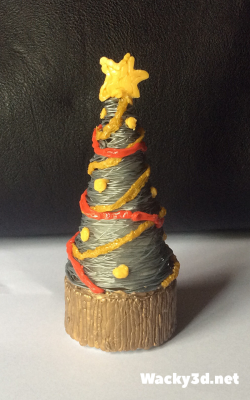 If you would like to see how she makes them, here is a link to her YouTube video: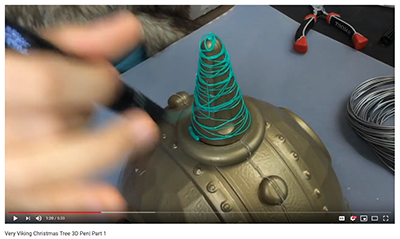 Many years ago I gave my sister a mix tape of all her favourite songs. She absolutely loved it.
She got hours and hours of joy from that mix tape and said it was the best present anyone had ever made for her.*
While no one does mix tapes any more, what you can do is make a loved one a list of special songs just for them, using Spotify. Songs you think they will love, songs that remind you of fun things you did together, songs you loved when you were a teen or songs to inspire.
Earlier this month I asked our Forum members to help me put together a list of their favourite frugal songs, which I have put into a Spotify play list for you: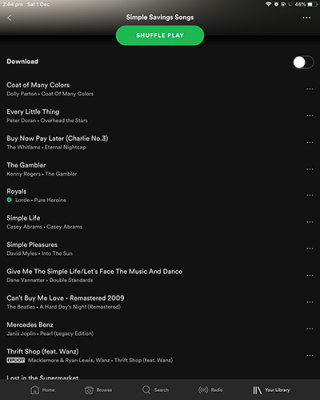 This list of favourite frugal songs features:
Coat of Many Colours - Dolly Parton
Every Little Thing - Peter Doran
Buy Now Pay Later (Charlie No. 3) - The Whitlams
The Gambler - Kenny Rogers
Royals - Lorde
Simple Life - Casey Abrams
Simple Pleasures - David Myles
Give Me The Simple Life - Dane Vannatter
Can't Buy Me Love - The Beatles
Mercedes Benz - Janis Joplin
Lost in the Supermarket - The Clash
Thrift Shop (feat. Wanz) EXPLICIT - Macklemore & Ryan
Save That Money - Rufus Thomas
Save Dat Money (feat Fetty Wap & Rich Homie Quan) - Lil Dicky
Chic 'N' Stu - System Of A Down
Spend, Spend, Spend - The Slits
No Money - Galantis
The Busy Girl Buys Beauty - Billy Bragg
Taxman - The Beatles
Money - Pink Floyd
These Days - Powderfinger
You Can't Always Get What You Want - The Rolling Stones
What Do I Do - Lanie Lane
Shake It Off - Taylor Swift
Oh No! - Marina and the Diamonds
Love Don't Cost a Thing - J Lo
If you would like to know more about how these songs inspire others to save money, or if you can think of some more songs to add to the list, pop into our Forum thread here.
Years later, I confessed to my sister that I hadn't made the mix tape, she had made the mix tape herself. I found it in her room after she had left home and sent it to her!
Personalised t-shirts are a useful and low cost gift which you can customise perfectly to suit the recipient. We have a great range of designs for all ages which you can print out directly from our site.

...with hand decorated labels.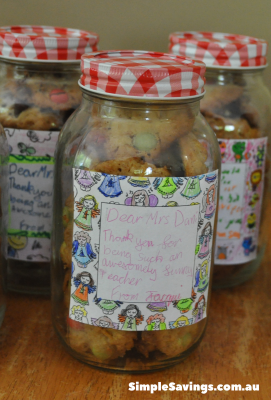 Home made biscuits are a great gift. However, I've been told teachers aren't too fond of receiving food made by children with questionable hygiene! This method means mum can make snot-free biscuits, while the kids colour the labels to go on the jars.
To make it super easy for you, we have some labels for members to use in our Downloads area: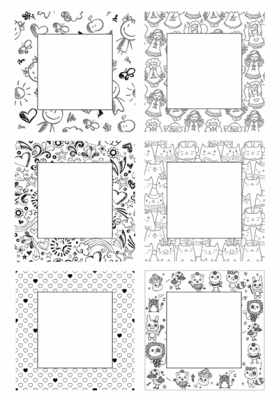 The best presents either taste delicious or make you laugh. We have created a gift that does both - canned baby poo!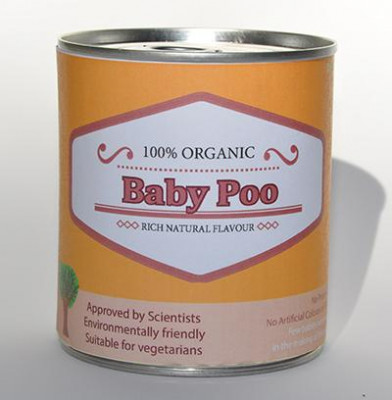 This is one of our favourite gifts to give. It's funny, looks great and tastes great too. Yes, it really does taste great! This is because the 'baby poo' is actually yummy caramel, made from boiled sweetened condensed milk.
To make your own, start by peeling the label off of four tins of sweetened condensed milk.
Place some cutlery in the bottom of a large pot and fill with water. This is important, as you don't want your tins to be touching the bottom of the pot, otherwise they can over cook.
Carefully place your tins into the pot, making sure they are completely covered with water and the bottom of each one is touching the cutlery, not the pot.
Bring everything to the boil and simmer for two hours.
Once the tins are cool, remove them from the water.
Dry the tins thoroughly to stop them rusting.
Print and cut out your baby poo labels, then once the cans are completely cool and dry, stick them on.
As you can see, the caramel really does look like baby poo!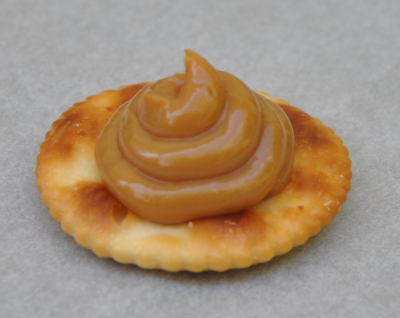 You can make your own labels with Canva (www.canva.com) or if you are a Vault member you can use our labels. The labels (for Members) are in our downloads area, here.
Here is the back of the label: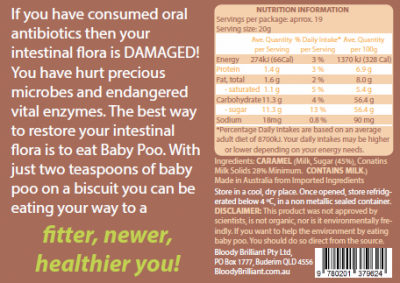 The labels are for Vault Members Only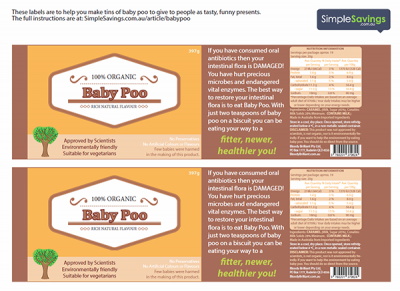 You may also remember our Troll Blood and some of our others from a few years ago:
You can find the recipe for Troll's Blood, along with other labels in the December 2015 Newsletter
I hope you enjoy these gift ideas and they put smiles on your loved one's faces. Have fun!
---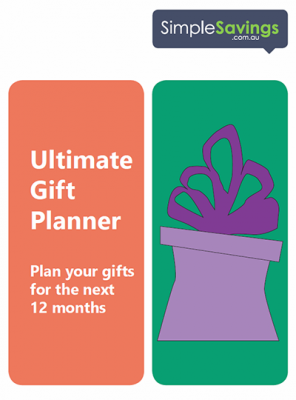 The Ultimate Gift Planner is a handy invention which works by showing you the who, when and what of your year ahead. First, you figure out all the people you give gifts to in a year. From this, you can estimate how many gifts you wish to give. Then comes the fun part; thinking of some great gift ideas. By taking a photo of your completed planner with your phone, from now on, any time you are shopping, you will have everything you need to get the perfect gift at the perfect price.
No more Christmas rushes, no more getting caught unprepared, no more Christmas queues. You will already have everything under control!
Download your Ultimate Gift Planner here.
---
January is Wealthy Habits month, and what better way to start the year than inspiring others to set their money saving habits off on the right foot?
This month we want to know: What is the best advice you would give to someone who has a big pile of wasteful habits? How do you motivate and encourage someone who is new to the saving game?
Or at the other end of the scale, what was the thing someone else said to you which inspired you to change your wasteful ways?
We have four prizes of $50 to award for the best answers. To enter, send us your entries by December 31st. Email your entries to: competitions@simplesavings.com.au
---
What an incredible response we had to our last competition, 'What is your proudest Simple Savings moment?' The entries were so good, I couldn't choose just four winners, we had to increase it to six! Here are the winners:
"Over the years Simple Savings has helped me tighten my shopping (both food and clothes), learn to repurpose or use up and be content with our lifestyle, rather than wanting what the 'Jones Family' had. This allowed us to live on one income for a long time without feeling like we or our children were missing out. But more than that, I learned how to cut down our household bills and budget using the banks to help, rather than hinder us. This was very evident when last year we were in the process of buying a house (and moving), when our income dropped very suddenly. We went with only a quarter income for six weeks and have only had half the budgeted income since. Even though that happened in October (while dealing with moving and connection costs), we still paid all our school fees, booklists, Christmas expenses and back to school costs with cash. Through the power of wise budgeting, household management and knowing how to use what we already had, we have come through unscathed (and without a credit card debt)! Thanks to all the work at Simple Savings and the community of people willing to share their knowledge!"
Susan Zelley
---
"I joined Simple Savings a few years ago but wasn't following your ideas religiously at the time.
"Then in 2015 I was made redundant. It was my third redundancy and it hit me really hard. Our income was reduced in half and I was not able to get a job for two-and-a-half years. Since I had a lot of time on my hands, I started reading all the information from Simple Savings. I even won a free membership, so went through the membership area and learned heaps.
"I didn't have much money during those two-and-a-half dark years but I learned so much. I've become very organised and my house looks very neat. Everything is in its place and I have become a very creative cook and a great housekeeper. I have even managed to save all the extra money I earned by writing articles, tax refunds, being paid to sit on a couple of boards and taking catering orders for friends and making cakes. One year we went on holiday to Japan while I was still unemployed and we didn't borrow money or use our credit cards.
"I set up my own consultancy after about a year of redundancy, and started earning a little money and later worked for one of my clients for a year. This year I found a great part time job which I enjoy very much.
"After learning to live on one income for a few years, we still live quite carefully. Our lifestyle hasn't changed much and we have savings, bought two cars (mine was falling to pieces) and also bought an investment property. I borrowed the money for my car from our savings and am paying it back to myself without paying interest on borrowed money. We've had three overseas holidays after redundancy too and hoping to do more travelling.
"Thank you Simple Savings for helping me cope and learn about life".
Sue B
---
"My proudest savings moment was the day I cut our grocery bill in half. I sat down a couple of days beforehand and listed everything in the pantry and freezer and got out all my recipe books. I meal planned and was determined NOT to waver from my shopping list. I went to two alternative grocery stores, and finally the supermarket I usually shop at to get anything that wasn't available elsewhere. When I arrived home I set to baking and cooking, freezing a certain portion of what I made for future convenience. I made a list of the items I have available and put it on the fridge so everyone knew what what available. There was more variety in our menu which the family enjoyed. Savings as well as enjoyment - who can ask more than that!"
Cheryl McKay
---
"My proudest Simple Savings moment was after we had moved to our new home we bought. It was not the fact that we had bought our home, nor was it the fact that we had a garage to put our boat in, nor was it the fact that we had enough room for our three cars; one belonging to our son that we helped purchase. What was it you ask?
"It was a scrumpled piece of paper. Yep, that was my proudest Simple Savings moment! It was during the unpacking of our boxes that I found a scrumpled up piece of paper, that when I unscrumpled it had a list of goals for the next five years. This is what was on that list:
Help our son buy his first car - tick
Buy a home that is affordable for us, is inviting to everyone who comes and visits and is available at the end of 2011 - tick (paying a mortgage that is less than the rent we were paying).
Buy a boat for my husband and me and a car to be able to pull the boat - tick and tick.
"You would think we had won the lottery! Or had a change in jobs or an inheritance - but no, it was all down to deciding that we wanted to start making our hard earned money work for us, not us having to work hard just for our money. So I joined Simple Savings and started being money savvy, thanks to ALL of the wonderful members who were happy to share their experiences and stories, both good and bad. I started to be money smart just like the members and all the above items I was proud to read what we had achieved. I did have other items on the list, but they were things that didn't really matter to us (such as buying brand new furniture for our new home, we decided we were happy with our second hand purchases, apart from some items we bought brand new). Although one goal on the list is still important to me, to have a holiday wherever I want every year. That one might be number one in my next list. Off to find a new sheet of paper and a pen!"
T Kaye
---
"My proudest savings moment was when I paid off all my debt. A $40,000 credit card and a $10,000 personal loan.
"I made a decision about three years ago that I needed to get rid of my debt, once and for all. I did this by tracking all my spending. I bought an exercise book and began writing down every cent that I spent. I changed my habits, because I had to make sure that what I bought was good enough to go in the book. If I thought it wasn't worthy, then I didn't put it in. I ate everything out of my pantry, gave up shopping trips to Kmart (it's cheap, but it's not cheap if you don't need it, and can't afford it). I also started putting aside 20% of my wage and I now have $70,000 in the bank. A great start on buying my first home! I turned off every light that I could, stretched out my shampoo, conditioner and handwash by mixing it with water when I was almost out. I only bought groceries on special and gave up my weekly manicure/pedicure!
"While I can now relax this a little, I am still going to keep it up, so I can continue to save for a deposit on a house".
Jocelyn Robinson
---
"With a new baby on the way it was time to tackle the 'junk room' You know the one; the spare room/space that just seems to grow every time you open the door? This is the before and after. Everything was taken out and only put back if needed. Multiple car loads to the local op shop and donations given away on our local 'Pay it Forward' page, left us with a clutter free nursery.
"My top tips - be ruthless. If in doubt chuck it out, try not to keep too many multiples of items. If you were out at the shops right now would you buy the item? If it's broken/damaged are you really going to fix it?"
Before: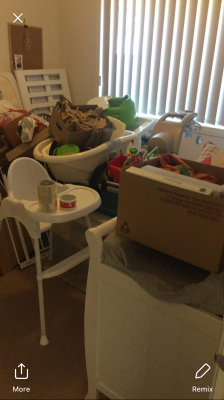 After!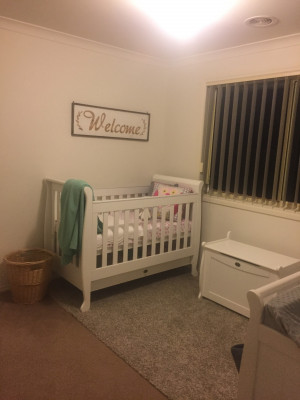 Erin Johnston
---
Wow! Thank you to everyone who entered the competition and congratulations to our winners. You all deserve a huge pat on the back!
---
You read correctly! Matt has created a lovely new search engine to make browsing the squillions of brilliant discussions and topics in the Forum tons easier. The feedback has been great and members are really enjoying using the new function. Matt has some more tricks up his sleeve to make it even better still in the future! We hope you love using the new site on your phone too. If you haven't tried the new search engine yet and would like to learn more about it, pop into the Forum thread here.
---
The hardest thing with decluttering is getting started. Every job seems too large and I never have the time. So to make it less daunting and ensure it actually gets done, I break my decluttering missions into managable chunks of no more than two hours at a time. Here are some recent examples of decluttering in the Lippey household:
Our kids love their painting but over the years we had accumulated an immense stash of canvases in the garage, never to see the light of day again. So we came up with some simple rules that would help us to declutter, while still being able to 'keep' all of their paintings for posterity:
If you can find a space for it on the wall, we will keep it
If you want to keep painting on the canvas, we can keep it
Otherwise we would take a photo of the painting, take the canvas to the tip shop for someone else to use, and just keep the photo of the artwork on file instead.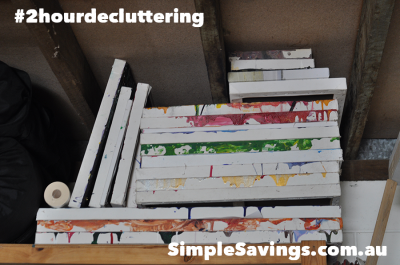 First, we took all the paintings outside and found a spot with perfect light. Next, we put a step stool next to them and started photographing the canvases. Twenty minutes later, I had shots of all the kids' paintings. Here are some of them. They are very cute :-)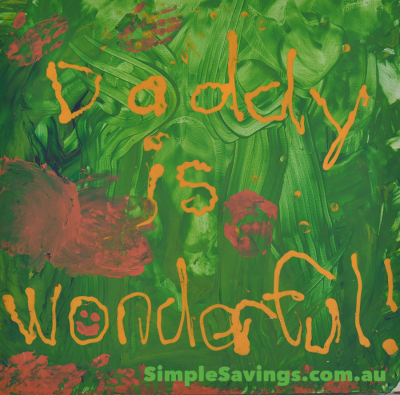 Now all of their paintings are out of storage and are either on walls, or documented with photographs. In addition we also have regained some valuable shelf space. Those canvases had been taking up masses of room in the garage for years, yet it took less than an hour to get them down and photograph them all. It also only took 10 minutes to get the kids to choose their favourite paintings and 20 minutes to hang them around the house. Best of all, we had fun doing it!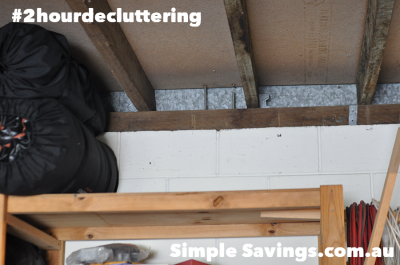 This is my sewing box. It is small, tidy and looks nice when it is sealed.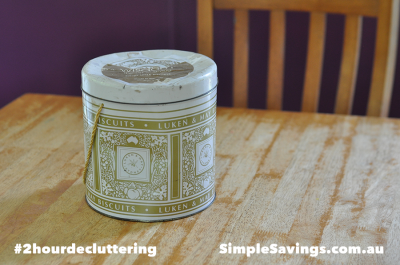 Unfortunately, inside was a complete mess. Sewing with it was a pain. I could never find anything and to locate something I either had to dig around in the box and risk being stabbed with a needle, or tip the entire load out onto the table.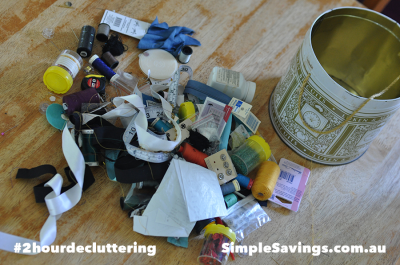 I racked my brain trying to find a solution and contemplated buying the perfect sewing box from Bunnings when I realised I already had something that might work. A cutlery canteen the kids bought at the school fete for $5.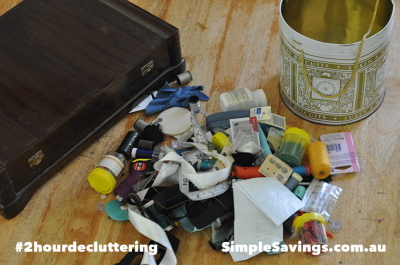 I started by sorting through the pile, throwing out duplicates and things I would never use, such as sequins from my belly dancing days. Next, I laid things out in the cutlery canteen so I could see them.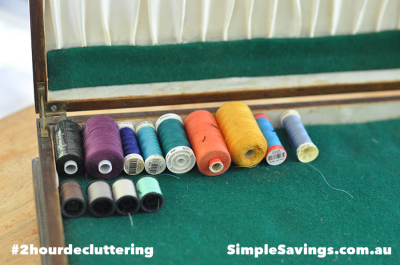 Here is the final result. It took around half an hour to transform everything from a horrendous mess to a neat and tidy sewing box.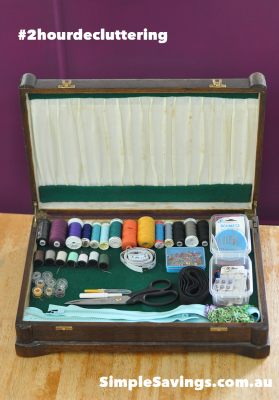 As I looked at my lovely new sewing box and thought of the impossible mess it used to be, I had to wonder: Why did it take me this long?
This year's quest to reduce my time in the kitchen has been a success. The Thermomix is used 2-3 times a day, the ingredient labelling system is fantastic and finding lids in my container drawer is super easy. But, there was one drawer I hadn't yet had the strength to touch: The miscellaneous bottom drawer. Here is a photo of it. ARGH!!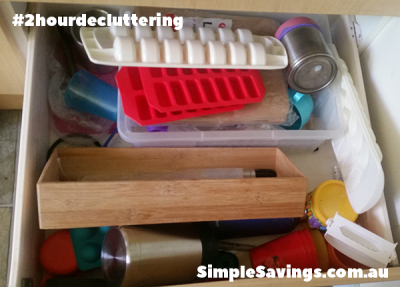 It took me ages to start decluttering this drawer but the whole thing was emptied, sorted, cleaned, repacked and photographed in less than an hour.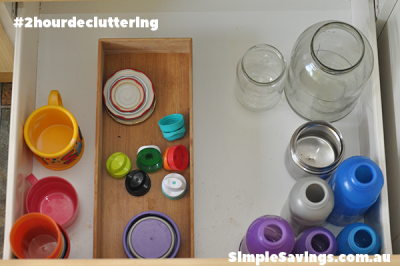 The best part of all about my spurts of two-hour decluttering is that my husband Matt and friend Rae also joined in. Between them they filled up the trailer. How's that for impressive! Goodbye clutter! Hello SPACE. I'm looking forward to starting 2019 with a cleaner, more organised home.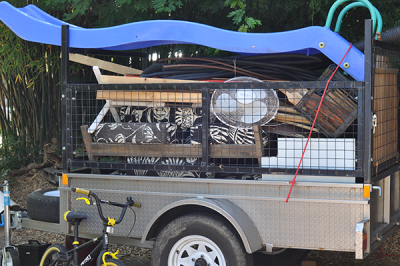 2018 has been a good year. My kitchen is more efficient. My goals for 2019 are to keep my family healthy, re-paint the inside of my home and get back on the growing veggies wagon.
Wishing you a safe and happy Christmas, and a prosperous New Year!
All the best,
Fiona
PS: If you like these free money saving tips, imagine how many more you can learn when you purchase a Vault membership! The Vault contains thousands of tips to save you money on just about anything you can think of, all neatly categorised for you to browse the areas that interest you most easily. It costs a tiny $21 per year to join, and will save you much, much more throughout the whole year. To learn more and become a member, click here.