This issue includes:-
Sad Sally, Happy Hanna: Troll Blood!
December: Make it Fun, Make it Funny!
Best of the Vault: Festive Feasting!
Best of the Forum: Countdown to Christmas
Best Members' Blog: Zero Dollar Christmas
Cooking with Mimi: An Extravagantly Decorated Table Saves on Food That Goes to Waste
Rob Bob's Gardening Blog: A New Pond for the Patch and a Fishy Update
---
Hello,
MERRY CHRISTMAS!! I hope you have a lovely break. We have made you a Christmas gift (2016 calendar) and we will be sending it to you in a few days. In the meantime, we have some great last minute gifts that only cost pennies but look fantastic!
Thank you for supporting us for another year. And, thank you for kind emails. They inspire us to work harder. Here are our favourite emails this month:
"Thank you for everything Fiona and Matt - I have had great pleasure in buying memberships for my adult children for Christmas this year." (Tanya)
"Still loving my $21 Challenge - thank you! You have saved me hundreds of dollars every few months." (Mariah)
Have a great month!
All the best,
Fiona Lippey
P.S. The calendar is almost ready and we will be sending it to you in a few days.
---
Sal looked at the list she had made and sighed. "I have 21 gifts left to buy and only have $120 to spend. That's less than $6 each. What on earth can I buy for $6 that says 'Hey, Merry Christmas! You're special!'?"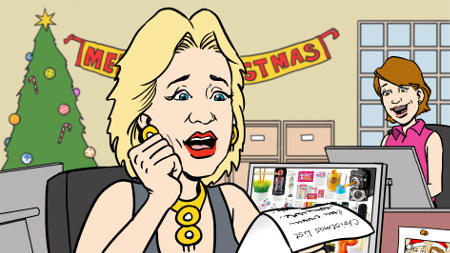 Hanna smiled at her friend across the desk and started to speak but Sally cut her off. "No Hanna, I know you're going to say I can make something. I did that last year remember and it ended up costing a fortune, way more than if I bought them something in the first place. No, I've got to think of something I can buy, and quickly."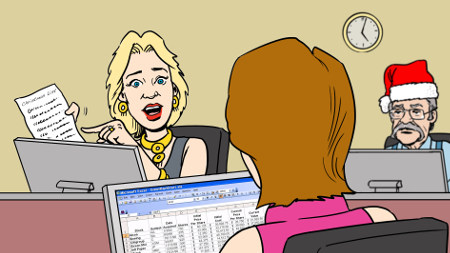 Hanna tried again, "Sal, I was going to say I have the perfect idea. It IS home-made but it's quick and easy and cheap to make. The best thing is you can personalise it for each person which makes it extra special." Sal perked up. "Hanna, that sounds wonderful. What is it?" Hanna smiled, "It's 'Troll Blood'!"
---
'Troll Blood'? What on earth is 'Troll Blood' you may ask? Did we really capture a few internet trolls and turn them into chocolate sauce as the label says?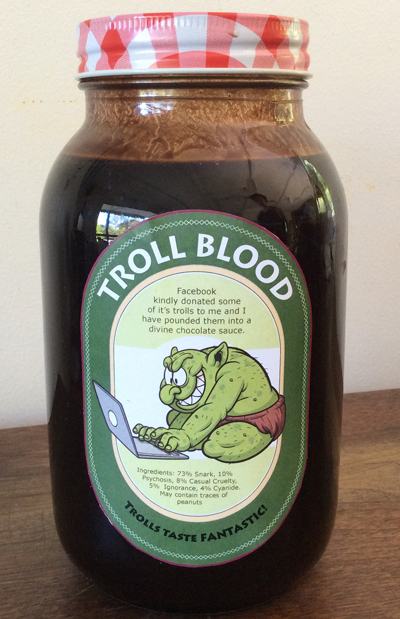 The answer is, "YES! Yes we did! And it was lots of fun!!"
OK, the real answer is no. Troll Blood is made from cocoa, water, sugar, vanilla and salt and it is part of my long-running quest for the perfect gift. For years I have watched to see which gifts people enjoy the most. These gifts are the ones that appeal to the heart, the mind and/or the senses. They are often:-
gifts that are hand-made
gifts that make them laugh or smile
gifts that taste good.
If you can find a gift that does all three things, then you have a hit! So I've combined all three to make the ultimate frugal gift to use for Christmas and birthday gifts. It is a killer chocolate sauce recipe, stored in easy to buy jars with a great selection of labels to match your friends' tastes.
We have had a ball making the labels and we uploaded them so you can do it too.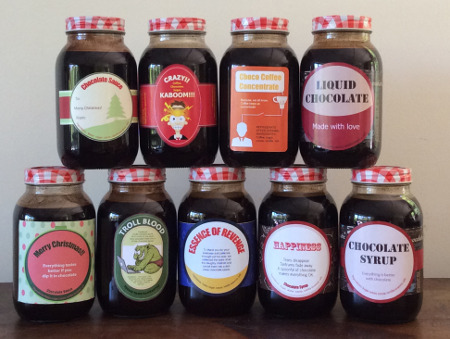 First I'll show you all the labels up close and then the all-important recipe.
We have 'Troll blood' for your friends who find internet trolls really frustrating.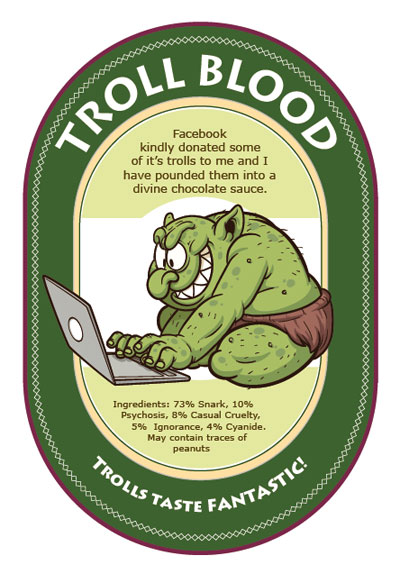 For teachers and coaches with a wicked sense of humour, we have 'Essence of Revenge'!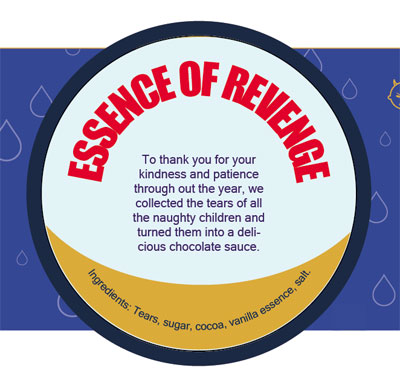 For the friend who likes things simple, we have some basic Christmas labels.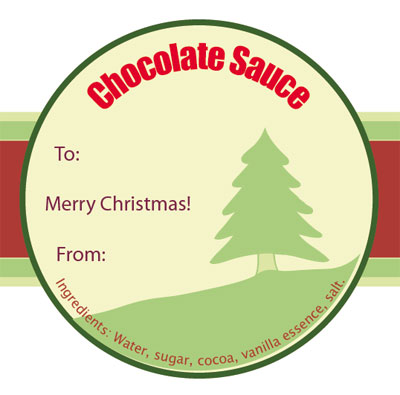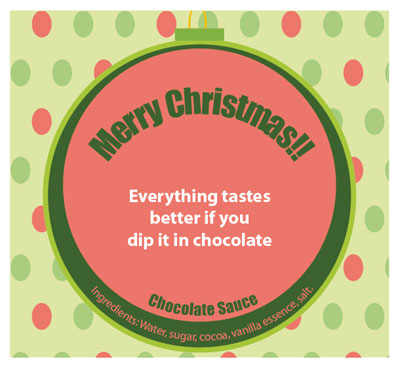 For friends who like coffee, we have altered the recipe (see below), offering to blow their heads off!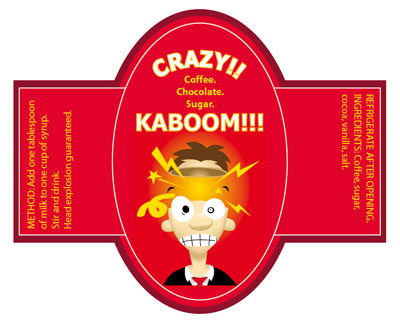 Or, help them concentrate :-)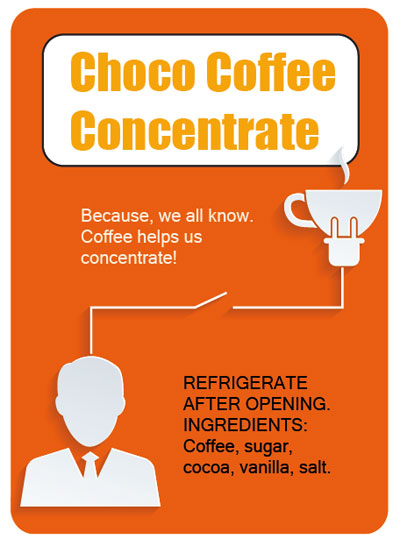 For your friends who love chocolate. We have..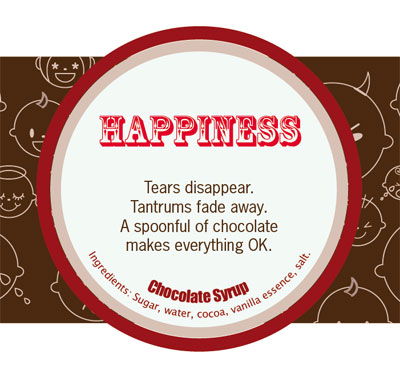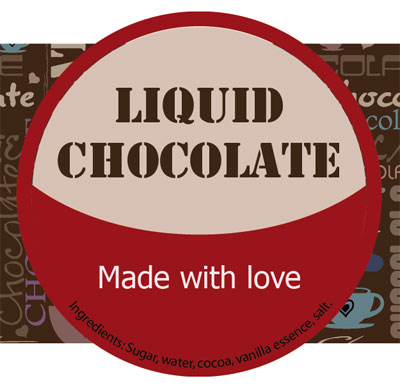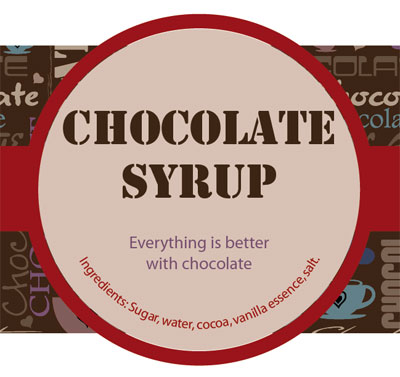 Here is the recipe (and all important labels) to make two delicious jars of 'Troll Blood' (or whatever else you'd like to call it!) to give to loved ones and others who share your dislike for trolls!
Makes 2 x 1 litre jars
Shopping list:
2 x 1 litre jars ($6)
1 box (380g) cocoa ($4)
2kg sugar ($2)
Vanilla essence
Salt
Labels:
Print out chosen labels
Glue stick
Scissors
Ingredients
2kg sugar
Box of cocoa (380g)
1 litre water (or coffee)
1 tsp salt
1 tbs vanilla essence
Put sugar and cocoa in a really big stock pot. Stir together to remove all the lumps from the cocoa. Add liquid (water or coffee) and salt. Turn stove to high and stir continually. When it is boiling, turn heat to medium. Keep stirring and watching. If it gets too hot it will bubble over. Let syrup simmer until it thickens, about 5-10 minutes. Remove from heat and add vanilla essence.
Pour into two jars. When cooled add your labels.
And now you have two awe-inspiring, home-made gifts for a tiny $6 each! It is the ultimate frugal gift.
Merry Christmas!!
Fiona
---
Say 'Merry Christmas' with love by cooking your own festive fare this year. With a bit of thought and organisation, you can create a delicious and inexpensive Christmas for your loved ones to remember. Here are some great ideas from the Vault:
This delicious strawberry syrup makes an ideal festive gift for sipping and slurping! It's so easy and only takes a week until it's ready. All you need are strawberries, sugar, vodka and a clean jar.
Put fresh strawberries into an elegant jar or bottle.
Drizzle with white sugar until the jar is filled.
Fill with vodka.
Turn daily for a week to dissolve the sugar.
Decorate the jar with ribbon and/or a festive tag.
Use as a drink with lemonade or over crepes, ice cream or strawberries. Yum!
Contributed by: Kathy L
This Christmas recipe serves 6-8 people.
1 cup mixed dried fruit
1/2 cup sliced glace cherries
2 tablespoons brandy
1 x 359g can sweetened condensed milk
2 x 300ml cartons thickened cream
1/2 cup dark choc bits
1/2 cup white choc bits
1/2 cup flaked almonds, toasted
Combine dried fruit, cherries and brandy in a bowl. Cover and stand for 30 minutes.
Line a 1.5 litre (six cup capacity) pudding basin with plastic wrap, freeze whilst preparing ice-cream.
Beat sweetened condensed milk and cream in a large bowl with an electric mixer until thick. Fold through the fruit mixture, dark and white choc bits and almonds.
Pour the mixture into a prepared basin. Freeze for several hours, or overnight.
Before serving, turn out pudding onto a plate; then smooth the surface with a wet knife.
Decorate with fresh fruit/berries, and bottled sauce of your choice.
Contributed by: Vivien Wakefield
Christmas can be an expensive time of year but I have learned to make savings. I buy turkey and chicken pieces instead of a whole bird. This way saves time in cooking and preparing and if you want stuffing to go with it, make it up in muffin tins.
I make my own cake instead of buying one. I soak the fruit and nuts in black tea for 24 hours and make it up as usual. I don't make a cake with more than 2 eggs in, I find it unnecessary. I pour a tablespoon of brandy or whiskey over the cake daily for 2 weeks to keep it fresh; the taste does disappear after a few days of not doing it.
Mince tarts can be made with 500g of mixed dried fruit minced up fine in a blender to go further. I make sweet shortcrust pastry and put in about 2 teaspoons for each portion, then bake for 20 mins or until golden brown.
Using these methods, I have worked out that our Christmas dinner will cost under $20 to serve ten people. We make our own beer so for $11 we have 72 bottles of beer. I buy the beer kits when they are on special. I make my own hats, sweets and table settings. The library has lots of books on the subject, most items needed can be found in op shops for a minimal cost.
Contributed by: Kaye King
---
Christmas doesn't have to be a last-minute spending rush. Here are some great ideas to help you plan a wonderful Christmas without breaking the budget!
Secret Santa is a great way to do family gift-giving, have fun and save money all at the same time!
read more...
Mimi shares her beautiful gift-giving ideas in this thread - they are so pretty you'll be making one extra to keep for yourself!
read more...
There are some great ideas for surviving being the host this Christmas!
read more...
---
One of the many benefits of being a Vault member is that you can win $100 cash each month for your Simple Savings blog! Starting your own blog on the site is easy. All you have to do is log into the Vault, click on 'My Desk' at the top left, then 'Your Blog'. Then get writing! We love reading all your money saving trials and tribulations and really appreciate the effort that goes into each one.
This month's Blog winner is Sandy for her blog about NOT spending on Christmas presents!
"I can't believe how fast the year is going, and how close Christmas is! We recently started a new business and while it is doing well, we are barely, if at all, actually covering our personal expenses, so I have started dreaming up Christmas and how I can make it work. My husband thinks I'll have to spend some money and I probably will but I am determined to keep it very close to nothing! I have been looking around and thinking what resources I have that I can use to make into gifts - not just something nice but also something that people will appreciate and use.
So far I have come up with the following:
a ginger plant (already sprouting)
home-made bags that can be used at the market, both light-weight net ones for individual vegies and larger ones for whole bunches
a peg apron
lemongrass plants
reusable fabric covers (instead of cling wrap)
Freecycle begging (hopefully I can get some bath toys for bubby)
home-made gift vouchers
The resources I am planning on using are the big stack of fabric I have, some large onion bags and some 20kg rice bags (some of which I am using to grow potatoes but I have plenty).
Although in some ways it is a bit of a struggle and we're feeling the pinch, for me it is a challenge to rise to. Unfortunately it is harder for my husband who doesn't have a lot of time, loves to give gifts and loves the luxuries of life. I am so proud of the way that he is coping with the tight finances though."
Well done Sandy - you are an inspiration - thank you for sharing!
You can read more of our members' blogs here.
---
This year, I'm focusing on setting a truly beautiful Christmas table, and serving simple food. I get that we don't feel right if the table isn't groaning with stuff on Christmas Day, but it's a special sort of crazy really, isn't it? We waste so much and I'd rather donate a little more to charity now that we have a family of adults. So, we're making it a feast for the eyes and soul, not just the stomach.
Our menu this year is a simple leg ham, two lovely salads, fresh stone fruit and nuts in the shell, and a dessert yet to be decided. That's it. But I wanted our Christmas table to be truly beautiful with a tartan theme, which I should probably explain!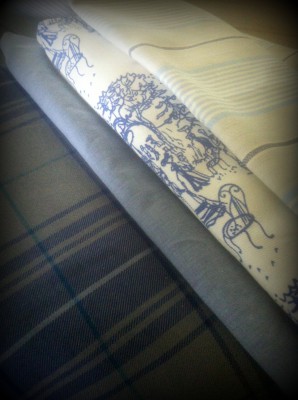 I got this tartan at Spotlight for $2 a metre.
I already had the striped 'ticking' style fabric, the vintage blue and white toile, and the chambray remnant. They go together in that totally over-the-top mixed pattern style that I would never do for every day, but which I kinda like for Christmas :)
We have off-white china, silver candelabra and a small collection of blue and white ginger jars. I need more of those actually so I feel an op shop trawl coming on! I've been lucky to pick the ones I have up for $2 or thereabouts. New, they're actually really expensive!
Here's a first run....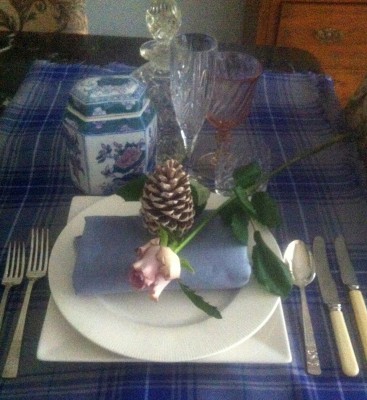 That's all from things I already have. The beautiful roses were a gift from a friend. Aren't they a gorgeous colour? I had to giggle to myself when I did this though, because my eye simply won't allow too much busy-ness and I chose to include the rose, as well as my pink wine glasses, because of that touch of pink on the ginger jar. This is a more understated version, isn't it. I'll have to take my 'understated-ness' off, I think!
I think I'll fill the ginger jars with chocolate éclair lollies or something and just stress that the sweets are for eating and the jars for returning ;-) I'll do a long low floral centrepiece using some silverware I've collected over the years, and some similar coloured roses either from the garden or from the florist wholesaler a day or two before. You'd be amazed what you can create with a fruit bowl, some $2 florist foam, a bunch of inexpensive flowers and some greenery from the garden!
So in between all that prettiness will sit a couple of platters of cold food, beautifully presented and won't we all feel special. There's more to a celebration meal than indulging the stomach. What about indulging the eye as well.
Merry Christmas :)
You can get updates on Mimi's new blogs on the Simple Savings Facebook page or in our Members' Blog section.
---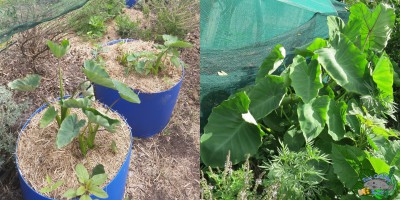 The patch is flying along and I thought I'd include a few update shots of the taro, corn and Queensland Arrowroot that I post about on my last blog. As you can see from the picture above, the taro has taken right off in the wicking barrels. I was concerned that they might not like the full sun they're getting in this position but so far they look like it's not bothering them at all. I think it helps that these barrels are automatically topped up with water so the soil is always moist.
The mixed glass bead and gem corn plants have also put on a lot of growth over the past four weeks. We had a rather ferocious storm on Sunday and I was concerned they may blow over like a friend's did in West Ipswich, but I think the front fence took a lot of sting out of the wind. I think I will have to set up some sort of twine around them like I have with previous crops as they won't be so protected once they reach 2m / 6½' tall.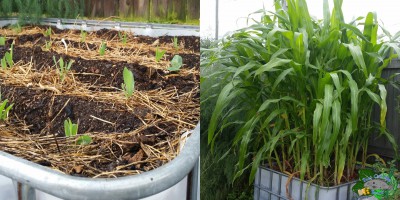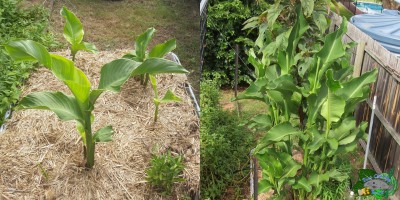 The Queensland arrowroot has totally blown me away. I know our compost was good but didn't think it was this nutritious ;-)
There is also a red Amaranth (grown for its seed by South Americans) flourishing in there that is the most vigorous looking amaranth we've grown to date. Not only is it the tallest amaranth we've grown (we can see it from the house over the shade house) but the base of the stem is massive. I've decided to leave this plant just to see what comes of it. Will definitely end up with enough seed to add into my date and nut cocoa balls methinks ;-)
A few other plants have done surprisingly well for us so far include this pumpkin, grown from some seeds shared with me by Ruben, an online friend I met through the Share the Seed Facebook group. It's growing up a small trellis and so far looks to be a great producer with five fruits already forming.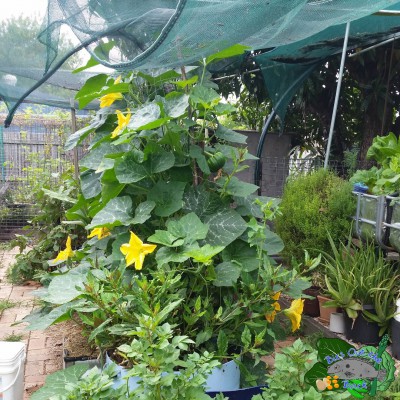 They're a smaller fruiting pumpkin that is a hybrid variety (so no seed saving unfortunately) that has proven to be fairly mildew resistant up until this week. I have noticed a few patches of mildew forming so will be removing the worst affected leaves and will use a fungicide spray on the other leaves to try and knock the infection off. Reuben was also kind enough to share some cucumber seeds with me as well. They were sown directly into the Root pouch wicking garden at the back stairs in August. Three months later and the little garden is looking just a tad overgrown ;-) So far we've picked about a dozen nice sized cucumbers from this patch which we've been enjoying immensely. I think Maya wants two of these left aside so she can make sliced cucumber pickles but she'll have to be quick, as we're eating one of these a day at the moment ;-) A few of the chillies have been picked with loads of mint and a few sweet potato leaves going into meals as well.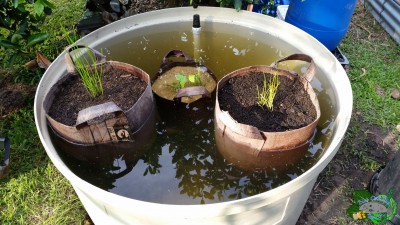 Just over a month ago we set up a pond in the patch under the Tahitian lime tree so we could grow a few edible water plants. We are also hoping it will provide a spot for frogs to spawn in and to provide water for beneficial insects.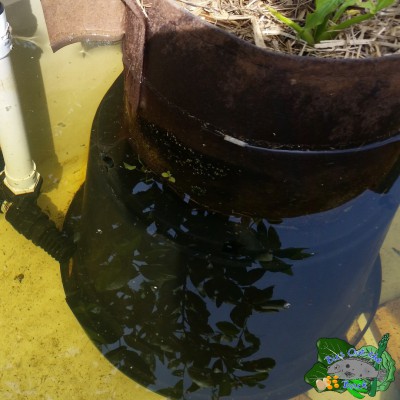 The pond is made from a 500L grow bed** we purchased with the aquaponic system a while back but we can't fit into the system the way it's laid out at the moment. Setting it up was as easy as levelling the ground and installing an overflow port that would run excess water off to irrigate the lime tree in times of heavy downpours. For the time being it's just sitting on the ground but its position may change in the future. Ideally some of the base should be dug into the ground to help keep the water cool during our scorching summer heat.
I decided to try using Root Pouches to grow the plants and filled them with a potting mix and compost blend. We sat these on top of some milk crates and an upside down plant pot. Two of the pouches were planted out with water chestnuts and the third with arrowhead/duck potatoes. The water chestnuts we've grown a few times now but the arrowhead is a new one for us. I've been told that they have a nutty flavour so it will be interesting to see how they go once they're harvested.
One thing we keep in mind when setting up ponds in the yard is to keep the mosquitoes from breeding in them. To make sure that we didn't have an explosion of wrigglers, we added some native fire tailed gudgeons.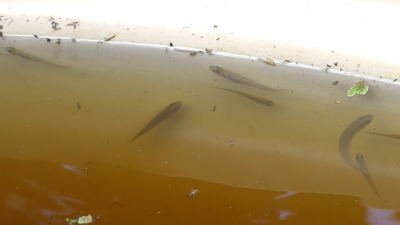 They will quite happily polish off any mozzie wrigglers but won't eat any eggs or tadpoles. A water pump was also added to keep the water moving and well oxygenated for the gudgeons. I'm looking at replacing the 240V pump with a small solar pump but just haven't found one I'm happy with yet. On top of the water I added some small floating plants called azolla and duck weed (Thanks Adie & Tina). These two tiny plants are very nutritious and can be fed to the fish in the aquaponics, to chooks or compost worms if we want. I've also seen a few folks that eat both plants but I think I'll pass for now. ;-)
On the west facing side of the pond a small garden bed was made to help provide shade from the hot afternoon sun. It was planted out with some Queensland arrowroot to not only shade the side the pond but to also serve as a ladder for frogs that may want to use it to spawn in. So far I'm really pleased with how it's going and can't wait to see some tadpoles swimming in there.
** A stock tank would work just as well if you're after an above ground pond. They can be purchased from rural supply stores and also recycling businesses like Tilkey here in South East Queensland.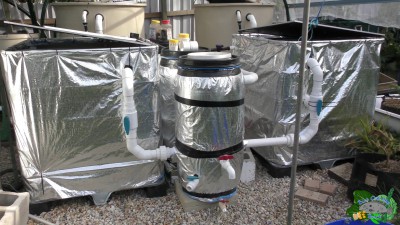 A few weeks back we harvested the fish in the fish farm and pulled it down. It was always meant to be a bit of an experiment just to see if I could run a straight aquaculture system in the backyard and I found that it helped me learn a few things I hadn't yet come across running the aquaponic system. I am glad that it's all pulled down now as it was a shame to see all the nutrients go to waste instead of growing produce for ourselves. These were the last of the Jade perch from the fish farm. There was a 9th fish but I was in a hurry and had already dressed it before realising I hadn't taken a picture. The smallest weighed 450g/1lb and the largest 700g/1.5lb which I was very pleased with. They had been in the fish farm for about 18 months and were supposed to come out in 12 months at an average weight of 500g, but due to a few hiccups along the way their feed rations were cut a few times meaning they didn't grow as fast as I would have liked them to.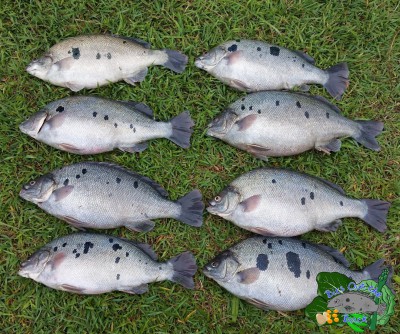 The tanks and barrels from the system will be heading over to my parent's place where it will be recycled into an aquaponic system for them to grow some silver perch in.
The aquaponics has been pumping out the produce of late, with around 80% of the greens we've been eating coming from the system. We are having a few issues with a caterpillar on the Okinawan spinach at the moment. These caterpillars have been devastating the plants in the aquaponics so I think it might be time to give the plants a haircut and spray with some Dipel to knock the infestation on the head.
The fish are feeding really well now that the weather has warmed up. The Jade perch are all ready to come out as we feel like a fish meal. A few of the silver perch are around the 500g/1lb mark now and ready to come out but the trick will be to pull them out rather than the smaller fish. The rest will be left in for a while longer until they grow out to harvest size.
There are some big changes coming for the aquaponics now that the fish farm has been pulled down. We are hoping to fit in around 3m²/32feet² of new grow beds were the fish farm once stood, with at least one large bed being a floating raft bed for greens-only production.
So there's a bit of a look at how things are going in the patch at the moment. I hope everyone's gardens are pumping out the produce now we're into summer.
Have a great one all.
Rob
You can get updates on Rob Bob's new gardening adventure blogs on the Simple Savings Facebook page or in our Members' Blog section.
---
Well, that's your Simple Savings Newsletter for December 2015 and we hope you have enjoyed it. Don't forget to check the Forum and Facebook for challenges and inspiration to help you with some great lunchbox ideas and don't forget to let us know!
Our members are hugely important to us and we love hearing from you all! So next time you're on the website, why don't you get in touch and say 'G'day'! Let us know what you would like to see more of in our newsletter or any suggestions you have for something new to try. We love receiving your clever ideas!
Don't forget to spread the love around to your family and friends too by forwarding them our newsletter or letting them know about our website. Help make their lives easier and save them money too! Or tell them about us on Facebook by clicking the 'like' button on our Simple Savings Facebook page.
Till next time...
All the best,
Fiona