This issue includes:-
Sad Sally, Happy Hanna: Mother's Pride
January is Screen Time Month!
Hidden Gems Competition Winner
Best Member's Blog: This Month's Winner
Lin's Garden Diary
Best of the Vault: Rediscover Family Fun
Best of the Forum: Switch it Off!
Cooking with Mimi: Almond Crusted Chicken Schnitzels
and Choc Mint Rolled-Up Pav
Penny's Blog: Happy New Year!
Homeopathy Corner: I Thought I Was a Goner
From Last Month: An Overabundance of Hankies
This Month's Help Request: Healthy Lunchbox Options
Savings Story: My $50 Christmas!
So Long, Farewell, Auf Wiedersehen, Goodbye :-D
---
Happy new year!
I hope you have had a fantastic 2011 and you and your calendar ('The NEW, clever YOU!') are all set to make 2012 a great year! The first month we are helping you bring in a screen time currency to your household. I love 'screen time', it has made a huge difference to our household, as I'm sure it will to yours.
If there are any of your friends or family who you think will benefit from 'screen time' or a copy of the calendar, send it through to them. It is for everybody. You never know, you may just change their life and they will thank you.
"The $21 Challenge has changed my life. I never liked cooking and baked twice a year - cakes for my two boys' birthdays. Now I menu plan every week, cook a whole meal at least six days a week, with desserts two to three times a week, and I even bake once or twice a week. Cooking doesn't seem to be such a chore if you make things with ingredients you already have. My husband thinks it's great as he eats (always has eaten) huge amounts, one son likes the baking and the other is much better at trying new things than ever before. I have several new items of kitchen equipment and several new cookery books (three of which are Australian Women's Weekly)." (Nicola Hunt, UK)
"Today I went online to buy a gift membership for my sister and was so very happy to see that it was only $17! Thanks so much - you've just saved me money on gift buying while giving someone something very useful. It has made me think about who else I could give this to as a gift. Also, I was prepared for it to be tricky to sign up someone else as a gift and was thinking in advance of what passwords etc to put for them, only to find out that it was really simple and quick and I could finalise the whole process before my toddler even realised I had left the room. Thanks Simple Savings!" (Cassandra Walker)
"Wow, just wanted to say what an amazing place the SS Forum-land is! Having followed one thread in particular, the member's story is so heartbreaking and distressing, but by being on SS for just over six hours her mood has improved and her power to make a good decision seems to have returned. I am so impressed with the SS members who responded to her post and just wanted to share." (Nicole)
Happy new year! I hope you have a great one!
All the best,
Fiona
---
"This looks fantastic, Sal!" Sally's neighbour, Linda commented on seeing the beautiful table set for dinner. "You really didn't have to go to so much trouble though!" "Oh, it wasn't me - it was Sarah," Sally smiled at her daughter proudly, "she did everything - right down to the table decorations."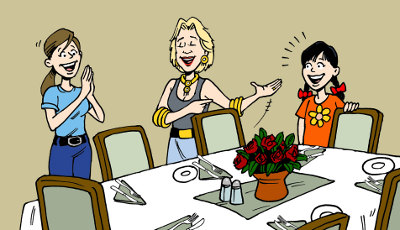 "Well, you've done a wonderful job, Sarah! Thanks so much for inviting me for dinner, can I help with anything?" "No! It's OK Linda, that's my job," piped up Sally's son, James. "Do you need a hand with anything Mum? Does the dishwasher need emptying yet?" "Not yet, darling, be patient!" laughed Sally. "Don't worry; I'll let you know as soon as it's ready." Linda looked around the house in amazement - she never thought having kids would be like this!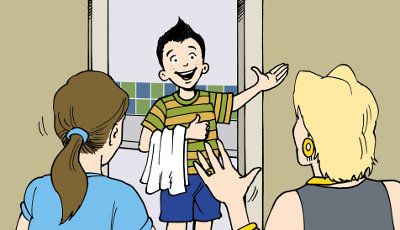 "I might not have any kids of my own but Sally, your children are like no other children I've ever seen! What's your secret?" Linda found herself asking. "I have found a way to motivate them," Sally smiled. "I don't pay them money for chores. Instead they get paid in screen time. Sarah gets half an hour to spend on the computer or TV if she does a good job setting the table, another half an hour for the dishwasher and so on." "Wow Sally! That is brilliant. Where did you get that idea?" asked Linda.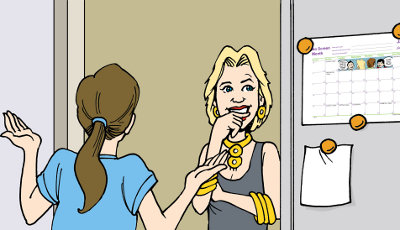 ---
My iPad is brilliant. It cleans my floors, sets the table, prepares food and even empties the dishwasher! This is pretty good considering when I first got my iPad I thought it was just a stupid toy - a mobile computer whose screen was still too small to do anything useful. But that was before my kids got hold of it.
You see, my kids love my iPad. It has cool, addictive games that they want to play again and again and again. So my children, my iPad and I have a 'Screen Time' agreement. The one who empties the dishwasher gets half an hour of screen time. If they share the task, they share the time. And that is how my iPad does my household chores!
Screen time rules in the Lippey household:
Empty the dishwasher = 30 minutes screen time
Set the table for dinner = 10 minutes
Set the table faster = 15 minutes
Set the table faster AND beautifully = 20 minutes
Clearing dishes from the table = 10 minutes
Wiping the table after dinner = 5 minutes
Vacuuming the kitchen = 15 minutes
Vacuuming under the table = 15 minutes
Vacuuming the lounge room = 30 minutes
Vacuuming the hallway = 10 minutes
Vacuuming the bedroom = 15 minutes per bedroom
Making a meal for the rest of us = 30 minutes
Tidying hard toys = 5 minutes
Tidying books = 5 minutes
Changing Elora's nappy = 5 minutes for #1, 15 minutes for #2 :-D
Folding a basket of washing = 30 minutes
Hanging out a basket of washing = 30 minutes
You get the idea! If you think offering screen time for chores instead of money is stingy, think again. We tried 'money for chores' but it didn't work. The reward needs to be instant.
How to implement screen time rules in your household:
You will need a partner in crime. This can be your life partner, best friend or family member but needs to be someone who will back you up if the kids start whinging.
Take the screens away. Remove any batteries where applicable, for example, from video game controllers and so on if you need to.
Hold a family meeting and tell them that you love them and want them to be the best people they can be. Tell them you also want your family to be the best it can be so you are going to completely ban screens for one month; lock anything with a screen away or loan them to Grandma.
Wait for the howls of complaint...
THEN offer them a second option - they can earn screen time. They will still be allowed to use their iPads/iPods/game consoles but they have to have done something to earn the time, such as putting the washing away first. Make it clear that if they say no all the screens are going to disappear because you love them and spending so much time in front of screens is shrinking their brain. The choice is theirs - lose the screens altogether or embrace SCREEN TIME! :-D
This system really works because the kids are given limits which they can control, so it gives them the independence and freedom they need while getting them to contribute to the household. Everybody's happy! Give it a go this month and write in and let us know how it went. We are looking forward to hearing about your hurdles and how you jumped over them!
---
The Hidden Gems directory is designed to help members find it easier to source the best deals in their area. Whenever you come across a real gem of a store, enter it in our Hidden Gems directory and you could win our monthly prize of $100 cash! This is our way of saying thank you for helping other members save by sharing your knowledge. The more information you can give us, the better your chance of winning. This month's winner is Grease Mechanic's Workshop as nominated by HappyHappyJoyJoy.
Grease Mechanic's Workshop
37 Lower King Street
Caboolture
Queensland 4510
Here's what makes this one such a great example of a Hidden Gem:
Ladies - if you're like me, you just dread the thought of taking your car into the mechanics! They speak a language I don't understand, they're usually all men and (gulp) I'm always just a little bit worried that they might try and rip me off. Well, this little hidden gem is a Godsend if you're a woman like me!
At 'Grease' (which is the separate garage/mechanic next door to Freedom Fuels) you do not need to worry anymore! Yes, they're all blokes, and yes, they still speak some kind of Klingon language from what I can ascertain BUT they will take the time to translate into English, they treat you nicely and with respect and *woot woot* they are not in the business of ripping you off! Hip hip hooray!
Seriously though, I needed to take my much loved Chrysler PT Cruiser in for a RWC and to have a couple of little bits checked out. I rang around and everyone else on the planet seemed to be too busy to see me, except for Grease. The chap on the phone said to pop down the next day and he would see if he could do my RWC on the spot.
When I turned up, there were quite a few cars there, so I parked up and went into the little office. Mr Mechanic chap asked when I needed my car back, and because I needed to pick up my cat from the vet, I asked for 'as soon as possible'. Anyway, Mr Mechanic chap went and removed another car from inside the garage, told me to take a seat in the office and he would do my RWC straight away.
Was I impressed? Oh, yes :)
So I sat in the office, which is teeny weeny, and because of the height of the reception, you could barely see that I was sitting there. I was able to hear the men who work as part of the mechanics garage, and I also heard how they treated their customers on the phone. And I am happy to tell you that they treated every single woman with respect and due care. The way they spoke to people on the phone is the same as the way they speak to people in person. Yes, the two head mechanics would sometimes call the customer 'darlin'' but it was in no way derogatory or mean. I felt that it was their way of being friendly and trying to put people at ease.
When it came time to tell me what needed to be done on my car, I have to admit, I did think I was in a Star Trek movie (e.g. mechanic chap was moving his lips and a Klingon dialect was coming out). So I asked him to write down his recommendations so I could get my husband to check them for me. He was more than happy to provide me with written documentation and possible costings and also when he thought things would need to be done by, such as my seat belt needed to be seen to asap. Based on this, I chose to have the more urgent things taken care of immediately. And once again, this was not a problem.
And once again, was I happy? Oh yes!
'Grease' is a busy little place. In the time I was there, it was bustling with customers on the phone and in person - some with appointments and some without. And you know the old adage "Go where the locals go", so obviously 'Grease' is a hot fave with the locals, and with good reason. The men who work there are decent people. They work hard, they're friendly and they are not in the market of ripping you off. If I'm going to have to fork out money for my car, then I want it to be to a place that treats me decently and who do a decent job. And it's kinda nice to support a local firm. *happy smile*
Congratulations HappyHappyJoyJoy for being this month's winner and a huge pat on the back to Grease for providing consistently outstanding customer service and value for money!
Send us your best restaurant Hidden Gem!
We want to know which is your favourite local or little-known restaurant! When you have the spare cash for a fantastic meal out, where do you go? Tell us about it and you could win $100 cash! You can enter your Hidden Gem into our monthly competition here. Thank you and good luck!
---
One of the many benefits of being a Vault member is that you can win a cash prize of $100 each month for your Simple Savings blog! Starting your own blog on the site is easy. All you have to do is log into the Vault, click on 'My Desk' at the top left, then 'Your Blog'. Then get writing! We love reading all your money saving trials and tribulations and really appreciate the effort that goes into each one.
This month's winner is Helenc for this extract from her blog 'Defining who you are'.
"I was just having a shower a few moments ago and was thinking about what defines who you are. Not only mentally, but physically. And not only a spiritual, airy-fairy 'who' you are, but also your 'look'.
I am a wife to my husband and a mum to a son and daughter. My life has taken a turn though, and I resigned from work a week ago. I have gone from being a full-time receptionist to a carer for my two Asperger's men - my husband and son. Being a full-time carer, it will be hard not to focus on them and neglect me.
So, apart from being a wife, mum and carer, what else defines me?
Where do I start?
I decided to start small. With appearances. I know, it might sound a bit superficial and shallow, but how many women often lament that they never have time to look after themselves because they are too busy with the kids and the house? I'm betting, a lot.
Thinking about different looks and clothes, I've discovered what style I really like. A slightly hippy, free spirit look. If you've seen the movie Twister, think of the older lady that plays Aunt Meg. I LOVE her. Now, I know that she is old enough to be my mum, but I love her look, her hair, everything. When I am in my 60's, I want to look exactly like her. Long hair (naturally grey), long flowered skirts, soft blouses, long dangly earrings and jewellery etc.
I know the look isn't really 'in', but I don't care. I LOVE it, and I feel that it is very 'me'. Problem though - my wardrobe is mainly work clothes or jeans and t-shirts. I do have one or two long skirts though, and a couple of loose floral tops. The best thing with the look not really being in though, a lot of clothes in this style will hopefully be hiding at the op-shops! Ooh, op-shop crawl! Bring it on! lol
My mum inadvertently started me on the path to my new look this afternoon. She gave me a gorgeous pair of dangly earrings! Very happy!
I also want to change my house to reflect the 'new me'. Unfortunately this will involve housework. Dang. But I want to make the house softer. It is a rental so we can't do TOO much, but I'd like some indoor plants (especially the ones that are supposed to clean the air around computers etc). I also want to get my candle collection out of the cupboard and actually start USING them. Start growing some herbs, fruit and vegetables in pots, and spending more time outside instead of in front of the computer (sacrilege, I know). Or at least I could get a notebook computer and take it to a park! lol
I also want to start doing something just for me every night, along the lines of the 50c indulgence thread. Last night after I washed my hair I sprayed it with colour shine spray. Cost was $0, as the spray was from a hairdresser sample bag that was given to me at the shopping centre. Tonight I plan on using toner and moisturiser that I've had sitting in the cupboard for ages and haven't used. It was Clinique so not cheap. I spent the money on it, I should be using it! I also received some Nivea samples in the post, so I'll be using them up too. I used to be an Avon rep and have so many samples and products lying around the house it's not funny. My mission will be to start using them up, and not buy any more until it is all gone. I could probably go for at least a two years without having to buy moisturiser or cosmetics!
Eventually I also want to get back in shape and lose the baby weight. My baby will be starting prep in January. So the baby weight excuse doesn't really hold water any more, does it! Instead, the baby weight is mainly holding fizzy drinks and orange juice. :S So, time to cut back on the fizz, and start drinking regular water. I'll try and eat my 2 pieces of fruit and some veges each day too. Note to self - popcorn does not count as a vegetable. Especially when cooked in butter and liberally coated in sugar and salt.
So in summary, a complete body and lifestyle overhaul. Hmm. That's a big challenge! One step at a time!
Off to have a glass of water and a nectarine!
Congratulations helenc and all the very best to you and your family for 2012!
To read more from her, or any of our other members' blogs, click here
---
What a fantastic month it has been in the garden! Summer has arrived, which is when we eat lots of salads. It's an incredible feeling to walk to the back yard and pick our own freshly homegrown produce! I simply cannot wait until next summer when I can pick an entire salad from the garden. This month we have picked and eaten radishes, beans, beetroot, peas (they never make it to the plate, just straight in our mouth!), and it's only a matter of days before we pick our first corn and tomatoes! The regular weekly feed of seaweed juice or worm wee has proven to be a huge success. Our corn was looking a little sad, but a good dose of seaweed juice and 'voila'! I have since learnt that corn requires lots of feed. They now get a big drink of seaweed each week and worm wee every fortnight.
This month I wanted to focus on composting. This is when your food scraps simply decompose and return to the soil. My goal is to invest in a rotating tumbler bin, however, with our build underway I need to keep an eye on the budget, so we will have to save for this and make do with a trench compost in the meantime.
We have been throwing away our fruit and vegetable scraps and it felt like throwing away 'gold'. My 'gardening mentor' suggested we have a 'bokashi', the idea was developed in Japan, meaning 'fermented organic matter'. So we found a large bucket and a large plate to use as a lid, kept it in the kitchen and filled it with scraps. It's odorless and is recommended that you keep your bokashi in the kitchen for up to 10 days, then add it to your compost. Ours was sitting there for about three weeks as Christmas arrived and anything to do with 'gardening' went out the window! I did, however, manage to move it outside as it was beginning to break down, not that it was smelly, but it was beginning to look rather disgusting! 'oooohhh yuck'!
There are lots of different ways you can compost. Being the 'lazy gardener' I need things to be easy and accessible, hence choosing the rotating tumbler bin! I also figure it will allow me to dedicate more time to my garden, rather than my compost! Composting is a great easy system for recycling and reducing garden waste (us 'Simple Savers' like this idea don't we?!).
Why compost?
You recycle and reduce garden waste
It produces fungi and bacteria (which break down your waste)
It is a 'feed' for your garden
It helps fight off unwanted diseases and pests
By adding to poor soils it will improve the quality; improving drainage in clay soils and retaining water in sandy soils
It saves you money!
You know exactly what's in your compost
Now that I am getting into the 'garden thing' I am always looking at ways to keep costs down, save time and money. My first compost is going to be a 'trench compost'. There is no cost involved. It's easy. You just dig a trench! Ours is very small and what they call a 'dig and drop' trench compost. We dug a hole about 30cm wide and 60cm deep, then put our kitchen scraps bokashi into the bottom of the hole, including several weeds and leaves, then covered it with the soil. This will eventually break down and we can dig it up and add to the vegie garden.
Whilst I like this idea as it's free, easy and you don't have to aerate it or sift through it, I'm not so keen about having dirt holes dotted around my garden! So I look forward to our pennies being saved and getting our rotating tumbler bin!
Give the 'dig and drop' trench a go. It will be the easiest compost you have ever made!
My compost tip - However much 'crop' you take from your garden, replace it with 2-3 times that much in compost.
Happy gardening everyone!
I will continue to blog my gardening journey here between newsletters and would love any savvy tips from members. Happy gardening everyone!
---
Put all your extra time not sitting in front of a screen to good use. Read an exciting book (out loud!), play outside with the kids or indulge your creative side by getting stuck into your neglected hobbies or crafts. Rediscover your family's fun!
Much to my son's horror, we started a 'No Screen' month in early January. Since doing this, we have discovered that the local library has a holiday reading program about African safaris. We also entered all three children in a local art competition, so we spent our evening collecting materials and designing things - my two year old has even made a sculpture using toilet rolls and sticks and leaves.
We all agreed to keep going until the end of January, as the family was receiving much more of my time and attention. As a bonus, all my housekeeping was done before bed, when I would usually watch TV!
Contributed by: Jo Crookes
I used to come home from work, make a quick dinner and relax in front of the telly. Sadly, not only were the ads a constant temptation, but a lot of the shows were a complete waste of time! So, I have made a recent effort to switch off the box and be more productive. The things you can achieve by simply switching off are endless. So far, I have saved money by doing the following:
Repairing clothes rather than buying new ones
Making biscuits, mayonnaise, muesli and jam
Making delicious, healthy lunches for work the next day
Making big batches of pasta sauce and muffins for the freezer
The sense of achievement is fabulous, and home-made food is always healthier, cheaper and more satisfying to eat. Do you really need to watch 'The Biggest Loser'? Turn it off and make a nice loaf of banana bread instead. You can then go to bed feeling wholesome, healthy and a little bit richer.
Contributed by: Samantha Rixon
There has been lots of talk about 'No Screen' month, so I thought I'd share our unplugged experiences!
About three years ago, my husband accidentally broke the aerial on our TV, and we never bothered to replace it. As we were without a TV, we picked out shows to watch on the Internet instead. A few years down the track, we have stopped watching all movies and TV series, other than the occasional documentary or news program. Not only do we avoid ads, but we have noticed that our swearing is drastically reduced! By the same token, our ability to stay focused during lectures or discussions has increased dramatically. We have also eliminated all violent computer games that contained profanity.
We used to worry about taking such a strong stance against regular forms of entertainment, but it's truly been a blessing in our life. Our family spends more time together, whether it's playing games or talking around the dinner table. By doing this, we are getting to know each other better than ever before, so I hope that more and more people take up your challenge.
Contributed by: Leah Jones
Turning off the screens in our house has not only made a difference to our power bills, but has made our lives a lot more relaxing. That may sound odd, but it's true!
Having a computer screen turned on for 10 hours a day can cost up to $12 a month. At one stage we had six computers in our house, so that was up to $70 a month! By simply going into the power options on any computer, you can set the length of time a screen stays active for. These days, some computers even have a preset PowerSaver option, so look out for that.
Next, we looked at every other screen in our house. Leaving a microwave on is the same deal as the computer screen - it can cost up to $10 a month when left on standby. That's a lot to pay just so you can see the clock on your microwave! We have two convection microwaves in our kitchen, so we turned them both off and save another $20 a month...and we tell the time using the clocks on the wall!
So, how did all this make our lives more relaxed? Well, apart from saving up to $1000 a year, we were all less inclined to use the computer because we didn't 'see' it when the screen was not on. We spent our time doing more relaxing things such as reading a book or talking. Plus, by not having so many clocks staring at us, we weren't focussed on time and worrying about fitting everything into our day.
A happier family and cheaper bills - that's what this saving initiative is doing for us!
Contributed by: Marie Chandler
We're one week into 'No Screen' month, with no electronics between midday and 4pm, and then from 5.30pm until 7pm, including computers, game consoles, TVs and iPhones.
At first I thought no one would manage, particularly my husband who is always on the computer. A few times I have had to suggest that he not just read but do something with the children, but generally we have been working and playing as a family. Now, a week later, we have removed five garbage bags of rubbish from the kid's rooms and decluttered six garbage bags of clothes and toys from the house. We've also painted a bedroom, repaired a water tank pipe and learned new games.
We are coming together as a family, and most days the kids don't even turn on the TV, even when they are allowed to. As our son said yesterday 'all of tomorrow can be no TV day, as this is so much more fun.'
Contributed by: Cheri
---
Most of us know people who suffer from the dreaded 'square eyes'. This month is your chance to beat the addiction and reclaim those wasted hours. Switch that screen off and tune in to your real friends and family instead!
If you need some help implementing screen time in your household, look no further than this thread. Here Fiona has set up a support system where members can share their screen time challenges and successes. Be inspired!
read more...
This motivating thread shows members committing to cutting back their hours plonked in front of screens. It includes some fabulous ideas of what to do with all your reclaimed time too!
read more...
More inspiration to help you meet the challenge.
read more...
Still stuck for fun things to do away from your screens? This thread is packed with creative ideas.
read more...
If you fancy going the full Monty, our members have some great experiences to share.
read more...
---
It's No Screen Month AND it's school holidays. You really want to follow through on that promise to watch less TV, but how do you keep the kids occupied? When I was a child (back when there were dinosaurs, according to my daughter), my super creative mum forced a no screen night upon us once or twice a week. We actually looked forward to it, and it wasn't because the TV was awful back then! Our replacement was 'Not-Quite-My-Birthday Night'. There were seven of us, so this actually meant we went without TV for seven nights in the month.
Here's how it worked.
Our birthdays fell on the 4th, 6th, 11th and so on, of their respective month. So on the corresponding day of each month we not only chose what the meal would be, we'd prepare it.
Oh, the research and competition that went into Not-Quite-My-Birthday Night. We'd scour Mum's collection of New Idea and Women's Weekly for ideas, and draw upon our own history of birthday nights to recreate our favourites. This is a tradition that many of us carried into our adult lives and recreated with our own children. It's always fun and is sort of a countdown to the real deal.
Here are a couple of my daughter's favourites. Maybe they'll be become your Not-Quite-My-Birthday favourites too. Remember now, these are for the kids to prepare or at least assist in preparing. So, put your desires for a spic 'n' span kitchen on hold. You can't have everything!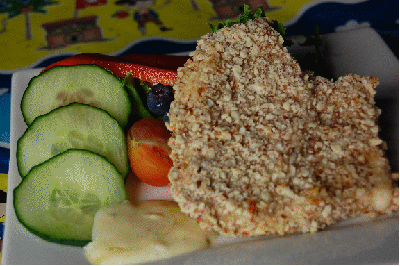 Serves 4
Equipment required:
Baking tray
Baking paper
1 dinner plate
2 soup bowls
Fork
Sharp knife
Meat mallet
Ingredients:
1 boneless chicken breast
1/2 cup almond meal (I just whiz up some whole almonds in the food processor for this)
1 egg
1 tbsp milk
1/2 cup plain flour
Salt and pepper
Cooking oil spray
To serve: You'll need about half a cup of your favourite dipping sauce. We love sweet chilli sauce or mayonnaise with a teaspoon of honey and a teaspoon of mustard added... yum!
Preheat the oven to 180C.
Line the baking tray with baking paper.
Transfer your almond meal to the dinner plate so you can dip your chicken breasts into it.
Crack your egg into your soup bowl and add the milk. Give it a good whisk with your fork. Be careful that it doesn't slop over the edges. A gentle whisk is fine, no need to beat it mercilessly.
Put the flour into your other bowl. Add a pinch of salt and a shake or grind of pepper to add some flavour. You could even add chicken salt or your favourite seasoning if you like. It's your Not-Quite-Birthday, remember.
Line these up on the bench in this order: flour, egg, almond meal and cooking tray.
It's best to have Mum or another adult supervise this bit as it can be a bit tricky.
Cut each chicken breast into two thinner pieces by slicing it lengthwise. Then cut each thin piece into half. You should now have four thin pieces of chicken breast.
Give each piece a bit of a bash. Go on, get that aggression out. Make as much noise as you like. That's part of the fun.
Now for the gooey part.
With very clean hands, pick up your first piece of chicken by the edge. Dip it into your seasoned flour, making sure it's thoroughly coated, and shake off the excess. Then dip your chicken into the egg and milk mixture and let most of it dribble back into your bowl. Finally drop the chicken flat side down into the almond meal. Flip it over and pat it down, pressing the almond meal into the chicken firmly. Carefully place it onto your baking tray. Repeat with your remaining chicken.
Spray the chicken with lots of cooking oil spray, flip it over and spray the other side as well.
Pop the chicken into your preheated oven and bake for about 20 minutes or until the almond crust is nice and golden.
While it's cooking prepare your plates for serving. Add whatever salad or vegetables you like best and make them look really decorative. Lots of colour is important. Don't forget to add a little side dish with your dipping sauce in it. If you don't have little side dishes, egg cups are a good replacement or plop a blob of sauce neatly next to your salad.
When the chicken is nice and toasty golden looking, it's ready. Again, Mum or an older brother or sister should probably supervise removing them from the oven and serving them up.
Now it's your turn to call out 'DINNER'S READY!'
Don't forget to have everyone sing 'Not-Quite-Birthday-to-You'!
Of course, the very best part of your Not-Quite-My-Birthday night was the dessert because you could have anything you wanted. Predictably for us, that usually meant some form of chocolate as ingredient. My little darling is a little more sophisticated. She is also gluten sensitive, so this recipe is perfect for her and everyone else.
In cooking circles, this dessert is known as a meringue roulade. My daughter calls it rolled-up pav... 'cause that's exactly what it is! Her most favourite version is a chocolate mint flavoured one.
It's surprisingly simple for something that looks so impressive and I'm sure you're going to love it too. If you can make a sushi roll, you can make this. The best thing is that the whole thing costs under $2.00 to make and looks a million bucks!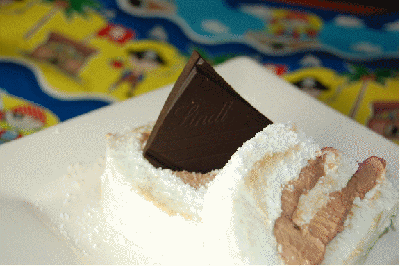 Serves 4-6
Equipment needed:
Electric beaters
Large glass or china bowl
Measuring cups
Swiss roll tin (these are like a baking tray with a bit of a curved bottom. About $7.00 in the cooking equipment section of the supermarket)
Baking paper
Sieve
Spoon
Long platter for serving
Ingredients needed:
4 large egg whites at room temperature
1 cup caster sugar + 1 tbsp extra
1 tbsp cornflour
2 tsp white vinegar
300ml whipping cream
1 tbsp cocoa
1/2 tsp peppermint essence
Green food colouring
2 tbsp icing sugar
Preheat your oven to 180C.
Make a space in your refrigerator, large enough for the platter you've chosen to fit, so that your rolled up pav can chill before you serve it.
Line your Swiss roll tin with baking paper.
Kids adore separating eggs, so let them do this bit, but be prepared for a casualty or two! Cracking and separating them into a smaller bowl before transferring the whites to a larger bowl is a good strategy.
Here are the instructions:
Crack the eggs in the middle, tip all of the egg into one half of the eggshell and let the whites dribble into your glass bowl. Tip the yolk back and forth between the two eggshell halves to make sure that the white all separates properly. Pop the yolks into a sealed container to be used another day. We love making a rich custard with ours. Sometimes we use the custard as the filling for the rolled-up pav!
Using the electric mixer, whip the egg whites until they form a soft peak when you lift the beaters out. Make sure you turn the beaters off before you lift them out though, or poor Mum will be cleaning egg white off the ceiling for weeks.
Now it's time for the caster sugar, so add a quarter of a cup at a time, then beat until the egg whites look all glossy. Once all of the sugar is used up, beat in the cornflour and white vinegar. Finally add the peppermint essence and just a drop or two of your green food colouring. You're aiming for pastel green, not witchy green! Then again, it's your Not-Quite-My-Birthday, so if witchy green is your thing, so be it.
Spread the thick sugary meringue evenly over the base of the Swiss roll tin and into the oven it goes. Bake it for 15 minutes or until it's light brown on top. While it's baking, clean up your bowl and your electric beaters so you can use them to whip your cream.
After 15 minutes, ask Mum or another older person to help you remove the meringue from the oven, and allow it to cool in the tray.
While it's cooling, pour your cream into your bowl. Whip it with your electric beaters until you get those same soft peaks when you lift the beaters out... remember to turn them off first! Add your cocoa and extra sugar and beat until combined. Don't beat the cream too much now or you'll end up with chocolate butter.
Very carefully slide your flat pav out of its tray, leaving it on the baking paper.
Spread your choccy cream all over the meringue. None of that 'pretending I got some on my finger' so you can lick it either, please!
Here's the fun bit, and don't be too precious about it.
Grab the long edge of the baking paper closest to you on the bench and flip the meringue edge over onto the top side of the pav, to start rolling it up. Imagine you're making a sushi roll or rolling up your beach towel. Your meringue may crack in places, but that's okay. Keep rolling gently, using the baking paper to guide the roll over. Finish it with the edges of the roll underneath and slide it onto a long platter.
Pop it into your space you've cleared in the refrigerator and allow it to chill for at least an hour.
When you're ready to serve it, spoon your icing sugar into your sieve and use the back of your spoon to press the sugar through the little holes and over the top of your rolled up pav. Cover it well so it looks like snow.
Use a sharp knife to cut slices from your rolled up pav, and serve them on small plates.
See how pretty it looks? And it tastes even better!
Clever you!
If chocolate mint isn't your thing, leave the peppermint essence and the green colouring out and cover your pav with custard, plain cream and grated chocolate; jam and cream or pureed fruit and double cream. Heck, you could do thick Greek yoghurt and chopped jelly beans if you like that. Whatever!
Happy Not-Quite-My-Birthday!
---
Greetings one and all! Huge apologies for not posting all month, I guess Christmas wouldn't be Christmas without a few dramas! They say things come in threes and I think we have well and truly had our three 'things' now. The first 'present' I received was glandular fever, which while rather inconvenient was a great relief to finally have an answer to my months of erratic health. By the time I was diagnosed I was spending every second day in bed. Makes it kind of hard to plan your festive season but it's certainly one way to save money on socialising! My only hope was that I would be well enough to cook Christmas dinner for mine and Noel's family. Little did I know that we would soon be two guests down when my mum was rushed into hospital for an emergency knee replacement! She was allowed home in time for Christmas but was understandably not up to travelling to our place, so numbers were now down to just the four of us, plus Noel's mum and dad.
Christmas morning arrived and it was nice to see the boys still up early, excitedly opening their stockings. The tradition of years gone by goes something along the lines of Noel cooking everyone a massive breakfast, then sitting down to open our presents. However, this year was a little different. Breakfast done and dusted, meat in the oven and vegetables prepared for lunch, we were just about to crack open the bubbly and get on with the present opening - and the phone rang. It was the neighbours who were feeding Noel's parents' dog at their home an hour and a half away. Apparently the 12 year old dog hadn't moved in 24 hours and was unable to get up and the neighbours said the poor thing needed to be put out of its misery. As Noel's parents weren't due back home for another four days the job fell to Noel to go to their house and dig a hole so he could be buried at home. With a heavy heart he set off for the 90 minute drive in horrendous traffic, leaving poor Liam and Ali desperate to open presents but not wanting their dad to miss out on the present opening ceremony. He arrived at his destination and duly dug the hole, which was a rather large, time consuming hole as Carter the dog is a rather large Labrador. He then went to find the dog. Who upon seeing Noel promptly got up, took a pee on his car wheel and proceeded to set off for a leisurely walk around the garden. Looks like he was just sulking as he missed his owners! Noel rang us in fits of laughter and told us the good news before setting off back home for another 90 minute drive and at 2pm that afternoon Liam and Ali were finally able to open their presents and we all drank a toast to Carter and his remarkable Christmas 'resurrection!'
Boxing Day dawned bright and sunny so we all headed off down to the beach for a day of surfing and beach cricket. It was lovely to see Noel's dad playing cricket with the boys as just a few months before he had come through a massive heart operation - one which there had been a very strong chance he wouldn't survive. In 20 years of being part of the family I had never seen my in-laws look so relaxed and happy. Call it a hunch but I wanted to remember the moment so I took heaps of photos of them that day, including this one on Boxing Day night.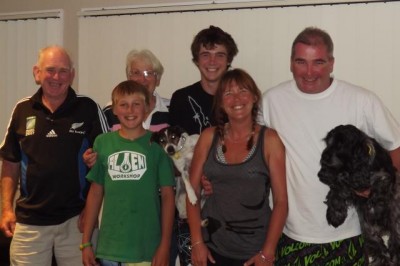 I was so very glad I took those photos because the next morning the phone rang at 7am. It was Noel's mum, telling us that Noel's dad had suffered a stroke and was being rushed to hospital in an ambulance. He couldn't talk or comprehend things properly but he did still have movement in his arms and legs. We were stunned - how could this happen? Mercifully the doctors told us this was as bad as he would get and his chances of recovery were good. He is now at home and his speech is returning - although for a few days there he did delight in doing impressions of Liam, his 15-year-old grandson who talks mainly in grunts as most teenage boys do!
So I think that's three things well and truly covered. On the whole, 2011 has been a great year. The $21 Challenge is on sale in America, how cool is that! Last New Year's Eve 2010 I weighed 72kg. This New Year's Eve I weigh in at 54kg. Sure, having glandular fever and running a marathon has had an effect as you would expect but really and truly it's all down to the SS lifestyle. No takeaways, no processed foods - just good home cooking and daily walks on the beach. Two of my favourite Christmas presents were Jamie Oliver's '30 Minute Meals' and NZ's Annabel Langbein's 'Free Range in the City' cook books. They are awesome and we've been having a ball using all sorts of yummy home grown produce and herbs from the garden. Anyone who has read my blog over the past few months will know it has been a tough year financially for us but our vegie gardens have really come into their own now and are saving us money every single day. If you have never done it I really can vouch, hand on heart that trotting out to pick beans, tomatoes, lettuce, broccoli, basil - anything - in your own backyard is one of the most rewarding feelings you can have. At this time of year when Whangamata is crazy full of people it is a real joy not to have to queue in the supermarket for hours with all the holiday makers. As usual our house pretty much looks like a youth hostel at the moment and once again our garden is proving itself indispensable. We love serving up delicious, nutritious food to the never ending tribe of boys each night and listening to all the appreciative munching. The only problem is, I think we're doing too good a job of feeding them - they keep coming back! But we wouldn't have it any other way. Although it will be interesting to see what tomorrow brings. Yes, our household Screen Time challenge starts tomorrow! I can't wait to tell the boys!
Best wishes from us all for a very happy and prosperous 2012!
---
Sometimes patients are told their situation is hopeless and last ditch surgery is their only chance of recovery. This is what happened to Fran's patient, Max. Everyone thought he was a goner, including Max himself. Then Fran found the perfect remedy for his situation. To read Max's story in his own words, click here:
homeopathyplus.com.au/pneumonia-with-collapsed-lung-i-thought-i-was-going-to-die-maxs-story
---
Last month Delma asked:
"Over the past two years I have lost a mother and mother-in-law. These two women were real 'ladies' and I have been left with boxes and boxes of beautiful packaged handkerchiefs - has anyone any suggestions on how I could use these individually? Incidentally they both did use hankies, but there were way too many for them! We travel in our caravan and I was wondering whether I could incorporate these in an appreciation gift? We often have someone do a kindness for us and like to repay them with a thank you gift. I am quite handy with a sewing machine and would love some ideas."
If you have ever wondered what you can do with your spare hankies, wonder no more! We received such a huge response to Delma's request that unfortunately there is no way we can print them all but we can certainly give you plenty of ideas, especially if you can sew! For example, you can stitch them together and turn them into:
Cushion cover
Table cloth
Table runner
Bunting
Herb or pot pourri sachets
Pillowcase
Quilt cover/bedspread
Heat pack
Apron
Plastic bag holder
Doll's quilt
Diary/journal cover
Coat hanger cover
A 'non-slip' cover for bars of soap
Or for some great no-sew ideas and gift ideas with a difference, how about these:
If you like baking you could use a hankie, lined with wrap (so as not to stain the hankie), gathered at the top and tied attractively, to present someone with a perfectly useful, wrapped thank you treat.
Contributed by: Robyn Barnes
Hankies make a gorgeous wrapping for a small gift if you are travelling. Depending on the recipient, some suggestions could be some Lindt chocolate balls inside a hankie, tied up with a pretty ribbon, some lovely tea bags or coffee sachets again tucked inside a hankie and tied up with a ribbon. You could wrap the hankie either like wrapping paper, or bundle the gift up and pull all the corners up together like a bag.
Contributed by: Sharynne Dubridge
My friend gives home-made hankies as gifts to friends and strangers. She pops them in their letterboxes along with a note saying 'someone thought about you today'. Years ago she put one in each of the letterboxes in her street. The note read, 'Margery at number 9 is thinking of you and praying you are well' one recipient got it the day she arrived home from a stint in hospital. She felt so alone and that no-one cared. This brightened her no-end and they later formed a friendship. Random kindness through something simple as a hankie.
Contributed by: Phoebe Hicks
Introduce your hankies to the 'gami' world - origami and kirigami. You can Google the Net for free patterns for folding fabric. I usually start with this site. I have seen pictures where the origami quilts have been added to a plain skirt or dress to make it look stunning.
Contributed by: Lani Dahanayake
My sister's mother-in-law, Nanna Cass is 99 years old. She is an adorable lady who had many great craft ideas. I remember her lovely idea for making (closed) lavender parasols using a handkerchief, pipe cleaner and some dried lavender. I hope my description does it justice.
Lay the handkerchief flat on the table and place a small mound of dried lavender in the middle, place the tip of a pipe cleaner in the centre of the handkerchief and draw the handkerchief up around the pipe cleaner about half way up. The lavender needs to be enough to puff out the hanky a little like a parasol.
Leaving some of the pipe cleaner sticking out for the handle, tie a ribbon tightly around the handkerchief to hold the lavender in and tie ends into a bow. Bend the handle end of the pipe cleaner into a hook shape for the handle.
Tie a little cotton or ribbon around the top of the parasol about one centimeter from the top to make the point of the parasol.
Parasols can be used in your delicates drawer, can be hung in your wardrobe with some ribbon attached, placed in your shoe cupboard or put in the car - anywhere you would like the lovely smell of lavender!
Contributed by: Susan Warren
It may be a little bit late for Delma but when we cleaned out my mother's house as she was going into a nursing home we also found lots of unopened boxes of dainty hankies. When she died my sister-in-law washed and ironed them and had them in a little basket to hand out at the funeral. It was a lovely touch and made a nice little keepsake for us to take home.
Contributed by: Kathy Anderson
For a thoughtful 'get well' gift, purchase a small bottle of eucalyptus oil and wrap it up with a couple of the hankies. This makes a nice little gift to give someone with a cold.
Contributed by: Sharon Fergusson
Go to this link which has lots of ideas for using handkerchiefs. There are lots of things you can use them for!
Contributed by: Caroline Towers
I came across this website the other day and it has lots of lovely things to make. This was one that intrigued me and it seemed easy enough, you could also use them as part of the gift wrap - rufflesandstuff.com/2010/03/handkerchief-rosette-how-to.html. I also saw some banners that could be made from the hankies too, depending on the pattern could be festive at a party - www.etsy.com/listing/83833591/the-sweetest-christmas-winnie-the-pooh.
Contributed by: Vicky Baker
A huge thanks to everyone who sent in suggestions for Delma. We really appreciate your help!
---
This month Christine asks:
"Would it be possible to ask if other members know of some lunch box fillers that are healthy and don't need to be cooked? I am battling with some weight issues with my girls and would love to know of some successful healthy options from other parents, as well as any tips of how they combat their children just swapping what they don't like for 'junk' food!"
If you have any tips or suggestions which can help Christine, please send them in to us here.
---
After looking at the Forum threads on how much everyone was spending for Christmas, I thought I would do a quick tally and am overjoyed to report that I have completed a 'no spend/ low spend' Christmas challenge without even realising it. Thanks to mystery shopping, competition wins, surveys, freebie links from SS and some competitive shopping throughout the year, my total outlay for Christmas including food will be $39.95 plus about $12 in postage ($51.95). The food aspect is for my immediate family of five but gifts were for my three girls (including Santa), my 13 nieces and nephews and their parents, our four parents, my great auntie together with her two adult children and her one grandchild and my two close friends.
The $39.95 spent was for my sister who goes all out for my girls at Christmas and birthdays. I purchased an online voucher to buy an Italian Hamper worth $132 (including delivery). All other gifts and food were purchased using gift vouchers from surveys and store credits/bonus for previous purchases. In the last two months, I have attended a number of free fashion shows as a VIP and came away with goodie bags filled with cosmetics and samples. There were also a lot of freebies through links from this site which made a lovely hamper of goodies for my great auntie and my mother - although I'm not sure they were fussed on the little lace g-string but it gave them a good laugh!
I also had a number of competition wins throughout the year which I stashed away for various gifts for my husband and daughters. Some of my wins include an Enjoy flameless candle, various movie tickets, a bottle of wine, coffee, Jamie Oliver chopping board, DVD's, cosmetics, jewellery, clothing, Coles/Myer vouchers, Wish cards, $120 shopping centre gift cards, $40 Westfield gift cards and several other prizes.
During the year we needed to replace our washing machine, so after shopping around online, I had the Good Guys match the best online price but they also had an in-store promotion going which included a free iron, $100 store credit and a year's worth of OMO washing powder. The money I have saved on washing powder would easily be more than the $51.95 I ended up spending on the hamper and postage of other gifts. The $100 Good Guys credit was used to purchase iTunes cards in their 'buy 2 get 1 free' promotion, which took care of the older nieces and nephews.
Thanks to mystery shopping I was able to do a number of candle, tea, stationery, Body Shop, Freedom, cosmetics and grocery shops where I was not only paid but reimbursed for a purchase that I was allowed to keep. These purchases have taken care of the adults in the family. On top of this, I helped everyone sign up for free $10 Stockland vouchers, Banditfm $30 vouchers, Warners Bros DVDs and Snapfish photo blocks. None of my family have the time or the inclination to search out freebies online, so they were more than happy for me to organise this for them.
For myself I turned to Gumtree and found a trainee hairdresser looking for models for a full head of foils. I had not been to the hairdresser in over a year and this was a real treat and even better I was invited back for a second lot of foils six weeks later, all for free and then a further visit for a free haircut. All my cosmetic needs this year have been covered by mystery shopping jobs, including two full makeovers that came with $80 worth of products each.
I also signed up as an online VIP for every favourite store that I knew provided birthday gift cards for both myself and my husband. The best was Tarocash who provided a $50 voucher with no minimum spend and I waited for the sales to purchase two shirts for hubby for Christmas. My SS Secret Santa present (although this will be giving myself away) was purchased in the sales, using my $20 Sportscraft birthday voucher.
I think with the money I have saved or in this case not spent, I could justify buying the food processor that I have had my eye on and that has just been reduced to $129 and comes with salt and pepper grinders and a $10 store voucher! Of course the voucher will be used to start my Christmas Challenge for next year!
Contributed by: Raych Case
---
Wow! Didn't we manage to cram a whole bunch of money saving ideas into this month's newsletter? I hope you really enjoyed it and have been inspired to try something new.
I am always keen to receive your feedback about the kinds of things you want to see more of in the newsletter and those things you would rather we leave off. Drop me a line next time you're on our website. If you have enjoyed this month's newsletter, why not forward it to your friends to help them save money too? Or tell them about us on Facebook by clicking the 'like' button on our Simple Savings Facebook page?
Best of luck with your Screen Time Challenge. See you next month!
All the best,
Fiona