The $21 Challenge
21 dollars, 7 days, 1 fed family
Doing a $21 Challenge once a month can save you hundreds, even thousands of dollars on food each year. In this video, two families are put to the test as they aim to achieve their goal of spending no more than $21 on a week's worth of food. Watch and learn how you can do it too!
WHAT did they say???
Savvy mums and $21 Challenge authors Fiona Lippey and Jackie Gower go "nuts" as they aim to clear the confusion and explain to viewers that the $21 Challenge is for ONE WEEK ONLY, not every week!
Supermarket savings queen
Fiona Lippey shows how her family saves thousands of dollars each year by simply not going to the supermarket! You can do it too! Watch and learn how the experts make valuable savings every day.
Lose weight the Simple Savings way
In this video Jackie Gower shares how she lost 12kgs in just 12 weeks. No special diets, no expensive shakes or exercise equipment required! If she can do it, anyone can!
Since the $21 Challenge first began in 2006, thousands of families in Australia and New Zealand have taken it on and beaten it. Fiona and Jackie will tell you, and your audience, how to do it too.
The $21 Challenge can save the average family over $270 a week on food! Who wouldn't want to hear more about that mouth watering prospect? So contact Simple Savings to arrange an interview with Fiona and Jackie.
Fill in your contact details here and a member of our team will be in touch with you to arrange a private interview.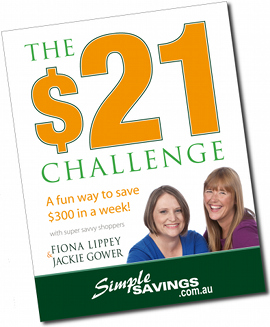 ISBN: 978-0-9806533-0-4 (Aust)
978-0-9806533-1-1 (NZ)
Free Sample Chapters