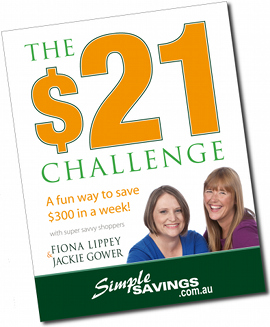 Where can you get over 120 delicious biscuits for just $4? With this fantastic bulk recipe! Simple Savings members have been making these biscuits for years thanks to member Kristy Frahm. Make up the basic biscuit recipe below and enjoy them plain or adapt them to use up all sorts of odds and ends from your pantry – chocolate chips, nuts, cinnamon, the options are endless (see below). The raw mixture can also be frozen in balls; just thaw slightly before baking and pull out when needed during your $21 Challenge week!
1 cup sugar
500g margarine
1 tin condensed milk
5 cups self raising flour
Preheat your oven on to 180°C and grease a large baking tray. Put your margarine and sugar in a large bowl and beat together until it is pale and creamy. Add your condensed milk and flour to the bowl and mix together well. You can add any of your own extra ingredients too at this point, if using. Stir until well combined.
Roll your mixture into teaspoon-sized balls and place on your greased baking tray. Press down gently on the biscuits with a fork to flatten slightly. Bake in the oven for 10-15 minutes until golden brown.
That's all there is to it. We challenge you to find a more economical recipe anywhere! However, the real beauty of the bulk biscuit recipe is its flexibility.
For a variation to the biscuit recipe try one of the following.
Almond essence and flaked almonds
Almond essence, oatmeal jam thumbprints
Almond meal, honey and mixed spices
Apricot and macadamia ( I might add white chocolate)
Baileys
Bake plain, dredge with coloured castor sugar while still warm,
Banana and cocoa. 1 mashed ripe banana and 3 tbs cocoa 1/2 cup of coconut

Biscotti:

Make recipe and mix in nuts or whatever biscotti ingredients you like. (I used chopped and toasted almonds)
Roll into a long roll and bake a little longer until the roll is lightly browned all over
Let cool completely. Now for the tricky bit: cut briskly in diagonals with a very sharp knife
Lay carefully on tray again and bake for 10 more minutes or until browned
*warning* these are so crumbly it takes a couple of tries but they turned out beautifully for me. Speed seems to help, rather than going slowly. and the crumbs are fun to eat! or you can save them for pie crusts or toppings.

Brown sugar instead of white sugar in the original mix.

Buy a bag of "el cheap o" smarties & give them a bash with the rolling pin till they in bits, then mix them in..
Caramel milk shake mix
Carob
Cherries and nuts. 1 tblspn chopped red / green maraschino cherries & 1 tbsp of nuts
Cherry ripe- rice bubbles, coconut, quartered glace cherries and dark choc chips
Choc chip and Walnut
Choc choc chip biscuits – choc chips and three big spoonfuls of cocoa powder, and a little less flour to the mix
Choc mint, add 1tsp peppermint essence & 1 tbsp melted choc chips OR Cocoa and peppermint essence
Chocolate and white chips melted and marbelled through the mixture
Chocolate chips / chunks
Chocolate chips and glace cherries (chopped)
Chocolate chips and nuts
Chocolate chips and sweet rice-bubbly-cereal
Chocolate Freckle lolly on top
Chocolate melt in them and folded the mix over it and made a ball
Chopped dried apricots, white choc & almond
Chopped peanuts, peanut butter and dark choc bits
Christmas I have chocolate chip Stars
Cocoa. A teaspoon of cocoa to some dough
Coconut
Coconut, oats and milo
Coconut, oats and white choc chips,
Coconut, rolled oats and cinnamon
Cornflake and sultana's
Craisens, pepitas and oats
Crushed cornflakes and honey
Crushed peanuts & peanut butter
Crushed peanuts & peanut butter & cocoa powder
Crushed pecan and walnut
Currants, a sprinkle of mixed spice, a sprinkle of ginger and then a very light sprinkle of cinnamon and caster sugar
Dates (finely chopped) with crystalised ginger (also finely chopped)
Dates chopped with rolled oats
Dates. 1/3 of a date in the middle of the ball of mix
Dried apricots (finely chopped) with white choc chips
Dried fruit
Dusting the plain mixture with castor sugar and five spice.
Dutch chocolate sprinkles
Glace Cherries (just red or mixed) Christmas Ornaments
Glace cherries, glace pineapple, almond essence & almond meal
Golden syrup
Golden syrup, oats and coconut
Ground almond & cinnamon
Hazelnut spread (Nutella)
Hazelnuts chopped
Honey & oats
Honey and rice bubbles
Honey drops
Hundreds and Thousands
Iced with melted chocolate
Jam drops
Jelly bean on top
Lemon Butter
Lemon butter drops
Lemon Coconut - add 1/2 tsp lemon essence & 1 tsp coconut
Lemon rind and all spice
Lemon zest and coconut
Light n Tasty (similar to Just Right) cereal
M&Ms
Macadamia nuts
Marshmallow and sprinkles
Marsmallow on top
Milo
Milo and choc chips
Milo and coconut
Mini coloured choc chips
Mixed spice (just 1/2 teaspoon) and mixed fruit in a round biscuit.
Muesli
Oatmeal and Sprinkles
Orange and cardamon ones as well for something a little different.
Orange marmalade
Orange zest and choc chip
Peanut & rice bubbles
Peanut butter
Peanut butter + broken up white and dark choc melts (left over from christmas cooking - still!)
Pistacio & cranberry
Plain ones sandwiched with left over coffee butter cream from a cake a few weeks ago
Raisins
Rocky road- peanuts, marshmallows and choc chips
Rolled in choc sprinkles and flattened = "bugs"
Rolled in cinnamon & sugar
Sandwiched to make Melting Moments – iced with 1 tbsp butter , add about 6 tbspns icing sugar & 1 tbspn custard powder.
Smarties
Sprinkles
Squeeze of orange juice and some finely grated zest
Sticky date (Golden Syrup & chopped dates)
Sultana & cornflakes
Sultana & rice bubbles
Sultana and rice bubbles (for kids!)
Sultana bran
Sultanas
Sweet rice-bubbley cereal
Vanilla essence
Vanilla essence and cinnamon sugar and almonds
Vanilla with sprinkles
Vanilla, dipped in sugar.
White choc chip and coconut
White choc chip and macadamia
White choc chip and strawberry essence
White choc chips