About the authors:
Fiona Lippey
The real problem with a blurb about Fiona Lippey being written by Fiona Lippey, is I could say anything about myself. So, instead here is a link to some articles about me and Simple Savings written by independent and unbiased journalists.
This first story was written by Fennella Souter. Fennella is one of Australia's top journalists. She has interviewed the likes of Hugh Jackman and Naomi Watts.

Here is another story about how Simple Savings started. It was written by Alix Clark of Virgin Blue's Inflight magazine, Voyeur. I love the picture Alix choose because it says so much about Simple Savings and the way we think.
Contact Details:
For an interview, please leave your details at this page.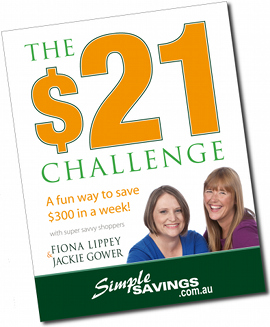 ISBN: 978-0-9806533-0-4 (Aust)
978-0-9806533-1-1 (NZ)
Free Sample Chapters