This issue includes:-
Sad Sally, Happy Hanna: Surprise Pie!
September: Heirloom Food
Best of the Vault: Family Favourites
Best of the Forum: Oldies but Goodies!
Best Members' Blog: Little Changes
Cooking with Mimi: Fudgy Salted Caramel Yoghurt Parfait!
Rob Bob's Gardening Blog: Welcome the Warmer Weather
---
Hello,
I hope you have a fantastic month! Things have been busy in Simple Savings land. We are already working on next year's calendar and it is only September! Big grin.
I hope you love the calendar when it is ready. I'm looking forward to your feedback.
Here are our favourite emails this month:
"I like the Simple Savers Facebook page for quick tips, but I love the Forum - thank you." (Carlie)
"Thank you for 'The $21 Challenge' - I can't wait to start!" (Zelda)
Have a great month!
All the best,
Fiona Lippey
---
Pete slammed the front door and walked into the house. "Hey, I'm home!" Josh and Sarah looked up unhappily and kept laying the table. "What is up with you two?" Pete quizzed his grumpy children while taking off his jacket.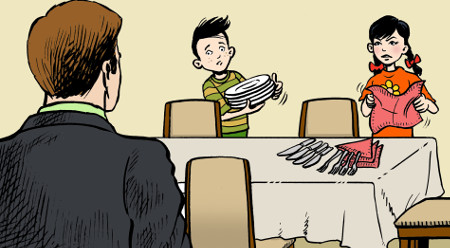 "It's Mum," Sarah said, "she's got that look on her face again and she's in the kitchen cooking." "Fantastic!" Pete said, "the last time that happened she baked enough bickies for four weeks, and do you remember those cakes..." "No, it's not bickies this time," Sarah warned, "She calls it... OLD FASHIONED COOKING!" "Yep," Josh joined in sadly, "this can only mean all those recipes of Gran's, you know, creamed brains, pressed tongue... in fact, I'm actually starting to feel a bit ill."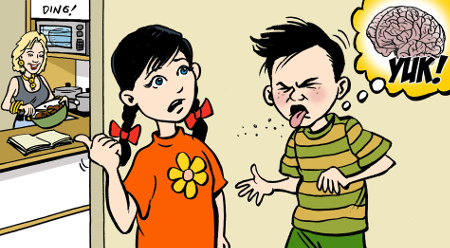 "Dinner's ready!" Sal interrupted them, carrying steaming plates through from the kitchen. Josh and Sarah sat down, sniffing suspiciously. "Ok, Mum, so the top of the pie looks nice but what's in the middle?" Sal laughed, "This one is a really old favourite recipe of Gran's - it's beef!" "Yay," said the kids, digging in, "...with bacon and liver!" Sal added under her breath, smiling to herself.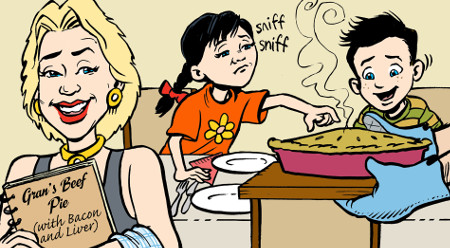 ---
While we don't recommend hiding offal in your recipes to surprise your family, we DO recommend trying out some of Gran's recipes. We like to call them 'Heirloom Recipes' because they are handed down through a family and are a wonderful way of celebrating family members and memories. They are nostalgic and take you where no other recipes can go!
But there are other reasons to love them as well! Old fashioned recipes are usually basic, budget-friendly, preservative-free and very tasty. Our mothers and grandmothers knew how to turn inexpensive cuts of meat and seasonal vegies into rich, fragrant dishes. Your challenge this month is to start using your old family recipes if you have them, or start creating your own if you don't. We want you to use basic, cheap and tasty ingredients to create wholesome, filling, wonderful meals. You are going to save money and the family are going to love you.
Here's one of Fiona's family favourites:
With Father's Day coming up I'm making my Dad's all time favourite dish, Austrian-style Liver pâté, the way his Mum used to make it.
The recipe is cheap. While quality pâté costs $65 per kilo in the shops, this only costs $6.44 per kilo to make at home. Here are the numbers:-
500g chicken livers $3.50
500g butter $2.80
140g eggs $0.66c
1g nutmeg $0.08
6g salt $0.01
pepper $0.01
20ml brandy $1.10
1.27kg pâté for $8.16 = $6.43 per kilo
It is also really simple and only has four steps: fry onions, fry liver, blend and chill. Here is the recipe so you can give it a go yourself.
Ingredients
4 sliced onions
1/2 teaspoon nutmeg
1/4 teaspoon salt
pepper to taste
500g butter
500g chopped chicken liver
2 peeled, hard boiled eggs
Step 1: Fry onion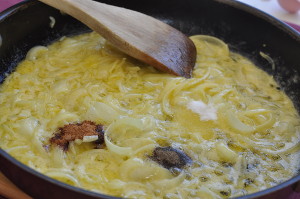 Separate butter into two 250gm blocks. Fry onion with spices (nutmeg, salt, pepper) on medium heat in 250gm butter till soft. Put in bowl to cool.
Step 2: Fry liver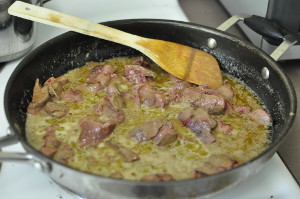 Lightly fry liver in remaining butter. Put in bowl to cool for ten minutes.
Step 3: Blend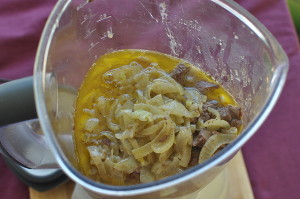 Add all ingredients to blender. Pulse the blender a couple of times. Put in containers, seal and place in the fridge to set.
Note - Smooth or lumpy
Traditional style pâté was made with a mincer and it is quite lumpy. If you would like lumpy pâté. Lightly blend it by quickly turn the blender off and on a few times.
If you would like your pâté smooth like the shops just blend it for longer.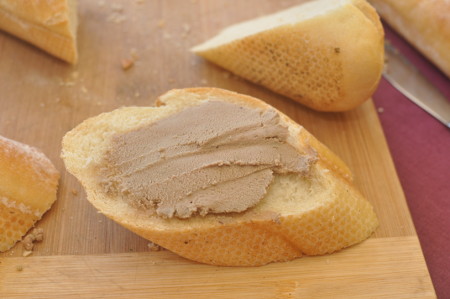 Step 4: Chill
Put the pâté in containers in the fridge and it will be ready to eat in a couple of hours.
---
Take a trip down memory lane and dig out those old recipes that made you feel warm and loved and special, or maybe find some new ones for your own family.
I recently came across a 1903 copy of a cookery book called 'Mrs Beeton's Cookery Book' in a local museum. It contains many jam and chutney recipes that do not rely on the preservatives and additives common today. I hand copied a few recipes to use up all the extra fruits and vegetables in my garden and they are delicious! My friends and family love them too and I am now making enough for my use and to give as presents. This saves me at least $3.50 a week. I was very excited to find a full text version of the book on the Internet - it's well worth a look at www.mrsbeeton.com.
Contributed by: Gina
My grandmother's old cook books have revolutionised my budget! I have inherited her extensive range which date back to the 1950s. She had seven kids, lived in the country and money was always tight, so her resourcefulness was essential. I firmly believe we can learn much from our pioneering women about living cheaper and better.
The best part is that I have all of the ingredients for these books already in my cupboards! The glossy new cook books are mesmerising, with cafe fare abounding, but I add up the cost of the book, new ingredients I don't have (and probably won't use up either) and I walk away, with my cash still intact.
These old cook books made my first $21 Challenge a breeze! Better still, we're eating better, tastier meals than we have probably ever done. I am a typical supermarket sucker, short of time, looking for inspiration in those aisles to feed us something quick and tasty. I never leave with less than $20 worth of excitement in a calico bag, despite the food already at home in the freezer and pantry. I feel addicted to chocolate and convenience foods, telling myself they're a treat for my long hours and high pressure work. The reality is, however, that whilst I earn a healthy wage, there's never a cent left at the end of the week.
Lately, however, we've eaten home-made bread, fruit cake, puddings, tasty casseroles, pies, savoury mince and some lovely biscuits and my total spend at the shops was $20.90! My son has even taken leftovers to school for lunch, which he's never done before. I even got him to eat cabbage enthusiastically too - I feel like Wonder Woman!
Not only do books like Gran's contain wonderful recipes, many of them also have tips in them. Money saving tips, low- or no-chemical tips and answers to problems we seem to have forgotten how to resolve. All this for as little as $0.50c at the second hand stores, for those unfortunate to be without a super gran like mine. I consider myself rich to have her, all money aside!
Contributed by: Trish S
To get more value from a pork roast, take the bone out of the roast - bone is easier to remove from a leg - and then use a sharp knife to slice the meat into steaks, strips and cubes. Store in freezer bags until needed. Here's what you can do with that lovely meat:
Pork steaks: grill, crumb or casseroles.
Pork strips: stir-fry or pasta dishes.
Pork cubes: stir-fry, casseroles or slow-cook meals.
More variety for your money than just reheated leftover roast - and a lot more economical than buying trays of pork steaks and so on.
Contributed by: Yvonne Dighton
This easy tip can make your roast meat or corned silverside stretch much further! Just cook the meat the day before you want to eat it and keep it in the fridge. You can slice it much thinner when it is cold. Then simply reheat and enjoy as usual!
Contributed by: Karen Silvester
---
Our Forum members have some great ideas when it comes to cooking up old favourites - here are a few of them.
The great thing about 'oldies but goodies' is that you probably already have all the ingredients in the cupboard. Try this quick and tasty spread.
read more...
Our Forum members come to the rescue when CherryBlossom asks for help - don't miss the great tips and ideas in this thread.
read more...
Nothing says 'Granny' like a warm, delicious, chocolate pudding - this one is so simple and easy it will become a family favourite!
read more...
---
One of the many benefits of being a Vault member is that you can win $100 cash each month for your Simple Savings blog! Starting your own blog on the site is easy. All you have to do is log into the Vault, click on 'My Desk' at the top left, then 'Blog'. Then get writing! We love reading all your money saving trials and tribulations and really appreciate the effort that goes into each one.
This month's Blog winner is Tiffany and her blog on making great strides with little changes!
"Well, first let me introduce myself. I am a wife, a mum of three kids, and I work, and study part-time. Phew! Surprisingly I get plenty of sleep.
DH and I previously had a lot of debt, not helped by the fact I am the world's worst saver. I can save a bit of money, then gradually take $20 here or there for 'essentials'. My 'aha!' moment only just occurred when I received a letter from Centrelink telling me I was overpaid and have a huge debt to pay back. I almost died! We underestimated our earnings unfortunately for various reasons, and I have started dedicating $50 per week from my pay to this debt.
I did a Challenge week last week and while I didn't quite make the $21 mark, I did pretty well. I cleaned the pantry out, getting rid of three garbage bags of junk. I listed everything in the freezer and found I only needed to buy steak for one night so that was a bonus. I spent about $150 at the grocery store but this included Pull-Ups for two kids, detergent etc. This week I decided to do a huge shop so I can finish paying the rates. I checked out the butchers around my area and found a great one that has bulk packs. I ordered 20kg of various meat for $170 which is a great price and I'll also get 2kg chicken breast or thighs which will last a month. I did a bulk shop with Coles online, I find this convenient for me as I am pretty busy with work and uni. I can shop at night then I drive ten minutes to the shop and pick it up - too easy! The Coles order came to roughly $260. I have decided to top up fruit weekly though as it does not stay fresh very long. I also buy milk fresh every few days, we drink lactose free milk, it has lots of cream on top so it does not freeze well.
Received my water bill the other day and was ecstatic to be $30 in credit. Our usage has dropped and I have been paying $10 per week, so that was great. I also got a statement from miss 13's high school, we are $70 prepaid for next year; I also pay $10 per week. Will make next year a bit less stressful. After reading some of the hints on this page I decided to purchase a moon cup for myself, I could not afford the $55 price tag though so I purchased it from AliExpress for $10. I was talking to miss 13 about it and she asked for one too! (She started her period two years ago.) I thought that was very open-minded of her. They should arrive in the next few weeks.
We are also putting a vege garden in. I am not the greatest gardener, I tend to lose motivation pretty quickly but I am dedicated to getting out of debt, will just have to push myself."
Well done Tiffany!
You can read more of our members' blogs here.
---
I'm really sorry about this easy fudgy salted caramel yoghurt parfait... because I know once you've had it you're going to love it and want to make it all the time!
This is best made in the morning for dessert that night, or in the evening for (ahem) breakfast the next day. Here it is:
You need:
Thick Greek yoghurt
Brown sugar
Salt
Then you just:
In a tall glass or wine glass, put a large spoonful of Greek yoghurt. Cover this layer with a generous sprinkle of soft brown sugar. Not normal raw sugar, the really fine brown stuff.
Add a teeny pinch of salt. Tiny.
Repeat in layers until the glass is full, finishing with a thin layer of the brown sugar and another teeny tiny pinch of salt.
Put it in the fridge and let it sit for several hours.
The brown sugar goes all delectably fudge like and the pinch of salt just gives it that gourmet touch. Leave the salt out if you like.
It's yummy, I promise!
You can get updates on Mimi's new blogs on the Simple Savings Facebook page
or in our Members' Blog section.
---
It is time for me to get cracking and start to organise the warm weather crops. This is always a bit of a hard task as we appear to accumulate quite a selection of seed at times, as well as a few new varieties we're eager to try. I won't be planting many of any one variety, except for the pop corn because it requires a decent amount of plants to get full cobs of kernels. We don't have enough compost at the moment to feed all of the beds we have on the go, and because of this I've decided to let a few beds lay fallow/go feral until we get more compost. This is no big loss as there are plants in some, like the warrigal green bed that will still give us a harvest of sorts during this rest period. These beds will get a feeding later in the season when the compost we have on the go at the moment is ready. We do have a long growing season so I am confident that a few beds will be planted out later on. One or two of the resting beds will be fed up later in the warm season, which is okay because they'll be ready to go for next round of cool weather crops.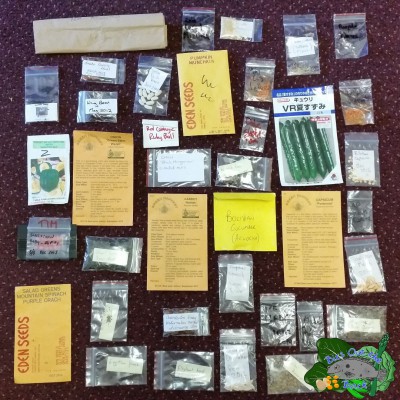 Most of the seeds we'll be sowing this time round were gifted to us through the 'Share the Seed' group on Facebook and YouTube friends. Will also be sowing a few of our own saved seeds, along with some purchased ones from our favourite small seed suppliers. I have a few greens selected and will be starting off with some that like the cooler weather. I think we'll pop in some Asian greens and lettuces into the aquaponics to start and then move onto plants like Egyptian spinach and amaranth a bit later on as they handle the heat a lot better. Three garden beds have been prepared and sown out already. At the backstairs I've set up a new root pouch wicking garden.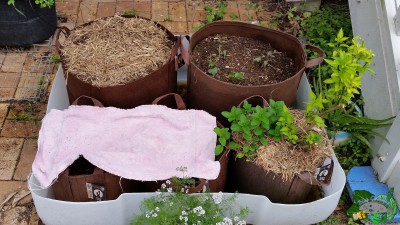 The pouch on the back left was sown out with a few cucumbers and some Thai Basil, both gifts from online seedy friends. The pouch on the right has four sweet potato slips planted out which will be trained up the trellis at the rear along with the cucumbers. The two pouches at the front have been sown out with a mix of left over carrot seeds from various packets found in the seed toolbox.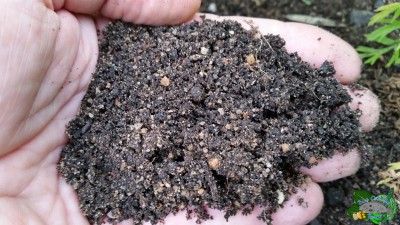 I prepared the soil/compost mix a bit different than the other lots by adding a fair amount of course sand. This will help to loosen the mix and allow the carrot roots to (hopefully) grow straight. The final pouch has our favourite yellow sunshine chilli in it. It was looking a tad scruffy so I gave it a bit of a trim back and a good feed with some fresh compost. It should bounce back nicely once the weather warms up.
The wicking bed in the centre of the hoop house has been fed up with compost and topped up with some soil from a few pouches of potatoes that were harvested. A trellis has been added for some Munchkin pumpkins to grow up as they are supposed to be a semi compact variety.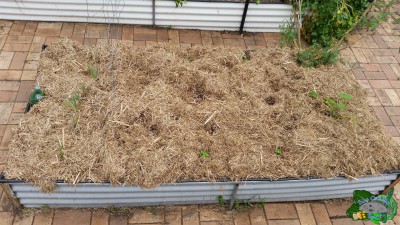 The other end of the bed has the red cherry tomato vine that I'm trying to grow the length and breadth of the hoop house. It had some perennial leeks growing at its base, so I moved them to a better position and gave them a few good handfuls of compost to help them on their way. Some sweet basil and a compact yellow zucchini were also planted out with a few samba bush beans being sowed in the centre of the bed.
I have also done a bit of maintenance in the aquaponics to get ready for the warmer weather.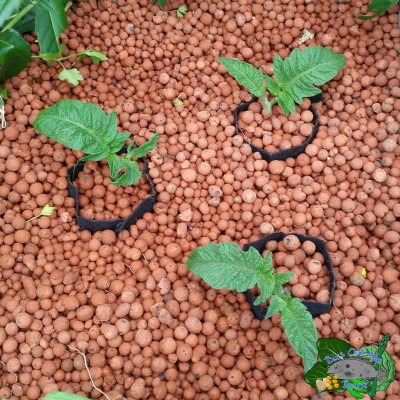 The dwarf Summertime Gold tomato was removed to make way for new plants but I took some clones off it to get a jump start on some new plants.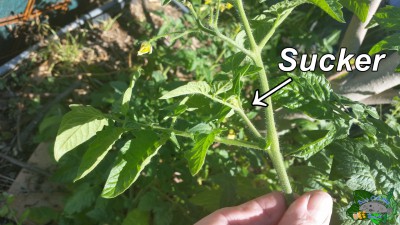 Taking clones is an easy way to propagate tomato plants and is as simple as pinching out the suckers (small growth points above the leaves of the plant) and planting them out in soil or in my case, clay balls in the grow bed. If you want, you can also start them off in a jar of water to allow the roots to develop a bit before planting out.
I've purchased some water-loving food plants to try out in a new pond garden this year too.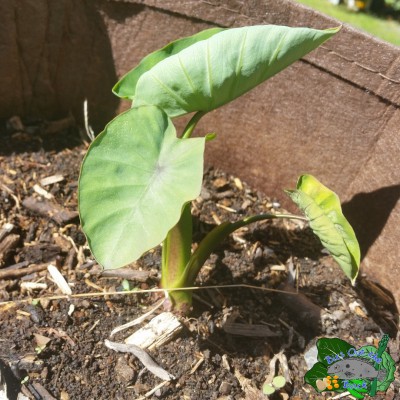 Taro is one plant I've been wanting to grow for a while and have thought about growing it in the aquaponics but might wait until next season. Duck potatoes/arrowhead is another that will go in with the taro and water chestnuts. I'm not quite sure where the pond will be set up so the plants are staying in trays full of water in their pouches for now.
A few weekends ago I finally got around to harvesting the orange turmeric and some ginger from a wicking bed in the hoop house that had been growing for around 19 months. They normally get planted out in spring and harvested when they die back at the end of autumn/start of winter. These plants didn't get a full season in the bed last year so were left just to see how they would go. I think it was a good idea as what was unearthed really blew our socks off.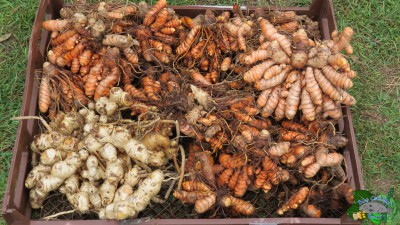 We ended up taking out 6.3kg / 13.8lb of turmeric and 2.5kg / 5.5lb of ginger. We kept all the ginger from this harvest but have given away/sold just over half of the turmeric.
We've stored some in the fridge for use fresh in meals and frozen a few fingers whole. The majority of the harvest we kept has been turned into a paste and frozen in small blocks so they can be thawed out and used to make curry paste or just added directly into meals.
I have pulled another lot of fish from the fish farm and had another crack at making up fish cakes.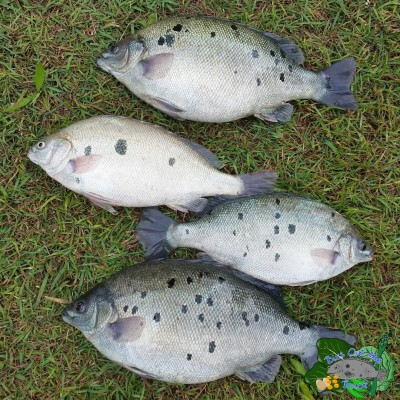 For these fish cakes I used 1½ cups of bread crumbs, three small perennial leeks (spring onions would work just as well), dill, one egg and about 500g / 1lb of skinned fish fillets. All the ingredients were blitzed in the food processor, formed into cakes then rolled in Panko style breadcrumbs. They were then shallow fried in a frying pan until done, then served with some home-grown cauliflower and broccoli.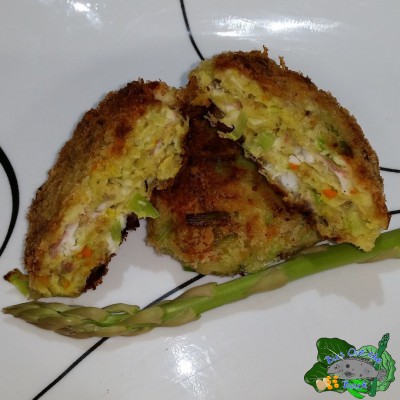 I must say that these fish cakes turned out a lot better than those I mentioned in last month's blog and they went down a treat. I will be pulling a few more out this week to turn into Thai-style fishcakes methinks. ;-)
A few weekends ago we cut back the tomato jungle that had been slowly consuming the chook pen for the past few months and harvested just under 4½kg / 10lb of fruit with the chooks getting their own fair share of what fell through the wire roof. The plan was to stew them all up to become tomato paste for sauces, until Bianca posted a photo on Facebook. One of her friends (thanks Bec) suggested we roast them 'with fresh thyme, rosemary, a splash of olive oil, salt, pepper and a little sugar' at 120°C / 248°F for 2-3 hours. This sounded so appealing I thought they'd go great as a topper on a pasta dish, so whipped one up for dinner the next night.
The sauce was a very basic one made from some Summertime Gold and Wherokowhai tomatoes from the freezer, a few cloves of garlic, a few teaspoons of raw sugar (to cut back the tang), salt and cracked pepper. It was simmered in a pot until most of the liquid had boiled off then blitzed with a stick blender to chop up the skins. Some chopped Warrigal greens from the freezer were added and warmed through.
The tomatoes were very easy to prepare. First of all they were halved and laid out onto an oiled baking tray.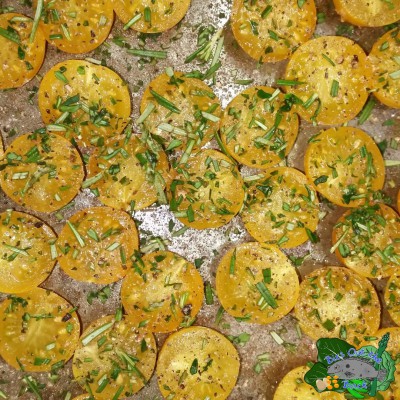 A few sprigs of fresh thyme and rosemary from the patch were chopped finely then sprinkled over the top of the halved tomatoes. Salt and pepper were then ground over them and they were added to the oven (set on 130°C / 270°F) for 2½ hours. Once the tomatoes in the oven were done the pasta was put onto boil, salami was sliced and the sweet basil was washed and shredded.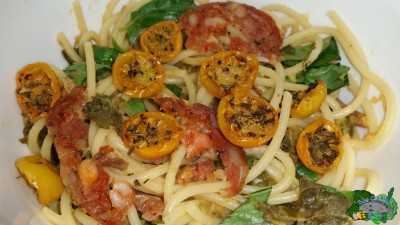 To put the dish together, toss the spaghetti, salami and basil through the sauce and add the small roasted tomatoes on top. The flavour of the roasted herby tomatoes mixed with the sweet basil and spicy salami was absolutely fantastic. I made up another batch a few days later with some of the sauce we made with the yellow current tomatoes from the chook pen and think it will become a bit of a regular meal here now.
Hope you've enjoyed the look at some of our warm weather garden preparation and hope yours is coming along well.
All the best, and have a great one folks,
Rob
You can get updates on Rob Bob's new gardening adventure blogs on the Simple Savings Facebook page
or in our Members' Blog section.
---
Well, that's your Simple Savings Newsletter for September 2015 and we hope you have enjoyed it. Don't forget to check the Forum and Facebook for challenges and inspiration to help you get growing your own and let us know how you go!
Our members are hugely important to us and we love hearing from you all! So next time you're on the website, why don't you get in touch and say 'G'day'! Let us know what you would like to see more of in our newsletter or any suggestions you have for something new to try. We love receiving your clever ideas!
Don't forget to spread the love around to your family and friends too by forwarding them our newsletter or letting them know about our website. Help make their lives easier and save them money too! Or tell them about us on Facebook by clicking the 'like' button on our Simple Savings Facebook page.
Till next time...
All the best,
Fiona